Synthesis and Luminescence Properties of Iridium(III) Azide- and Triazole-Bisterpyridine Complexes
1
School of Chemistry, the University of New South Wales, NSW 2052, Australia
2
School of Chemistry, the University of Sydney, NSW 2006, Australia
*
Author to whom correspondence should be addressed.
Received: 5 July 2013 / Revised: 24 July 2013 / Accepted: 24 July 2013 / Published: 26 July 2013
Abstract
We describe here the synthesis of azide-functionalised iridium(III) bisterpyridines using the "chemistry on the complex" strategy. The resulting azide-complexes are then used in the copper(I)-catalysed azide-alkyne Huisgen 1,3-dipolar cycloaddition "click chemistry" reaction to from the corresponding triazole-functionalised iridium(III) bisterpyridines. The photophysical characteristics, including lifetimes, of these compounds were also investigated. Interestingly, oxygen appears to have very little effect on the lifetime of these complexes in aqueous solutions. Unexpectedly, sodium ascorbate acid appears to quench the luminescence of triazole-functionalised iridium(III) bisterpyridines, but this effect can be reversed by the addition of copper(II) sulfate, which is known to oxidize ascorbate under aerobic conditions. The results demonstrate that iridium(III) bisterpyridines can be functionalized for use in "click chemistry" facilitating the use of these photophysically interesting complexes in the modification of polymers or surfaces, to highlight just two possible applications.
View Full-Text
►

▼

Figures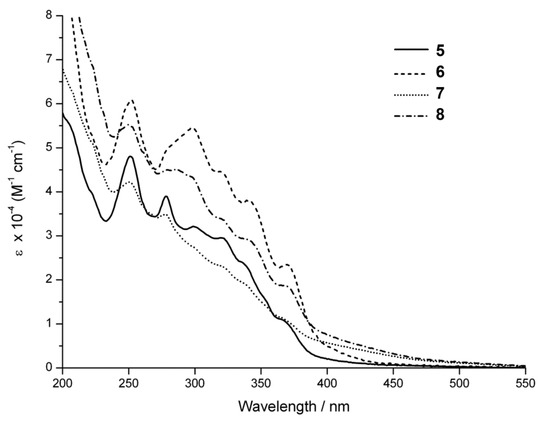 Figure 1

Share & Cite This Article
MDPI and ACS Style
Goldstein, D.C.; Peterson, J.R.; Cheng, Y.Y.; Clady, R.G.C.; Schmidt, T.W.; Thordarson, P. Synthesis and Luminescence Properties of Iridium(III) Azide- and Triazole-Bisterpyridine Complexes. Molecules 2013, 18, 8959-8975.
Related Articles
Comments
[Return to top]