Development of a New Positron Emission Tomography Tracer for Targeting Tumor Angiogenesis: Synthesis, Small Animal Imaging, and Radiation Dosimetry
1
McAllister Heart Institute, University of North Carolina, Chapel Hill, NC 27599, USA
2
Department of Medicine, University of North Carolina, Chapel Hill, NC 27599, USA
3
Department of Cell and Developmental Biology, University of North Carolina, Chapel Hill, NC 27599, USA
4
Department of Pharmacology, University of North Carolina, Chapel Hill, NC 27599, USA
5
Department of Biomedical Engineering, North Carolina State University, Raleigh, NC 27695, USA
6
Biomedical Research Imaging Research Center, University of North Carolina at Chapel Hill, NC 27599, USA
*
Author to whom correspondence should be addressed.
Received: 7 March 2013 / Revised: 25 April 2013 / Accepted: 10 May 2013 / Published: 15 May 2013
Abstract
Angiogenesis plays a key role in cancer progression and correlates with disease aggressiveness and poor clinical outcomes. Affinity ligands discovered by screening phage display random peptide libraries can be engineered to molecularly target tumor blood vessels for noninvasive imaging and early detection of tumor aggressiveness. In this study, we tested the ability of a phage-display-selected peptide sequence recognizing specifically bone marrow- derived pro-angiogenic tumor-homing cells, the QFP-peptide, radiolabeled with
64
Cu radioisotope to selectively image tumor vasculature
in vivo
by positron emission tomography (PET). To prepare the targeted PET tracer we modified QFP-phage with the DOTA chelator and radiolabeled the purified QFP-phage-DOTA intermediate with
64
Cu to obtain QFP-targeted radioconjugate with high radiopharmaceutical yield and specific activity. We evaluated the new PET tracer
in vivo
in a subcutaneous (s.c.) Lewis lung carcinoma (LLC) mouse model and conducted tissue distribution, small animal PET/CT imaging study, autoradiography, histology, fluorescence imaging, and dosimetry assessments. The results from this
study show that, in the context of the s.c. LLC immunocompetent mouse model, the QFP-tracer can target tumor blood vessels selectively. However, further optimization of the biodistribution and dosimetry profile of the tracer is necessary to ensure efficient radiopharmaceutical applications enabled by the biological specificity of the QFP-peptide.
View Full-Text
►

▼

Figures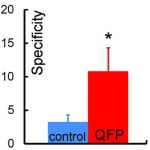 Graphical abstract

Share & Cite This Article
MDPI and ACS Style
Patterson, C.; Frederick, C.B.; Yuan, H.; Dyer, L.A.; Lockyer, P.; Lalush, D.S.; Veleva, A.N. Development of a New Positron Emission Tomography Tracer for Targeting Tumor Angiogenesis: Synthesis, Small Animal Imaging, and Radiation Dosimetry. Molecules 2013, 18, 5594-5610.
Related Articles
Comments
[Return to top]