Synthesis and Dual Histamine H1 and H2 Receptor Antagonist Activity of Cyanoguanidine Derivatives
1
Department of Pharmacology and Therapeutics, College of Medicine and Health sciences, UAE University, Al-Ain, P.O. Box 17666, UAE
2
Institute of Pharmacy, Free University of Berlin, Königin-Luise-Str. 2-4, Berlin D-14195, Germany
3
Institute of Pharmacy, University of Regensburg, University Str. 31, Regensburg D-93053, Germany
*
Author to whom correspondence should be addressed.
Received: 8 October 2013 / Revised: 10 November 2013 / Accepted: 11 November 2013 / Published: 15 November 2013
Abstract
Premedication with a combination of histamine H
1
receptor (H
1
R) and H
2
receptor (H
2
R) antagonists has been suggested as a prophylactic principle, for instance, in anaesthesia and surgery. Aiming at pharmacological hybrids combining H
1
R and H
2
R antagonistic activity, a series of cyanoguanidines
14
–
35
was synthesized by linking mepyramine-type H
1
R antagonist substructures with roxatidine-, tiotidine-, or ranitidine-type H
2
R antagonist moieties.
N
-desmethylmepyramine was connected via a poly-methylene spacer to a cyanoguanidine group as the "urea equivalent" of the H
2
R antagonist moiety. The title compounds were screened for histamine antagonistic activity at the isolated ileum (H
1
R) and the isolated spontaneously beating right atrium (H
2
R) of the guinea pig. The results indicate that, depending on the nature of the H
2
R antagonist partial structure, the highest H
1
R antagonist potency resided in roxatidine-type compounds with spacers of six methylene groups in length (compound
21
), and tiotidine-type compounds irrespective of the alkyl chain length (compounds
28
,
32
,
33
),
N
-cyano-
N'
-[2-[[(2-guanidino-4-thiazolyl)methyl]thio]ethyl]-
N″
-[2-[
N
-[2-[
N
-(4-methoxybenzyl)-
N
-(pyridyl)-amino] ethyl]-
N
-methylamino]ethyl] guanidine (
25
, p
K
B
values: 8.05 (H
1
R, ileum) and 7.73 (H
2
R, atrium) and the homologue with the mepyramine moiety connected by a six-membered chain to the tiotidine-like partial structure (compound
32
, p
K
B
values: 8.61 (H
1
R) and 6.61 (H
2
R) were among the most potent hybrid compounds. With respect to the development of a potential pharmacotherapeutic agent, structural optimization seems possible through selection of other H
1
R and H
2
R pharmacophoric moieties with mutually affinity-enhancing properties.
View Full-Text
►

▼

Figures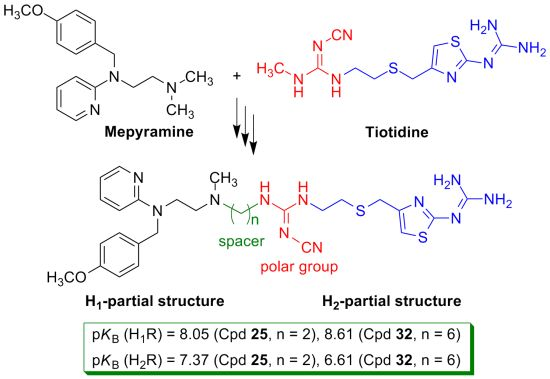 Graphical abstract

Share & Cite This Article
MDPI and ACS Style
Sadek, B.; Alisch, R.; Buschauer, A.; Elz, S. Synthesis and Dual Histamine H1 and H2 Receptor Antagonist Activity of Cyanoguanidine Derivatives. Molecules 2013, 18, 14186-14202.
Related Articles
Comments
[Return to top]