Intracellular Environment-Responsive Stabilization of Polymer Vesicles Formed from Head-Tail Type Polycations Composed of a Polyamidoamine Dendron and Poly(L-lysine)
Department of Applied Chemistry, Graduate School of Engineering, Osaka Prefecture University, 1-1 Gakuen-cho, Naka-ku, Sakai, Osaka 599-8531, Japan
*
Author to whom correspondence should be addressed.
Received: 6 August 2013 / Revised: 18 September 2013 / Accepted: 23 September 2013 / Published: 30 September 2013
Abstract
For the development of effective drug carriers, nanocapsules that respond to micro-environmental changes including a decrease in pH and a reductive environment were prepared by the stabilization of polymer vesicles formed from head-tail type polycations, composed of a polyamidoamine dendron head and a poly(L-lysine) tail (PAMAM dendron-PLL), through the introduction of disulfide bonds between the PLL tails. Disulfide bonds were successfully introduced through the reaction of Lys residues in the PAMAM dendron-PLL polymer vesicles with 2-iminothiolane. The stabilization of PAMAM dendron-PLL polymer vesicles was confirmed by dynamic light scattering measurements. In acid-base titration experiments, nanocapsules cross-linked by disulfide bonds had a buffering effect during the cellular uptake process. The PAMAM dendron-PLL nanocapsules were used to incorporate the fluorescent dyes rhodamine 6G and fluorescein as a drug model. Cationic rhodamine 6G was generally not released from the nanocapsules because of the electrostatic barrier of the PLL membrane. However, the nanocapsules were destabilized at high glutathione concentrations corresponding to intracellular concentrations. Rhodamine 6G was immediately released from the nanocapsules because of destabilization upon the cleavage of disulfide bonds. This release of rhodamine 6G from the nanocapsules was also observed in HeLa cells by laser confocal microscopy.
View Full-Text
►

▼

Figures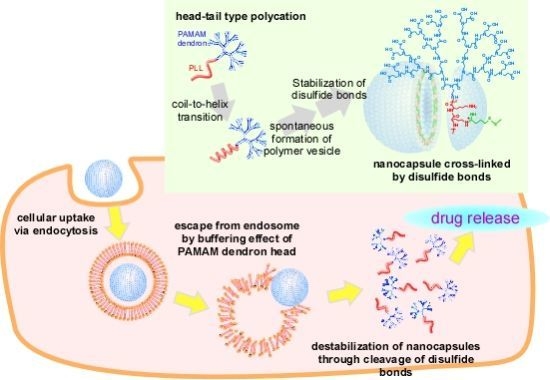 Graphical abstract

Share & Cite This Article
MDPI and ACS Style
Harada, A.; Matsuki, R.; Ichimura, S.-I.; Yuba, E.; Kono, K. Intracellular Environment-Responsive Stabilization of Polymer Vesicles Formed from Head-Tail Type Polycations Composed of a Polyamidoamine Dendron and Poly(L-lysine). Molecules 2013, 18, 12168-12179.
Related Articles
Comments
[Return to top]