Mesua beccariana

(Clusiaceae), A Source of Potential Anti-cancer Lead Compounds in Drug Discovery

1

Department of Chemistry, Faculty of Science, Universiti Putra Malaysia, 43400 UPM Serdang, Selangor, Malaysia

2

Faculty of Medicine and Health Science, Universiti Tunku Abdul Rahman, 43000 Kajang, Selangor, Malaysia

*

Author to whom correspondence should be addressed.

Received: 25 July 2012 / Revised: 22 August 2012 / Accepted: 27 August 2012 / Published: 10 September 2012
Abstract
An investigation on biologically active secondary metabolites from the stem bark of
Mesua beccariana
was carried out. A new cyclodione, mesuadione (
1
), along with several known constituents which are beccamarin (
2
), 2,5-dihydroxy-1,3,4-trimethoxy anthraquinone (
3
), 4-methoxy-1,3,5-trihydroxyanthraquinone (
4
), betulinic acid (
5
) and stigmasterol (
6
) were obtained from this ongoing research. Structures of these compounds were elucidated by extensive spectroscopic methods, including 1D and 2D-NMR, GC-MS, IR and UV techniques. Preliminary tests of the
in vitro
cytotoxic activities of all the isolated metabolites against a panel of human cancer cell lines Raji (lymphoma), SNU-1 (gastric carcinoma), K562 (erythroleukemia cells), LS-174T (colorectal adenocarcinoma), HeLa (cervical cells), SK-MEL-28 (malignant melanoma cells), NCI-H23 (lung adenocarcinoma), IMR-32 (neuroblastoma) and Hep-G2 (hepatocellular liver carcinoma) were carried out using an MTT assay. Mesuadione (
1
), beccamarin (
2
), betulinic acid (
5
) and stigmasterol (
6
) displayed strong inhibition of Raji cell proliferation, while the proliferation rate of SK-MEL-28 and HeLa were strongly inhibited by stigmasterol (
6
) and beccamarin (
2
), indicating these secondary metabolites could be anti-cancer lead compounds in drug discovery.
View Full-Text
►

▼

Figures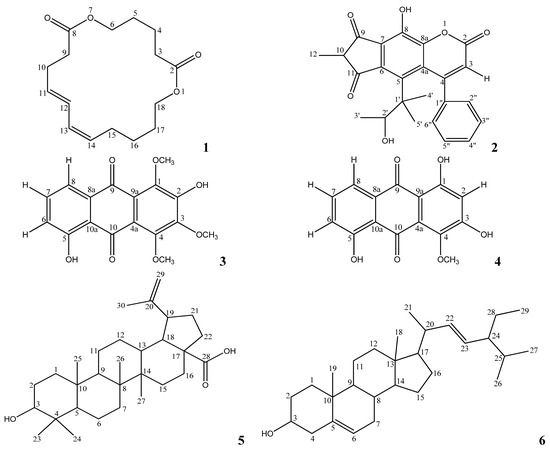 Figure 1

Share & Cite This Article
MDPI and ACS Style
Teh, S.S.; Cheng Lian Ee, G.; Mah, S.H.; Lim, Y.M.; Rahmani, M. Mesua beccariana (Clusiaceae), A Source of Potential Anti-cancer Lead Compounds in Drug Discovery. Molecules 2012, 17, 10791-10800.
Related Articles
Comments
[Return to top]