Bioassay-Guided Antidiabetic Study of
Phaleria macrocarpa

Fruit Extract

1

School of Pharmaceutical Sciences, Universiti Sains Malaysia, Minden 11800, Penang, Malaysia

2

Department of Biochemistry, College of Medical Sciences, University of Calabar, P.M.B. 1115, Calabar, Nigeria

*

Author to whom correspondence should be addressed.

Received: 11 January 2012 / Revised: 5 April 2012 / Accepted: 12 April 2012 / Published: 30 April 2012
Abstract
An earlier anti-hyperglycemic study with serial crude extracts of
Phaleria macrocarpa
(PM) fruit indicated methanol extract (ME) as the most effective. In the present investigation, the methanol extract was further fractionated to obtain chloroform (CF), ethyl acetate (EAF),
n
-butanol (NBF) and aqueous (AF) fractions, which were tested for antidiabetic activity. The NBF reduced blood glucose (
p
< 0.05) 15 min after administration, in an intraperitoneal glucose tolerance test (IPGTT) similar to metformin. Moreover, it lowered blood glucose in diabetic rats by 66.67% (
p
< 0.05), similar to metformin (51.11%), glibenclamide (66.67%) and insulin (71.43%) after a 12-day treatment, hence considered to be the most active fraction. Further fractionation of NBF yielded sub-fractions I (SFI) and II (SFII), and only SFI lowered blood glucose (
p
< 0.05), in IPGTT similar to glibenclamide. The ME, NBF, and SFI correspondingly lowered plasma insulin (
p
< 0.05) and dose-dependently inhibited glucose transport across isolated rat jejunum implying an extra-pancreatic mechanism. Phytochemical screening showed the presence of flavonoids, terpenes and tannins, in ME, NBF and SFI, and LC-MS analyses revealed 9.52%, 33.30% and 22.50% mangiferin respectively. PM fruit possesses anti-hyperglycemic effect, exerted probably through extra-pancreatic action. Magniferin, contained therein may be responsible for this reported activity.
View Full-Text
►

▼

Figures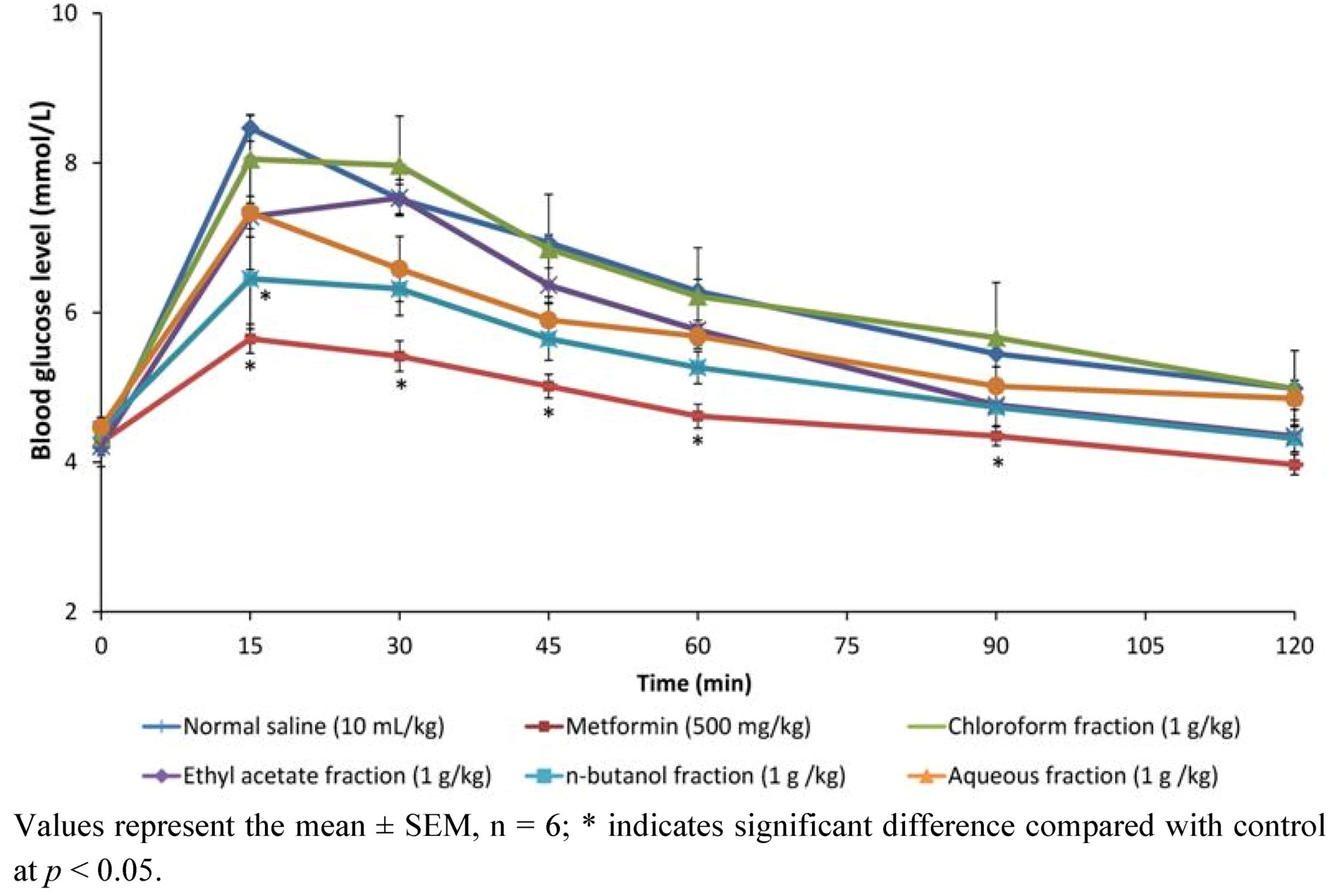 Figure 1

Share & Cite This Article
MDPI and ACS Style
Ali, R.B.; Atangwho, I.J.; Kaur, N.; Abraika, O.S.; Ahmad, M.; Mahmud, R.; Asmawi, M.Z. Bioassay-Guided Antidiabetic Study of Phaleria macrocarpa Fruit Extract. Molecules 2012, 17, 4986-5002.
Related Articles
Comments
[Return to top]