Xanthatin Induces Cell Cycle Arrest at G2/M Checkpoint and Apoptosis via Disrupting NF-κB Pathway in A549 Non-Small-Cell Lung Cancer Cells
1
Department of Clinical Pharmacy, College of Pharmacy, Nanjing University of Chinese Medicine, Nanjing 210029, China
2
Department of Pharmacy, Anhui Provincial Hospital, Hefei 230001, China
3
Jiangsu Key Laboratory for Pharmacology and Safety Evaluation of Chinese Materia Medica, Nanjing University of Chinese Medicine, Nanjing 210029, China
*
Author to whom correspondence should be addressed.
†
These authors contributed equally to this work.
Received: 14 February 2012 / Revised: 13 March 2012 / Accepted: 20 March 2012 / Published: 26 March 2012
Abstract
Xanthatin, a natural sesquiterpene lactone, has significant antitumor activity against a variety of cancer cells, yet little is known about its anticancer mechanism. In this study, we demonstrated that xanthatin had obvious dose-/time-dependent cytotoxicity against the human non-small-cell lung cancer (NSCLC) cell line A549. Flow cytometry analysis showed xanthatin induced cell cycle arrest at G2/M phase. Xanthatin also had pro-apoptotic effects on A549 cells as evidenced by Hoechst 33258 staining and annexin V-FITC staining. Mechanistic data revealed that xanthatin downregulated Chk1, Chk2, and phosphorylation of CDC2, which contributed to the cell cycle arrest. Xathatin also increased total p53 protein levels, decreased Bcl-2/Bax ratio and expression of the downstream factors procaspase-9 and procaspase-3, which triggered the intrinsic apoptosis pathway. Furthermore, xanthatin blocked phosphorylation of NF-κB (p65) and IκBa, which might also contribute to its pro-apoptotic effects on A549 cells. Xanthatin also inhibited TNFa induced NF-κB (p65) translocation. We conclude that xanthatin displays significant antitumor effects through cell cycle arrest and apoptosis induction in A549 cells. These effects were associated with intrinsic apoptosis pathway and disrupted NF-κB signaling. These results suggested that xanthatin may have therapeutic potential against NSCLC.
View Full-Text
►

▼

Figures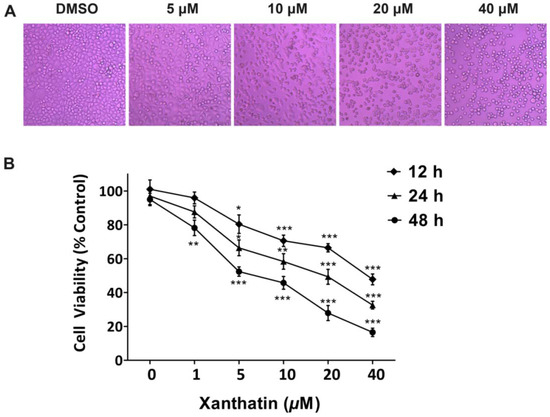 Figure 1

Share & Cite This Article
MDPI and ACS Style
Zhang, L.; Ruan, J.; Yan, L.; Li, W.; Wu, Y.; Tao, L.; Zhang, F.; Zheng, S.; Wang, A.; Lu, Y. Xanthatin Induces Cell Cycle Arrest at G2/M Checkpoint and Apoptosis via Disrupting NF-κB Pathway in A549 Non-Small-Cell Lung Cancer Cells. Molecules 2012, 17, 3736-3750.
Related Articles
Comments
[Return to top]