Effect of Five Different Stages of Ripening on Chemical Compounds in Medlar (
Mespilus germanica

L.)

1

Department of Food Technology and Microbiology, Faculty of Technology, Tomas Bata University in Zlin, Namesti T. G. Masaryka 275, CZ-762 72 Zlin, Czech Republic

2

Department of Breeding and Propagation of Horticultural Plants, Faculty of Horticulture, Mendel University in Brno, Valticka 337, CZ-691 44 Lednice, Czech Republic

3

Department of Natural Drugs, Faculty of Pharmacy, University of Veterinary and Pharmaceutical Sciences Brno, Palackeho 1-3, CZ-612 42 Brno, Czech Republic

4

Department of Natural and Informatics Sciences, Faculty of Central European Studies, Constantine the Philosopher University in Nitra, Drazovska 4, SK-949 74 Nitra, Slovak Republic

5

Department of Chemistry and Biochemistry, Faculty of Agronomy, Mendel University in Brno, Zemedelska 1, CZ-613 00 Brno, Czech Republic

6

Department of Biomedical Engineering, Faculty of Electrical Engineering and Communication, Brno University of Technology, Kolejni 4, CZ-612 00 Brno, Czech Republic

7

Department of Fruit Growing, Faculty of Horticulture, Mendel University in Brno, Valticka 337, CZ-691 44 Lednice, Czech Republic

8

Department of Food, Biochemistry and Analysis, Faculty of Technology, Tomas Bata University in Zlin, Namesti T. G. Masaryka 275, 762 72 Zlin, Czech Republic

9

Department of Veterinary Ecology and Environmental Protection, Faculty of Veterinary Hygiene and Ecology, University of Veterinary and Pharmaceutical Sciences, Palackeho 1-3, CZ-612 42 Brno, Czech Republic

*

Author to whom correspondence should be addressed.

Received: 11 November 2010 / Revised: 23 December 2010 / Accepted: 24 December 2010 / Published: 28 December 2010
Abstract
The study of changes of nutritional value of fruit during the ripening process can help estimate the optimal date for fruit harvesting to achieve the best quality for direct consumption and further utilization. The aim of this study was to monitor the changes of chemical composition of medlar fruit (
Mespilus germanica
L.) measured at five various ripening stages including 134, 144, 154, 164 and 174 days after full bloom (DAFB). Fruits were analyzed and ascorbic acid (AA) and total phenolic compound content with respect to the total antioxidant activity were determined. In addition, selected micronutrients and macronutrients were monitored. The results of our experiments demonstrate that ascorbic acid, total phenolic compound content and total antioxidant activity decreased significantly with increasing time of ripeness. The decreasing tendency in potassium, calcium and magnesium contents during the ripening stages was also determined. During the ripening period, the content of all micronutrients as well as phosphorus and sodium was balanced, with no statistically significant differences between the monitored ripening stages, which can be considered as a positive fact with respect to ideal consumption quality of fruit.
View Full-Text
►

▼

Figures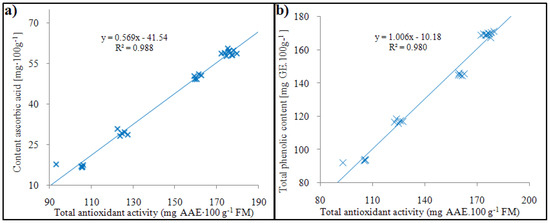 Figure 1

Share & Cite This Article
MDPI and ACS Style
Rop, O.; Sochor, J.; Jurikova, T.; Zitka, O.; Skutkova, H.; Mlcek, J.; Salas, P.; Krska, B.; Babula, P.; Adam, V.; Kramarova, D.; Beklova, M.; Provaznik, I.; Kizek, R. Effect of Five Different Stages of Ripening on Chemical Compounds in Medlar (Mespilus germanica L.). Molecules 2011, 16, 74-91.
Related Articles
Comments
[Return to top]