Mechanisms of the Gastric Antiulcerogenic Activity of
Anacardium humile

St. Hil on Ethanol-Induced Acute Gastric Mucosal Injury in Rats

1

Departamento de Anatomia, Biologia Celular, Fisiologia e Biofísica, Instituto de Biologia, Universidade Estadual de Campinas, Campinas, SP, Brazil

2

Laboratório de Tecnologia Farmacêutica, Universidade Federal da Paraíba - UFPB, Cx. Postal 5009, 58051-970, João Pessoa, PB, Brazil

3

Departamento de Morfologia, Instituto de Biociências, Universidade Estadual Paulista, Botucatu, SP, Brazil

4

Departamento de Fisiologia, Instituto de Biociências, Universidade Estadual Paulista, Botucatu, SP, Brazil

5

Departamento de Química Orgânica, Instituto de Química, Universidade Estadual Paulista, Araraquara, SP, Brazil

*

Author to whom correspondence should be addressed.

Received: 9 September 2010 / Revised: 8 October 2010 / Accepted: 14 October 2010 / Published: 15 October 2010
Abstract
Leaves and bark infusions
Anacardium humile
St. Hil. (Anacardiaceae), known as in Brazil as "cajuzinho do cerrado", have been used in folk medicine as an alternative treatment for ulcers and gastritis. This study evaluated the gastroprotective activity of an ethyl acetate extract of the leaves of
A. humile
(AcF) and the mechanism involved in this gastroprotection. Pretreatment concentrations (50, 100, 200 mg.kg
−1
) were administered by gavage. Following a 60 min. period, all the rats were orally administered 1 mL of absolute ethanol. One hour after the administration of ethanol, all groups were sacrificed, and the gastric ulcer index was calculated. Prostaglandin PGE
2
concentration, gastric adherent mucous, and the participation of nitric oxide (NO) and sulfhydryl compounds in the gastroprotection process were also analyzed using the most effective tested dose (50 mg·kg
−1
). A histological study of the glandular stomach for the evaluation of the epithelial damage and mucus content was also performed. AcF significantly reduced the gastric damage produced by ethanol. This effect was statistically significant for the 50 mg·kg
−1
group compared to control. Also, it significantly increased the PGE
2
(by 10-fold) and mucous production, while pretreatment with NG-nitro-L-arginine methyl ester (L-NAME) or
N
-ethylmaleimide (NEM) completely abolished the gastroprotection. AcF has a protective effect against ethanol, and this effect, might be due to the augmentation of the protective mechanisms of mucosa.
View Full-Text
►

▼

Figures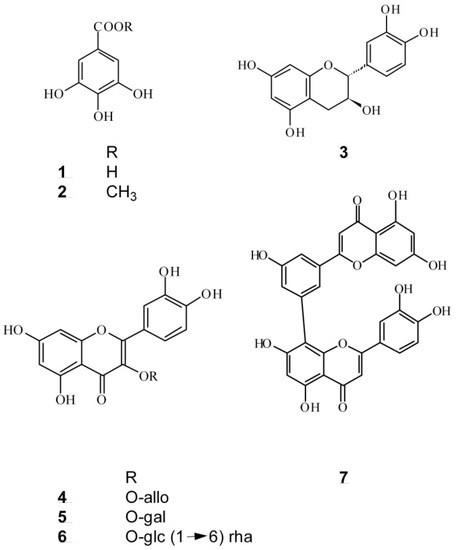 Figure 1

Share & Cite This Article
MDPI and ACS Style
Luiz-Ferreira, A.; Almeida, A.C.A.; Cola, M.; Barbastefano, V.; Almeida, A.B.A.; Batista, L.M.; Farias-Silva, E.; Pellizzon, C.H.; Hiruma-Lima, C.A.; Santos, L.C.; Vilegas, W.; Brito, A.R.M.S. Mechanisms of the Gastric Antiulcerogenic Activity of Anacardium humile St. Hil on Ethanol-Induced Acute Gastric Mucosal Injury in Rats. Molecules 2010, 15, 7153-7166.
Related Articles
Comments
[Return to top]