Open Access This article is
freely available
re-usable
Review
Natural Antioxidants: Fascinating or Mythical Biomolecules?
Research Centre for Plant Growth and Development, School of Biological and Conservation Sciences, University of KwaZulu-Natal Pietermaritzburg, Private Bag X01, Scottsville 3209, South Africa
*
Author to whom correspondence should be addressed.
Received: 26 August 2010; in revised form: 9 September 2010 / Accepted: 14 September 2010 / Published: 8 October 2010
Abstract
:
Research on the use, properties, characteristics and sources of antioxidants especially phenolic compounds, flavonoids, vitamins, synthetic chemicals and some micronutrients began in the late 18
th
century. Since then antioxidant research has received considerable attention and over a hundred thousand papers have been published on the subject. This has led to a rampant use of antioxidants in order to try to obtain and preserve optimal health. A number of nutraceuticals and food supplements are frequently fortified with synthetic or natural antioxidants. However, some research outcomes have led to the belief that antioxidants exist as mythical biomolecules. This review provides a critical evaluation of some common
in vitro
antioxidant capacity methods, and a discussion on the role and controversies surrounding non-enzymatic biomolecules, in particular phenolic compounds and non-phenolic compounds, in oxidative processes in an attempt of stemming the tidal wave that is threatening to swamp the concept of natural antioxidants.
Keywords:
antioxidants; bioavailability; bio-kinetics; free radicals; phenolic compounds; flavonoids; vitamins
1. Natural Antioxidants: an Overview
2. Protocols for Assaying Antioxidants
Various chemical
in vitro
assays have been developed to measure antioxidant capacities of plant products. A number of these assays depend on the generation of free radicals. Despite the recent popularity in antioxidant research, the lack of standardised assays to compare research results from different research groups has been a major challenge. As observed by Huang
et al
. [
19
], an examination of various antioxidant assays is required for the development of standard methods that are broadly applicable by researchers and industry. However, due to the complex nature of biological systems, there is no single universal method for measuring antioxidant capacity [
20
]. Based on reaction mechanisms involved, antioxidant capacity assays can be divided into two major groups; those based on hydrogen transfer (HAT) reactions and others involving single electron transfer (SET) reactions [
19
,
20
]. A third group consists of antioxidant capacity assays that involve both HAT and ET reaction mechanisms [
20
]. Assays that are based on HAT mechanisms measure competitive kinetics and are composed of a synthetic radical generator, oxidisable molecular probe and an antioxidant compound [
19
]. Since hydrogen atom transfer is a key step in the radical chain, HAT-based methods are more relevant to radical chain-breaking antioxidant capacity [
19
]. In contrast, SET-based assays involve one redox reaction in which the oxidant is also the probe for monitoring the reaction [
19
]. Single electron transfer-based assays involve two components in the reaction,
i.e.
the antioxidant and oxidant (also the probe) and follows the relationship [
19
]:
Probe (oxidant) + e (from antioxidant) → reduced probe + oxidised antioxidant
Colour change in the probe occurs when it removes an electron from the antioxidant, with the degree of colour change being proportional to the concentration of antioxidants in the reaction mixture. The reaction end-point is reached when the colour change stops [
19
].
Huang
et al
. [
19
] broadly classified antioxidant capacity assays based on reaction mechanisms as follows: SET [Folin-Ciocalteu (Folin-C), 1,1-diphenyl-2-picrylhydrazine (DPPH) radical scavenging, trolox equivalent antioxidant capacity (TEAC), ferric reducing ability of plasma (FRAP)]; and HAT [oxygen radical absorbance capacity (ORAC),
β
-carotene/linoleic acid model system and inhibition of phospholipid peroxidation]. Prior
et al.
[
20
] classified DPPH, TEAC and Folin-C antioxidant assays into a category that utilises both SET and HAT reaction mechanisms, though predominantly based on electron transfer. Some antioxidant assays have been developed to measure other reactive oxygen species e.g. the superoxide anion scavenging capacity assay. The following sections discuss some of the commonly used antioxidant capacity assays, the majority of which are done in our laboratory [
21
,
22
,
23
,
24
,
25
].
3. The Roles of Phenols as Antioxidants
The antioxidant properties of plant extracts have been attributed to their phenolic compound contents. A lot of work has been carried out since the early 1870s until now on the beneficial effects of phenolic compounds as natural antioxidants with well over 150,000 research papers associated with antioxidants available when searched through the Thomson Reuters Web of Knowledge (ISI Web of Knowledge), Medical Literature Analysis and Retrieval System Online (MEDLINE) and SciFinder [
16
]. Some of the research has lead to the identification and/or isolation of potent simple and polymeric phenolic compounds [
58
,
59
,
60
,
61
,
62
,
63
,
64
]. Through epidemiological studies, phenolic compounds have been shown to act as natural antioxidants by helping to neutralize free radicals and as metal chelating agents [
25
,
65
,
66
,
67
,
68
,
69
,
70
,
71
,
72
,
73
]. Phenolic compounds such as gallic acid, trans-resveratrol, fisetin, quercetin and its glycoside rutin have been reported to have strong antioxidant activity in the fluorimetric assay [
74
,
75
].
The multiple hydroxyl groups in the chemical structure of polyphenols make them ideal for free radical-scavenging reactions and as metal chelating agents [
75
]. The arrangement of the hydroxyl groups around the phenolic molecule is also important for antioxidant reactions [
76
].
Figure 1
presents some simple and dimeric phenolic compounds whose structures confer high antioxidant activity. Studies aimed at understanding the structure-activity relationships have been used as a theoretical method for predicting antioxidant activity [
76
].
As reported by Hagerman
et al
. [
77
], the antioxidant potential of phenolic acids improves as the number of hydroxyl and methoxyl groups increases, hence the higher antioxidant ability of condensed and hydrolyzable tannins at quenching peroxyl radicals over simple phenols. Phenolic compounds comprise of a large diversity of compounds among which flavonoids and several classes of non-flavonoids are abundant. The numbering system for the flavonoid skeleton is shown in
Figure 2
. Flavonoids are a diverse group of secondary plant metabolites that are characterized by the presence of a C15-(C6-C3-C6) flavone nucleus that is based on a heterocyclic ring system derived from phenylalanine (ring B) and polyketide biosynthesis (ring A) linked through an oxygen containing pyran or pyrone ring (ring C) [
78
,
79
]. Flavonoids are common as oligomers and polymers (condensed tannin or proanthocyanidins) and are divided into several classes according to the degree of oxidation of the oxygen heterocycle into flavones, flavonols, isoflavones, anthocyanidins, flavanols and flavanones [
29
]. Stronger superoxide-scavenging activity in polymeric flavonoids with higher degrees of polymerisation has been reported [
29
].
4. Other (Endogenous) Types of Antioxidants
5. Antioxidants in Foods, Beverages and Drug Products
6. When Do Antioxidants Act as Toxins?
7. Bioavailability of Antioxidant Molecules
The answer to the question on bioavailability is not easy to come by as there exists a body of contradicting data. From the small reservoir of data on bioavailability, it has been shown that the concentrations of intact flavonoids in human plasma rarely exceed 1 mM when 2.3 g phenolics per trial were ingested. These maximum concentrations are most often reached 1–2 h after ingestion except for polyphenols, which are absorbed only after partial degradation by the microflora in the colon. In contrast, phenolic compounds are believed to be responsible for the antioxidant capacity of some drinks. In spite of having a greater antioxidant capacity than ascorbic acid and α-tocopherol, some phenolic compounds have scanty bioavailability and therefore make less contribution to the antioxidant plasmatic capacity [
124
]. King [
125
] reported the bioavailability of flavonoids like catechin, quecetin and isoflavones to be about 10–50%. Vissers
et al
. [
126
] showed that absorption of virgin olive oil phenols is between 55–66% and of that amount, 5% is excreted in urine as tyrosol and hydroxytyrosol.
What makes phenolic compounds difficult to absorb compared to other molecules? Phenolic compounds exist in many different chemical forms. Chemical structures greatly affect the reactivity and conjugation reactions of phenolic compounds with glucuronide, methyl and sulphate groups that are chiefly involved in absorption reactions. Most phenolic compounds usually exist as glycosylated forms. The types of sugars are usually glucose or rhamnose but can also be arabinose, galactose, xylose, glucuronic acid [
29
,
79
]. The glycosylation and the type of sugar conjugation greatly influence the biological properties of phenolics such as diffusion through membranes as gylcosylation lowers the membrane permeability of phenolic compounds [
29
,
127
]. It is therefore essential to remove the glucose moiety before a phenolic compound can easily be absorbed. The removal of the sugar moiety usually takes place in the food by the activation of glycosidase enzymes, in the gastrointestinal mucosa cells or the enzyme can be secreted by the colon microflora [
29
]. Other chemical reactions such as acylation and esterification reduce the membrane permeability of phenolic compounds. Other factors that affect bioavailability include the presence of fat in the diet, fiber content and heat treatments [
6
]. The presence of fat in the diet increases the bioavailability of lycopene. Many phenolic compounds are not bioavailable because of their low solubility, stability and may require biotransformation before they reach the systematic circulation [
6
].
Halliwell
et al
. [
118
] proposed that antioxidants such as flavonoids and other phenolic compounds could exert their antioxidant effects within the gastrointestinal tract without any need for absorption. This could account for the protective effects of phenolic compounds against gastric and colonic cancer. The authors cited the effects of green tea as an example. Green tea rapidly decreases prostaglandin E
2
concentrations in the human rectal mucosa, leading to the inhibition of cyclooxygenase enzymes. Halliwell
et al
. [
118
] argued that the absorption of phenolic compounds is incomplete until they enter the colon where they exert their beneficial effects. The gastrointestinal tract is constantly exposed to reactive oxygen species such as chlorine and nitrogen species from the diet and/or products of bacterial fermentation. The stomach acts as a 'bioreactor' for such reactive oxygen species [
118
].
8. The Fate of the Oxidised Products (Mysteries in Antioxidant Reactions)
Several researchers have tried to reveal the mysteries surrounding antioxidant reactions. During the antioxidant reactions, electrons and hydrogen atoms are exchanged and at the end of the process, it is understood that another molecule has to be oxidised (
when an irresistible force meet with an immovable object, something has to give in
). The question that follows is; what is the fate of the oxidised molecules? It should be understood that the complexity and heterogeneity of biological systems does not allow anything to work in isolation, if a reaction takes place to oxidise one molecule then something must be reduced and there must be a balance of electrons [
128
]. Such complications have led to the dichotomy of antioxidants, mainly the fact that
in vitro
activity cannot easily be translated into
in vivo
effects [
16
,
128
].
A simple explanation which reveals the mysteries in antioxidant reactions has been put forward to explain the fate of oxidised products. The theory explains how two molecules work together by regenerating or "sparing" each other. Vitamins C and E work as antioxidants by quenching free radicals and providing hydrogen atoms (reducing equivalents). The donated hydrogen atoms then pair up with unpaired electrons on free radicals. In the process, the vitamins themselves become oxidized (spent). The active reduced forms of the vitamins are then regenerated (spared) by reduction with glutathione (GSH) and/or other reductants such as ascorbate, NADH/NADPH, dihydrolipoate (a thiol containing antioxidant like GSH), ubiquinol, or cytochrome transport electrons [
74
].
Ascorbic acid is believed to be regenerated from its oxidized form, dehydroascorbic acid, by reductase enzyme(s) that utilize GSH and probably NADPH as well (reducing equivalents) [
74
]. Another example is of lipoic acid, an antioxidant that operates as a cofactor to dehydrogenase multienzyme complexes [
58
]. Lipoic acid mediates the reactions by binding acyl groups and transferring them from one part of the enzyme complex to another thereby getting itself reduced to dihydrolipoic acid, which is reoxidized by lipoamide dehydrogenase to regenerate lipoic acid with concomitant formation of NADH [
113
].
From these studies, it can be deduced that several enzyme systems are involved in deciding the fate of the oxidised antioxidant molecules, leading to the regeneration of the original antioxidant molecules. Another deduction is that antioxidants cannot operate efficiently when isolated; instead they work in a synergistic manner, sparing each other during the reactions.
9. Are Antioxidants Mythical or Fascinating Biomolecules? Conclusions and Future Prospects
The existence of many research papers and reviews on the topic of antioxidants is a case in point. It provides support and evidence that antioxidants do exist and are not just mythical biomolecules but are responsible for a number of radical scavenging and chain-breaking reactions that keeps us healthy. An additional large body of literature outside the scientific publishing houses supports the role of antioxidants in the pathogenesis of human diseases. By acting as antioxidants, phenolic compounds, especially flavonoids, may improve cell survival; and as pro-oxidants, they induce apoptosis and prevent cancerous cell growth [
9
]. However, though antioxidants are fascinating and useful, they should be used with caution, at least until such time as enough research has been undertaken to ascertain their safety. Currently the majority of such papers simply concentrate on the presence of such compounds in plants used as food and medicinally.
Perhaps it would be helpful for researchers to concentrate on bioavailability, absorption, metabolism, pharmacokinetics and biotransformation studies of antioxidants. The extent to which the many interactions and synergisms demonstrated
in vitro
could actually occur
in vivo
remains to be determined and presents an important and formidable challenge to future researchers. Such studies could offer an answer to a question on whether an administered antioxidant could easily reach the site of increased free-radical formation.
Acknowledgments
This review work was supported by the University of KwaZulu-Natal Research Office and the National Research Foundation (NRF), Pretoria. S.O. Amoo, B. Ncube and W.A. Stirk of the Research Centre for Plant Growth and Development are thanked for their critical review of the manuscript.
Sample Availability:

Samples of some of the compounds are available from the authors.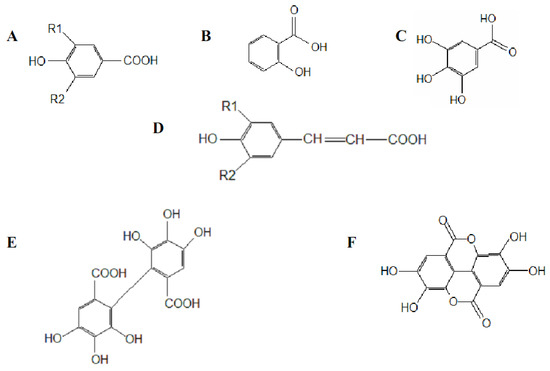 Figure 1.
(A)
p
-Hydroxybenzoic; R1= R2=H, vanillic; R1= methoxy group, R2=H, protocatechuic acid; R1= OH, R2=H and syringic acid; R1= R2 = methoxy group. (B) Salicylic acid. (C) Gallic acid. (D)
p
-Coumaric acid; R1= R2 = H, caffeic acid; R1= OH, R2 = H, ferulic acid; R1= methoxy group, R2 = H and sinapic acid; R1= R2 = methoxy group. (E) Hexahydroxydiphenic acid. (F) Ellagic acid.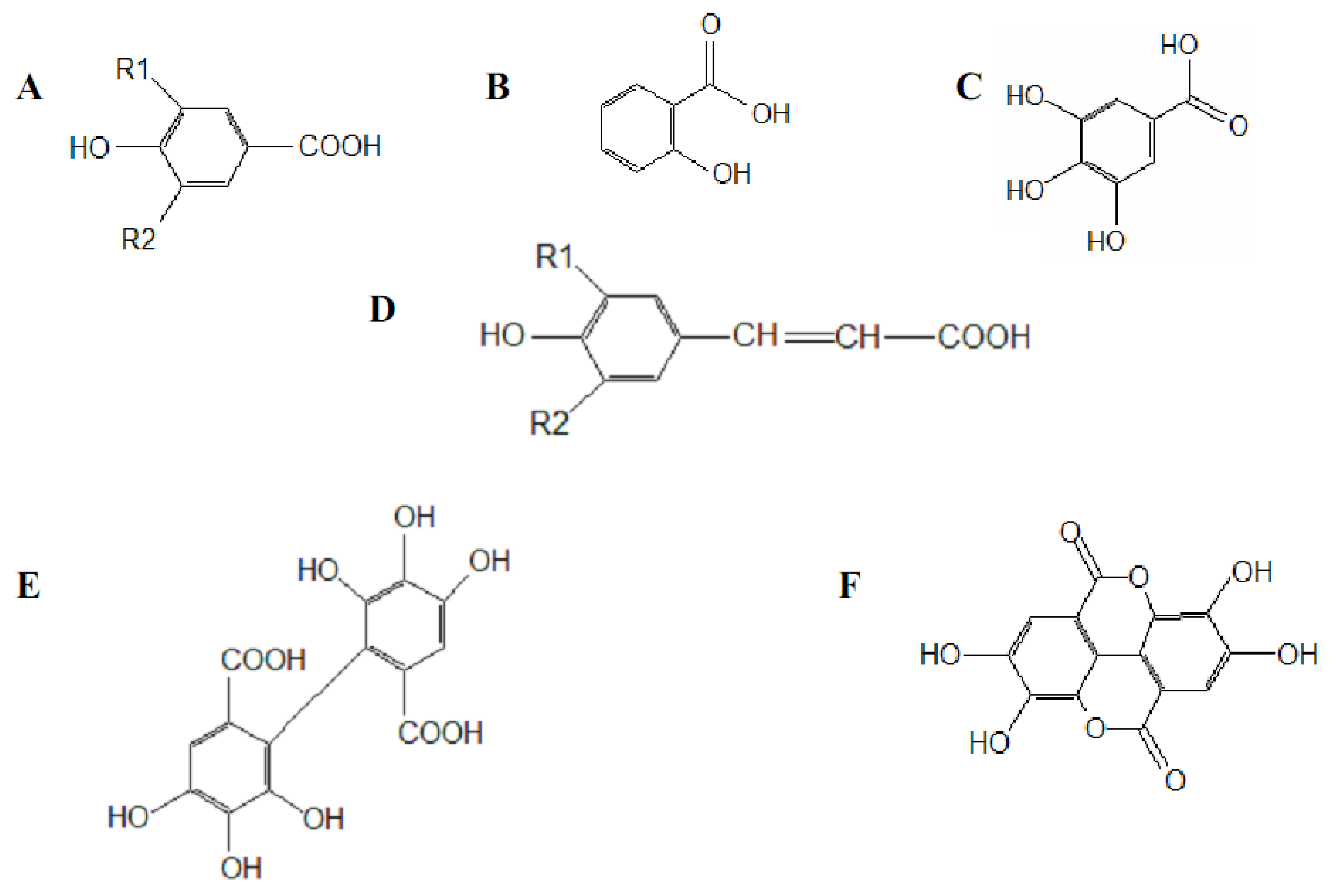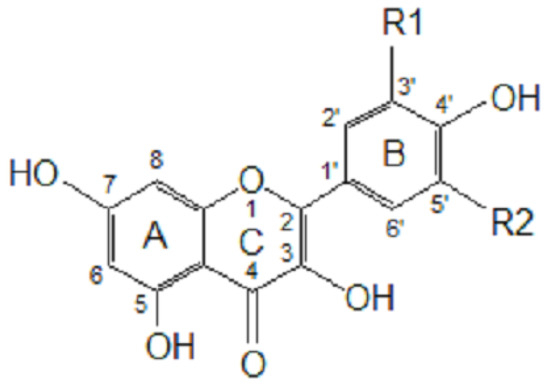 Figure 2. Flavonoid skeleton showing rings A, B and C and the numbering. Kaempferol, R1= H, R2=H; quercetin, R1= OH, R2= H; myricetin, R1=OH, R2= OH.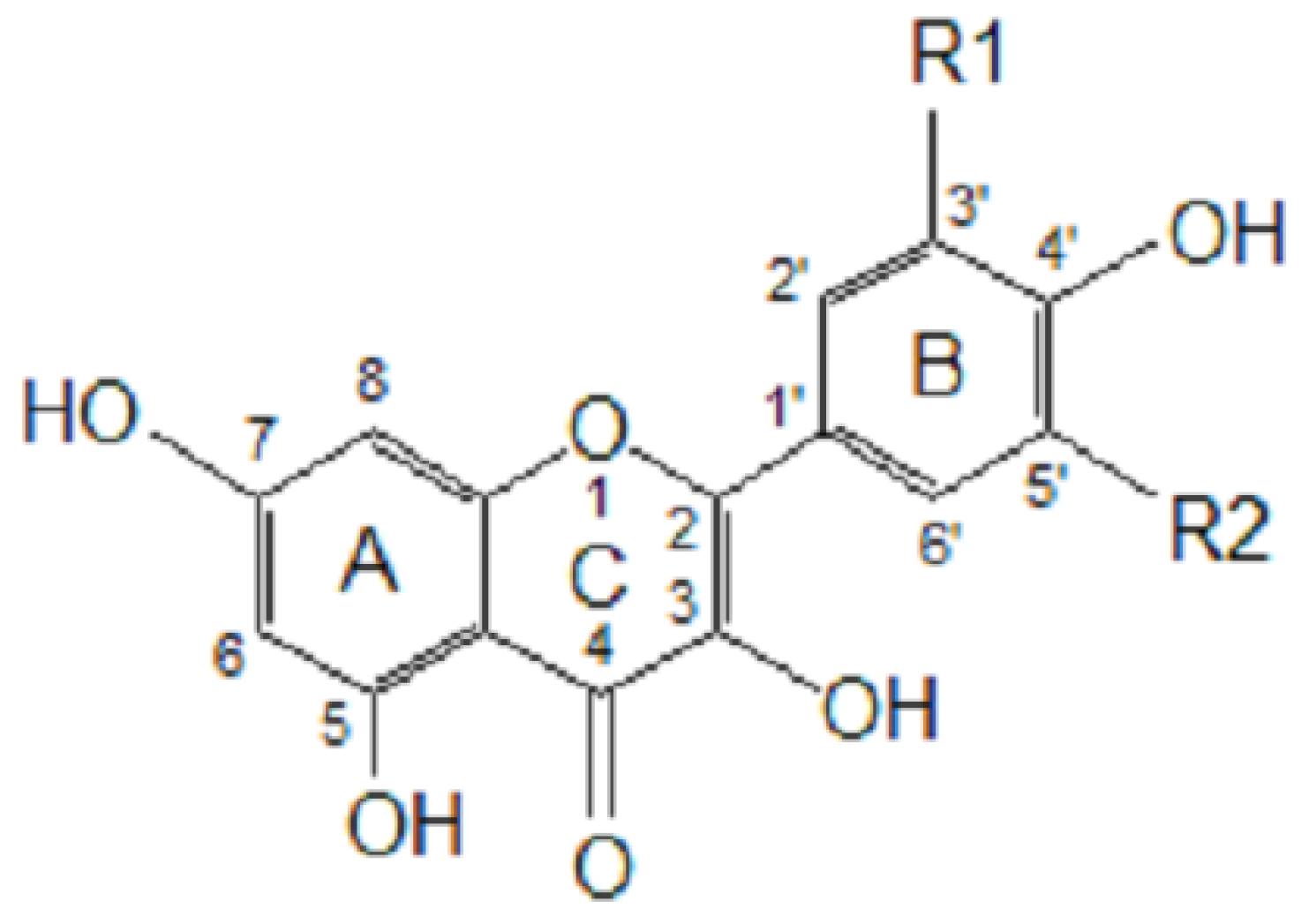 © 2010 by the authors; licensee MDPI, Basel, Switzerland. This article is an open access article distributed under the terms and conditions of the Creative Commons Attribution license (http://creativecommons.org/licenses/by/3.0/).