Inhibition of Oxidation of Aqueous Emulsions of Omega-3 Fatty Acids and Fish Oil by Phloretin and Phloridzin
Tree Fruit Bio-product Research Program, Nova Scotia Agricultural College, P.O. Box 550, Truro, NS, B2N 5E3, Canada
*
Author to whom correspondence should be addressed.
Received: 7 December 2009 / Revised: 24 December 2009 / Accepted: 8 January 2010 / Published: 11 January 2010
Abstract
The antioxidant properties of two apple dihydrochalcones, namely phloretin and phloridzin, were evaluated and compared with those of α-tocopherol and butylated hydroxytoluene (BHT). The effects were studied in an oil-in-water emulsion system containing methyl linolenate (ML), methyl eicosapentaenoate (MEPA), and methyl docosahexaenoate (MDHA) in which oxidation was initiated by the peroxyl radical generator 2,2-azobis(2-amidinopropane) dihydrochloride (AAPH) and in fish oil where oxidation was initiated thermally. In the emulsion system, phloretin (1 and 5 mM) completely inhibited the oxidation of ML tested as evidenced by the thiobarbituric acid reactive substances (TBARS) assay. Under the same conditions, phloridzin was less effective than phloretin, but still more effective than α-tocopherol. Both phloretin and phloridzin molecules had a marginal inhibitory effect against oxidation of fish oil induced by heating at 70 °C for 3 hours, when compared to BHT. These results indicate that phloretin and phloridzin have the potential to suppress lipid oxidation in polyunsaturated fatty acid (PUFA) containing foods.
View Full-Text
►

▼

Figures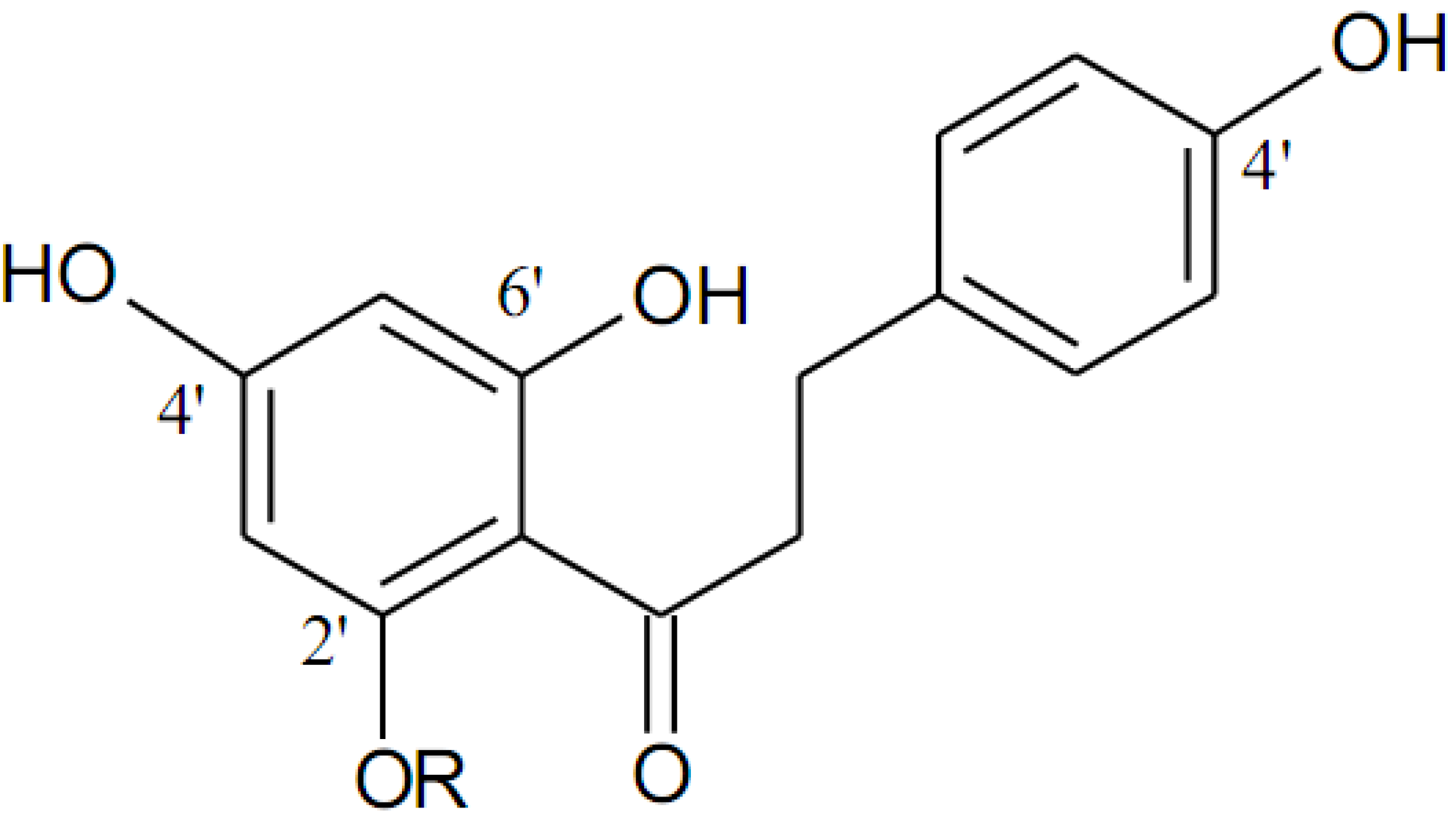 Figure 1

Share & Cite This Article
MDPI and ACS Style
Vasantha Rupasinghe, H.P.; Yasmin, A. Inhibition of Oxidation of Aqueous Emulsions of Omega-3 Fatty Acids and Fish Oil by Phloretin and Phloridzin. Molecules 2010, 15, 251-257.
Related Articles
Comments
[Return to top]