2-(3,4-Dihydro-4-Oxothieno[2,3-
d

]pyrimidin-2-ylthio) Acetamides as a New Class of Falcipain-2 Inhibitors. 3. Design, Synthesis and Biological Evaluation

1

School of Pharmacy, East China University of Science and Technology, 130 Mei Long Road, Shanghai 200237, P.R. China

2

Drug Discovery and Design Center, Shanghai Institute of Materia Medica, Chinese Academy of Sciences, 555 Zu Chong Zhi Road, Shanghai 201203, P.R. China

*

Authors to whom correspondence should be addressed.

Received: 15 December 2008 / Revised: 18 January 2009 / Accepted: 13 February 2009 / Published: 16 February 2009
Abstract
The cysteine protease falcipain-2 (FP-2) of
Plasmodium falciparum
is a principal cysteine protease and an essential hemoglobinase of erythrocytic
P. falciparum
trophozoites, making it become an attractive target enzyme for developing anti-malarial drugs. In this study, a series of novel small molecule FP-2 inhibitors have been designed and synthesized based on compound 1, which was identified by using structure-based virtual screening in conjunction with an enzyme inhibition assay. All compounds showed high inhibitory effect against FP-2 with IC
50
s of 1.46-11.38 μM, and the inhibitory activity of compound 2a was ~2 times greater than that of prototype compound 1. The preliminary SARs are summarized and should be helpful for future inhibitor design, and the novel scaffold presented here, with its potent inhibitory activity against FP-2, also has potential application in discovery of new anti-malarial drugs.
View Full-Text
►

▼

Figures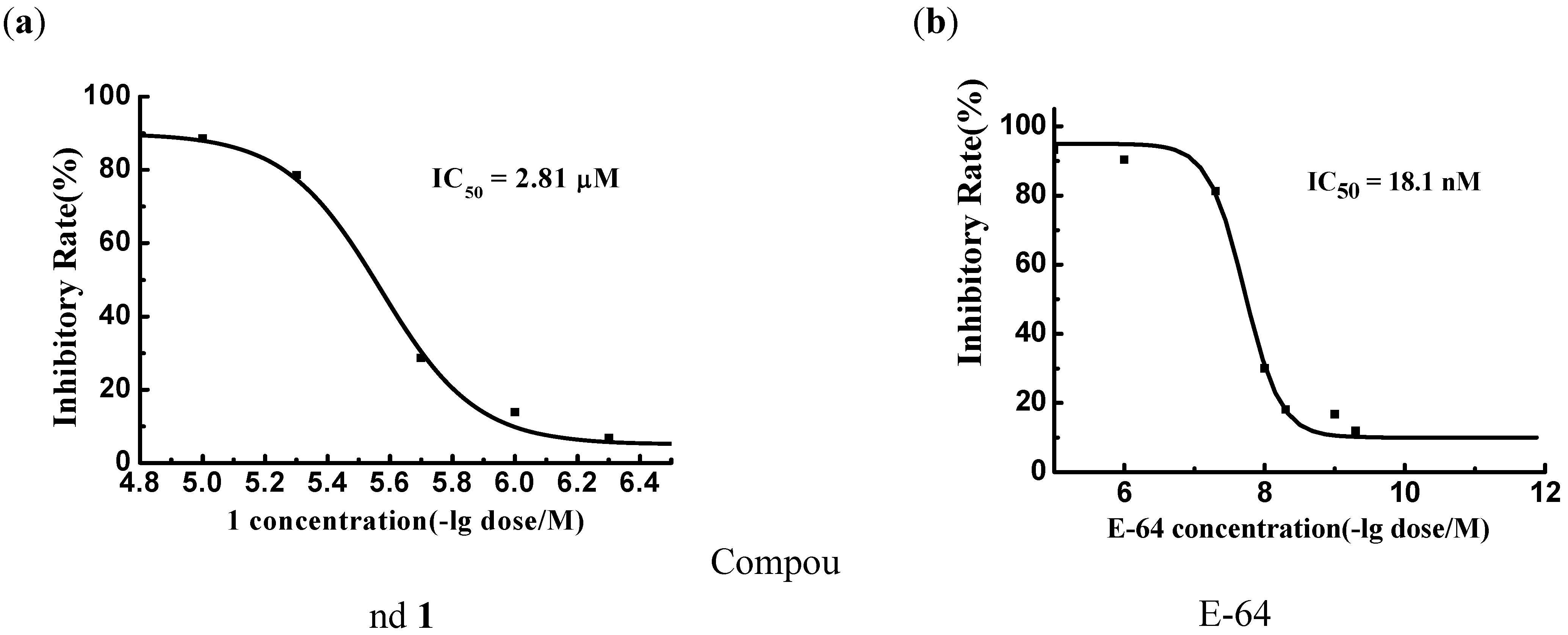 Figure 1

Share & Cite This Article
MDPI and ACS Style
Zhu, J.; Chen, T.; Liu, J.; Ma, R.; Lu, W.; Huang, J.; Li, H.; Li, J.; Jiang, H. 2-(3,4-Dihydro-4-Oxothieno[2,3-d]pyrimidin-2-ylthio) Acetamides as a New Class of Falcipain-2 Inhibitors. 3. Design, Synthesis and Biological Evaluation. Molecules 2009, 14, 785-797.
Related Articles
Comments
[Return to top]