A New Triterpene Hexaglycoside from the Bark of
Kalopanax septemlobus

(Thunb.) Koidz.

1

Jilin Provincial Academy of Chinese Medicine Sciences, Changchun 130021, China

2

Key Laboratory of Marine Bio-resources Sustainable Utilization, South China Sea Institute of Oceanology, Chinese Academy of Sciences, No. 164 West Xingang Road, Guangzhou 510-301, China

3

College of Pharmacy, Changchun University of Chinese Medicine, Changchun 130117, China

4

School of Chinese Materia Medica, Beijing University of Chinese Medicine, Beijing 100102, China

*

Author to whom correspondence should be addressed.

Received: 10 September 2009 / Revised: 21 October 2009 / Accepted: 23 October 2009 / Published: 9 November 2009
Abstract
The new triterpene glycoside 3-
O
-β-D-xylopyranosyl-(1→4)-β-D-xylopyranosyl-(1→3)-α-L-rhamnopyranosyl-(1→2)-α-L-arabinopyranosylhederagenin 28-
O
-β-D-gluco-pyranosyl-(1→6)-β-D-glucopyranoside, named septemoside A (1), and the known 3-
O
-α-L-rhamnopyranosyl-(1→2)-
O
-α-L-arabinopyranoside-28-
O
-β-D-glucopyranosyl-(1→6)-
O
-β-D-glucopyranosyl ester of hederagenin (2), were isolated from the bark of
Kalopanax septemlobus
. The structure elucidation of the compounds was based on spectroscopic evidence, including HRESIMS, 1D and 2D-NMR analysis.
View Full-Text
►

▼

Figures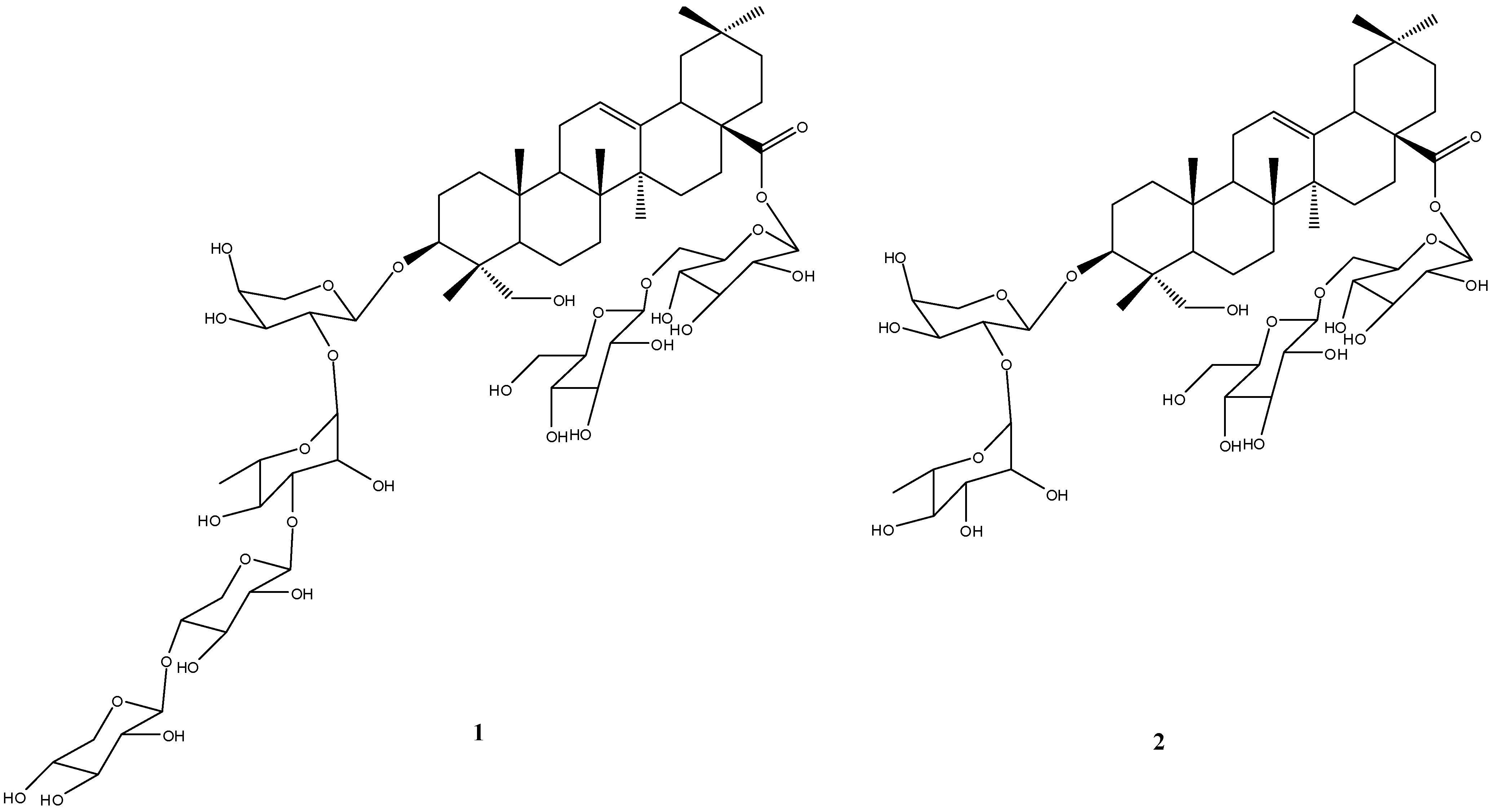 Figure 1

Share & Cite This Article
MDPI and ACS Style
Wang, L.-S.; Zhao, D.-Q.; Xu, T.-H.; Zhou, X.-F.; Yang, X.-W.; Liu, Y.-H. A New Triterpene Hexaglycoside from the Bark of Kalopanax septemlobus (Thunb.) Koidz.. Molecules 2009, 14, 4497-4504.
Related Articles
Comments
[Return to top]