Marine Derived Polysaccharides for Biomedical Applications: Chemical Modification Approaches
Istituto di Chimica e Tecnologia dei Polimeri, C.N.R.-Via Campi Flegrei, 34- 80078 Pozzuoli (Naples), Italy
*
Author to whom correspondence should be addressed.
Received: 26 May 2008 / Revised: 2 July 2008 / Accepted: 25 July 2008 / Published: 3 September 2008
Abstract
Polysaccharide-based biomaterials are an emerging class in several biomedical fields such as tissue regeneration, particularly for cartilage, drug delivery devices and gelentrapment systems for the immobilization of cells. Important properties of the polysaccharides include controllable biological activity, biodegradability, and their ability to form hydrogels. Most of the polysaccharides used derive from natural sources; particularly, alginate and chitin, two polysaccharides which have an extensive history of use in medicine, pharmacy and basic sciences, and can be easily extracted from marine plants (algae kelp) and crab shells, respectively. The recent rediscovery of poly-saccharidebased materials is also attributable to new synthetic routes for their chemical modification, with the aim of promoting new biological activities and/or to modify the final properties of the biomaterials for specific purposes. These synthetic strategies also involve the combination of polysaccharides with other polymers. A review of the more recent research in the field of chemical modification of alginate, chitin and its derivative chitosan is presented. Moreover, we report as case studies the results of our recent work concerning various different approaches and applications of polysaccharide-based biomaterials, such as the realization of novel composites based on calcium sulphate blended with alginate and with a chemically modified chitosan, the synthesis of novel alginate-poly(ethylene glycol) copolymers and the development of a family of materials based on alginate and acrylic polymers of potential interest as drug delivery systems.
View Full-Text
►

▼

Figures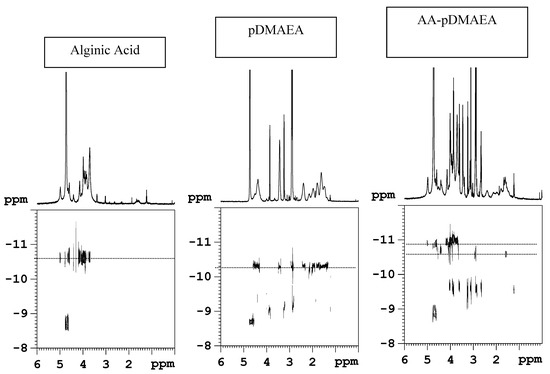 Figure 1

Share & Cite This Article
MDPI and ACS Style
D'Ayala, G.G.; Malinconico, M.; Laurienzo, P. Marine Derived Polysaccharides for Biomedical Applications: Chemical Modification Approaches. Molecules 2008, 13, 2069-2106.
Related Articles
Comments
[Return to top]