Identification of Minor Secondary Metabolites from the Latex of Croton lechleri (Muell-Arg) and Evaluation of Their Antioxidant Activity
1
Dipartimento di Chimica delle Sostanze Naturali, Università degli Studi di Napoli "Federico II",Via D. Montesano 49, I-80131 Napoli, Italy
2
Dipartimento di Biologia, Università degli Studi di Milano, Via Celoria 26, I-20133 Milano, Italy
3
UMR7079,UPMC Univ Paris 06, Paris, France
4
Dipartimento di Scienze e Tecnologie per l'Ambiente e il Territorio, Università degli Studi del Molise, Contrada Fonte Lappone, I-86090 Pesche (Isernia), Italy
*
Author to whom correspondence should be addressed.
Received: 6 May 2008 / Accepted: 29 May 2008 / Published: 1 June 2008
Abstract
Dragon's blood (Sangre de drago), a viscous red sap derived from Croton lechleri Muell-Arg (Euphorbiaceae), is extensively used by indigenous cultures of the Amazonian basin for its wound healing properties. The aim of this study was to identify the minor secondary metabolites and test the antioxidant activity of this sustance. A bioguided fractionation of the n-hexane, chloroform, n-butanol, and aqueous extracts led to the isolation of 15 compounds: three megastigmanes, four flavan-3-ols, three phenylpropanoids, three lignans, a clerodane, and the alkaloid taspine. In addition to these known molecules, six compounds were isolated and identified for the first time in the latex: blumenol B, blumenol C, 4,5-dihydroblumenol A, erythro-guaiacyl-glyceryl-β-O-4'- dihydroconiferyl ether, 2-[4-(3-hydroxypropyl)-2-methoxyphenoxy]-propane-1,3-diol and floribundic acid glucoside. Combinations of spectroscopic methods (
1
H-,
13
C- NMR and 2D-NMR experiments), ESI-MS, and literature comparisons were used for compound identification. In vitro antioxidant activities were assessed by DPPH, total antioxidant capacity and lipid peroxidation assays. Flavan-3-ols derivatives (as major phenolic compounds in the latex) exhibited the highest antioxidant activity.
View Full-Text
►

▼

Figures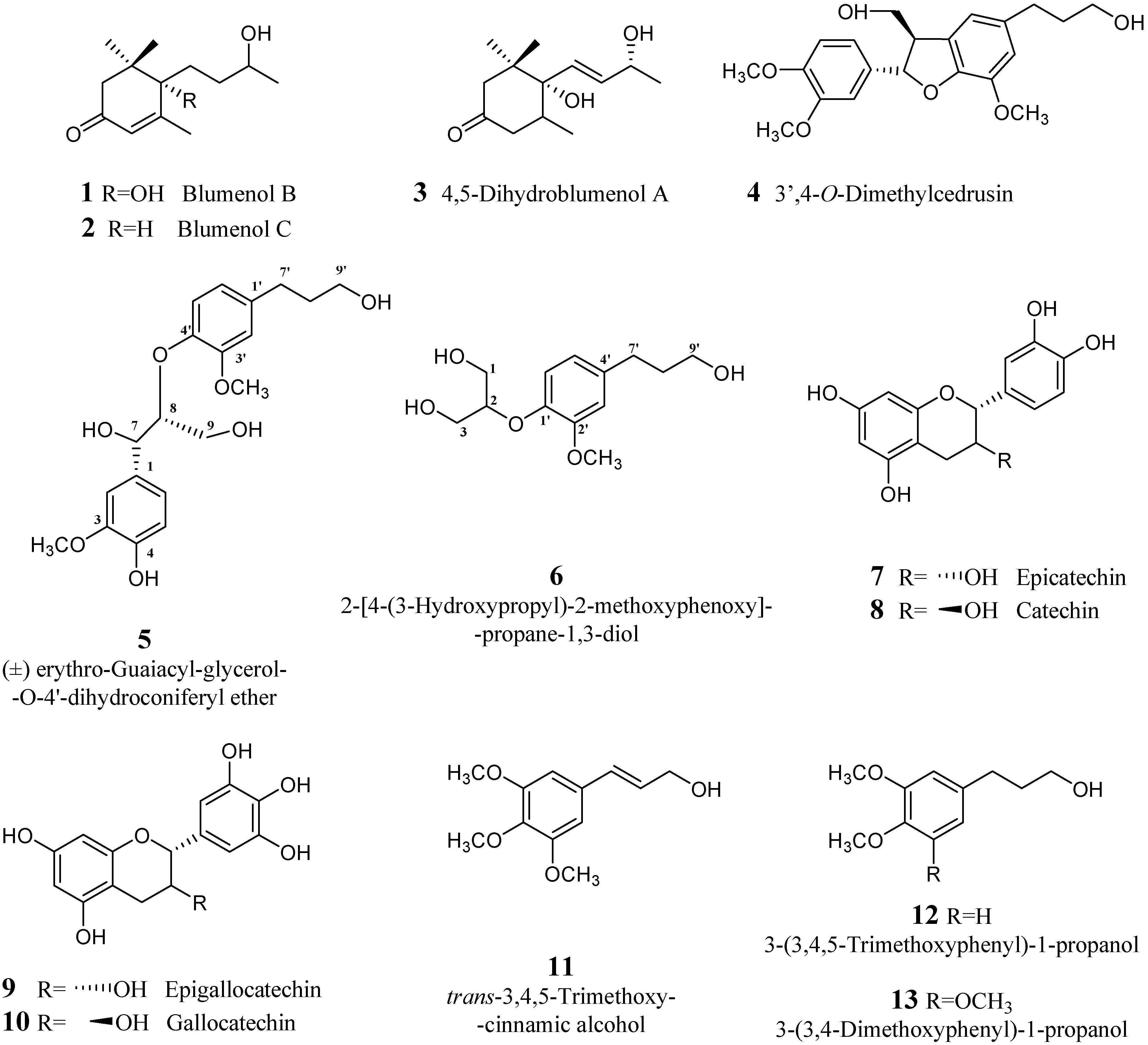 Figure 1

Share & Cite This Article
MDPI and ACS Style
De Marino, S.; Gala, F.; Zollo, F.; Vitalini, S.; Fico, G.; Visioli, F.; Iorizzi, M. Identification of Minor Secondary Metabolites from the Latex of Croton lechleri (Muell-Arg) and Evaluation of Their Antioxidant Activity. Molecules 2008, 13, 1219-1229.
Related Articles
Comments
[Return to top]