Identification of Terfenadine as an Inhibitor of Human CD81-Receptor HCV-E2 Interaction: Synthesis and Structure Optimization
1
Pharmaceutical and Medicinal Chemistry, Saarland University, PO Box 151150, D-66041 Saarbrücken, Germany
2
Department of Molecular Virology, University of Heidelberg, Im Neuenheimer Feld 345, D-69120 Heidelberg, Germany
3
Endotherm GmbH, Science-Park II, D-66123 Saarbrücken, Germany
*
Author to whom correspondence should be addressed.
Received: 26 March 2008 / Revised: 2 May 2008 / Accepted: 7 May 2008 / Published: 7 May 2008
Abstract
Terfenadine (4-[4-(hydroxydiphenylmethyl)-1-piperidyl]-1-(4-tert-butylphenyl)-butan-1-ol) was identified in a biological screening to be a moderate inhibitor (27% inhibition) of the CD81-LEL–HCV-E2 interaction. To increase the observed biologicalactivity, 63 terfenadine derivates were synthesized via microwave assisted nucleophilicsubstitution. The prepared compounds were tested for their inhibitory potency by means ofa fluorescence labeled antibody assay using HUH7.5 cells. Distinct structure-activityrelationships could be derived. Optimization was successful, leading to 3g, identfied as themost potent compound (69 % inhibition). Experiments with viral particles revealed thatthere might be additional HCV infection reducing mechanisms.
View Full-Text
►

▼

Figures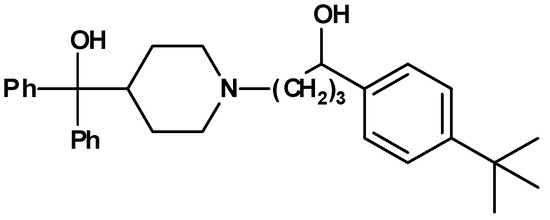 Figure 1

Share & Cite This Article
MDPI and ACS Style
Holzer, M.; Ziegler, S.; Albrecht, B.; Kronenberger, B.; Kaul, A.; Bartenschlager, R.; Kattner, L.; Klein, C.D.; Hartmann, R.W. Identification of Terfenadine as an Inhibitor of Human CD81-Receptor HCV-E2 Interaction: Synthesis and Structure Optimization. Molecules 2008, 13, 1081-1110.
Related Articles
Comments
[Return to top]