Development of an Enzyme-linked Immuno-Sorbent Assay (ELISA) Method for Carbofuran Residues
1
College of Food Science, South China Agricultural University, Guangzhou 510642, P. R. China
2
South China Botanical Garden, Chinese Academy of Sciences, Guangzhou 510650, P. R. China
*
Author to whom correspondence should be addressed.
Received: 27 March 2008 / Revised: 14 April 2008 / Accepted: 14 April 2008 / Published: 17 April 2008
Abstract
The haptens 4-[[(2,3-dihydro-2,2-dimethyl-7-benzofuranyloxy)carbonyl]-amino]butanoic acid (BFNB) and 6-[((2,3-dihydro-2,2-dimethyl-7-benzofuranyloxy)-carbonylamino]hexanoic acid (BFNH) were synthesized and then used to develop a rapid,specific and sensitive ELISA method to determine residues of the pesticide carbofuran in avariety of matrices. A hybridoma cell line (5D3) producing anti-carbofuran monoclonalantibodies (MAbs) was also established. Based on the MAbs in combination with theheterologous hapten BFNH coupled to either horseradish peroxidase (HRP) or ovalbumin(OVA), four ELISAs (formats I-IV) for the quantification of carbofuran were developedand compared. Among them, the optimized format II (the conjugate-coated directcompetitive ELISA) showed the best characteristics, with an IC50 value of 18.49 ng/mL, alimit of detection of 0.11 ng/mL and the shortest assay time (1 h). This ELISA method wasthen applied to the determinations of carbofuran in environmental water, soil and foodsamples. The relative standard deviations (R.S.D.s) ranged from 1.8% to 21.3% and themean recoveries were 104.6%, 108.3%, 106.3% and 100.1% for water, soil, lettuce andcabbage, respectively. Thus, the ELISA method of format II exhibited the potential todevelop commercial ELISA kits for a rapid detection of carbofuran for human health andenvironmental safety.
View Full-Text
►

▼

Figures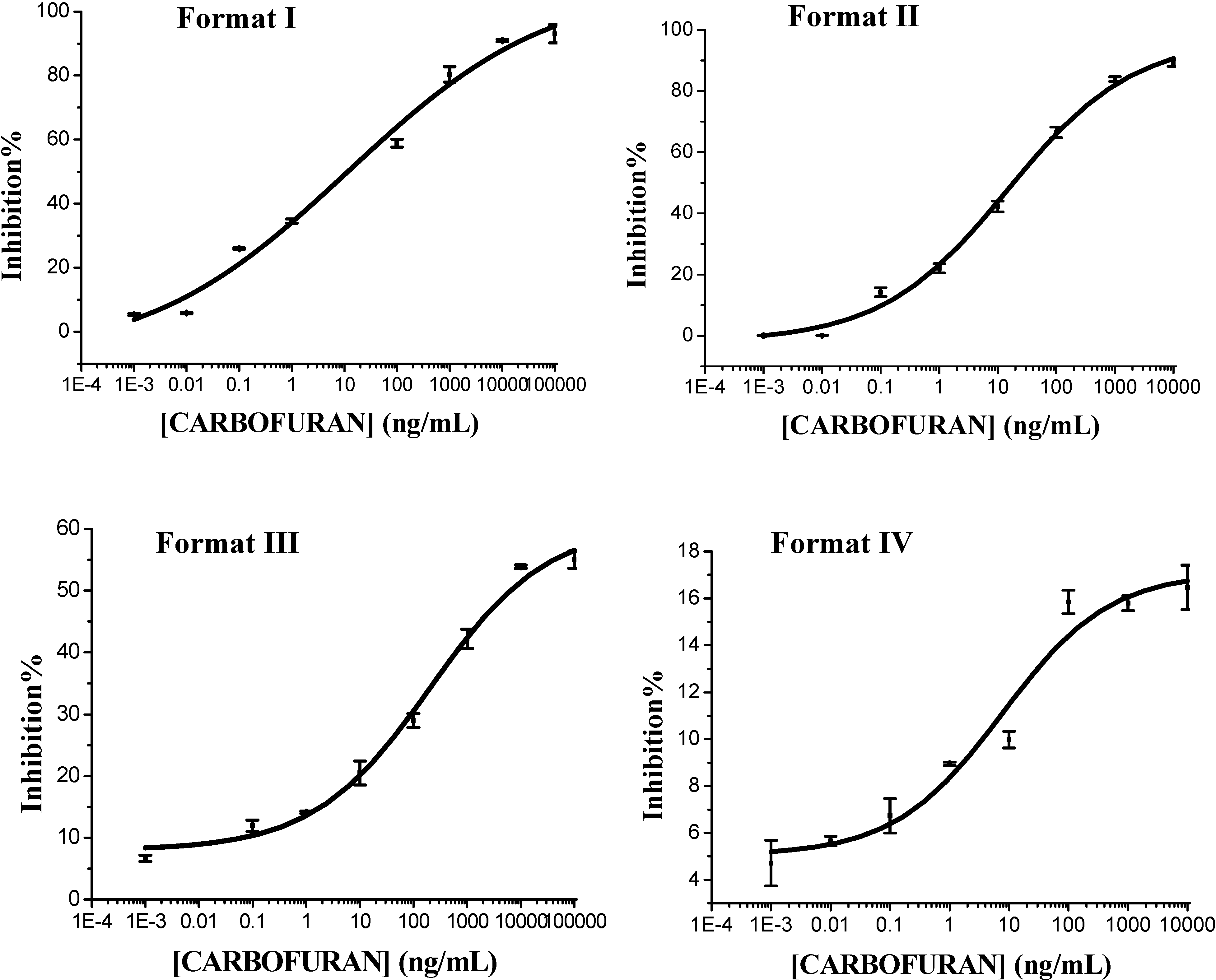 Figure 1

Share & Cite This Article
MDPI and ACS Style
Yang, J.; Wang, H.; Jiang, Y.; Sun, Y.; Pan, K.; Lei, H.; Wu, Q.; Shen, Y.; Xiao, Z.; Xu, Z. Development of an Enzyme-linked Immuno-Sorbent Assay (ELISA) Method for Carbofuran Residues. Molecules 2008, 13, 871-881.
Related Articles
Comments
[Return to top]