Aqueous Barbier Allylation of Aldehydes Mediated by Tin
1
Instituto de Ciências Ambientais e Desenvolvimento Sustentável, Universidade Federal da Bahia -Campus Universitário Reitor Edgar Santos, Rua Professor José Seabra S/N - Barreiras - BA - 47805-100, Brazil
2
Departamento de Química Fundamental, Universidade Federal de Pernambuco, Cidade Universitária, Recife-PE 50670- 901, Brazil
*
Author to whom correspondence should be addressed.
Received: 16 June 2007 / Revised: 25 August 2007 / Accepted: 25 August 2007 / Published: 29 August 2007
Abstract
The aqueous tin-mediated Barbier reaction affords good to excellent yields and moderate syn diastereoselectivity under basic and acidic conditions. The high yields and stereoselectivity observed in the case of o-substituted aldehydes suggest a cyclic organotin intermediate or transition state in K2HPO4 solution. A practical and efficient aqueous tin allylation of methoxy- and hydroxybenzaldehydes can be carried out in HCl solution in 15 minutes to afford the corresponding homoallylic alcohols in high yields. Aliphatic aldehydes give moderate to excellent yields with reaction times ranging from 30 to 60 minutes. Under these conditions, crotylation gives exclusively the γ-product and the syn isomer is formed preferentially. For 2-methoxybenzaldehyde, an equilibration of the isomers to a syn/anti ratio of 1:1 can be observed after several hours. Control experiments with radical sources or scavengers give no support for radical intermediates. NMR studies suggest a mechanism involving an organotin intermediate. The major organotin species formed depends on the reaction medium and the reaction time. The use of acidic solution reduces the reaction times, due to the acceleration of the formation of the allyltin(IV) species.
View Full-Text
►

▼

Figures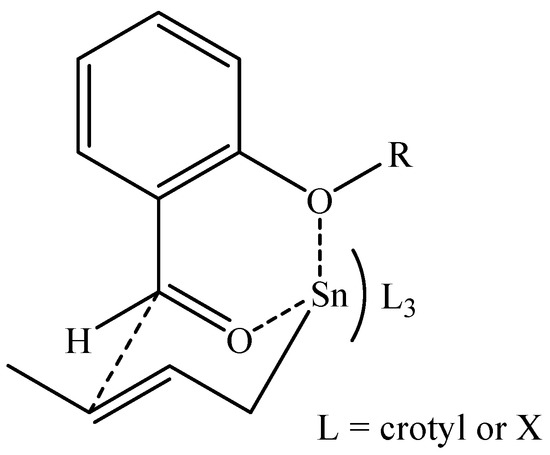 Figure 1

Share & Cite This Article
MDPI and ACS Style
Guimarães, R.L.; Lima, D.J.P.; Barros, M.E.S.B.; Cavalcanti, L.N.; Hallwass, F.; Navarro, M.; Bieber, L.W.; Malvestiti, I. Aqueous Barbier Allylation of Aldehydes Mediated by Tin. Molecules 2007, 12, 2089-2105.
Related Articles
Comments
[Return to top]