Open Access This article is
freely available
re-usable
Review
Synthetic Approaches to Heterocyclic Ligands for Gd-Based MRI Contrast Agents
1
Laboratorio de Síntesis Orgánica e Imagen Molecular por Resonancia Magnética, Facultad de Ciencias, UNED, Paseo Senda del Rey 9, E-28040 Madrid, Spain
2
Departamento de Química Inorgánica y Química Técnica, Facultad de Ciencias, UNED, Paseo Senda del Rey 9, E-28040 Madrid, Spain
3
Laboratorio de Imagen Espectroscópica por Resonancia Magnética (LIERM), Instituto de Investigaciones Biomédicas "Alberto Sols", CSIC/UAM, C/ Arturo Duperier 4, E-28029 Madrid, Spain
*
Author to whom correspondence should be addressed.
Received: 29 May 2007; in revised form: 3 August 2007 / Accepted: 3 August 2007 / Published: 9 August 2007
Abstract
:
Magnetic Resonance Imaging (MRI) methods are currently used in the clinic for the non invasive detection and characterization of a wide variety of pathologies. Increases in the diagnostic efficiency of MRI have been helped by both the design of dedicated MR sequences revealing specific aspects of the pathology and by the development of more sensitive and selective Contrast Agents (CAs), capable of more precisely delineating the borderline regions. In the present review we focus on the synthetic strategies used to obtain MRI CAs containing heterocyclic rings.
Keywords:
Lanthanide Complexes; Contrast Agents; Heterocyclic Ligands; MR Imaging
Contents
| | | |
| --- | --- | --- |
| 1. | Introduction | 1772 |
| 2. | Contrast Agents (CAs) for MRI: Gd-based complexes | 1773 |
| |  2.1. CAs derived from acyclic ligands | 1774 |
| |  2.2. CAs derived from macrocyclic ligands | 1784 |
| 3. | Concluding remarks and future perspectives | 1790 |
1. introduction
Cardiovascular and neurodegenerative diseases, as well as tumors, are often clinically diagnosed using non invasive methods such as PET (Positron Emission Tomography) [
1
,
2
], SPECT (Single Photon Emission Tomography) [
2
], MRI (Magnetic Resonance Imaging) [
3
], Optical Imaging [
4
], ultrasound methods [
5
] or their multimodal combinations [
6
]. In many cases all of these methods involve the additional use of specific probes (known as Contrast Agents, CAs) to increase image resolution and discrimination between healthy and pathological areas. Therefore, the development of more sensitive, selective and efficient CAs is an important task of strategic interest due to their potential applications in many biomedical imaging procedures. Classically the widespread presence of heterocyclic rings in Nature and their very favorable coordinating properties have prompted the use of a variety of nitrogen-based heterocycles in the manufacture of many CAs. As a more recent example, Fu
et al
. [
7
] have described a new family of benzoylpiperidines
1
(
Figure 1
) as serotonin 5-HT
2A
ligands for PET or SPECT Imaging of the brain. Notably, in spite of the considerable progress of MRI and PET protocols, X-Ray Imaging still accounts for 75-80% of all diagnostic imaging procedures. In this respect, non-ionic X-Ray CAs based on the attachment of heterocyclic moieties to the 5-position of diatrizoic acid (
2
) or iohexol (
3
) have been reported [
8
]. Most of these new X-Ray contrast agents consist of sterically congested lactams
4
, derived from the 2,4,6-triiodoisophthalamide, which exhibit water solubility, stability and osmolality, depending on the heterocycle included. Approaches based on optical methods are fast emerging as alternatives to conventional X-Ray Imaging. Near Infra-Red light (NIR) is increasingly being considered nowadays as a powerful non-invasive biomedical imaging tool. It is specially recommended as a complementary method to X-ray mammography for examinations of young women with dense breast tissues or patients with scars and implants, often employing NIR absorbing dyes. Indocyanine green (ICG,
5
) is a clinically approved NIR dye used for testing of hepatic function and fluorescence angiography in ophthalmology and even for detection of breast tumors [
9
]. NIR dye
6
, a modification of ICG, overcomes many of its limitations with regards to spatial resolution and sensitivity [
10
].
In the following sections we address the various synthetic strategies developed to produce heterocyclic ligands useful for preparing Gadolinium based CAs for MRI [
11
]. The present work complements these contributions by addressing in more detail the heterocyclic chemistry involved in these processes.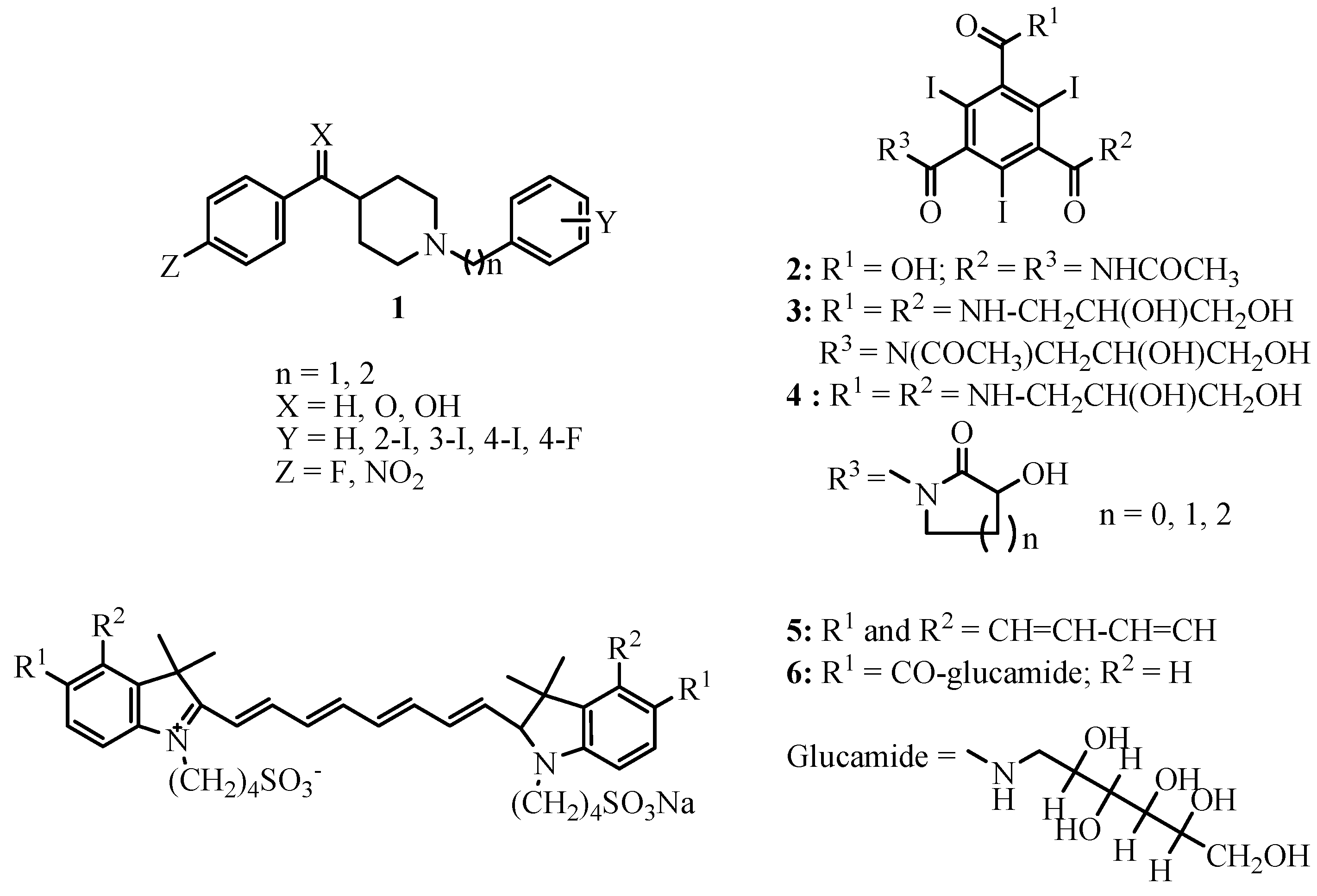 2. Contrast Agents (CAs) for MRI: Gd-based complexes
As mentioned above, the diagnostic efficiency by many MRI methods frequently relies on the use of a new type of drugs, referred to as contrast agents (CAs), able to discriminate between normal and pathological tissues due to their different MR properties [
11
,
12
,
13
]. The role of the CAs is to enhance the MRI signal by shortening the relaxation times of water protons in those tissues in which they distribute. Generally, the most investigated paramagnetic CAs are lanthanide complexes, with particular emphasis on the corresponding Gd(III)-chelates. Mn(II) and Fe(III) salts have also been investigated as paramagnetic metals, but they often become weakly chelated and dissociate spontaneously under
in vivo
conditions [
14
].
As mentioned, the paramagnetic metal of choice in clinical practice is generally Gd(III), but free Gd(III) is toxic
in vitro
as well as
in vivo,
and the use of Gd(III) chelates becomes mandatory in biomedical applications to reduce its toxicity. Gd(III) remains the optimal paramagnetic ion because of its high electronic spin (S=7/2), relatively long electronic relaxation time, high magnetic moment and relatively labile hydration sphere for water exchange. The first generation of Gd(III) chelates was derived from linear or macrocyclic polyaminopolycarboxylates such as diethylenetriaminepentaacetic acid ([dtpaGd(H
2
O)]
2-
) or 1,4,7,10-tetraazacyclododecane-1,4,7,10-tetraacetic acid ([dotaGd(H
2
O)]
-
), respectively (
Figure 2
) [
11
]. Gd-Dtpa, patented as Magnevist
®
by Schering (Germany), was the first CA approved for clinical use. Gd-Dota (Dotarem
®
, Guerbet, France), Gd-Dtpa-BMA (Omniscan
®
, Amersham, Great Britain), Gd-HP-DO3A (Prohance
®
, Bracco, Italy), Gd-Dtpa-BMEA (Optimark
®
, Mallinkrodt, USA) and Gd- DO3A-Butriol (Gadovist
®
, Schering, Germany) followed as other Gd-based CAs commonly used in clinical practice. All of them present similar pharmacokinetic properties and renal elimination rates.
The modification of both linear and macrocyclic parental structures, Gd-Dtpa and Gd-Dota, is currently found to be an essential part of the investigations generating new CAs with improved magnetic properties. In this respect, new Gd-based CAs must exhibit sufficiently high thermodynamic and kinetic stabilities as important determinants for their use in MRI diagnosis. In addition, the CA´s must have improved molecular relaxivity properties, r1 or r2 (s-1 mM-1), defined as the longitudinal or transversal relaxation rates of the water protons in a 1 mM aqueous solution of the Gd(III)-chelate.

The following sections cover the synthetic approaches used to prepare these ligands, emphasizing the synthetic methodologies implemented to obtain heterocyclic chelators resulting progressively in more stable Gd complexes.
2.1. CAs derived from acyclic ligands
2.2 CAs derived from macrocyclic ligands
3. Concluding Remarks and Future Perspectives
We have described above the main synthetic strategies used to produce heterocyclic CAs, a family of ligands depicting very appropriate stability and relaxivity properties for MRI. Basically, most of them are produced through two general organic reactions, namely amine alkylations or amidation. In general heterocycles provide good electron donor ligands suitable for improving the chelating capacity of the earlier complexones. The present review provides an adequate frame to analyze the importance of the heterocyclic ring in determining the coordination chemistry, the relaxivity and the stability properties of the resulting complexes.
On these grounds, the use of heterocyclic CA´s is expected to increase in the future. The possibilities to obtain physiologically responsive agents, reflecting tissue properties beyond anatomy has already started [
50
]. Further improvements are expected from the combination of novel synthetic approaches and updated MR imaging techniques, as Magnetization Transfer [
51
]. The combination of both, synthetic and MRI approaches will certainly exceed the capabilities of their independent use. As a complementary field, the development of heterocyclic contrast agents useful for in vivo spectroscopy and spectroscopic imaging of pH and pO
2
in healthy and pathological tissues, constitutes an area of growing interest [
52
,
53
,
54
,
55
]. The combination of spectroscopic and imaging approaches in multiparametric studies will further enhance the diagnostic potential of these new methods [
56
]. Finally, the development of multimodal heterocyclic probes, active in different imaging modalities (MRI, MRS, PET), is currently envisioned as one of the most attractive goals for the immediate future.
Acknowledgements
This work was supported in part by: CTQ2006-06505/BQU to PB, SAF 2004-02145, NAN2004-09125-C07-03, FIS C03/10, FIS C03/08, FIS G03/155 to SC, European Community MEDITRANS 2006; Integrated EU Project FP6-2004-NMP-NI-4/IP 026668-2 and S-BIO/0179/2006 from the Community of Madrid to PB and SC.
Sample Availability:

Contact the authors.
© 2007 by MDPI (http://www.mdpi.org). Reproduction is permitted for noncommercial purposes.