Leishmanicidal and Cholinesterase Inhibiting Activities of Phenolic Compounds from
Allanblackia monticola

and

Symphonia globulifera

1

Department of Chemistry, Higher Teachers' Training College, University of Yaoundé 1, P.O. Box 47, Yaoundé, Cameroon

2

Department of Chemistry, Organic and Bioorganic Chemistry, Bielefeld University, P.O.Box100131, 33501 Bieleleld, Germany

3

Laboratoire de Biologie et Biotechnologies Marines, UMR M IFREMER 100, Université de Caen Basse Normandie, 14032 Caen, France

4

Laboratoire de Pharmacognosie et de Molécules Naturelles Bioactives, LC01 UMR 7175, Faculté de Pharmacie, Université Louis Pasteur, Strasbourg, BP 60024-67401 Illkirch cedex, France

5

Department of Organic Chemistry, Faculty of Science, University of Yaoundé 1, BP 812, Yaoundé, Cameroon.

6

Swiss Tropical Institute, Medical parasitology and Infection Biology, Socinstrasse 57, CH-4002 Basel, Switzerland

7

H.E.J. Research Institute of Chemistry, International Center for Chemical Sciences, University of Karachi, Karachi-75270, Pakistan

*

Authors to whom correspondence should be addressed.

Received: 15 May 2007 / Revised: 8 July 2007 / Accepted: 9 July 2007 / Published: 20 July 2007
Abstract
In a preliminary antiprotozoal screening of several Clusiaceae species, the methanolic extracts of
Allanblackia monticola
and
Symphonia globulifera
showed high
in vitro
leishmanicidal activity. Further bioguided phytochemical investigation led to the isolation of four benzophenones: guttiferone A (1), garcinol (2), cambogin (3) and guttiferone F (4), along with three xanthones: allanxanthone A (5), xanthone V
1
(6) and globulixanthone C (7) as active constituents. Compounds 1 and 6 were isolated from
S. globulifera
leaves, while compounds 2-5 were obtained from
A. monticola
fruits. Guttiferone A (1) and F (4) showed particulary strong leishmanicidal activity
in vitro
, with IC
50
values (0.2 μM and 0.16 μM, respectively) comparable to that of the reference compound, miltefosine (0.46 μM). Although the leishmanicidal activity is promising, the cytotoxicity profile of these compounds prevent at this state further
in vivo
biological evaluation. In addition, all the isolated compounds were tested
in vitro
for their anticholinesterase properties. The four benzophenones showed potent anticholinesterase properties towards acetylcholinesterase (AChE) and butylcholinesterase (AChE). For AChE, the IC
50
value (0.66 μM) of garcinol (2) was almost equal to that of the reference compound galanthamine (0.50 μM). Furthermore, guttiferone A (1) and guttiferone F (4) (IC
50
= 2.77 and 3.50 μM, respectively) were more active than galanthamine (IC
50
= 8.5) against BChE.
View Full-Text
►

▼

Figures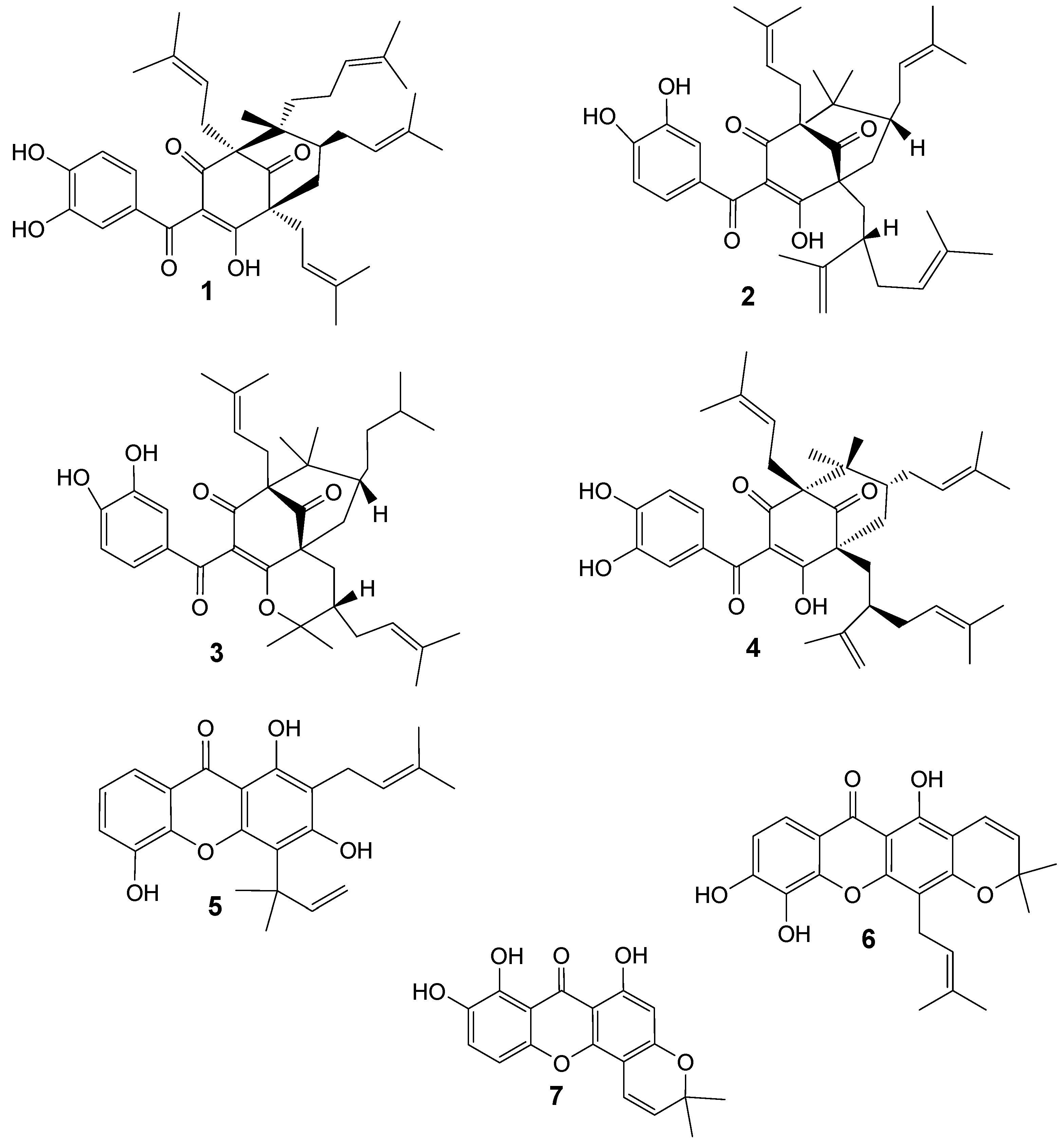 Figure 1

Share & Cite This Article
MDPI and ACS Style
Lenta, B.N.; Vonthron-Sénécheau, C.; Weniger, B.; Devkota, K.P.; Ngoupayo, J.; Kaiser, M.; Naz, Q.; Choudhary, M.I.; Tsamo, E.; Sewald, N. Leishmanicidal and Cholinesterase Inhibiting Activities of Phenolic Compounds from Allanblackia monticola and Symphonia globulifera. Molecules 2007, 12, 1548-1557.
Related Articles
Comments
[Return to top]