Fragrance Release from the Surface of Branched Poly (Amide) S
1
School of Chemistry, The University of Reading, UK
2
Unilever Research and Development, Port Sunlight Laboratory, UK
*
Author to whom correspondence should be addressed.
Received: 14 May 2004 / Accepted: 29 June 2005 / Published: 31 January 2005
Abstract
Enzymes are powerful tools in organic synthesis that are able to catalyse a wide variety of selective chemical transformations under mild and environmentally friendly conditions. Enzymes such as the lipases have also found applications in the synthesis and degradation of polymeric materials. However, the use of these natural catalysts in the synthesis and the post-synthetic modification of dendrimers and hyperbranched molecules is an application of chemistry yet to be explored extensively. In this study the use of two hydrolytic enzymes, a lipase from Candida cylindracea and a cutinase from Fusarium solani pisii, were investigated in the selective cleavage of ester groups situated on the peripheral layer of two families of branched polyamides. These branched polyamides were conjugated to simple fragrances citronellol and L-menthol via ester linkages. Hydrolysis of the ester linkage between the fragrances and the branched polyamide support was carried out in aqueous buffered systems at slightly basic pH values under the optimum operative conditions for the enzymes used. These preliminary qualitative investigations revealed that partial cleavage of the ester functionalities from the branched polyamide support had occurred. However, the ability of the enzymes to interact with the substrates decreased considerably as the branching density, the rigidity of the structure and the bulkiness of the polyamide-fragrance conjugates increased.
View Full-Text
►

▼

Figures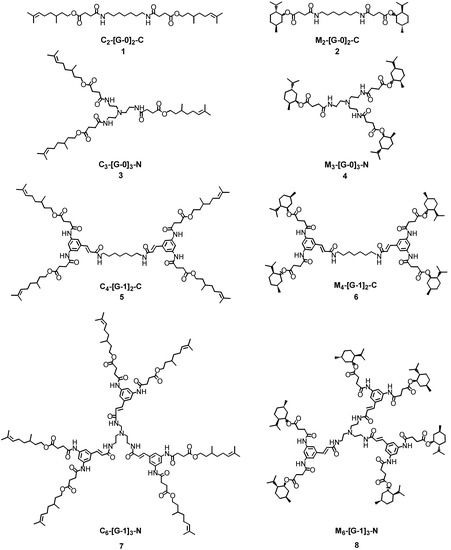 Figure 1

Share & Cite This Article
MDPI and ACS Style
Aulenta, F.; Drew, M.; Foster, A.; Hayes, W.; Rannard, S.; Thornthwaite, D.; Youngs, T. Fragrance Release from the Surface of Branched Poly (Amide) S. Molecules 2005, 10, 81-97.
Related Articles
Comments
[Return to top]