Heat Transfer Coefficients Analysis in a Helical Double-Pipe Evaporator: Nusselt Number Correlations through Artificial Neural Networks
1
CONACyT—Centro de Investigación en Ingeniería y Ciencias Aplicadas (CIICAp), Universidad Autónoma del Estado de Morelos, Cuernavaca C.P. 62209, Mexico
2
Centro de Investigación en Ingeniería y Ciencias Aplicadas (CIICAp), Universidad Autónoma del Estado de Morelos, Cuernavaca C.P. 62209, Mexico
3
CONACyT—Tecnológico Nacional de México/CENIDET, Interior Internado Palmira S/N, Col. Palmira, C.P. Cuernavaca 62490, Mexico
4
Tecnológico Nacional de México/CENIDET, Interior Internado Palmira S/N, Col. Palmira, C.P. Cuernavaca 62490, Mexico
*
Author to whom correspondence should be addressed.
Received: 28 May 2019 / Revised: 28 June 2019 / Accepted: 9 July 2019 / Published: 14 July 2019
Abstract
In this study, two empirical correlations of the Nusselt number, based on two artificial neural networks (ANN), were developed to determine the heat transfer coefficients for each section of a vertical helical double-pipe evaporator with water as the working fluid. Each ANN was obtained using an experimental database of 1109 values obtained from an evaporator coupled to an absorption heat transformer with energy recycling. The Nusselt number in the annular section was estimated based on the modified Wilson plot method solved by an ANN. This model included the Reynolds and Prandtl numbers as input variables and three neurons in their hidden layer. The Nusselt number in the inner section was estimated based on the Rohsenow equation, solved by an ANN. This ANN model included the numbers of the Prandtl and Jackob liquids as input variables and one neuron in their hidden layer. The coefficients of determination were
for both models. Both ANN models satisfied the dimensionless condition of the Nusselt number. The Levenberg–Marquardt algorithm was chosen to determine the optimum values of the weights and biases. The transfer functions used for the learning process were the hyperbolic tangent sigmoid in the hidden layer and the linear function in the output layer. The Nusselt numbers, determined by the ANNs, proved adequate to predict the values of the heat transfer coefficients of a vertical helical double-pipe evaporator that considered biphasic flow with an accuracy of ±0.2 for the annular Nusselt and ±4 for the inner Nusselt.
View Full-Text
►

▼

Figures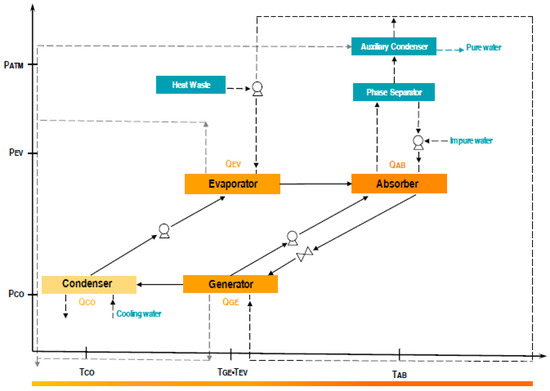 Figure 1
This is an open access article distributed under the
Creative Commons Attribution License
which permits unrestricted use, distribution, and reproduction in any medium, provided the original work is properly cited (CC BY 4.0).

Share & Cite This Article
MDPI and ACS Style
Parrales, A.; Hernández-Pérez, J.A.; Flores, O.; Hernandez, H.; Gómez-Aguilar, J.F.; Escobar-Jiménez, R.; Huicochea, A. Heat Transfer Coefficients Analysis in a Helical Double-Pipe Evaporator: Nusselt Number Correlations through Artificial Neural Networks. Entropy 2019, 21, 689.
Note that from the first issue of 2016, MDPI journals use article numbers instead of page numbers. See further details here.
Related Articles
Comments
[Return to top]