Time-Frequency Analysis of Cardiovascular and Cardiorespiratory Interactions During Orthostatic Stress by Extended Partial Directed Coherence
1
Department of Electrical Engineering, Universidad Autónoma Metropolitana, Mexico City 09340, Mexico
2
Institute of Innovative Health Technologies, Ernst-Abbe-Hochschule Jena, 07745 Jena, Germany
3
Department of Electrical and Computer Engineering, Colorado State University, Fort Collins, CO 80523, USA
4
Department of Health Science, Universidad Autónoma Metropolitana, Mexico City 09340, Mexico
5
National Institute of Cardiology, Mexico City 14080, Mexico
*
Author to whom correspondence should be addressed.
Received: 5 February 2019 / Revised: 24 April 2019 / Accepted: 28 April 2019 / Published: 5 May 2019
Abstract
In this study, the linear method of extended partial directed coherence (ePDC) was applied to establish the temporal dynamic behavior of cardiovascular and cardiorespiratory interactions during orthostatic stress at a 70° head-up tilt (HUT) test on young age-matched healthy subjects and patients with orthostatic intolerance (OI), both male and female. Twenty 5-min windows were used to analyze the minute-wise progression of interactions from 5 min in a supine position (baseline, BL) until 18 min of the orthostatic phase (OP) without including pre-syncopal phases. Gender differences in controls were present in cardiorespiratory interactions during OP without compromised autonomic regulation. However in patients, analysis by ePDC revealed considerable dynamic alterations within cardiovascular and cardiorespiratory interactions over the temporal course during the HUT test. Considering the young female patients with OI, the information flow from heart rate to systolic blood pressure (mechanical modulation) was already increased before the tilt-up, the information flow from systolic blood pressure to heart rate (neural baroreflex) increased during OP, while the information flow from respiration to heart rate (respiratory sinus arrhythmia) decreased during the complete HUT test. Findings revealed impaired cardiovascular interactions in patients with orthostatic intolerance and confirmed the usefulness of ePDC for causality analysis.
View Full-Text
►

▼

Figures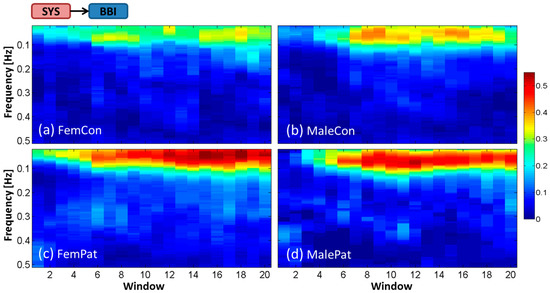 Figure 1
This is an open access article distributed under the
Creative Commons Attribution License
which permits unrestricted use, distribution, and reproduction in any medium, provided the original work is properly cited (CC BY 4.0).

Share & Cite This Article
MDPI and ACS Style
Charleston-Villalobos, S.; Reulecke, S.; Voss, A.; Azimi-Sadjadi, M.R.; González-Camarena, R.; Gaitán-González, M.J.; González-Hermosillo, J.A.; Hernández-Pacheco, G.; Schulz, S.; Aljama-Corrales, T. Time-Frequency Analysis of Cardiovascular and Cardiorespiratory Interactions During Orthostatic Stress by Extended Partial Directed Coherence. Entropy 2019, 21, 468.
Note that from the first issue of 2016, MDPI journals use article numbers instead of page numbers. See further details here.
Related Articles
Comments
[Return to top]