Second Law Analysis of Unsteady MHD Viscous Flow over a Horizontal Stretching Sheet Heated Non-Uniformly in the Presence of Ohmic Heating: Utilization of Gear-Generalized Differential Quadrature Method
1
Department of Mathematics, COMSATS University Islamabad (CUI) Park Road, Tarlai Kalan, Islamabad 455000, Pakistan
2
Laboratory of Mechanics, Faculty of Sciences Aïn Chock, Hassan II University, B.P. 5366, Mâarif, Casablanca 20000, Morocco
3
Division of Computational Mathematics and Engineering, Institute for Computational Science, Ton Duc Thang University, Ho Chi Minh City 700000, Vietnam
4
Faculty of Civil Engineering Ton Duc Thang University, Ho Chi Minh City 700000, Vietnam
5
Faculty of Mathematics and Statistics, Ton Duc Thang University, Ho Chi Minh City 700000, Vietnam
*
Author to whom correspondence should be addressed.
Received: 30 January 2019 / Revised: 25 February 2019 / Accepted: 26 February 2019 / Published: 2 March 2019
Abstract
In this article, the entropy generation characteristics of a laminar unsteady MHD boundary layer flow are analysed numerically for an incompressible, electrically conducting and dissipative fluid. The Ohmic heating and energy dissipation effects are added to the energy equation. The modelled dimensional transport equations are altered into dimensionless self-similar partial differential equations (PDEs) through suitable transformations. The reduced momentum and energy equations are then worked out numerically by employing a new hybrid method called the Gear-Generalized Differential Quadrature Method (GGDQM). The obtained numerical results are incorporated in the calculation of the Bejan number and dimensionless entropy generation. Quantities of physical interest, like velocity, temperature, shear stress and heat transfer rate, are illustrated graphically as well as in tabular form. Impacts of involved parameters are examined and discussed thoroughly in this investigation. Exact and GGDQM solutions are compared for special cases of initial unsteady flow and final steady state flow. Furthermore, a good harmony is observed between the results of GGDQM and those given previously by the Spectral Relaxation Method (SRM), Spectral Quasilinearization Method (SQLM) and Spectral Perturbation Method (SPM).
View Full-Text
►

▼

Figures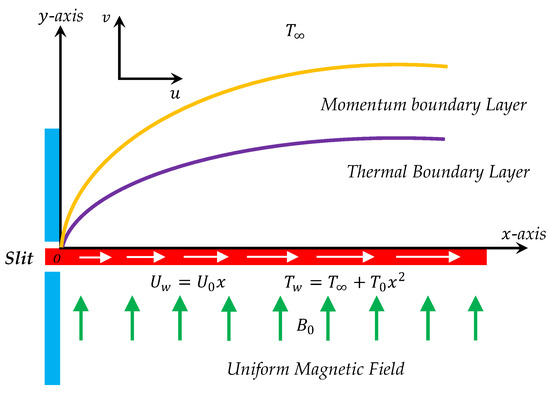 Figure 1
This is an open access article distributed under the
Creative Commons Attribution License
which permits unrestricted use, distribution, and reproduction in any medium, provided the original work is properly cited (CC BY 4.0).

Share & Cite This Article
MDPI and ACS Style
Qasim, M.; Afridi, M.I.; Wakif, A.; Thoi, T.N.; Hussanan, A. Second Law Analysis of Unsteady MHD Viscous Flow over a Horizontal Stretching Sheet Heated Non-Uniformly in the Presence of Ohmic Heating: Utilization of Gear-Generalized Differential Quadrature Method. Entropy 2019, 21, 240.
Note that from the first issue of 2016, MDPI journals use article numbers instead of page numbers. See further details here.
Related Articles
Comments
[Return to top]