Open Access This article is
freely available
re-usable
Review
Entropy in Cell Biology: Information Thermodynamics of a Binary Code and Szilard Engine Chain Model of Signal Transduction
Department of Discovery Medicine, Pathology Division, Graduate School of Medicine, Kyoto University, Yoshida-Konoe-cho, Sakyo-ku, Kyoto 606-8315, Japan
Received: 24 June 2018 / Accepted: 13 August 2018 / Published: 19 August 2018
Abstract
:
A model of signal transduction from the perspective of informational thermodynamics has been reported in recent studies, and several important achievements have been obtained. The first achievement is that signal transduction can be modelled as a binary code system, in which two forms of signalling molecules are utilised in individual steps. The second is that the average entropy production rate is consistent during the signal transduction cascade when the signal event number is maximised in the model. The third is that a Szilard engine can be a single-step model in the signal transduction. This article reviews these achievements and further introduces a new chain of Szilard engines as a biological reaction cascade (BRC) model. In conclusion, the presented model provides a way of computing the channel capacity of a BRC.
Keywords:
biological reaction cascade; binary code system; average entropy production rate; mutual entropy; Szilard engine chain; fluctuation theorem
Funding
This research was supported by a Grant-in-Aid from the Ministry of Education, Culture, Sports, Science, and Technology of Japan (Synergy of Fluctuation and Structure: Quest for Universal Laws in Non-Equilibrium Systems, P2013-201 Grant-in-Aid for Scientific Research on Innovative Areas, MEXT, Japan).
Acknowledgments
I thank Kenichi Yoshikawa of Doshisha University for his advice.
Conflicts of Interest
The author declares no conflict of interest.
Figure 1.
Schematic of the relationship between the
jth
step to (
j
+ 1)
th
step (left) and the −
jth
step to (−
j
− 1)
th
step (right) of a simple discrete channel. The left graph shows a signal transduction and its channel capacity is expressed by
Cj
. The right graph shows the reverse signal transduction and its channel capacity is expressed by
C
−

j
. In the reverse signal transduction, from the −
jth
step to (−
j
− 1)
th
step,
qj
transmits the signal to
qj−
1
, but it may transmit the signal to
qj−
1
* in error.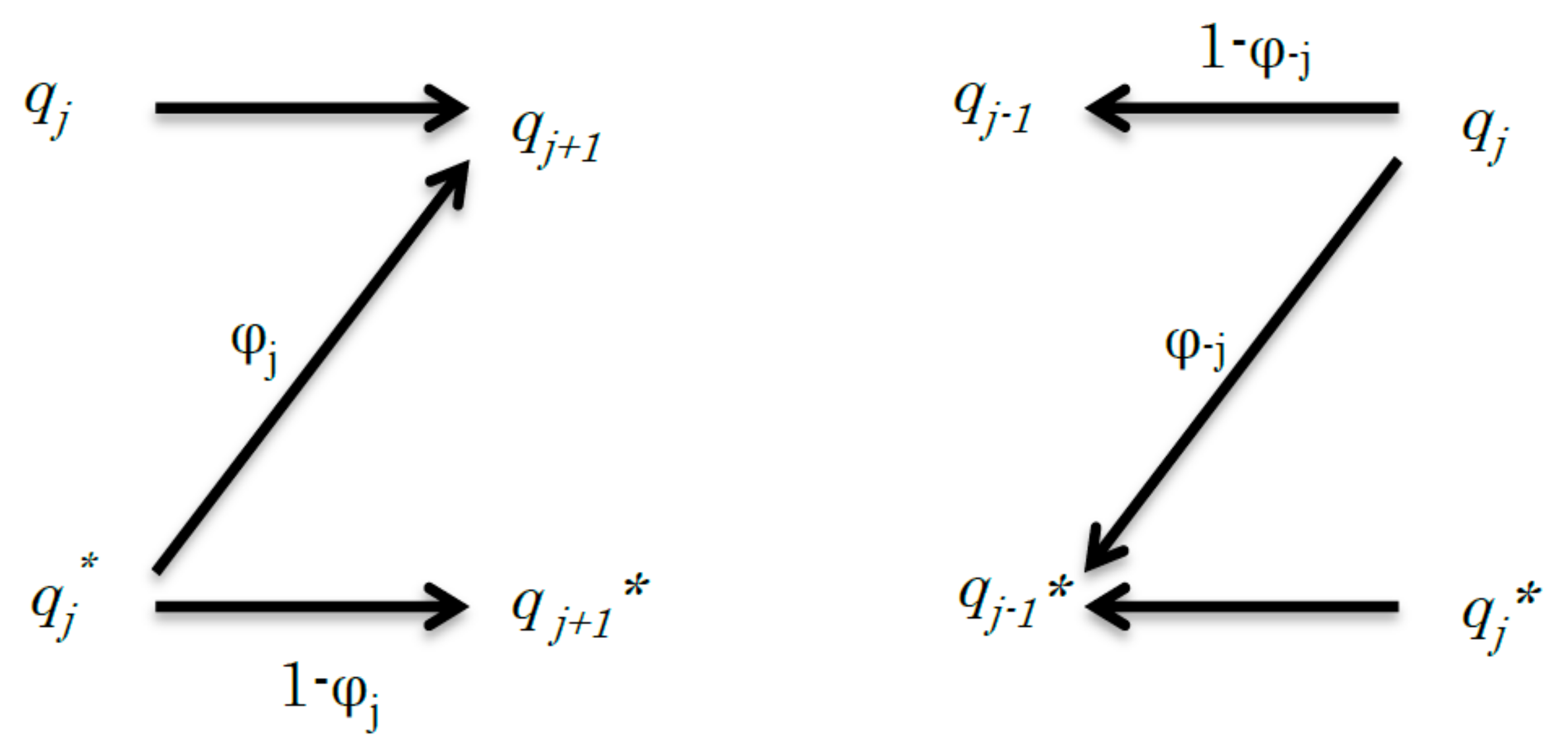 Figure 2.
Schematic showing a Szilard engine chain. The feedback controller measures the changes in concentration of signalling molecules. For the signal transduction, the controller opens the gate of the hypothetical boundary. The grey circles on the boundary represent the exchanger between Δ
Xj
+1
and Δ
Xj
+1
*. The
j
th
field recovers to the initial state.
Figure 3.
A common time course of the
jth
cycle showing the concentration of
Xj
* during phosphorylation [
36
,
37
]. The vertical axis represents the concentration of
Xj
*. The horizontal axis denotes the duration (min or time unit).
τj
and
τ
−

j
denote the duration of the
jth
step and the reversible −
jth
step, respectively. Line
Xj
* =
Xj
*
st
denotes the
Xj
* concentration at the initial steady state before the beginning of the signal event.

© 2018 by the author. Licensee MDPI, Basel, Switzerland. This article is an open access article distributed under the terms and conditions of the Creative Commons Attribution (CC BY) license (http://creativecommons.org/licenses/by/4.0/).