Open Access This article is
freely available
re-usable
Article
Maximum Configuration Principle for Driven Systems with Arbitrary Driving
1
Section for the Science of Complex Systems, CeMSIIS, Medical University of Vienna, Spitalgasse 23, 1090 Vienna, Austria
2
Complexity Science Hub Vienna, Josefstädterstrasse 39, 1080 Vienna, Austria
3
Santa Fe Institute, 1399 Hyde Park Road, Santa Fe, NM 87501, USA
4
International Institute for Applied Systems Analysis, Schlossplatz 1, 2361 Laxenburg, Austria
*
Author to whom correspondence should be addressed.
Received: 11 September 2018 / Accepted: 23 October 2018 / Published: 1 November 2018
Abstract
:
Depending on context, the term entropy is used for a thermodynamic quantity, a measure of available choice, a quantity to measure information, or, in the context of statistical inference, a maximum configuration predictor. For systems in equilibrium or processes without memory, the mathematical expression for these different concepts of entropy appears to be the so-called Boltzmann–Gibbs–Shannon entropy,
H
. For processes with memory, such as driven- or self- reinforcing-processes, this is no longer true: the different entropy concepts lead to distinct functionals that generally differ from
H
. Here we focus on the maximum configuration entropy (that predicts empirical distribution functions) in the context of driven dissipative systems. We develop the corresponding framework and derive the entropy functional that describes the distribution of observable states as a function of the details of the driving process. We do this for sample space reducing (SSR) processes, which provide an analytically tractable model for driven dissipative systems with controllable driving. The fact that a consistent framework for a maximum configuration entropy exists for arbitrarily driven non-equilibrium systems opens the possibility of deriving a full statistical theory of driven dissipative systems of this kind. This provides us with the technical means needed to derive a thermodynamic theory of driven processes based on a statistical theory. We discuss the Legendre structure for driven systems.
Keywords:
non-equilibrium; maximum configuration; maximum entropy principle; driven systems; statistical mechanics
Author Contributions
RH and ST conceptualized the work and wrote the paper.
Funding
This research was funded in part by the Austrian Science Foundation FWF under project P29032.
Acknowledgments
We thank B. Corominas-Murtra for helpful discussions.
Conflicts of Interest
The authors declare no conflict of interest.
Figure 1.
Illustration of a driven process as a combination of a relaxing process, , and a driving process, . Without driving, the ball jumps randomly to any lower stair—it never jumps upward. It follows a sample space reducing process until it hits the ground state , upon which it is restarted. Restarting, or driving, means that it becomes lifted to any higher state. The system is driven after it is fully relaxed to the ground state. This scenario we call slow driving. In a more general situation, at any state
i
there is a probability that the process experiences a driving event in the next update. Intuitively, with state-dependent driving, with probability , the process follows (black), and relaxes (can only sample states , the ball moves downward), or the process faces a driving event with probability , and follows the driving process, (grey).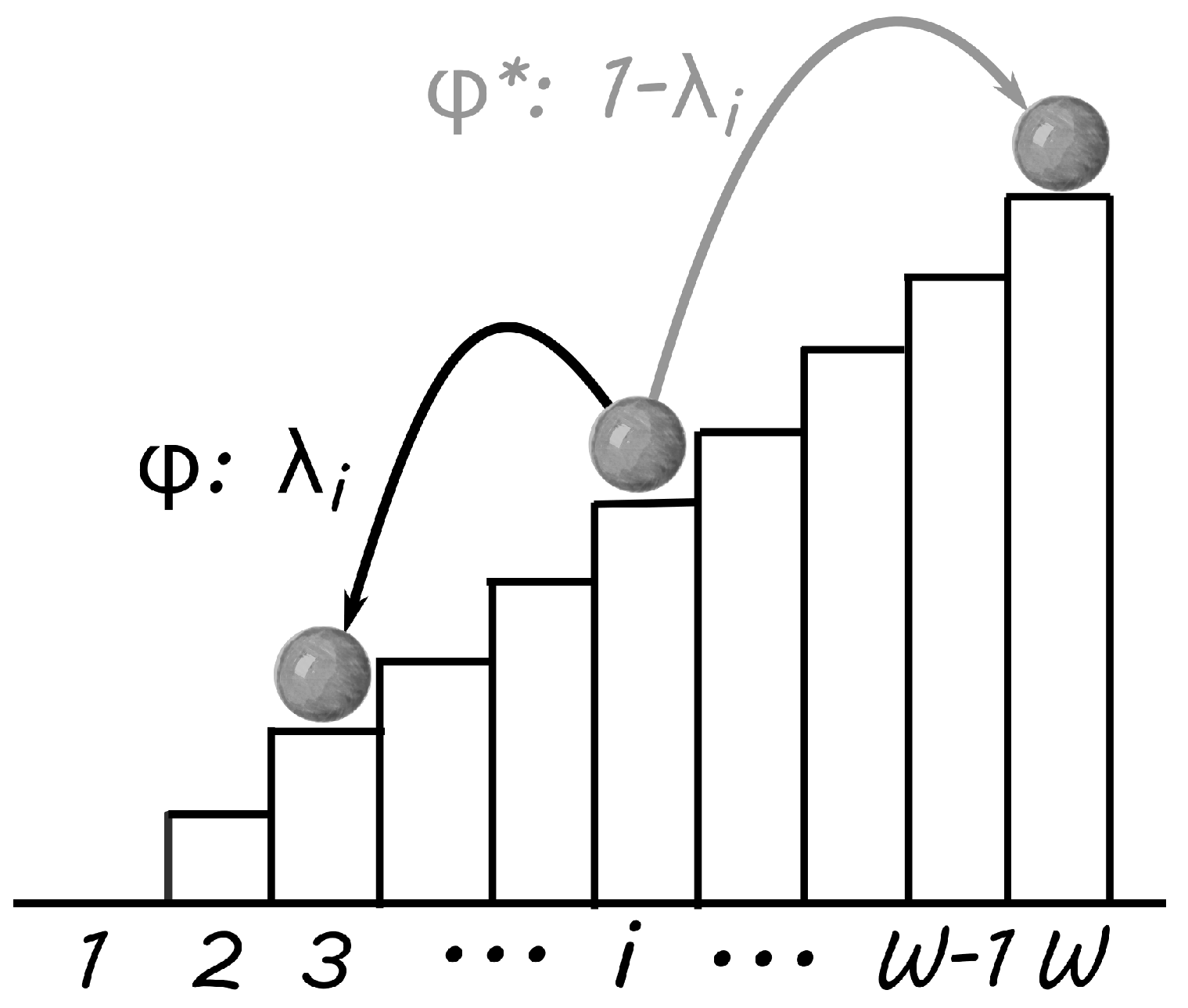 Figure 2.
Demonstration of how the ordering of subsequences of a sequence
x
(in increasing order of their endpoints) leads to a diagram that allows us to identify the combinatorial factors that determine the multiplicity,
M
, of sequences with particular histograms
k
and .

© 2018 by the authors. Licensee MDPI, Basel, Switzerland. This article is an open access article distributed under the terms and conditions of the Creative Commons Attribution (CC BY) license (http://creativecommons.org/licenses/by/4.0/).