Open Access This article is
freely available
re-usable
Article
Complex Dynamics of an SIR Epidemic Model with Nonlinear Saturate Incidence and Recovery Rate
1
School of Science, Nanjing University of Science and Technology, Nanjing 210094, China
2
Key Laboratory of Water Cycle and Related Land Surface Processes, Institute of Geographic Sciences and Natural Resources Research, Chinese Academy of Sciences, Beijing 100101, China
3
State Key Laboratory of Desert and Oasis Ecology, Xinjiang Institute of Ecology and Geography, Chinese Academy of Sciences, Urumqi 830011, China
4
Department of Geography, Hong Kong Baptist University, Kowloon, Hong Kong, China
*
Author to whom correspondence should be addressed.
Received: 10 May 2017 / Accepted: 21 June 2017 / Published: 27 June 2017
Abstract
:
Susceptible-infectious-removed (SIR) epidemic models are proposed to consider the impact of available resources of the public health care system in terms of the number of hospital beds. Both the incidence rate and the recovery rate are considered as nonlinear functions of the number of infectious individuals, and the recovery rate incorporates the influence of the number of hospital beds. It is shown that backward bifurcation and saddle-node bifurcation may occur when the number of hospital beds is insufficient. In such cases, it is critical to prepare an appropriate amount of hospital beds because only reducing the basic reproduction number less than unity is not enough to eradicate the disease. When the basic reproduction number is larger than unity, the model may undergo forward bifurcation and Hopf bifurcation. The increasing hospital beds can decrease the infectious individuals. However, it is useless to eliminate the disease. Therefore, maintaining enough hospital beds is important for the prevention and control of the infectious disease. Numerical simulations are presented to illustrate and complement the theoretical analysis.
Keywords:
nonlinear saturate incidence rare; nonlinear recovery rate; number of hospital beds; backward bifurcation; saddle-node bifurcation; Hopf bifurcation
Acknowledgments
This study was supported partially by the National Natural Science Foundation of China (11401569, 11671206), the Western Scholars of the Chinese Academy of Sciences (2015-XBQN-B-20), Hong Kong Scholars Program (XJ2015051).
Author Contributions
Q.C. and Z.H. conceived and wrote the main manuscript; Z.Q. helped perform the analysis with constructive discussion; W.L. helped revised the manuscript.
Conflicts of Interest
The authors declare no conflict of interest.

Figure 1. (a) the bifurcation curve in the plane; and (b) the stability curve of equilibria in the plane.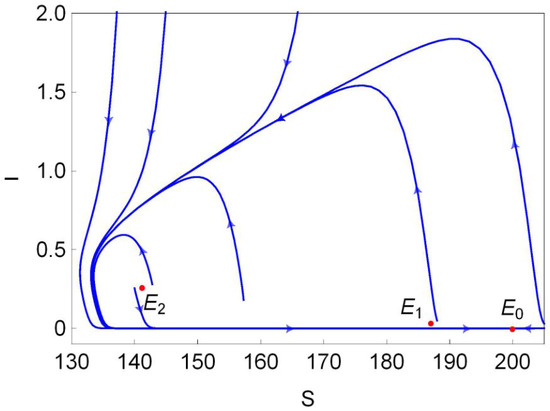 Figure 2.
Phase portrait of system (
4
) when , and coexist. Here, = 1, , and .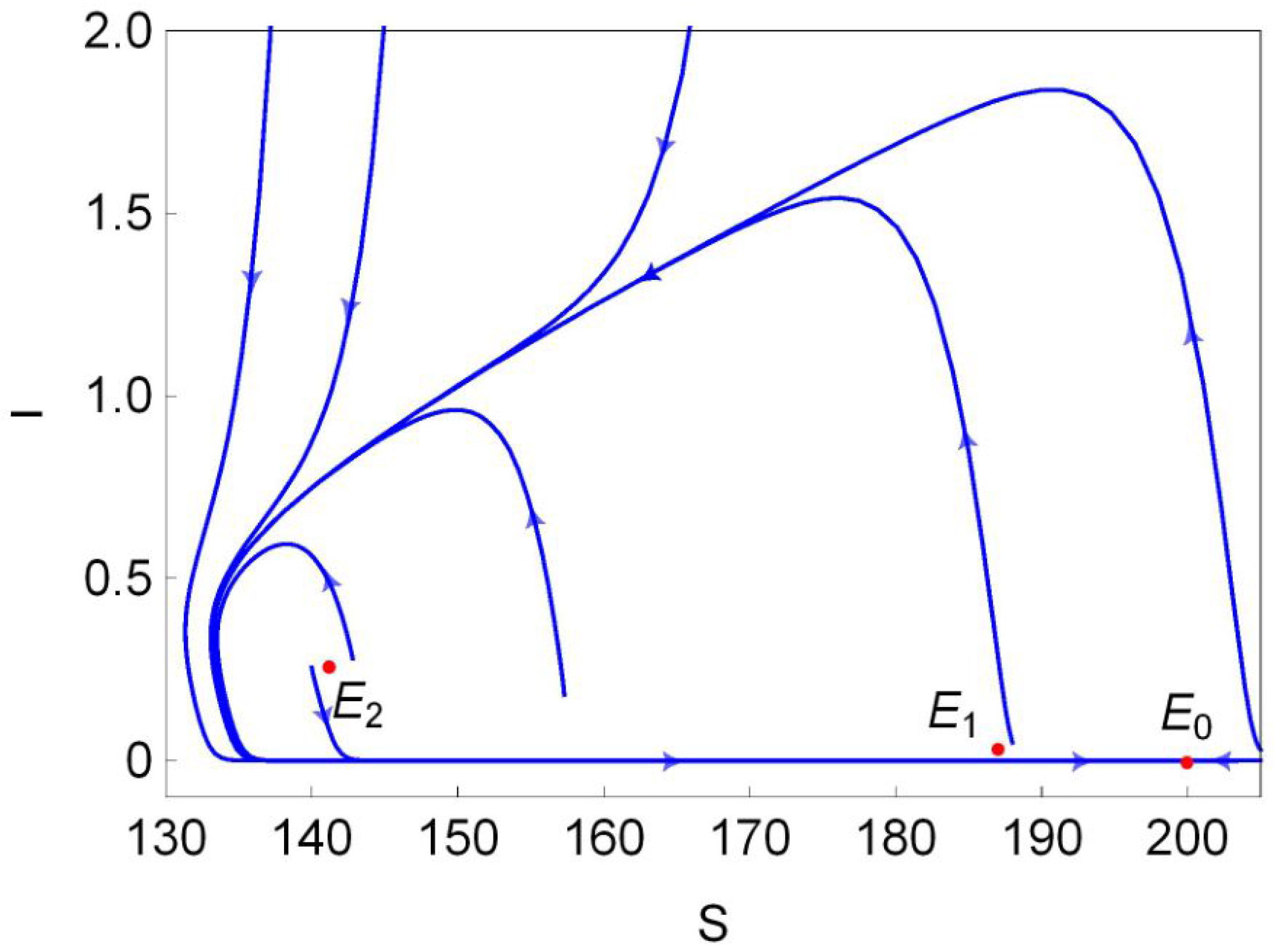 Figure 3.
(
a
) Hopf bifurcation curve in plane. The black asterisk below the curve is the point we choose to plot the portrait in (
b
). Here, other parameters have the same values as in
Figure 2
.


Figure 4.
Bifurcation diagrams of system (
4
) in plane with different
b
. The blue curves represent the stable fix points or limit cycles and the red dashed curves represent the unstable fix points.


Figure 5.
Bifurcation diagrams of system (
4
) in with different .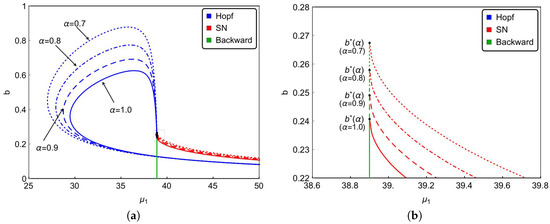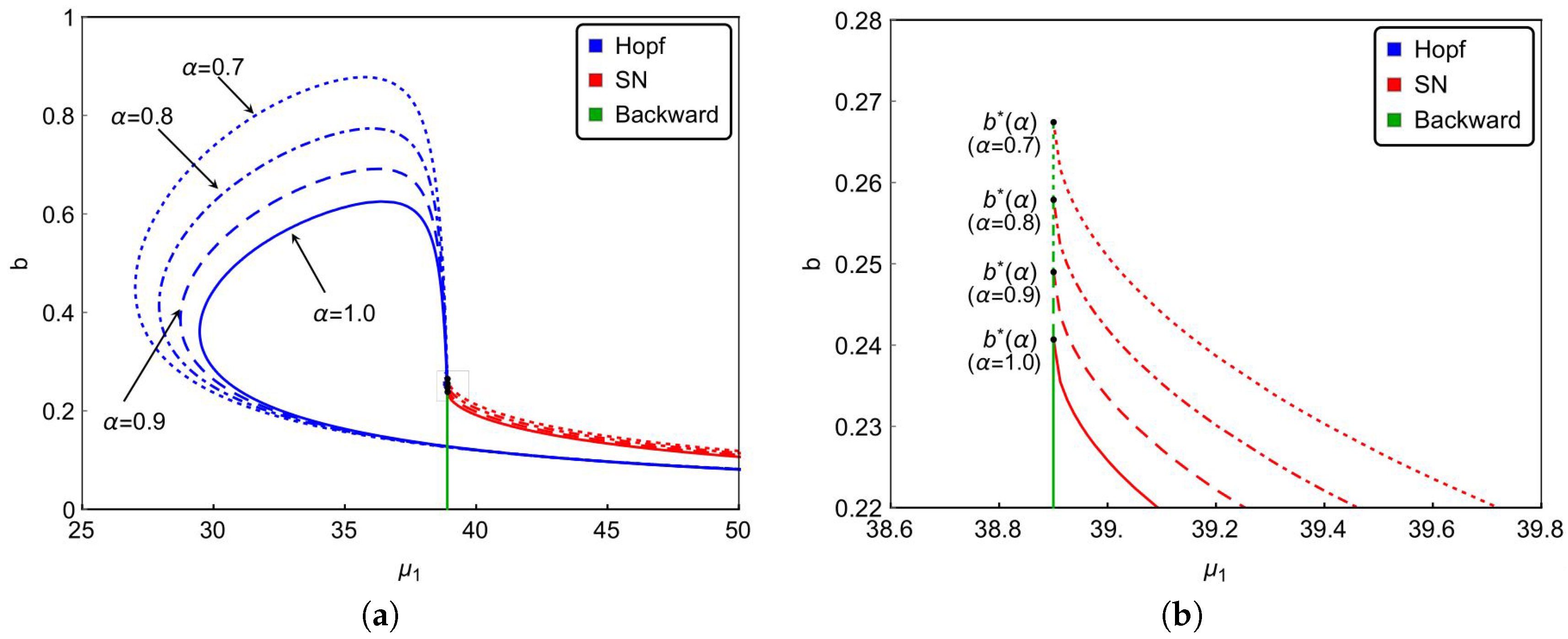 © 2017 by the authors. Licensee MDPI, Basel, Switzerland. This article is an open access article distributed under the terms and conditions of the Creative Commons Attribution (CC BY) license (http://creativecommons.org/licenses/by/4.0/).