Conferences
Upcoming MDPI Conferences (0)
No conferences found for the selection.
Systems announces selected third-party conferences. In case you would like to announce your own event on the Systems website, please fill out the following form to apply for the announcement of a conference or other academic event (seminar, workshop).
Upcoming Partner Conferences (2)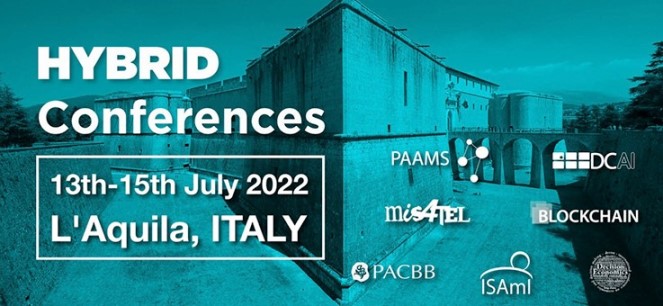 13–15 July 2022
20th International Conference on Practical Applications of Agents and Multi-Agent Systems (PAAMS)
L'Aquila, Italy
Research on Agents and Multi-Agent Systems has matured during the last decade and many effective applications of this technology are now deployed. PAAMS provides an international forum to present and discuss the latest scientific developments and their effective applications, assess the impact of approaches, and facilitate technology transfer. PAAMS started as a local initiative but has since grown to become the international yearly platform to present, discuss, and disseminate the latest developments and most important outcomes related to real-world applications. Right now, PAAMS is classified as B2 by CAPES Qualis CC-Events and B by CORE Ranking. It provides a unique opportunity to bring multi-disciplinary experts, academics, and practitioners together to exchange their experience in the development and deployment of Agents and Multi-Agent Systems. PAAMS intends to bring together researchers and developers from industry and the academic world to report on the latest scientific and technical advances in the application of multi-agent systems, to discuss and debate the major issues, and to showcase the latest systems using agent-based technology. It will promote a forum for discussion on how agent-based techniques, methods, and tools help system designers to accomplish the mapping between available agent technology and application needs. Other stakeholders should be rewarded with a better understanding of the potential and challenges of the agent-oriented approach.
For more information, please see

18–22 July 2022
2022 International System Dynamics Conference
Frankfurt, Germany & Online
The 2022 SD Conference theme is "Diversity" and we embrace this theme in all its dimensions. Diversity in teams encourages innovation and enhances decision-making and problem-solving. We thus expect (i) speakers from diverse backgrounds, (ii) submissions on topics such as gender, race or ethnicity, class, age and ability, etc., and (iii) submissions that demonstrate diverse ways of doing System Dynamics.
From the very beginning, System Dynamics has dared to be different. At the same time, there seems to be potential for a greater celebration of diversity. With the 2022 conference, we want to uncover this hidden potential. There are interesting questions to ask such as: How do race, class, gender, ethnicity, ability, etc. intersect and shape society? How do qualitative and quantitative modelling intersect and shape the 'field' of System Dynamics? How can System Dynamics work with and learn from related approaches? How can the experience of a diversity of practitioners be leveraged to increase the use of System Dynamics? How do we create and select teaching materials with a diverse gender, national and ethnic representation?
Diversity will be a special conference thread this year. Original submissions oriented to the conference theme may offer fresh perspectives on diversity with regards to the place of application, aspects of diversity in society, diverse ways of doing System Dynamics, and many more.
https://systemdynamics.org/international-system-dynamics-conference/