Polarization-Sensitive Electro-Optic Sampling of Elliptically-Polarized Terahertz Pulses: Theoretical Description and Experimental Demonstration
Department of Physics, Faculty of Science and Technology, Keio University, 3-14-1, Hiyoshi, Kohoku-ku, Yokohama, Kanagawa 223-8522, Japan
*
Author to whom correspondence should be addressed.
Received: 4 December 2018 / Revised: 31 December 2018 / Accepted: 4 January 2019 / Published: 17 January 2019
Abstract
We review our recent works on polarization-sensitive electro-optic (PS-EO) sampling, which is a method that allows us to measure elliptically-polarized terahertz time-domain waveforms without using wire-grid polarizers. Because of the phase mismatch between the employed probe pulse and the elliptically-polarized terahertz pulse that is to be analyzed, the probe pulse senses different terahertz electric-field (E-field) vectors during the propagation inside the EO crystal. To interpret the complex condition inside the EO crystal, we expressed the expected EO signal by "frequency-domain description" instead of relying on the conventional Pockels effect description. Using this approach, we derived two important conclusions: (i) the polarization state of each frequency component can be accurately measured, irrespective of the choice of the EO crystal because the relative amplitude and phase of the E-field of two mutually orthogonal directions are not affected by the phase mismatch; and, (ii) the time-domain waveform of the elliptically-polarized E-field vector can be retrieved by considering the phase mismatch, absorption, and the effect of the probe pulse width. We experimentally confirm the above two conclusions by using different EO crystals that are used for detection. This clarifies the validity of our theoretical analysis based on the frequency-domain description and the usefulness of PS-EO sampling.
View Full-Text
►

▼

Figures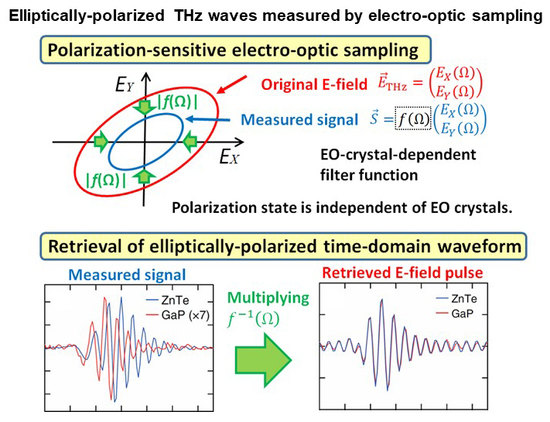 Graphical abstract
This is an open access article distributed under the
Creative Commons Attribution License
which permits unrestricted use, distribution, and reproduction in any medium, provided the original work is properly cited (CC BY 4.0).

Share & Cite This Article
MDPI and ACS Style
Oguchi, K.; Okano, M.; Watanabe, S. Polarization-Sensitive Electro-Optic Sampling of Elliptically-Polarized Terahertz Pulses: Theoretical Description and Experimental Demonstration. Particles 2019, 2, 70-89.
Comments
[Return to top]