Open Access This article is
freely available
re-usable
Review
Scalar Fields as Sources for Wormholes and Regular Black Holes
1
Russian Research Institute for Metrological Service (VNIIMS), Ozyornaya ul. 46, Moscow 119361, Russia
2
Institute of Gravitation and Cosmology, Peoples' Friendship University of Russia (RUDN University), ul. Miklukho-Maklaya 6, Moscow 117198, Russia
3
National Research Nuclear University "MEPhI", Kashirskoe sh. 31, Moscow 115409, Russia
Received: 1 February 2018 / Accepted: 9 March 2018 / Published: 14 March 2018
Abstract
:
We review nonsingular static, spherically symmetric solutions of general relativity with minimally coupled scalar fields. Considered are wormholes and regular black holes (BHs) without a center, including black universes (BHs with expanding cosmology beyond the horizon). Such configurations require a "ghost" field with negative kinetic energy
K
. Ghosts can be invisible under usual conditions if only in strong-field region ("trapped ghost"), or they rapidly decay at large radii. Before discussing particular examples, some general results are presented, such as the necessity of anisotropic matter for asymptotically flat or AdS wormholes, no-hair and global structure theorems for BHs with scalar fields. The stability properties of scalar wormholes and regular BHs under spherical perturbations are discussed. It is stressed that the effective potential for perturbations has universal shapes near generic wormhole throats (a positive pole regularizable by a Darboux transformation) and near transition surfaces from canonical to ghost scalar field behavior (a negative pole at which the perturbation finiteness requirement plays a stabilizing role). Positive poles of emerging at "long throats" (with the radius , , is the throat) may be regularized by repeated Darboux transformations for some values of
n
.
Keywords:
general relativity; scalar fields; black holes; wormholes; stability
PACS:
04.20.Jb; 04.20.Dw; 04.70.Bw
Acknowledgments
I thank the colleagues from Yerevan University for wonderful hospitality during the conference. I am grateful to Milena Skvortsova, Sergei Bolokhov and Artyom Yurov for helpful discussions. The work was partly performed within the framework of the Center FRPP supported by MEPhI Academic Excellence Project (contract No. 02.a03.21.0005, 27.08.2013). This publication was also supported by the RUDN University program 5-100 and by RFBR (grant No. 16-02-00602).
Conflicts of Interest
The author declare no conflict of interest.
Figure 1.
The functions (
left
) and (
right
) for some parameters of the action (
32
), showing a transition from canonical to phantom nature of the scalar field at values marked with the letters A and B.



Figure 3.
Plots of (
left
) and (
middle
) for different values of
m
in a model with given by Equation (
34
) with . With we obtain an asymmetric M-AdS wormhole, with a symmetric M-M wormhole, and with a black universe with de Sitter behavior as . The
right panel
shows the behavior of
V
at larger
x
, where the curves almost merge (colors have the same meaning as in the middle panel).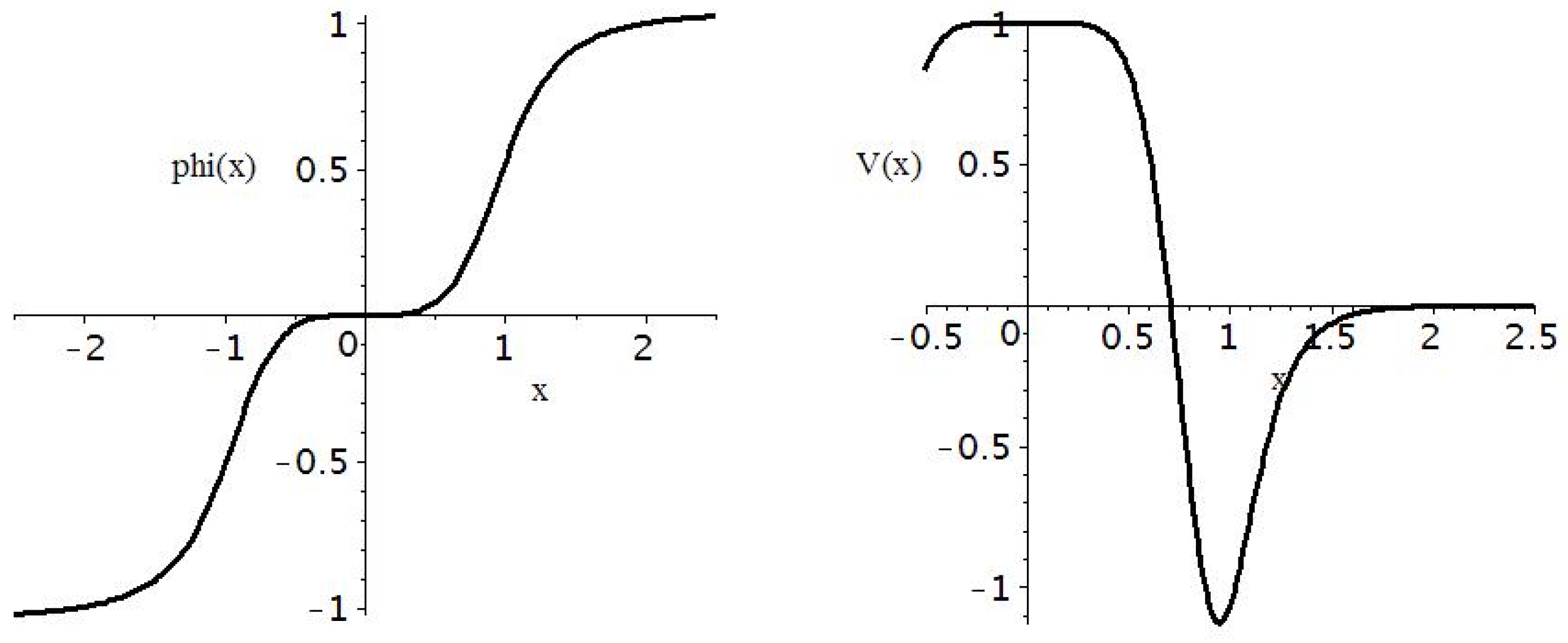 Figure 5.
Regularized effective potentials for perturbations of some black-universe solutions Equations (
26
) and (
27
) (
left
) and the time-domain profiles of their time evolution [
38
] (
right
). Only one of the models under study is stable (the time-domain plot is asymptotically constant), it is the model where the throat coincides with the event horizon.


Figure 6.
Effective potentials for perturbations of trapped-ghost solutions with the metric coefficients (
34
) and (
36
), . (
Left
) for a massless () symmetric wormhole; (
Right
) for trapped-ghost black universe solutions with , in which the minimum of
r
() is beyond the horizon. Note that in terms of
z
, the first plot would remain qualitatively the same, whereas in the second one a finite at the horizon would turn into .


© 2018 by the author. Licensee MDPI, Basel, Switzerland. This article is an open access article distributed under the terms and conditions of the Creative Commons Attribution (CC BY) license (http://creativecommons.org/licenses/by/4.0/).