Defining Extreme Wildfire Events: Difficulties, Challenges, and Impacts
1
Centre for Studies in Geography and Spatial Planning, CEGOT, Geography Department, Faculty of Arts, University of Porto, Porto 4150-564, Portugal
2
Engineering Health Science & Environment, Charles Darwin University, Darwin, Northern Territory 0909, Australia
3
Department of Crop Systems, Forestry and Environmental Sciences, Faculty of Agriculture, University of Basilicata, Potenza 85100, Italy
4
Centre for Research and Technology of Agro-Environment and Biological Sciences, CITAB, University of Trás-os-Montes and Alto Douro, Vila Real 5001-801, Portugal
5
National Research Institute of Science and Technology for Environment and Agriculture, IRSTEA, RECOVER Research Unit, Aix-en-Provence 13100, France
6
Department of Anthropology, University of Georgia, Athens, GA 30602, USA
7
Regional Forest Corps of Sardinia, Cagliari 09131, Italy
8
USDA Forest Service Rocky Mountain Research Station, Fort Collins CO 80526-2098, USA
9
Faculty of Science, University of Alberta, Edmonton, AB T6G 2E9, Canada
10
IDL, Faculty of Sciences, University of Lisbon, Lisbon 1749-016, Portugal
11
Centre for Forest Fire Research (CEIF), ADAI–LAETA, University of Coimbra, Coimbra 3030-289, Portugal
12
Institute of Mediterranean Forest Ecosystems, Hellenic Agricultural Organization "Demeter", Athens 11528, Greece
*
Author to whom correspondence should be addressed.
Received: 15 January 2018 / Revised: 10 February 2018 / Accepted: 14 February 2018 / Published: 25 February 2018
Abstract
Every year worldwide some extraordinary wildfires occur, overwhelming suppression capabilities, causing substantial damages, and often resulting in fatalities. Given their increasing frequency, there is a debate about how to address these wildfires with significant social impacts, but there is no agreement upon terminology to describe them. The concept of extreme wildfire event (EWE) has emerged to bring some coherence on this kind of events. It is increasingly used, often as a synonym of other terms related to wildfires of high intensity and size, but its definition remains elusive. The goal of this paper is to go beyond drawing on distinct disciplinary perspectives to develop a holistic view of EWE as a social-ecological phenomenon. Based on literature review and using a transdisciplinary approach, this paper proposes a definition of EWE as a process and an outcome. Considering the lack of a consistent "scale of gravity" to leverage extreme wildfire events such as in natural hazards (e.g., tornados, hurricanes and earthquakes) we present a proposal of wildfire classification with seven categories based on measurable fire spread and behavior parameters and suppression difficulty. The categories 5 to 7 are labeled as EWE.
View Full-Text
►

▼

Figures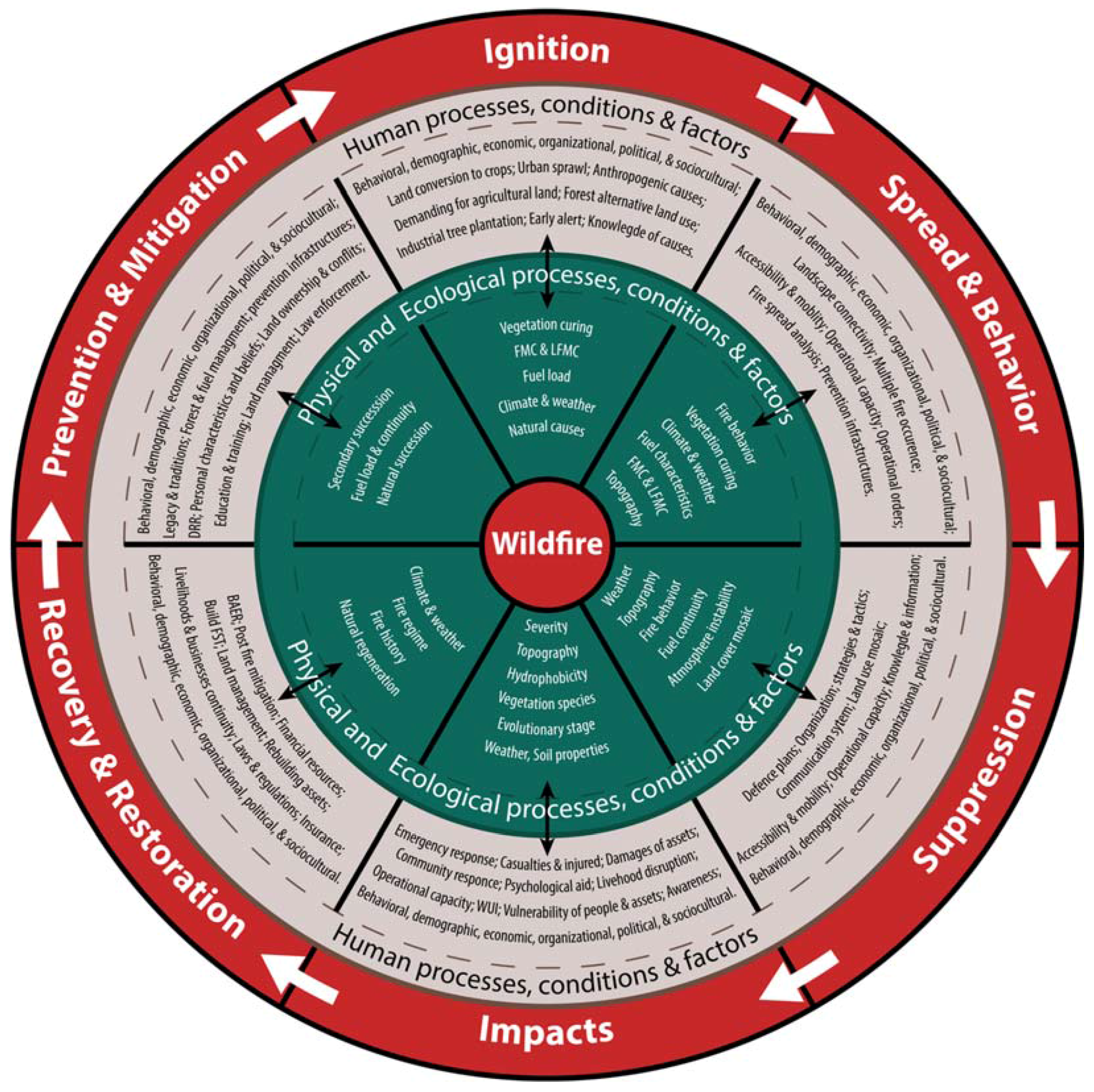 Figure 1
This is an open access article distributed under the
Creative Commons Attribution License
which permits unrestricted use, distribution, and reproduction in any medium, provided the original work is properly cited (CC BY 4.0).

Share & Cite This Article
MDPI and ACS Style
Tedim, F.; Leone, V.; Amraoui, M.; Bouillon, C.; Coughlan, M.R.; Delogu, G.M.; Fernandes, P.M.; Ferreira, C.; McCaffrey, S.; McGee, T.K.; Parente, J.; Paton, D.; Pereira, M.G.; Ribeiro, L.M.; Viegas, D.X.; Xanthopoulos, G. Defining Extreme Wildfire Events: Difficulties, Challenges, and Impacts. Fire 2018, 1, 9.
Note that from the first issue of 2016, MDPI journals use article numbers instead of page numbers. See further details here.
Comments
[Return to top]