Open Access This article is
freely available
re-usable
Article
Spark Plasma Sintered Zirconia Ceramic Composites with Graphene-Based Nanostructures
1
Departamento de Física de la Materia Condensada, ICMS, CSIC-Universidad de Sevilla, Avda Reina Mercedes s/n, 41012 Sevilla, Spain
2
Instituto de Ciencia de Materiales de Sevilla, ICMS, CSIC-Universidad de Sevilla, Avda. Américo Vespucio 49. 41092 Sevilla, Spain
*
Author to whom correspondence should be addressed.
Received: 27 June 2018 / Accepted: 15 August 2018 / Published: 22 August 2018
Abstract
:
The addition of graphene-based nanostructures (GBNs) can improve the inherent fragility of ceramics and provide them with improved electrical and thermal conductivities. However, both the starting material (ceramic matrix and GBNs) and the processing/sintering approach are crucial for the final composite microstructure and properties. This work focuses on the influence of the content and dimensions of the GBN filler (10 and 20 vol%; 3 and ~150 layers), the powder-processing conditions (dry versus wet), and the homogenization method (ultrasound sonication versus high-energy planetary ball milling) on GBN/tetragonal zirconia (3YTZP) composites. The microstructure and electrical properties of the spark plasma sintered (SPS) composites were quantified and analyzed. The highest microstructural homogeneity with an isotropic microstructure was achieved by composites prepared with thicker GBNs milled in dry conditions. A high content (20 vol%) of few-layered graphene as a filler maximizes the electrical conductivity of the composites, although it hinders their densification.
Keywords:
graphene-based nanostructures; ceramic composites; zirconia; powder processing; SPS; microstructure; electrical conductivity
1. Introduction
Graphene-based nanostructures (GBNs) have recently come into scientific focus as a second phase in order to overcome the inherent fragility of ceramics. These two-dimensional graphitic nanostructures possess an extremely large specific surface area and Young's modulus, together with exceptional electrical and thermal conductivities. However, the microstructure and performance of the composites are highly dependent on (i) the starting materials (ceramic used as a matrix and the quality, dimensions, and content of the GBN), and (ii) the processing approach and sintering conditions used. These features must be taken into account in order to obtain specific properties.
The main goal of this work is to explore some of these main issues in graphene-based nanostructure/tetragonal zirconia (GBN/3YTZP) composites, namely the effects of the content and dimensions of the GBN (10 and 20 vol%; 3 and ~150 layers), the powder-processing conditions (dry and wet), and the homogenization method (ultrasound sonication and high-energy planetary ball milling). The microstructure and electrical properties of the spark plasma sintered (SPS) composites with GNP or FLG addition, such as density, anisotropy, integrity of the graphene-based nanostructures, microstructural homogeneity, matrix refinement and electrical conductivity, have been quantified and analyzed, giving valuable information concerning the composites' microstructures and their potential applications.
2. Materials and Methods
2.1. Processing and Sintering of the Ceramic Composites
The two types of graphene-based nanomaterials used as fillers for the ceramic composites were supplied by Angstron Materials (Dayton, OH, USA, EEUU). The GNPs have ≤5 μm planar diameter and 50–100 nm thickness, while the FLG has ≤10 μm planar diameter and n ≤ 3 graphene layers. To de-agglomerate the as-received GBNs and improve their distribution in the ceramic matrix, most of the GBN suspensions were subjected to ultrasonic agitation in isopropyl alcohol, reported as an effective dispersion medium [
18
,
22
]. The ultrasound probe, model KT-600 (Kontes Inc., Vineland, NJ, USA) had high power (750 W), and the operating conditions were set to 20 kHz and 95% amplitude, with time intervals of 5 min up to a total of 20 min to avoid heating the suspension over 30 °C.
For the ceramic matrix, 3YTZP powders with a 40 nm particle size supplied by Tosoh Corporation (Tokyo, Japan) were used after an annealing treatment at 850 °C for 30 min in air.
Composite powders with 10 and 20 vol% GNP/FLG were prepared using different wet and dry mixing routines. A basic route consisting of simple sonication of the mixed GBN and 3YTZP powder in isopropanol for 5 min and subsequent drying of the slurries on a hot plate or rotatory evaporator was used for most composites with GNP and FLG, named with the prefix Z- for the 10 vol% GBN content and Z-20 for the 20 vol% content (see
Table 1
and
Table 2
). To exfoliate the thick GNPs, some composites were ball milled in a high-energy planetary mill after the basic sonication route described previously, in either a wet medium (U-W-PM)-isopropyl alcohol- or in dry conditions (U-D-PM). Finally, an eco-friendly dry route consisting of only planetary ball milling the GNPs and the ceramic powder was also tested for one composite (D-PM). The homogenization in a planetary mill was carried out over 4 h [
20
] with a planetary ball mill (PM) model Pulverisette 7 (Fritsch, Germany) in a 45 mL zirconia jar with seven zirconia balls (d = 15 mm) at a speed of 350 rpm. All the resulting powders were manually homogenized in an Agatha mortar.
The densification of the composites was performed by the SPS technique in a furnace model 515 S, Dr. Sinter Inc. (Kanagawa, Japan), at 1250 °C and 75 MPa for 5 min with heating and cooling ramps of 300 and 50 °C/min, respectively. The graphite molds used to contain the powders and transmit the electric current had an inner diameter of 1.5 cm. Graphite paper was used to avoid the powder from sticking to the mold or graphite rods. Heat losses and heat gradients were minimized by surrounding the molding system with graphite cloth. Sintered cylindrical pellets of 15 mm diameter and 3–4 mm thick made from ~3 g composite powder were obtained. The graphite that adhered to the pellets was manually removed with sandpaper.
2.2. Characterization of the Starting Powders and the Sintered Composites
Elemental microanalysis of C (Elemental Analyzer TruSpec micro, LECO Instrumentos, Madrid, Spain) was used to assess the real GBN content in the composite powders. To that end, 1–3 mg composite powder from each composition was completely burned in pure oxygen, inside Sn capsules, at temperatures ranging from 100 to 1000 °C. The combustion product (CO2) was quantified by an infrared cell.
The Archimedes method with distilled water as the immersion medium was used to measure the density of the sintered composites. The relative density was estimated assuming a theoretical density calculated from the rule of mixtures, using the individual density data from the suppliers: ρ = 6.05 g/cm3 for 3YTZP and ρ = 2.2 g/cm3 for GNPs and FLG, and the experimental GBN volume fractions.
2.2.1. Microstructural Characterization
With the aim of evaluating the different phases of zirconia and the graphitic structures, X-ray diffraction was performed on the starting materials and the sintered composites, using an X-ray diffractometer model 8 Advance A25 (Bruker Co., Billerica, MA, USA) from CITIUS with a Cu anode in ϴ:ϴ configuration, and using Bragg–Brentano geometry. The divergence slot was fixed at 0.5° and a Ni filter was used to remove kβ radiation from the X-ray tube, set at 40 kV and 30 mA. The 2ϴ scanning range was from 10 to 120° with an angular increment of 0.015° and 0.1 s acquisition time. Rotation speed of the specimen was set to 30 rpm.
The presence and structural integrity of the GBNs before and after the processing and sintering were assessed by Raman vibrational spectroscopy on the as-received powders and the fractured surfaces of the sintered composites, respectively. Five to eight spectra were registered for each specimen and the equipment used was a Raman Horiba Jobin Yvon LabRaman HR800 (Horiba, Tokyo, Japan) with Olympus BX 41optic system (BX41, Olympus, Tokyo, Japan) and Labsec 5.25.15 data acquisition software (Instituto de Ciencia de Materiales de Sevilla (ICMS), Sevilla, Spain). This spectrometer uses a 20 mW power green He-Ne laser (532.1 nm), a diffraction grid of 600 lines/mm, and a 100× objective with 100 µm confocal aperture.
Scanning electron microscopy (SEM, JEOL 6460LV, JEOL USA, MA, USA, FEI-Teneo, FEI, Thermo Fisher, MA, USA and HRSEM, Hitachi S5200, Hitachi, Tokyo, Japan) was used to assess the morphology of the 3YTZP ceramic grains and the GBN fillers, and their distribution and homogeneity in the ceramic matrix. To evaluate the degree of anisotropy of the composites, their two main sections, namely parallel and perpendicular to the sintering compression axis, were examined. The 3YTZP grain size was estimated as the equivalent planar diameter,
d
= 2(area
/π
)
1/2
, measured in the composite cross-sections polished up to 1 µm with diamond paste, after annealing in air for 15 min at 1150 °C to reveal the grain boundaries. The shape factor of the ceramic grains was calculated as F = 4
π
area/(perimeter)
2
. The major and minor axes of the GBNs were also estimated. More than 300 grains or platelets were analyzed for each specimen using the ImageJ and Origin software (ImageJ bundled with 64-bit Java 1.8.0_112, NIH, Bethesda, MD, USA and OriginPro 9.0, OriginLab, MA, USA).
2.2.2. Electrical Conductivity
The two-point DC electrical conductivity of the sintered composites was estimated at room temperature using a capacitive method in two directions of the current flow, parallel and perpendicular to the sintering compression axis (σ⊥, σ//), to detect any anisotropy in this property. Two similar procedures were used on specimens with two parallel faces (electrodes) coated with a colloidal silver varnish: (i) subsequent annealing of the electrodes at 600 °C for 30 min in argon flow (to avoid degradation of the GBNs) and measuring the impedance spectroscopy with an Agilent 4294A analyzer (Keysight Technologies Spain, Barcelona, Spain) in the 100 Hz–2 MHz frequency range, and (ii) using a room-temperature drying silver varnish and a potentiodynamic method with a 0–10 mV range in steps of 1mV, with a Solartron SI 1260A (Ametek Scientific Instruments, Berwyn, PA, USA), and validating these measurements in AC with a frequency sweep from 100 to 1000 Hz at 10 mV. In the second case, several measurements were taken in each configuration, removing the electrodes with acetone and applying new colloidal silver painting for each measurement.
3. Results and Discussion
4. Conclusions
While wet planetary ball milling of 3YTZP-GNP composite powders achieves a significant GNP reduction (40% decrease in the minor diameter, 30% decrease in the lateral size), the dry milling condition is much more effective in reducing the GNP size (70% decrease in thickness and 90% in lateral size). The highest microstructural homogeneity is achieved in sintered composites with GNP dispersed using high energy planetary milling.
The electrical conductivity of the composites increases with GBN content and with the decrease in the GBN dimensions. The latter can be explained by the percolation improvement of the GBN network that takes place when the GBN size decreases and their distribution in the ceramic grain boundaries is more homogeneous.
The electrical anisotropy of the composites decreases abruptly with GBN content and exhibits a nearly isotropic behavior in the 20 vol% GNP/3YTZP composite and also in all the composites subjected to high-energy planetary milling. This is due to the fact that the milling reduces drastically the lateral dimensions of the GNPs, which diminish their intrinsic anisotropy and, therefore, also their preferential orientation.
The highest electrical conductivity is achieved by the composite with 20 vol% FLG, with an average conductivity value σ = 1650 S m−1 and maximum value σ⊥ ~ 2826 S m−1.
Author Contributions
Conceptualization: Á.G.-L., A.M.-R., and R.P.; Funding acquisition: Á.G.-L., A.M.-R., and R.P.; Investigation: Á.G.-L., C.L.-P., C.M.-F., C.G.-O., A.M.-R., and R.P.; Methodology: Á.G.-L., A.M.-R., and R.P.; Supervision: Á.G.-L., A.M.-R., and R.P.; Validation: Á.G.-L., A.M.-R., and R.P.; Writing–original draft: Á.G.-L., Writing–review and editing: A.M.-R. and R.P.
Funding
This research was funded by the Ministerio de Economía y Competitividad, and European FEDER fundings, with grant number MAT2015-67889-P.
Acknowledgments
The authors would like to acknowledge the CITIUS (Centros de Investigación, Tecnología e Innovación de la Universidad de Sevilla) for the microanalysis, X-ray diffraction and SEM facilities. Finally, our gratitude to F. Gotor for giving us access to their planetary ball mill in the ICMS (Sevilla).
Conflicts of Interest
The authors declare no conflict of interest. The funders had no role in the design of the study; in the collection, analyses, or interpretation of data; in the writing of the manuscript, and in the decision to publish the results.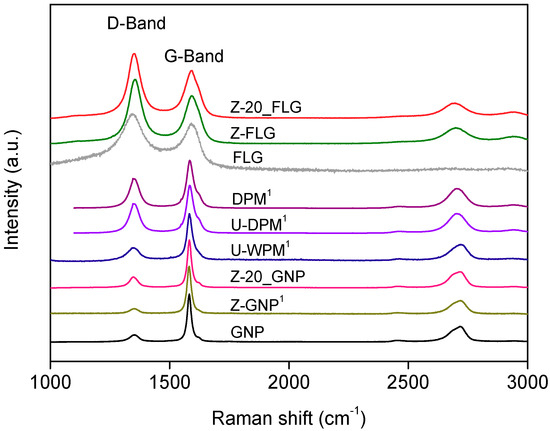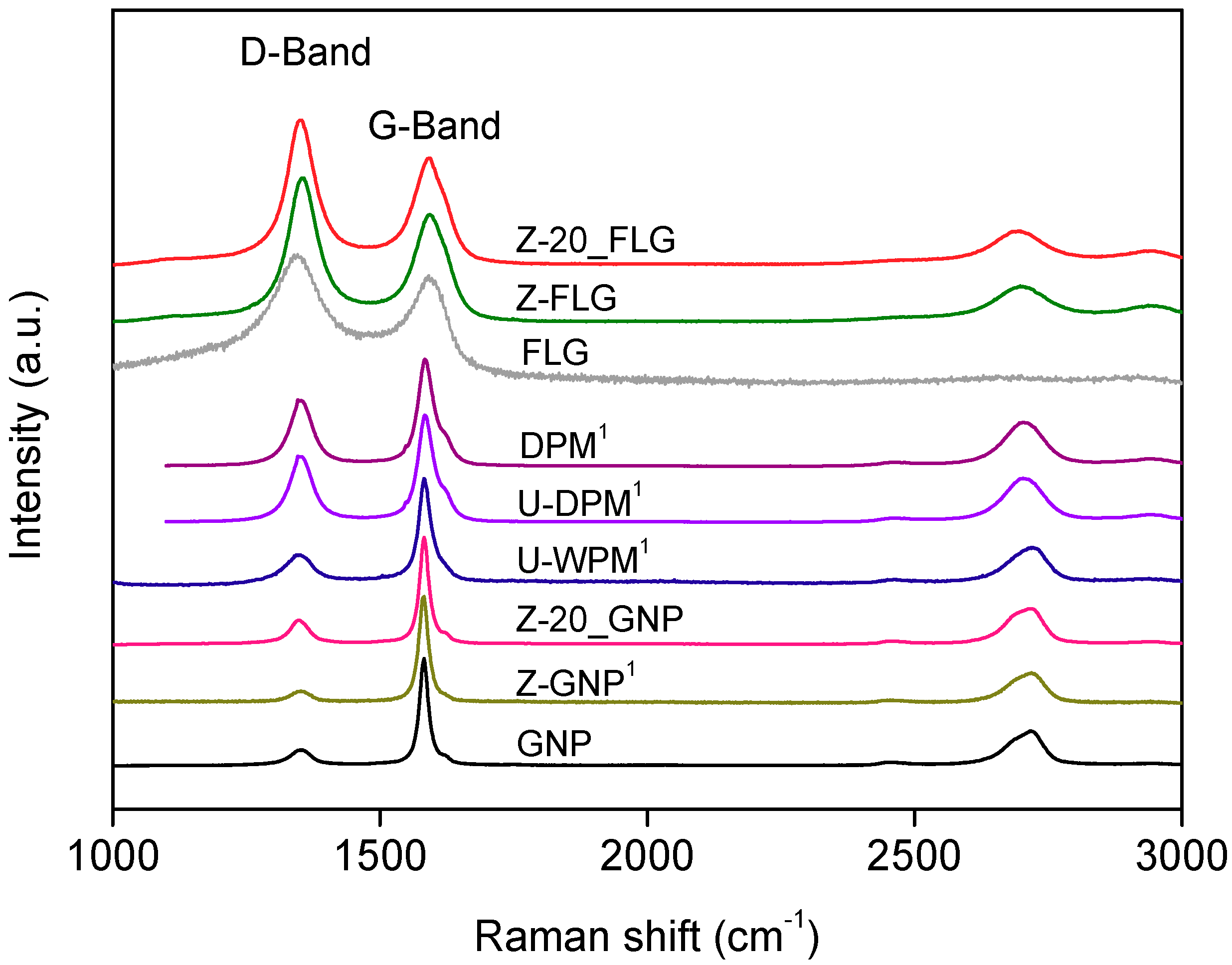 Figure 2.
SEM micrograph with backscattered electrons (BSE) of polished cross-sections of the different composites to illustrate the homogenization degree in composites (
a
) Z-20_FLG, (
b
) Z-FLG, (
c
) Z-20_GNP, (
d
) Z-GNP, (
e
) U-W-PM, (
f
) U-D-PM and (
g
) D-PM with processing parameters as indicated in
Table 1
. (
a
,
c
) have 20 vol% GBN while the rest of the composites have only 10 vol%. The sintering compression axis is common to all the micrographs and has been indicated in (
a
).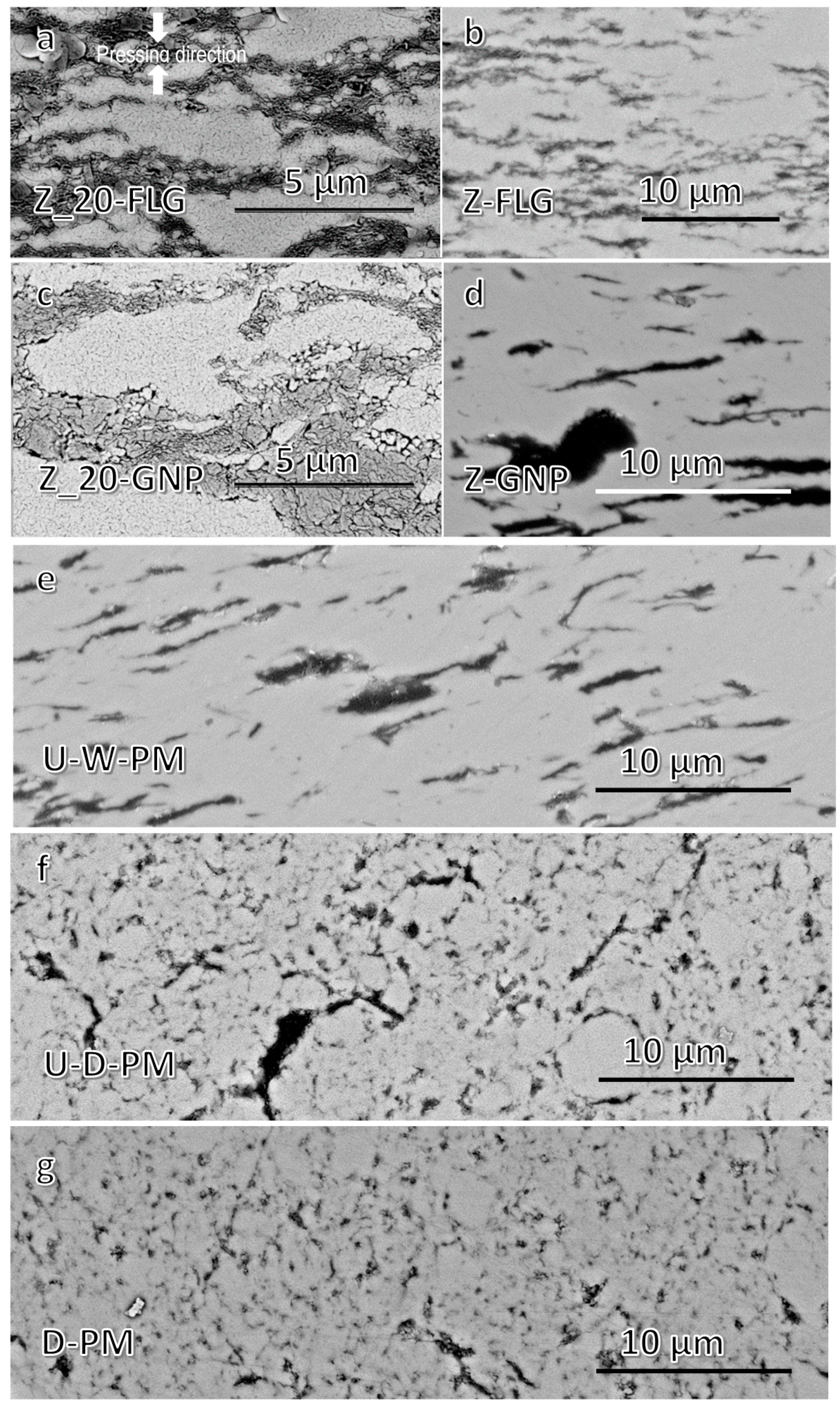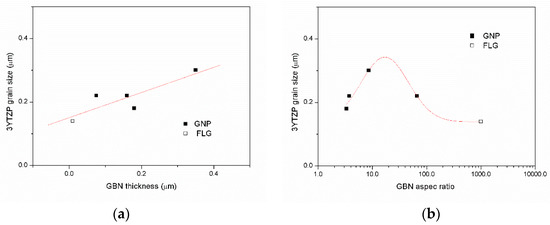 Figure 3. Relationship between the 3YTZP ceramic grain size and the GBN filler dimensions: (a) GBN thickness and (b) GBN aspect ratio.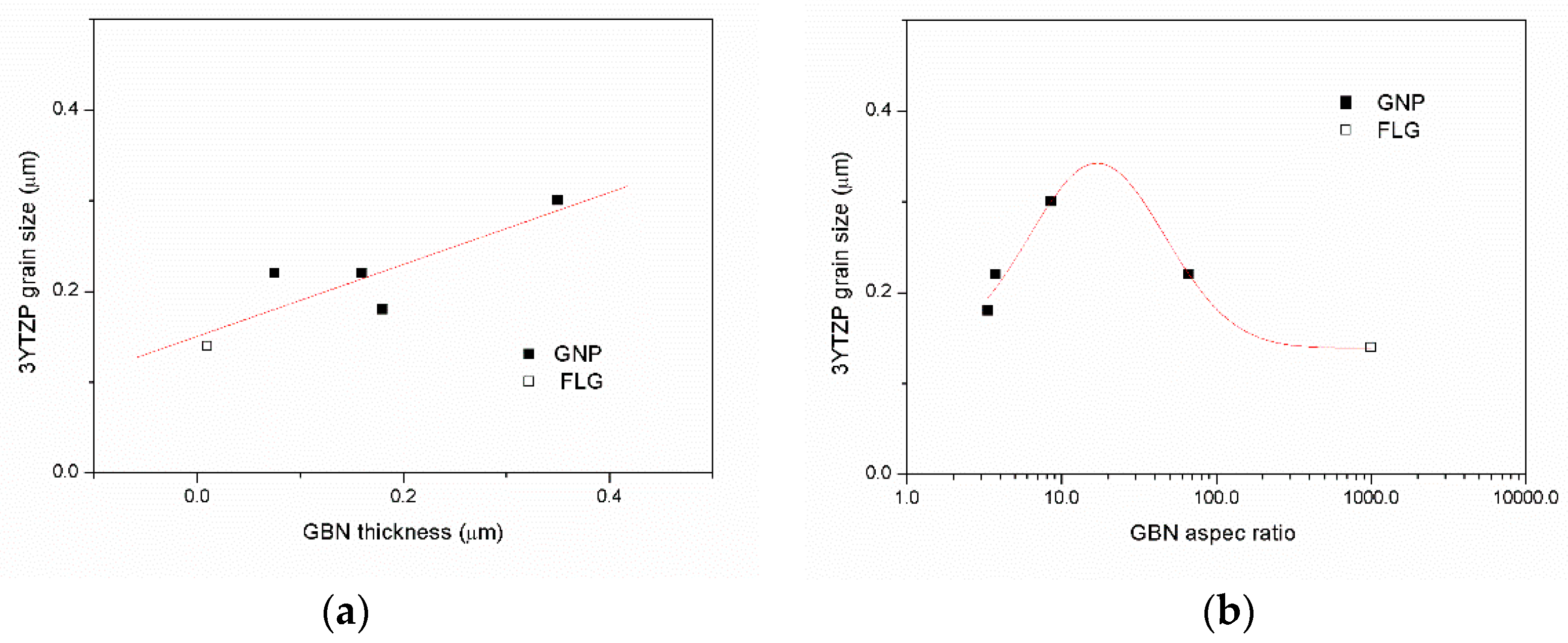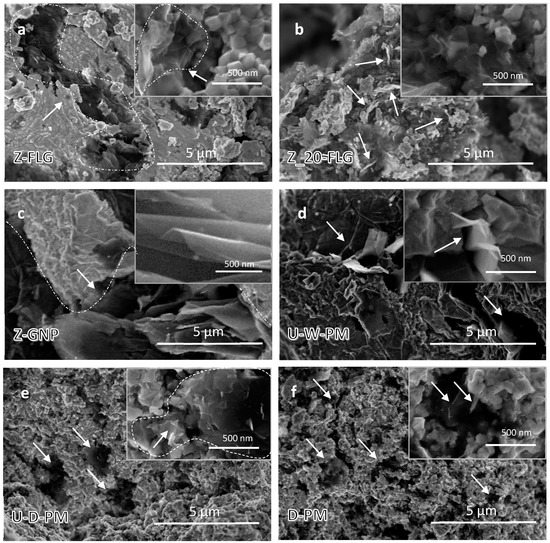 Figure 4.
SEM micrographs of the fractured surfaces of the different composites in
Table 1
, showing the morphology of the ceramic grains and the GBNs to illustrate the effect of the processing route in (
a
) Z-FLG, (
b
) Z-20-FLG, (
c
) Z-GNP, (
d
) U-W-PM, (
e
) U-D-PM, and (
f
) D-PM. The inserts show areas in higher magnification.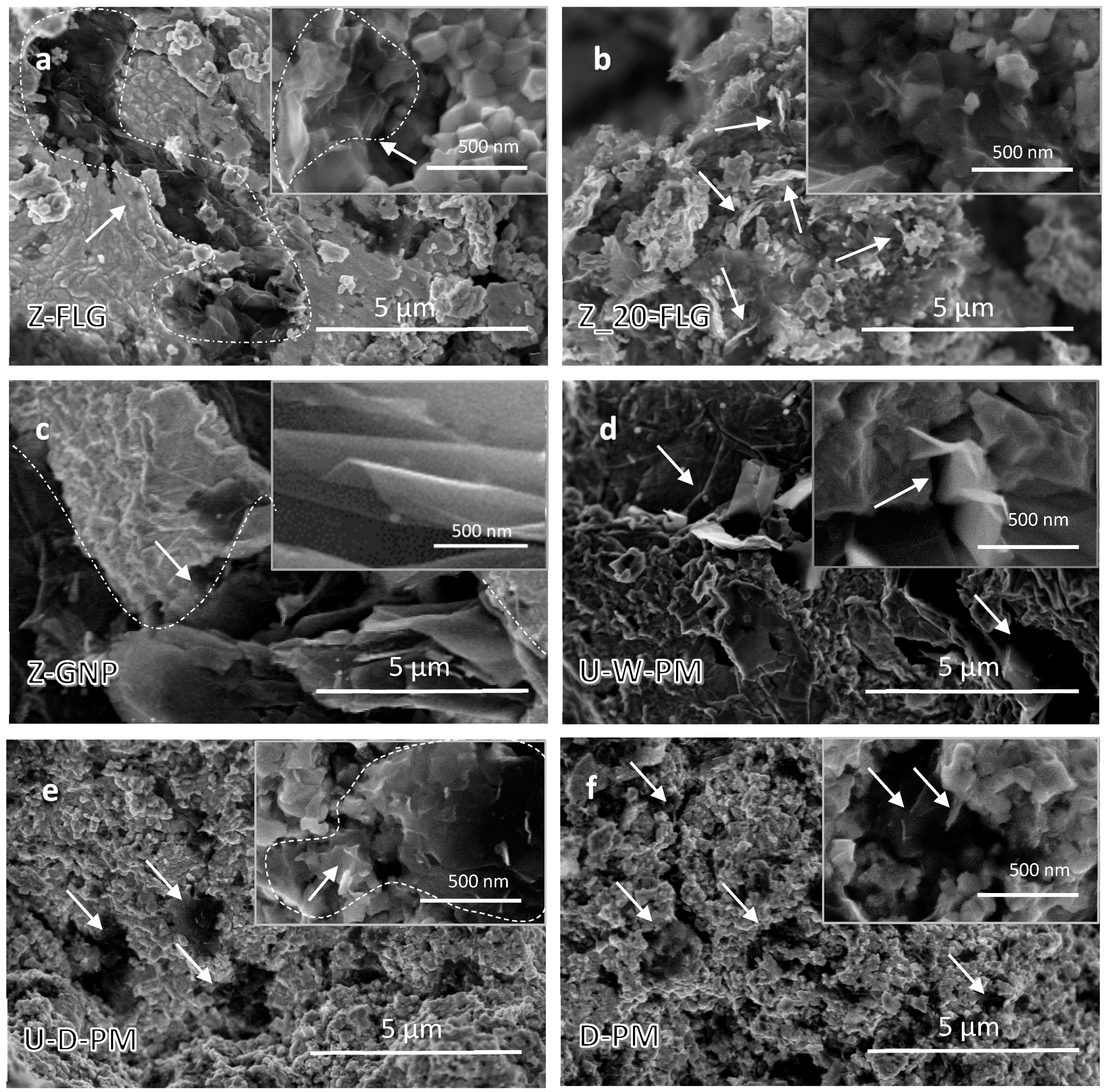 Table 1. Morphological parameters (major–minor axes) of the as-received graphene-based nanostructures (GBNs) and of the graphene nanoplatelets (GNPs) in the sintered composites with 10 vol% GNP.
Filler
Material
Mixing Routines
GBN Morphology
Ultrasound
Milling
Dmajor (µm)
Dmin (µm)
FLG
As-received FLG
≤10 *
0.01 *
GNP
As-received GNP
≤5 *
0.05–0.1 *
Z-GNP
Yes
No
≤4.3
0.2–1.0
U-W-PM
Yes
Wet
≤3
0.14–0.56
U-D-PM
Yes
Dry
≤0.6
0.07–0.25
D-PM
No
Dry
≤0.6
0.10–0.26
* Data from the supplier.

Table 2.
Data corresponding to all the composites fabricated in this study, with 10 and 20 vol% GBN nominal content and processed with the different mixing techniques schematized in
Table 1
: measured GBN content, relative density, ceramic grain size, electrical conductivity averaged for the two main directions with respect to the sintering axis, and σ
//
/σ
⊥
ratio.
Sample
Measured GBN Content (vol%)
ρrelative
(%)
dplanar ± s.d.
(µm)
σ
(S·m−1)
σ///σ⊥
(0–1)
Z-FLG
8.72 ± 0.17
98
0.14 ± 0.06
440 ± 20
0.1
Z-20_FLG
21.37 ± 0.18
95
0.18 ± 0.09
1650 ± 70
0.2
Z-GNP
8.96 ± 0.08
99.7
0.22 ± 0.10
128 ± 6
0.1
Z-20_GNP
23.4 ± 0.7
100
0.14 ± 0.06
1485 ± 60
0.2
U-W-PM
8.93 ± 0.06
98.4
0.30 ± 0.12
45 ± 4
0.1
U-D-PM
12.77 ± 0.15
99.4
0.22 ± 0.10
230 ± 80
0.5
D-PM
9.18 ± 0.16
95.9
0.18 ± 0.07
440 ± 30
0.9

© 2018 by the authors. Licensee MDPI, Basel, Switzerland. This article is an open access article distributed under the terms and conditions of the Creative Commons Attribution (CC BY) license (http://creativecommons.org/licenses/by/4.0/).