Open Access This article is
freely available
re-usable
Review
Recent Advances in Next Generation Snakebite Antivenoms
Department of Biotechnology and Biomedicine, Technical University of Denmark, Kongens Lyngby, DK-2800, Denmark
*
Author to whom correspondence should be addressed.
Received: 27 March 2018 / Accepted: 9 April 2018 / Published: 15 April 2018
Abstract
:
With the inclusion of snakebite envenoming on the World Health Organization's list of Neglected Tropical Diseases, an incentive has been established to promote research and development effort in novel snakebite antivenom therapies. Various technological approaches are being pursued by different research groups, including the use of small molecule inhibitors against enzymatic toxins as well as peptide- and oligonucleotide-based aptamers and antibody-based biotherapeutics against both enzymatic and non-enzymatic toxins. In this article, the most recent advances in these fields are presented, and the advantages, disadvantages, and feasibility of using different toxin-neutralizing molecules are reviewed. Particular focus within small molecules is directed towards the inhibitors varespladib, batimastat, and marimastat, while in the field of antibody-based therapies, novel recombinant polyclonal plantivenom technology is discussed.
Keywords:
antivenom; snakebite; small molecule toxin inhibitors; oligonucleotides; antibodies; phage display; next generation antivenom; recombinant antivenom
1. Introduction
Snakebite is an epidemic of the rural tropics, which annually affects over 5 million people [
1
]. This leads to 1.84 million cases of envenoming and upper death toll estimates of 94,000, although experts generally agree that these numbers are likely underestimated [
2
]. Survivors are often afflicted by psychological disorders (e.g., post-traumatic stress) and left handicapped with amputations, blindness, or other sequelae [
3
,
4
,
5
,
6
,
7
]. The situation is further complicated by antivenom shortages and the undesirable traits of some antivenoms, including immunogenicity and low efficacy [
8
,
9
,
10
,
11
,
12
,
13
,
14
]. Antivenoms from hyperimmunized animals were first envisioned by A. Calmette and C. Phisalix in 1894 [
15
]. Since then, antivenoms have been optimized by including various purification steps, typically involving precipitation techniques, as part of their manufacture [
16
]. However, despite recent reports on innovative approaches for developing a new generation of antivenoms based on biotechnological methods, medicinal chemistry, and antibody technologies [
17
,
18
,
19
], plasma-derived antivenoms of animal origin remain the only effective treatment against snakebite envenoming [
20
,
21
]. Confronted with the severity of this neglected tropical disease through a campaign led by the Global Snakebite Initiative, Health Action International, Médecins Sans Frontières, the African Society of Venimology, and the Government of Costa Rica, the World Health Organization (WHO) reinstated snakebite envenoming on its list of Category A Neglected Tropical Diseases in 2017 [
22
,
23
,
24
,
25
] and set down a working group that will develop an official strategy for prevention and treatment of snakebite envenoming [
26
]. With the renewed international focus on snakebite envenoming, we here provide an updated overview of the most recent advances in the development of next-generation antivenoms that are not based on conventional animal immunization schemes. This review thus focuses solely on developments reported after 2016, as earlier important examples have been reviewed extensively elsewhere [
17
,
18
].
2. Small Molecule Inhibitors and Peptides
3. Oligonucleotides and Antibodies
4. Conclusions and Perspectives
Renewed interest in snakebite envenoming from international organisations, such as the WHO, could contribute to spreading awareness of this neglected tropical disease and facilitate increased research efforts and the development of new treatments. Current trends in such efforts include the investigation of the utility of several small molecule inhibitors, which are currently being evaluated for their ability to neutralise the effects of enzymatic toxins. Perhaps the most promising of these small molecule inhibitors, varespladib, may have the potential to become a broad-spectrum orally administered first line of treatment for snakebite victims, or possibly an anti-PLA2-specific supplement to conventional antivenom therapy. While small molecule inhibitors might be particularly well-suited for targeting enzymatic toxins, such as PLA2s and proteinases, smaller non-enzymatic toxins (such as three-finger toxins) may better be targeted by antibody-based or antibody-like therapeutics. It is therefore likely that increased research efforts on nanobodies and human antibody formats will occur within the next few years. This not only represents an opportunity for innovation within snakebite antivenoms, but it may also facilitate more research efforts on the development of therapies against envenomings by other animals, such as scorpions and spiders.
Acknowledgments
Thanks go to the Novo Nordisk Foundation for financial support (NNF16OC0019248). We would also like to thank C. M. Kiel and J. A. Jürgensen for proofreading the manuscript prior to submission.
Author Contributions
Both authors contributed equally to the writing of this paper.
Conflicts of Interest
The authors declare no conflict of interest.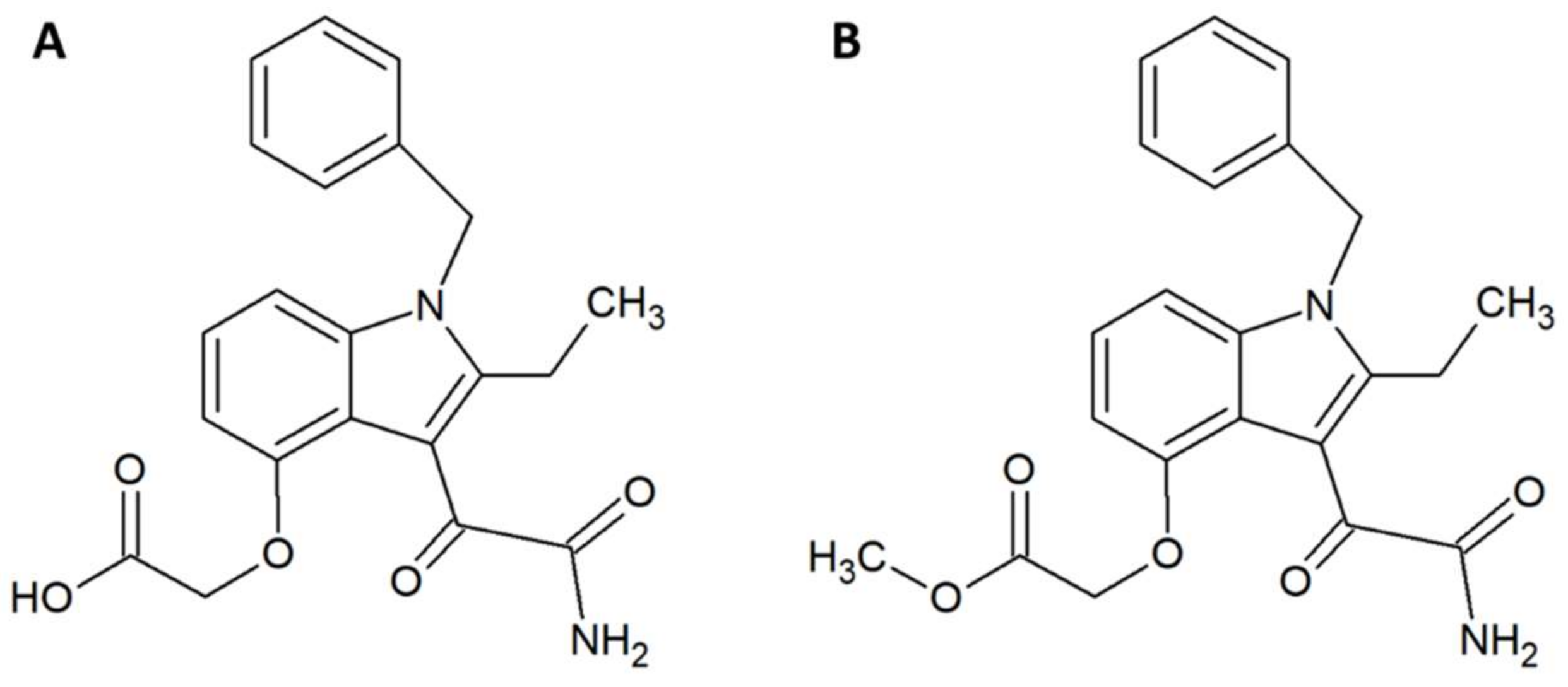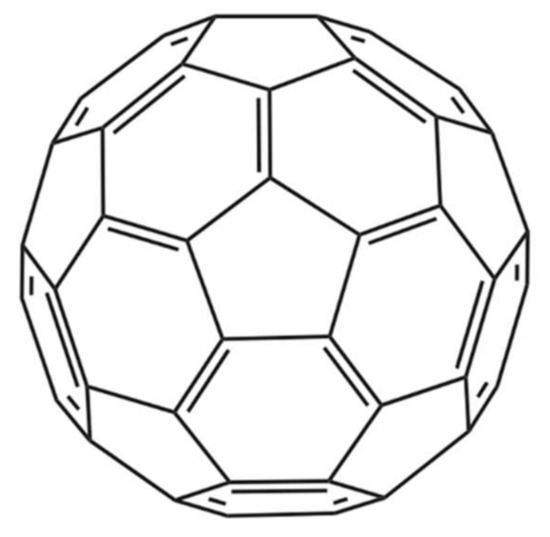 Figure 4.
Chemical structure of the C60 fullerene [
45
].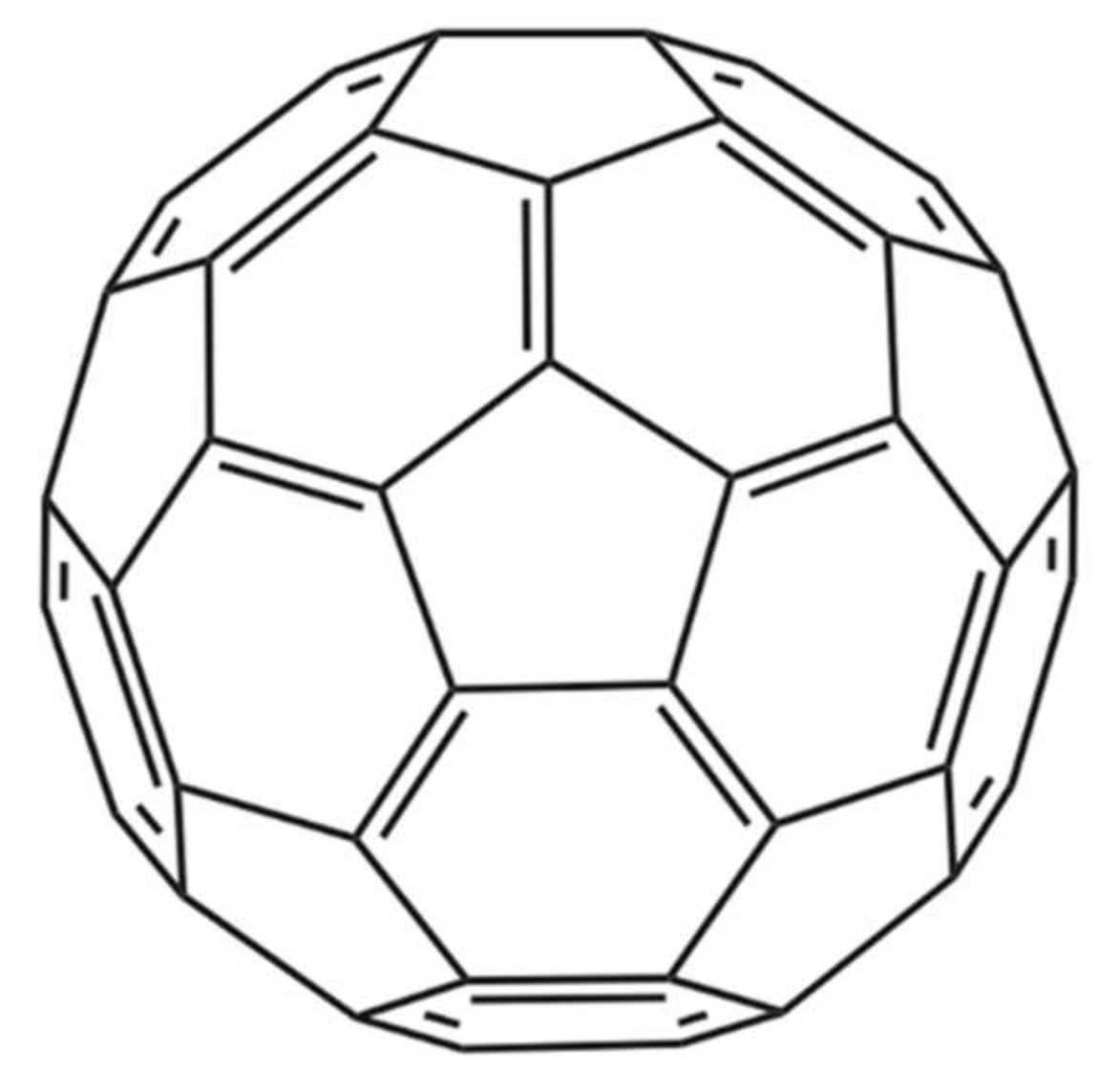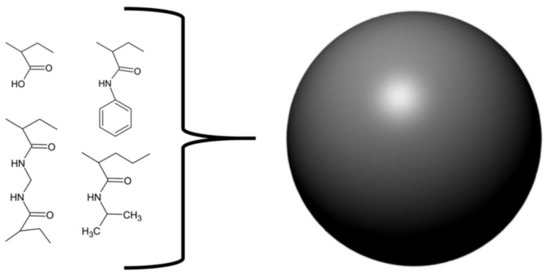 Figure 5.
Schematic overview of the molecular components used by O'Brien et al. [
46
] to assemble the nanoparticles.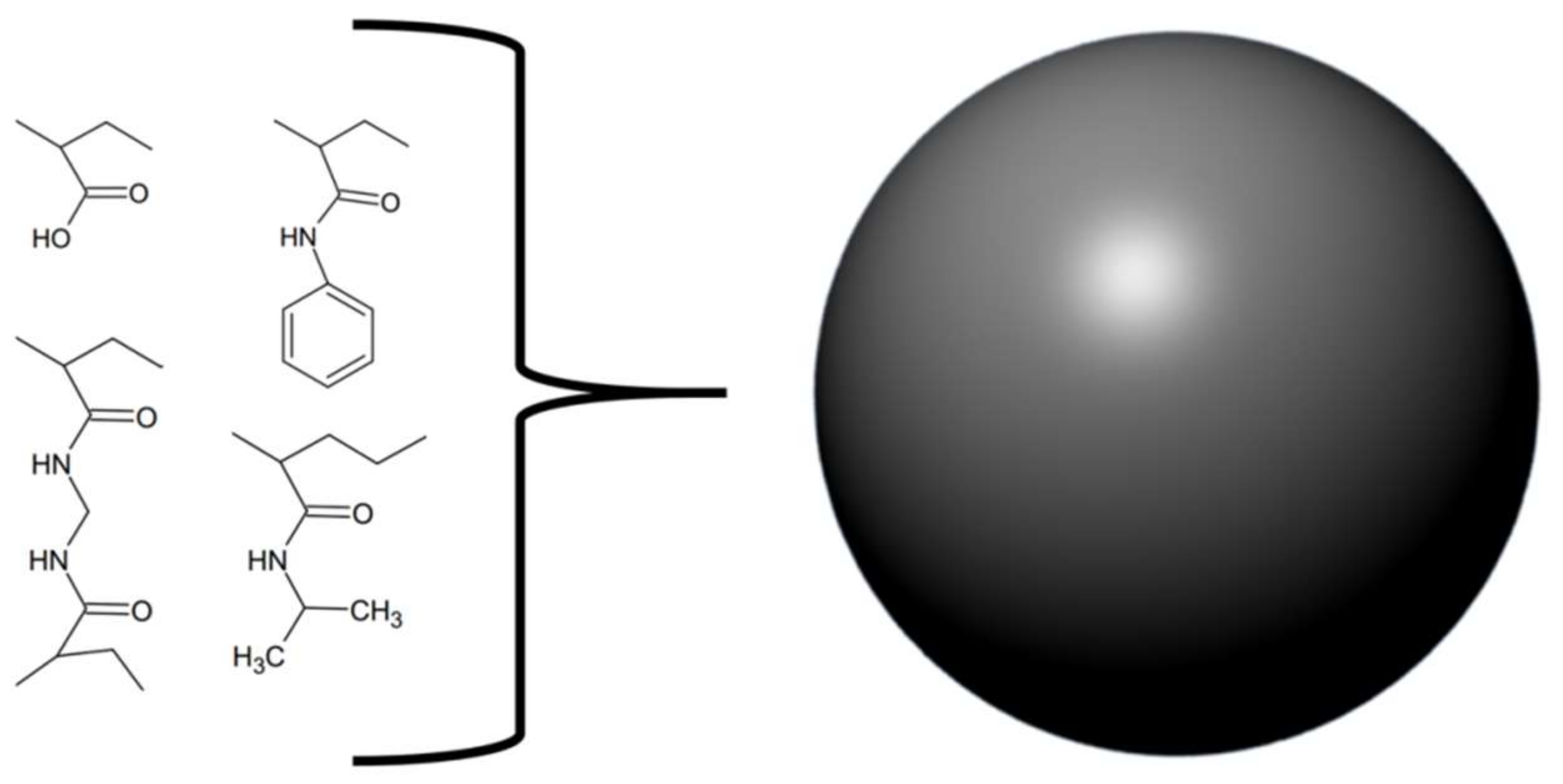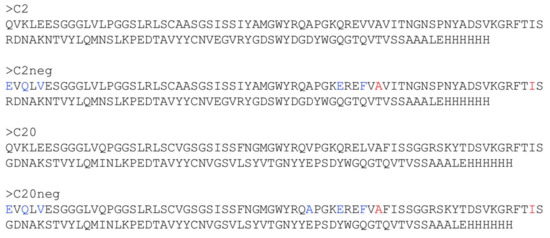 Figure 6.
Overview of mutations introduced in V
H
Hs by Anderson et al. to improve the thermal stability of the C2 and C20 nanobodies [
51
]. The sequences of the wild-type antibodies C2 and C20 are shown. The sequences of the mutated C2neg and C20neg antibodies are also shown, with mutations highlighted in blue. Finally, C2neg and C20neg were further mutated by the introduction of additional disulphide bridges to form C2neg+ and C20neg+. This was accomplished by mutating the amino acids highlighted in red into cysteines. Adapted with the author's permission.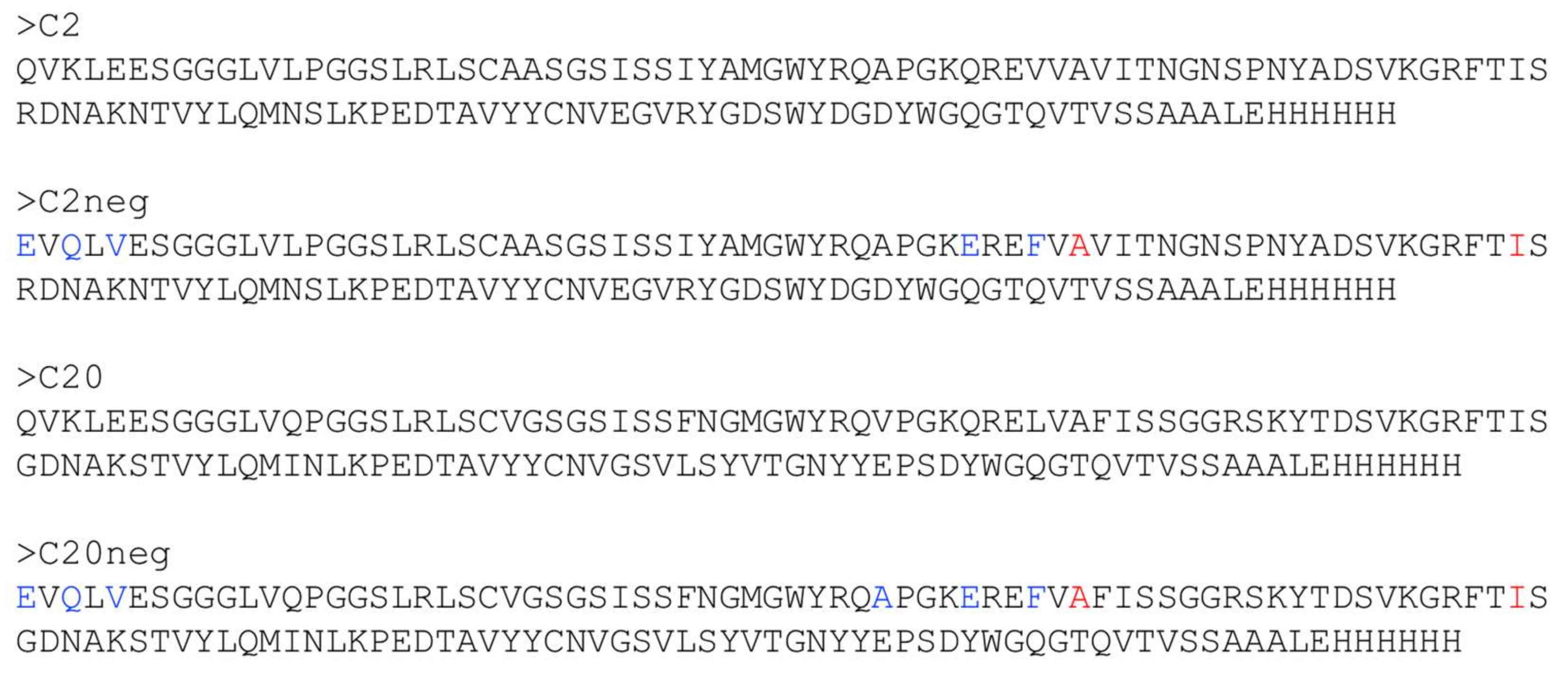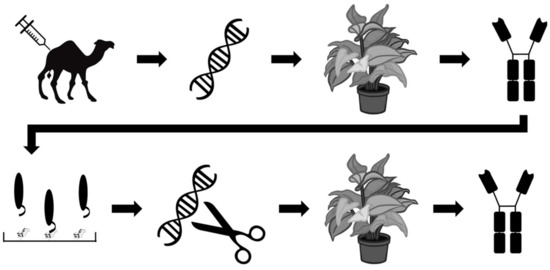 Figure 7.
Schematic overview of the strategy employed by Julve Parreño et al. [
53
]. Dromedaries were immunised with a mixture of venoms. V
H
H sequences were extracted from the immunised animals, cloned into a viral vector, and used to infect
Nicotiana benthamiana
specimens. The plant-expressed V
H
Hs were evaluated in vivo and subjected to phage display experiments involving four venom fractions from
Bothrops asper
(representing the four important major toxin families of this venom) to accumulate high affinity V
H
Hs. The 36 best V
H
H binders were converted to human-dromedary chimeric antibodies, which were expressed in
N. benthamiana
as well and tested in vivo.

© 2018 by the authors. Licensee MDPI, Basel, Switzerland. This article is an open access article distributed under the terms and conditions of the Creative Commons Attribution (CC BY) license (http://creativecommons.org/licenses/by/4.0/).