Open Access This article is
freely available
re-usable
Article
Multi-Scale Microstructure Investigation for a PM2.5 Air-Filter Efficiency Study of Non-Woven Polypropylene
1
Department of Materials Science and Engineering, National Chiao Tung University, 1001 University Road, Hsinchu 30010, Taiwan
2
Department of Physics, College of Education, Can Tho University, Can Tho City 900100, Vietnam
3
Institute of Applied Mechanics, National Taiwan University, 1, Sec. 4, Roosevelt Road, Taipei 10617, Taiwan
4
Institute of Occupational Medicine and Industrial Hygiene, National Taiwan University, No. 17, Xu-Zhou Rd., Taipei 10055, Taiwan
5
National Synchrotron Radiation Research Center, Hsinchu 30076, Taiwan
*
Authors to whom correspondence should be addressed.
Received: 29 August 2019 / Accepted: 24 October 2019 / Published: 28 October 2019
Abstract
:
A N95 face-piece respirator and a 3M air filter composed of non-woven polypropylene filter material were investigated for their multi-scale microstructure and resulting filtration performance. Filtration mechanisms of each system are found and quantified. Both media showed a gradually decrease of the most penetrating particle size with respect to an increase in face velocity or surface charge density. Increasing the face velocity and porosity dramatically degraded the collection efficiency in the 3M filter rather than in the N95 system. We exploited three-dimensional X-ray tomography to characterize the morphological and geometrical properties of the fiber arrangement and deposition of aerosol on the fiber surface. Tuning the most predominant material parameters to achieve a precedence in lower pressure drop or higher collection efficiency in a specifically captured particle size range is of great requisite to a peculiar application of the filter media.
Keywords:
fibrous filter; electret filter; aerosol; porosity; X-ray tomography
1. Introduction
Modern technology has improved the quality of life in many aspects, however, the other side of such a rapid development of industry is severe air pollution, causing serious human health hazards due to the deep penetration of particular matter with fine particle sizes below 2.5 μm (PM
2.5
) into human lungs [
1
,
2
,
3
]. Air filtration is one of the most urgent and prioritized tasks for the protection of the global environment and human health by removing aerosol particles through air filter media. Air filter media is commonly made from fibrous filters comprising randomly arranged fibers whose distances are larger than the sizes of aerosol particles [
4
]. Fibrous filters basically capture aerosol particles via four physical mechanisms, including gravity settling, inertia impact, interception, and Brownian diffusion in which each of them plays a crucial role for a particular size range of aerosol particles [
4
,
5
]. The particle size at the lowest filtration efficiency, named as the most penetrating particle size (MPPS), typically around 0.3 µm or smaller, is used to determine the dominant capture mechanism of the air filter [
3
,
4
,
6
]. An ideal filter media is expected to perform both high filtration efficiency and low pressure drop that is hard to acquire from traditional fibrous filters. To satisfy high collection efficiency of fibrous filters for further applications, electret filters have been widely applied in the manufacture of commercial air filter media. Electret filters are dielectric materials-based fibrous filters that possess quasi-permanent static electric charge on the fiber surfaces [
7
] in which the electrostatic force dramatically enhances filtration efficiency and is responsible for the main capture of fine aerosol particles, resulting in a significant shift towards a smaller particle size of MPPS [
8
,
9
,
10
,
11
].
One of the most serious challenges of general air filter media is a tradeoff between collection efficiency and pressure drop because the fibers collect aerosol particles and affect the drag force on the gas stream simultaneously [
4
]. Those two important factors of the electret filters involve a variety of parameters such as the microstructural characteristics of fibrous material (fiber diameter, thickness, porosity, fiber arrangement), surface charge density, and environmental conditions (face velocity, aerosol particle diameter, temperature, humidity). In spite of using the same fibrous material, its own microstructure is possibly tuned to optimize either high collection efficiency or low pressure drop for a specific application of the air filter media that can be engineered through the fabrication process. There are two major application types of the air filter media, wearable respirators and air filter equipment (vacuum cleaner bags, indoor air cleaning, indoor air purifiers), possessing different priority criteria of fibrous properties. To unravel the behavior of structural properties to collection efficiencies and to acquire comparable results from theoretical predictions and experimental data, considerable effort has been devoted to the development of filtration modeling using three-dimensional (3D) filter structures obtained by different approaches as more and more microstructural properties of filter media have been taken into account [
12
,
13
,
14
,
15
]. Moreover, the filtration performance is strongly influenced by the porosity of the fibrous material but no reliable methods in determining porosity is well known.
In this study, we have attempted to specify the porosity through different kinds of methods including theoretical analysis, gravimetric measurement, GrabCut analysis from scanning electron microscope (SEM) images, and 3D tomography analysis from transmission X-ray microscopy (TXM). The 3D TXM tomography was especially utilized to provide useful morphological and geometrical properties of solid or hollow fibers, fiber arrangement, fiber entanglement, and fiber-particle contact for two majorly different non-woven polypropylene (PP)-based PM2.5 air filter media, namely the N95 respirator and the 3M filter used in air purifiers. Furthermore, the filtration performances of these two media were experimentally investigated and compared with the theoretical results in order to elucidate the major characterization parameters of microstructural fibers in governing the dominant filtration mechanism of N95 respirators and 3M filters in the presence and absence of electrostatic attraction. Understanding the impact of fiber characterization on filtration performance plays a vital role in the design of efficient fibrous filters for distinct application purposes.
4. Discussion
Since porosity of the fibrous filter is one of the most crucial parameters strongly affecting both collection efficiency and pressure drop, we experimentally specify the porosity based on GrabCut analysis from SEM images and 3D tomography analysis from TXM in comparison with reference values obtained from theoretical analysis and gravimetric measurement. Based on Equation (3), we calculated the porosity from the experimentally measured pressure drop at the face velocity of 10 cm/s. The porosity values of the N95 and 3M filters were 98.1% and 93.7%, respectively.
The 3D tomography analysis-based porosity values of the N95 and 3M filters were averaged from three different measured areas of 15 x 15 µm, found to be 83.5% and 88.7%, respectively.
5. Conclusions
The fiber diameter and porosity strongly affect filtration performance. Despite being made of the same fiber material, the N95 mask reveals a higher collection efficiency while the 3M air filter exhibits a lower pressure drop. To satisfy the vital demand on the specific aspects of fibrous filtration, the priority of air filter media is given towards higher collection efficiency or lower pressure drop. For the design of the filter to effectively capture the ultrafine particles, smaller fiber diameter, stronger surface charge, and optimal porosity should be involved. Our findings demonstrate the promising capabilities of 3D TXM tomography in determining the porosity of fibrous filter as well as in proposing practical filtration models of real geometrical arrangements of fiber–fiber and fiber–particle for further simulation studies. The simulated results of the deposition of NaCl aerosols on the real geometry of fibrous filters will be persuasive in providing great insight into fundamental breakthrough and primary parameters governing the filtration mechanism.
Author Contributions
Conceptualization, E.W.H.; software, C.-H.W.; formal analysis, T.-N.L., C.-Y.M. and Y-L.H.; investigation, C.-Y.M.; resources, S.-H.H., W.-C.K. and C.-C.W.; writing—original draft preparation, T.-N.L.; writing—review and editing, C.-C.W. and E.W.H.; supervision, E.W.H.; project administration, E.W.H.
Funding
The authors are grateful to the support of the Ministry of Science and Technology (MOST) Programs MOST-108-3017-F-009-003, 107-2218-E-007-012, 107-3017-F-009-002, 107-3017-F-007-003, 107-3017-F-009-002, 107-3011-F-002-002, 104-2628-E-009-003-MY3, 106-2811-E-009-032, 106-2218-E-007-019, 106-2514-S-007-004, 106-3011-F-002-002, and 108-2221-E-009-131-MY4. This work was financially supported by the "Center for the Semiconductor Technology Research" from The Featured Areas Research Center Program within the framework of the Higher Education Sprout Project by the Ministry of Education (MOE) in Taiwan. Also supported in part by the MOST, Taiwan, under Grant MOST-108-3017-F-009-003. EWH and TNL are supported by MOST 107-2628-E-009-001-MY3.
Acknowledgments
We especially thank Yu-Hsiang Hsu of the National Taiwan University (NTU) for sample preparations, Chih-Chieh Chen of the NTU for filtration test, and Yao-Hsien Liu of the National Chiao Tung University for simulation. Our sincere thanks go to Yen-Fang Song, who is the BL01B1 team of the National Synchrotron Radiation Research Center (NSRRC) Experimental Facility Division. We greatly appreciate the beam time and help from the NSRRC.
Conflicts of Interest
The authors declare no conflict of interest.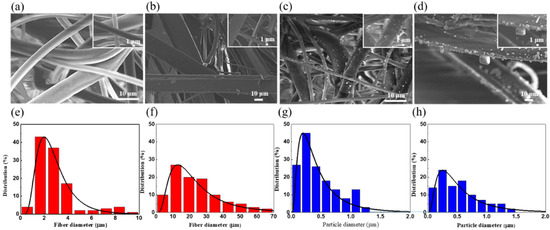 Figure 1. SEM images of (a) N95 mask and (b) 3M filter before capturing NaCl; those of (c) N95 mask and (d) 3M filter after capturing NaCl aerosols. Fiber distribution in (e) N95 mask and (f) 3M filter. The distribution of NaCl aerosols in (g) N95 mask and (h) 3M filter.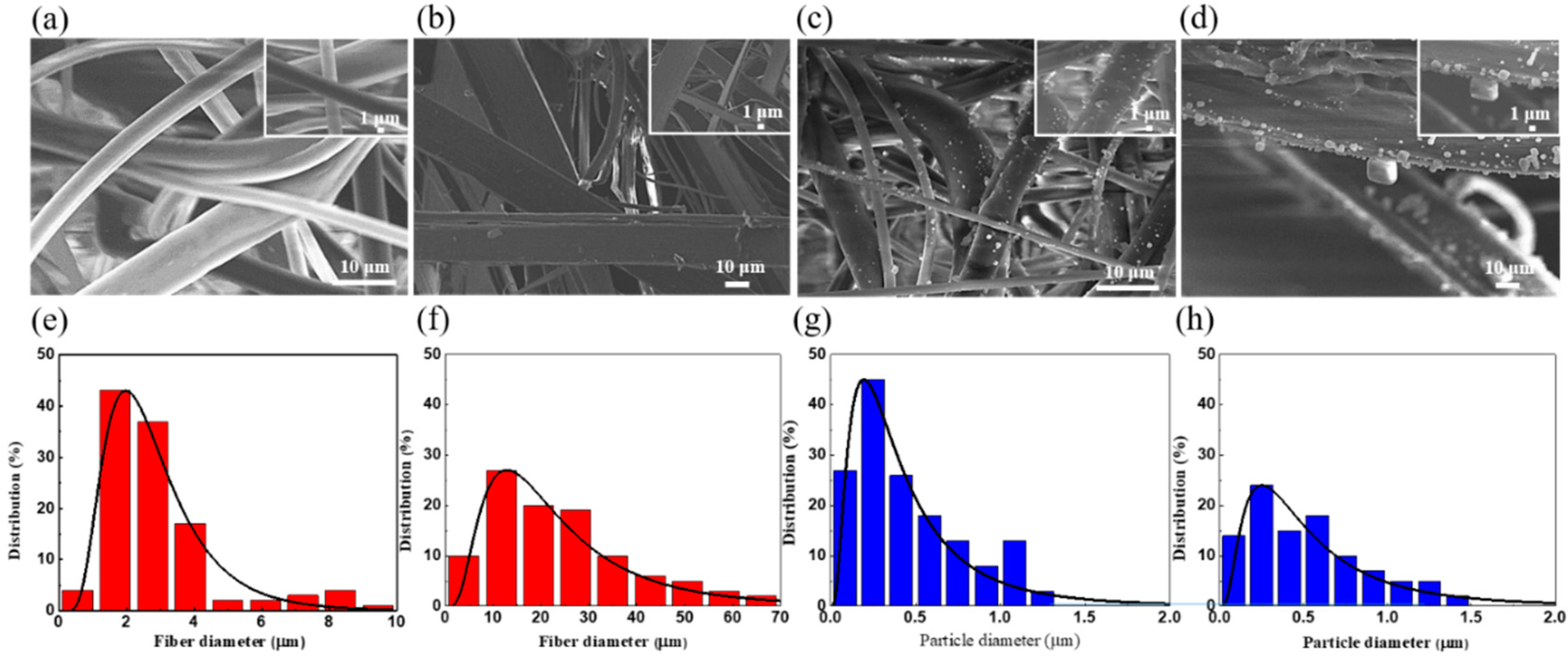 Figure 2. (a) Collection efficiency of the N95 and 3M filters at different face velocities. (b) Collection efficiency versus pressure drop of the N95 and 3M filters as a function of face velocity. (c) Collection efficiency of the N95 and 3M filters before and after treatment with IPA.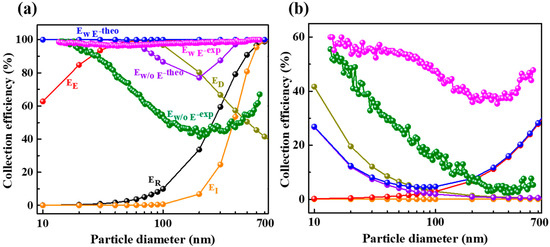 Figure 3. Interception, impaction, diffusion, electrostatic, theoretical single fiber efficiencies, and experimental collection efficiencies with and without the presence of electrostatic for the N95 (a) and 3M (b) filters.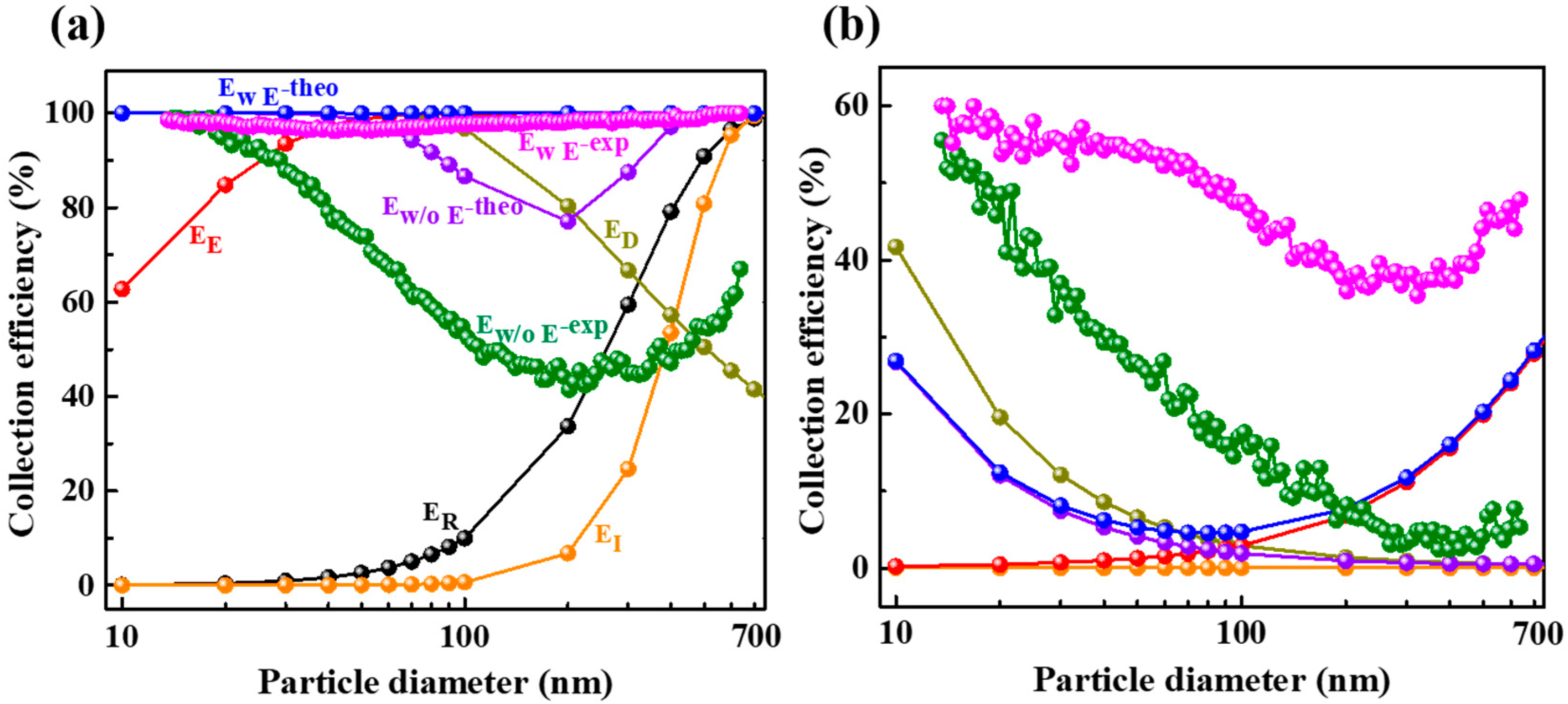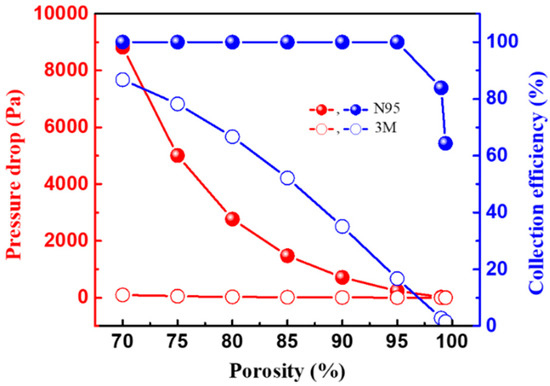 Figure 4. Theoretical analysis of collection efficiency and pressure drop of the N95 and 3M filters as a function of filter porosity.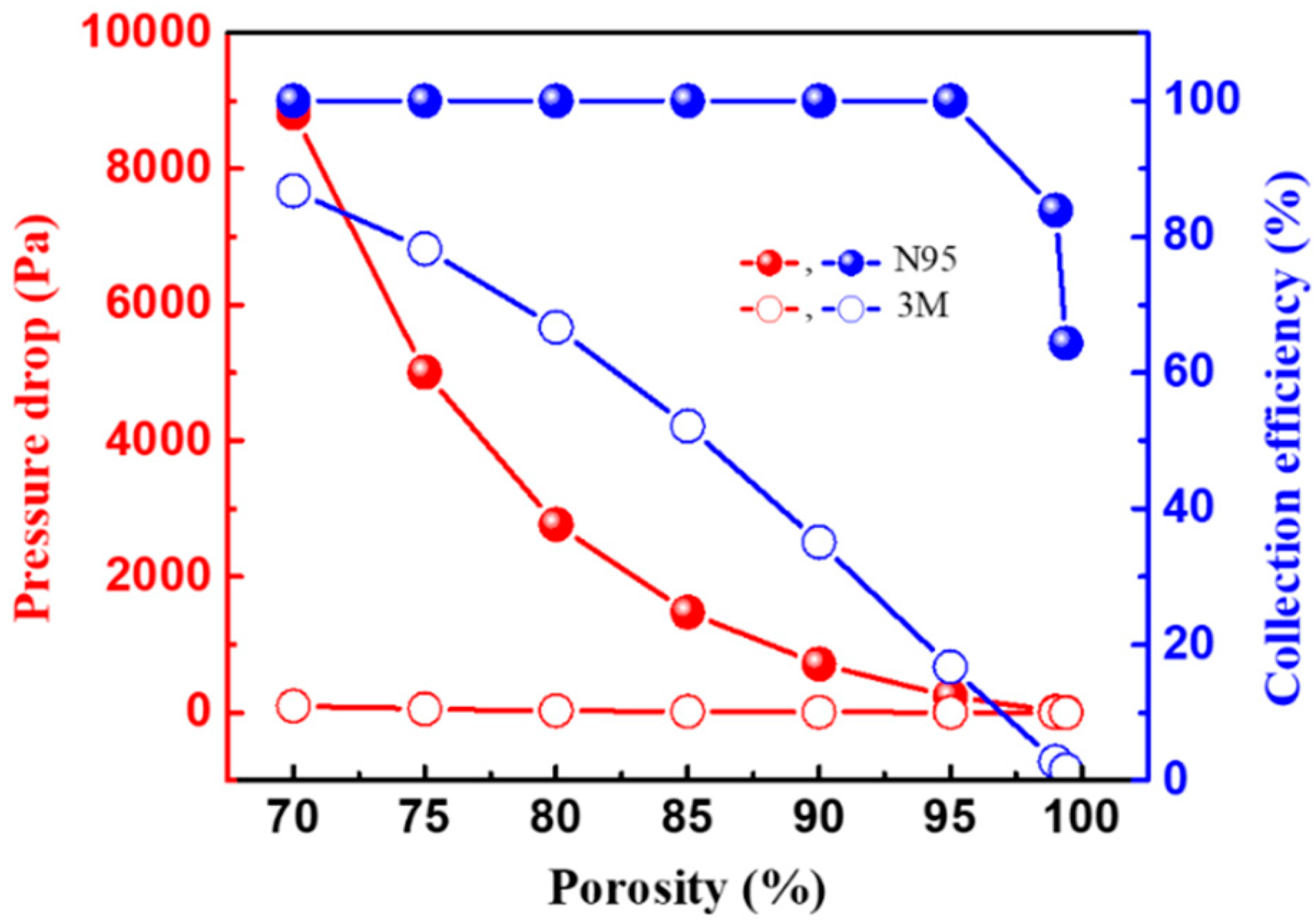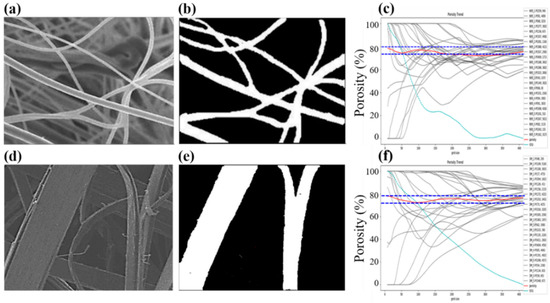 Figure 5. The original SEM image, GrabCut processed image, and REA result of the N95 mask in (a), (b), and (c); those of the 3M filter in (d), (e), and (f), respectively.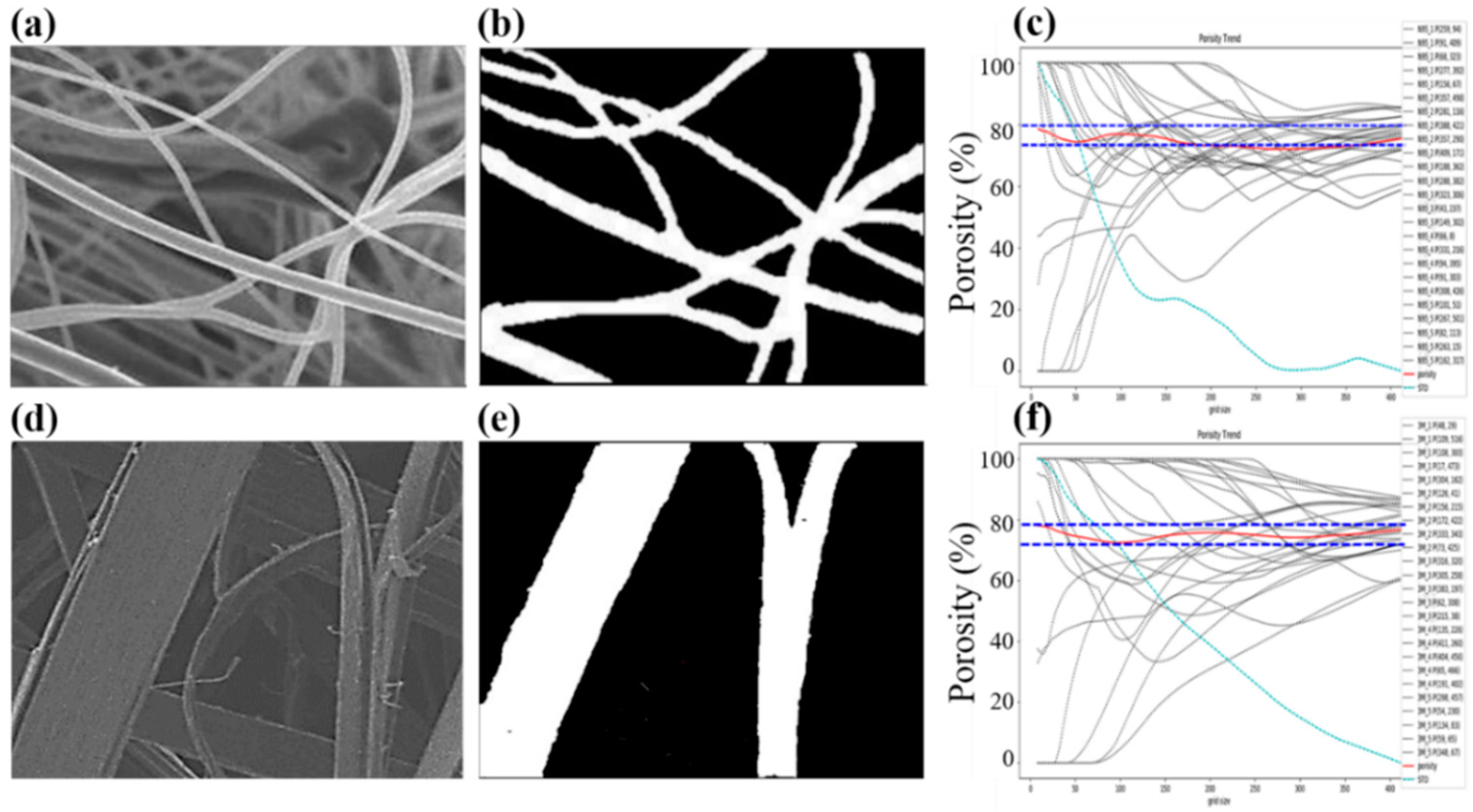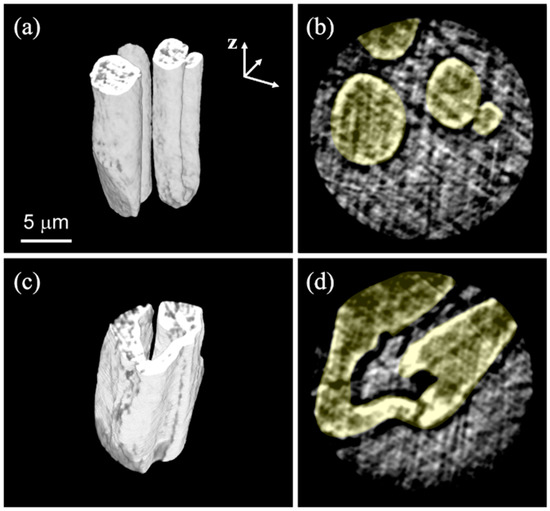 Figure 6.
3D TXM reconstructed image and the slice plane along
z
-direction of the N95 mask in (
a
) and (
b
); those of the 3M filter in (
c
) and (
d
), respectively.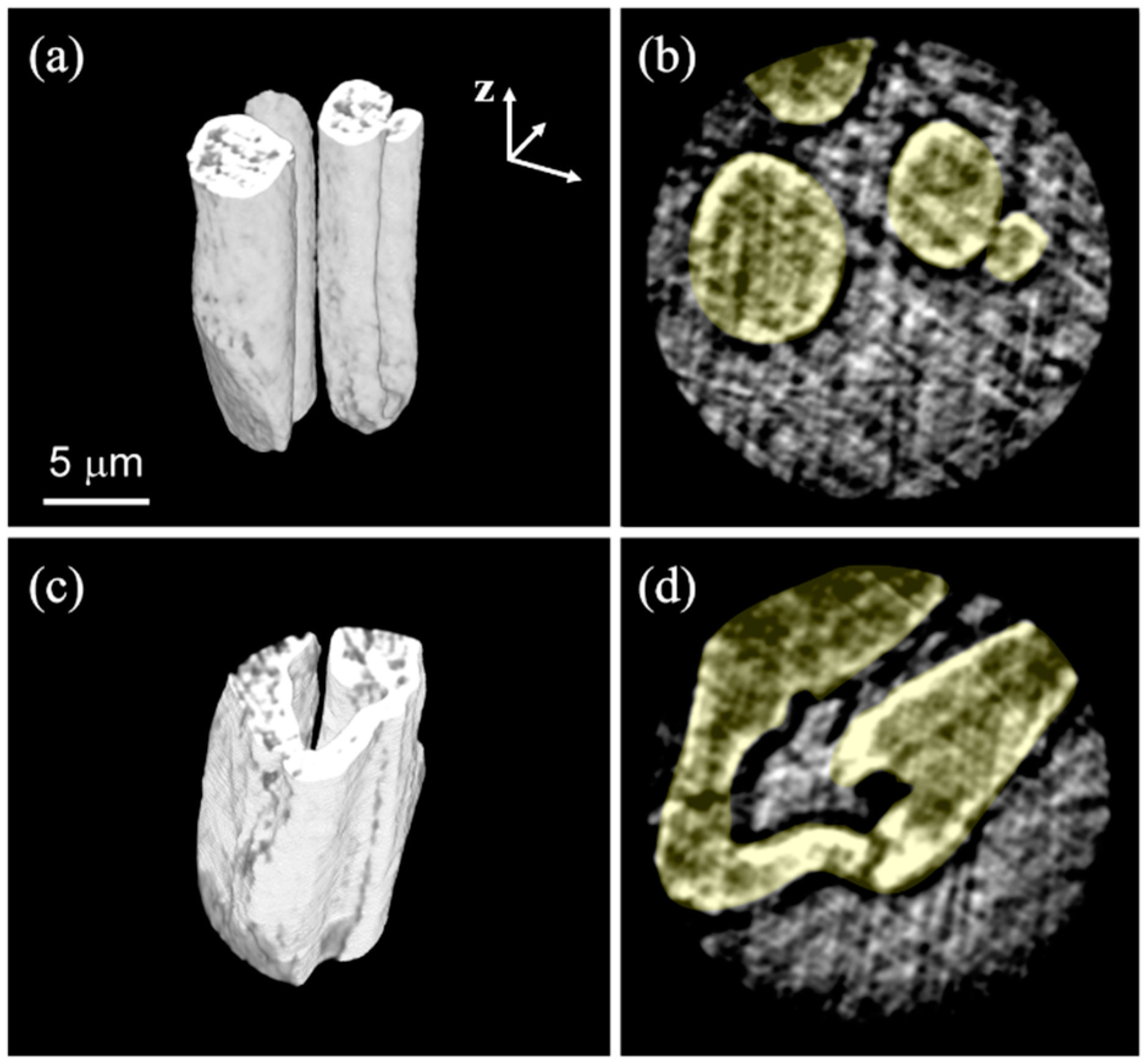 © 2019 by the authors. Licensee MDPI, Basel, Switzerland. This article is an open access article distributed under the terms and conditions of the Creative Commons Attribution (CC BY) license (http://creativecommons.org/licenses/by/4.0/).