Materials and Life Science Experimental Facility (MLF) at the Japan Proton Accelerator Research Complex II: Neutron Scattering Instruments
1
Materials & Life Science Division, J-PARC Center, Tokai, Ibaraki 319-1195, Japan
2
Institute of Materials Structure Science, High Energy Accelerator Research Organization, Tsukuba, Ibaraki 305-0801, Japan
3
Department of Materials Structure Science, SOKENDAI (the Graduate University for Advanced Studies), Tokai, Naka, Ibaraki 319-1106, Japan
4
Neutron Science and Technology Center, Comprehensive Research Organization for Science and Society, Tokai, Naka, Ibaraki 319-1106, Japan
5
Institute for Materials Research, Tohoku University, Katahira, Aoba-ku, Sendai 980-5877, Japan
6
Center for Elements Strategy Initiative for Structural Materials, Kyoto University, Yoshida-honmachi, Sakyo-ku, Kyoto 606-8501, Japan
7
Research Reactor Institute, Kyoto University, Kumatori, Sennan, Osaka 590-0494, Japan
8
Frontier Research Center for Applied Atomic Sciences, Ibaraki University, Tokai, Naka, Ibaraki 319-1106, Japan
9
Neutron Science Laboratory, the Institute for Solid State Physics, the University of Tokyo, Tokai, Naka, Ibaraki 319-1106, Japan
10
Nuclear Science and Engineering Center, Japan Atomic Energy Agency, Tokai, Naka, Ibaraki 319-1195, Japan
11
JST ERATO, Takahara Soft Interfaces Project, Fukuoka, Fukuoka 819-0395, Japan
12
Institute for Materials Chemistry and Engineering, Kyushu University, Fukuoka, Fukuoka 819-0395, Japan
13
Materials Sciences Research Center, Japan Atomic Energy Agency, Tokai, Naka, Ibaraki 319-1195, Japan
14
Graduate School of Regional Innovation Studies, Mie University, Tsu, Mie 514-8507, Japan
*
Author to whom correspondence should be addressed.
Received: 28 June 2017 / Revised: 25 October 2017 / Accepted: 7 November 2017 / Published: 17 November 2017
(This article belongs to the Collection
Facilities
)
Full-Text
|
PDF
[23927 KB, uploaded 24 May 2018]
|
|

Review Reports
Abstract
The neutron instruments suite, installed at the spallation neutron source of the Materials and Life Science Experimental Facility (MLF) at the Japan Proton Accelerator Research Complex (J-PARC), is reviewed. MLF has 23 neutron beam ports and 21 instruments are in operation for user programs or are under commissioning. A unique and challenging instrumental suite in MLF has been realized via combination of a high-performance neutron source, optimized for neutron scattering, and unique instruments using cutting-edge technologies. All instruments are/will serve in world-leading investigations in a broad range of fields, from fundamental physics to industrial applications. In this review, overviews, characteristic features, and typical applications of the individual instruments are mentioned.
View Full-Text
►

▼

Figures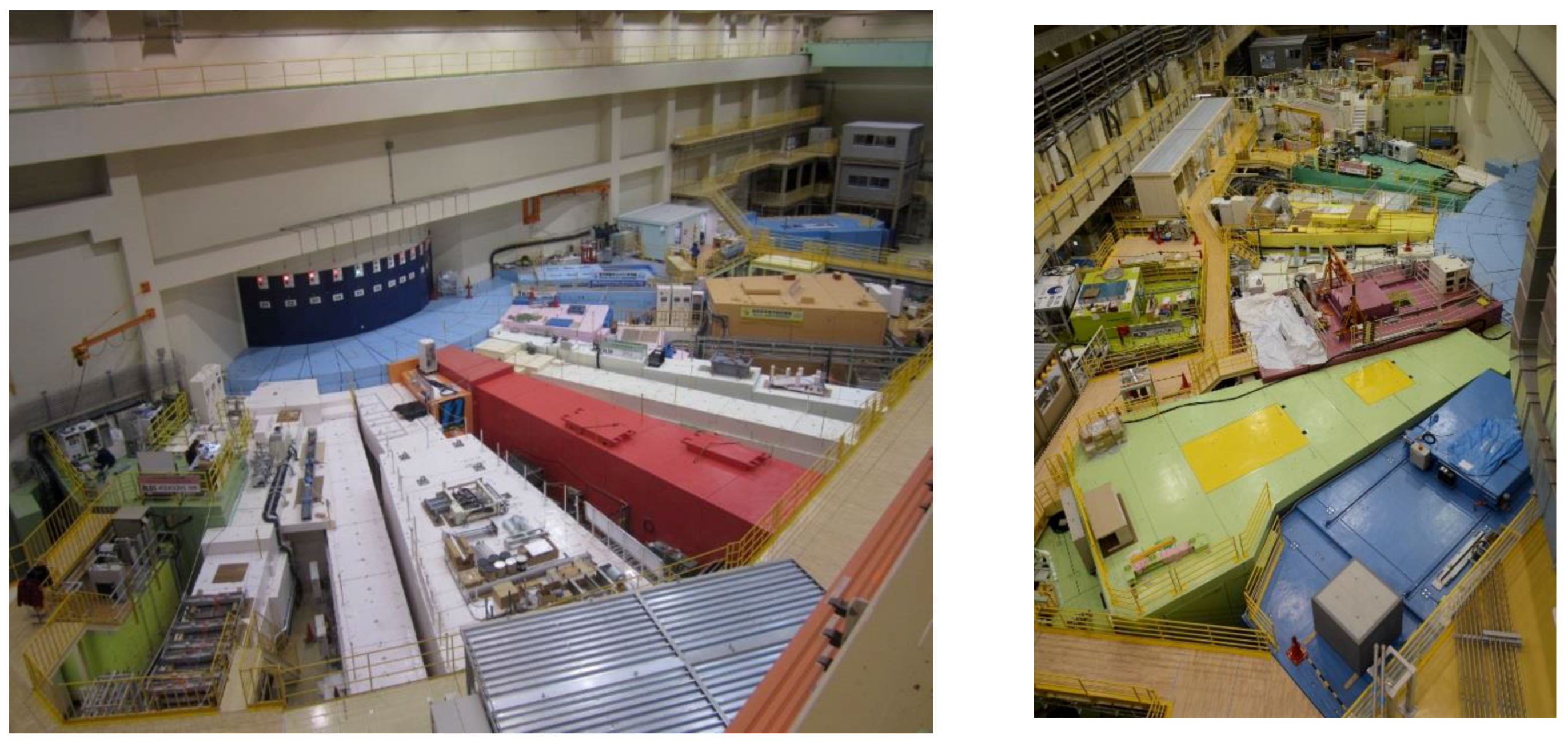 Figure 1
This is an open access article distributed under the
Creative Commons Attribution License
which permits unrestricted use, distribution, and reproduction in any medium, provided the original work is properly cited (CC BY 4.0).

Printed Edition Available!
A printed edition of this Special Issue is available
here
.
Share & Cite This Article
MDPI and ACS Style
Nakajima, K.; Kawakita, Y.; Itoh, S.; Abe, J.; Aizawa, K.; Aoki, H.; Endo, H.; Fujita, M.; Funakoshi, K.; Gong, W.; Harada, M.; Harjo, S.; Hattori, T.; Hino, M.; Honda, T.; Hoshikawa, A.; Ikeda, K.; Ino, T.; Ishigaki, T.; Ishikawa, Y.; Iwase, H.; Kai, T.; Kajimoto, R.; Kamiyama, T.; Kaneko, N.; Kawana, D.; Ohira-Kawamura, S.; Kawasaki, T.; Kimura, A.; Kiyanagi, R.; Kojima, K.; Kusaka, K.; Lee, S.; Machida, S.; Masuda, T.; Mishima, K.; Mitamura, K.; Nakamura, M.; Nakamura, S.; Nakao, A.; Oda, T.; Ohhara, T.; Ohishi, K.; Ohshita, H.; Oikawa, K.; Otomo, T.; Sano-Furukawa, A.; Shibata, K.; Shinohara, T.; Soyama, K.; Suzuki, J.-I.; Suzuya, K.; Takahara, A.; Takata, S.-I.; Takeda, M.; Toh, Y.; Torii, S.; Torikai, N.; Yamada, N.L.; Yamada, T.; Yamazaki, D.; Yokoo, T.; Yonemura, M.; Yoshizawa, H. Materials and Life Science Experimental Facility (MLF) at the Japan Proton Accelerator Research Complex II: Neutron Scattering Instruments. Quantum Beam Sci. 2017, 1, 9.
Note that from the first issue of 2016, MDPI journals use article numbers instead of page numbers. See further details here.
Comments
[Return to top]