Temporal Limits of Visual Motion Processing: Psychophysics and Neurophysiology
1
Department of Anatomical Sciences and Neurobiology, University of Louisville School of Medicine, Louisville, KY 40202, USA
2
Brain and Cognitive Sciences, Center for Visual Science, Neuroscience, and Ophthalmology, University of Rochester, Rochester, NY 14627, USA
3
Department of Animal Sciences, Wageningen University, 6700 AH Wageningen, The Netherlands
4
Vanderbilt Vision Research Center, Vanderbilt University, Nashville, TN 37235, USA
5
Helmholtz Institute and Department of Functional Neurobiology, Utrecht University, 3584 CH Utrecht, The Netherlands
*
Author to whom correspondence should be addressed.
Received: 9 October 2018 / Revised: 11 January 2019 / Accepted: 11 January 2019 / Published: 26 January 2019
Abstract
Under optimal conditions, just 3–6 ms of visual stimulation suffices for humans to see motion. Motion perception on this timescale implies that the visual system under these conditions reliably encodes, transmits, and processes neural signals with near-millisecond precision. Motivated by in vitro evidence for high temporal precision of motion signals in the primate retina, we investigated how neuronal and perceptual limits of motion encoding relate. Specifically, we examined the correspondence between the time scale at which cat retinal ganglion cells in vivo represent motion information and temporal thresholds for human motion discrimination. The timescale for motion encoding by ganglion cells ranged from 4.6 to 91 ms, and depended non-linearly on temporal frequency, but not on contrast. Human psychophysics revealed that minimal stimulus durations required for perceiving motion direction were similarly brief, 5.6–65 ms, and similarly depended on temporal frequency but, above ~10%, not on contrast. Notably, physiological and psychophysical measurements corresponded closely throughout (
r
= 0.99), despite more than a 20-fold variation in both human thresholds and optimal timescales for motion encoding in the retina. The match in absolute values of the neurophysiological and psychophysical data may be taken to indicate that from the lateral geniculate nucleus (LGN) through to the level of perception little temporal precision is lost. However, we also show that integrating responses from multiple neurons can improve temporal resolution, and this potential trade-off between spatial and temporal resolution would allow for loss of temporal resolution after the LGN. While the extent of neuronal integration cannot be determined from either our human psychophysical or neurophysiological experiments and its contribution to the measured temporal resolution is unknown, our results demonstrate a striking similarity in stimulus dependence between the temporal fidelity established in the retina and the temporal limits of human motion discrimination.
View Full-Text
►

▼

Figures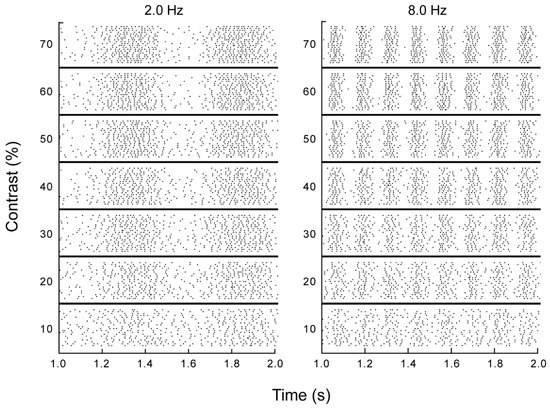 Figure 1
This is an open access article distributed under the
Creative Commons Attribution License
which permits unrestricted use, distribution, and reproduction in any medium, provided the original work is properly cited (CC BY 4.0).

Share & Cite This Article
MDPI and ACS Style
Borghuis, B.G.; Tadin, D.; Lankheet, M.J.; Lappin, J.S.; van de Grind, W.A. Temporal Limits of Visual Motion Processing: Psychophysics and Neurophysiology. Vision 2019, 3, 5.
Note that from the first issue of 2016, MDPI journals use article numbers instead of page numbers. See further details here.
Comments
[Return to top]