Q Dependence of Magnetic Resonance Mode on FeTe0.5Se0.5 Studied by Inelastic Neutron Scattering
1
Neutron Science and Technology Center, Comprehensive Research Organization for Science and Society (CROSS), Tokai, Ibaraki 319-1106, Japan
2
Materials Sciences Research Center, Japan Atomic Energy Agency (JAEA), Tokai, Ibaraki 319-1195, Japan
3
J-PARC Center, Japan Atomic Energy Agency (JAEA), Tokai, Ibaraki 319-1195, Japan
4
Advanced Science Research Center, Japan Atomic Energy Agency (JAEA), Tokai, Ibaraki 319-1195, Japan
*
Authors to whom correspondence should be addressed.
†
Current address: Max Planck POSTECH Center, 37673 Pohang, Korea.
‡
Current address: European Spallation Source ESS AB, Stora Algatan 4, SE-22100 Lund, Sweden.
Received: 28 December 2018 / Revised: 2 July 2019 / Accepted: 9 July 2019 / Published: 12 July 2019
Inelastic neutron scattering measurements have been performed on a superconducting single crystal FeTe
Se
to examine the
-dependent enhancement of the dynamical structure factor,
, from
= (0, 0) to (
,
), including (
, 0) in the superconducting state. In most of iron-based superconductors,
is enhanced at
= (
, 0), where the "magnetic resonance mode" is commonly observed in the unfolded Brillouin zone. Constant-
E
cuts of
suggest that the enhancement is not uniform in the magnetic excitation, and limited around
= (
, 0). This result is consistent with the theoretical simulation of the magnetic resonance mode due to the Bardeen–Cooper–Schrieffer coherence factor with the sign-reversing order parameter of s
wave.
View Full-Text
►

▼

Show Figures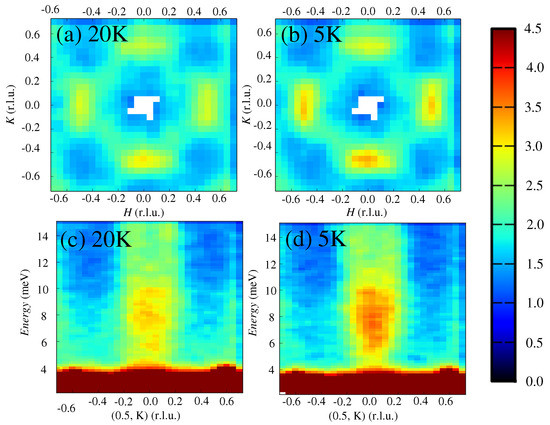 Figure 1
This is an open access article distributed under the
Creative Commons Attribution License
which permits unrestricted use, distribution, and reproduction in any medium, provided the original work is properly cited

MDPI and ACS Style
Ishikado, M.; Kodama, K.; Kajimoto, R.; Nakamura, M.; Inamura, Y.; Ikeuchi, K.; Ji, S.; Arai, M.; Shamoto, S.-I. Q Dependence of Magnetic Resonance Mode on FeTe0.5Se0.5 Studied by Inelastic Neutron Scattering. Condens. Matter 2019, 4, 69.
Show more citation formats
Show less citations formats
Note that from the first issue of 2016, MDPI journals use article numbers instead of page numbers. See further details
here
.