Thermodynamic Stability, Thermoelectric, Elastic and Electronic Structure Properties of ScMN2-Type (M = V, Nb, Ta) Phases Studied by ab initio Calculations
1
Department of Physics, Chemistry and Biology (IFM), Linköping University, SE-581 83 Linköping, Sweden
2
Centre de Physique Théorique, Ecole Polytechnique, CNRS, Université Paris-Saclay, Route de Saclay, FR-91128 Palaiseau, France
3
Collège de France, 11 place Marcelin Berthelot, FR-75005 Paris, France
4
Materials Modeling and Development Laboratory, NUST "MISIS", RU-119991 Moscow, Russia
*
Authors to whom correspondence should be addressed.
Received: 17 February 2019 / Revised: 11 March 2019 / Accepted: 26 March 2019 / Published: 29 March 2019
Abstract
ScMN
2
-type (M = V, Nb, Ta) phases are layered materials that have been experimentally reported for M = Ta and Nb, but they have up to now not been much studied. However, based on the properties of binary ScN and its alloys, it is reasonable to expect these phases to be of relevance in a range of applications, including thermoelectrics. Here, we have used first-principles calculations to study their thermodynamic stability, elastic, thermoelectric and electronic properties. We have used density functional theory to calculate lattice parameters, the mixing enthalpy of formation and electronic density of states as well as the thermoelectric properties and elastic constants (
cij
), bulk (
B
), shear (
G
) and Young's (
E
) modulus, which were compared with available experimental data. Our results indicate that the considered systems are thermodynamically and elastically stable and that all are semiconductors with small band gaps. All three materials display anisotropic thermoelectric properties and indicate the possibility to tune these properties by doping. In particular, ScVN
2
, featuring the largest band gap exhibits a particularly large and strongly doping-sensitive Seebeck coefficient.
View Full-Text
►

▼

Figures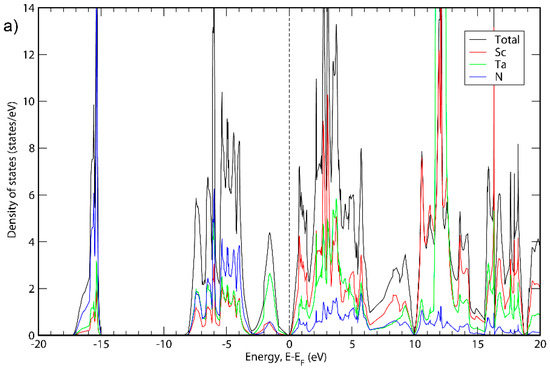 Figure 1
This is an open access article distributed under the
Creative Commons Attribution License
which permits unrestricted use, distribution, and reproduction in any medium, provided the original work is properly cited (CC BY 4.0).

Share & Cite This Article
MDPI and ACS Style
Pilemalm, R.; Pourovskii, L.; Mosyagin, I.; Simak, S.; Eklund, P. Thermodynamic Stability, Thermoelectric, Elastic and Electronic Structure Properties of ScMN2-Type (M = V, Nb, Ta) Phases Studied by ab initio Calculations. Condens. Matter 2019, 4, 36.
Note that from the first issue of 2016, MDPI journals use article numbers instead of page numbers. See further details here.
Comments
[Return to top]