Open Access This article is
freely available
re-usable
Article
Decadal Climate Change in Ny-Ålesund, Svalbard, A Representative Area of the Arctic
1
Institute of Polar Meteorology, Chinese Academy of Meteorological Sciences, Beijing 100081, China
2
State Key Laboratory of Cryospheric Sciences, Cold and Arid Regions Environmental and Engineering Research Institute, Chinese Academy of Sciences, Lanzhou 730000, China
3
College of Geography and Environment, Shandong Normal University, Jinan 250014, China
*
Author to whom correspondence should be addressed.
Received: 23 February 2018 / Accepted: 3 April 2018 / Published: 8 April 2018
Abstract
:
In recent decades, global warming hiatus/slowdown has attracted considerable attention and has been strongly debated. Many studies suggested that the Arctic is undergoing rapid warming and significantly contributes to a continual global warming trend rather than a hiatus. In this study, we evaluated the climate changes of Ny-Ålesund, Svalbard, a representative location of the northern North Atlantic sector of the Arctic, based on observational records from 1975–2014. The results showed that the annual warming rate was four times higher than the global mean (+0.76 °C·decade−1) and was also much greater than Arctic average. Additionally, the warming trend of Ny-Ålesund started to slow down since 2005–2006, and our estimates showed that there is a 8–9 years-lagged, but significant, correlation between records of Ny-Ålesund and global HadCRUT4 datasets. This finding indicates that the Arctic was likely experiencing a hiatus pattern, which just appeared later than the low-mid latitudes due to transport processes of atmospheric circulations and ocean currents, heat storage effect of cryospheric components, multidecadal variability of Arctic cyclone activities, etc. This case study provides a new perspective on the global warming hiatus/slowdown debate.
Keywords:
Arctic; Arctic rapid warming; global warming hiatus; global warming slowdown
Acknowledgments
The research received financial assistance from the National Natural Science Funding of China (41771064, 41690143) and the basic funding from CAMS.
Author Contributions
W.S. provided the idea and designed the study. S.W. and M.D. illustrated the figures. M.D. wrote the manuscript.
Conflicts of Interest
The authors declare no conflict of interest.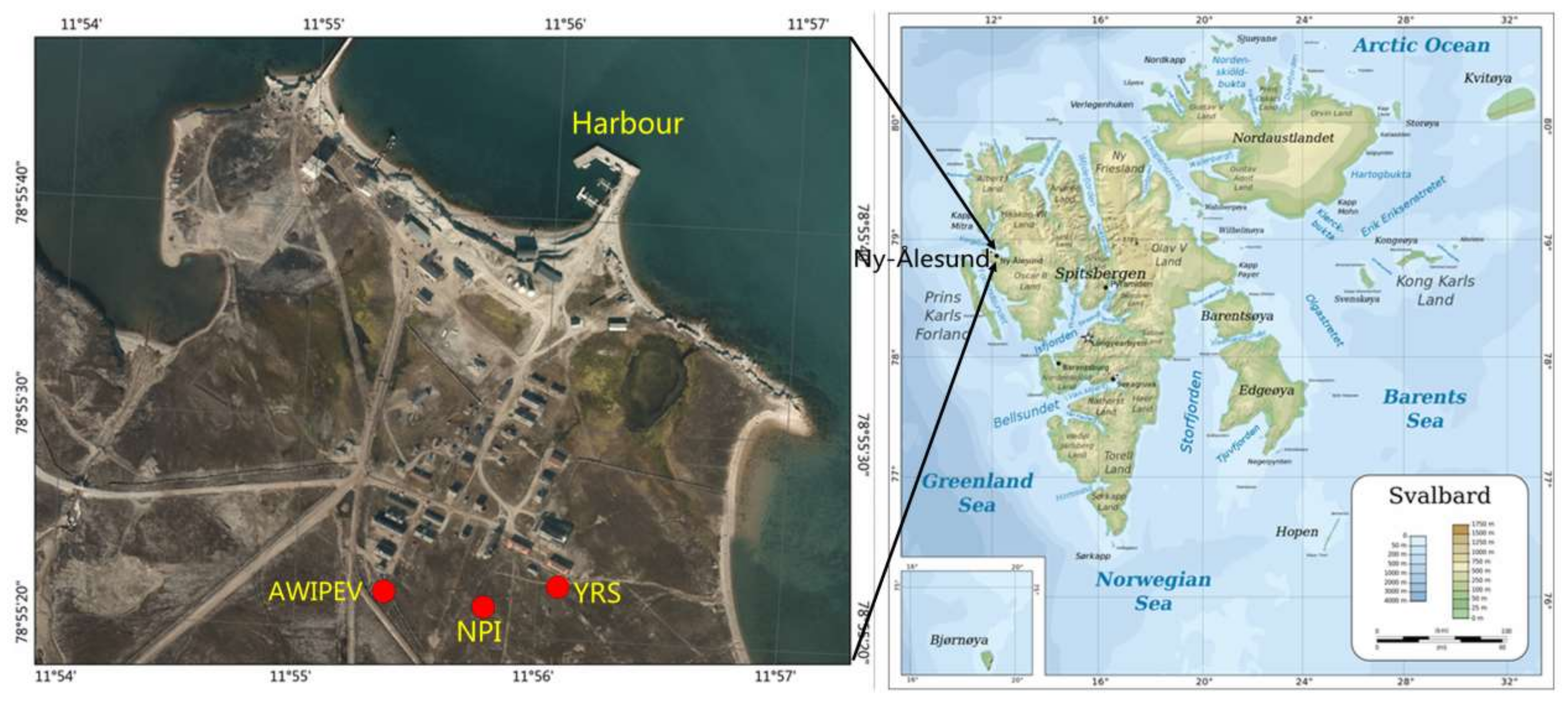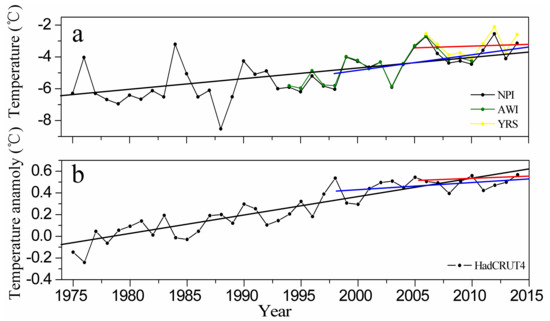 Figure 2. Comparison of the annual mean surface air temperatures at Ny-Ålesund (a) with the HadCRUT4 (b) global record. The straight black lines, blue lines, and red lines are the linearly-regressed trends.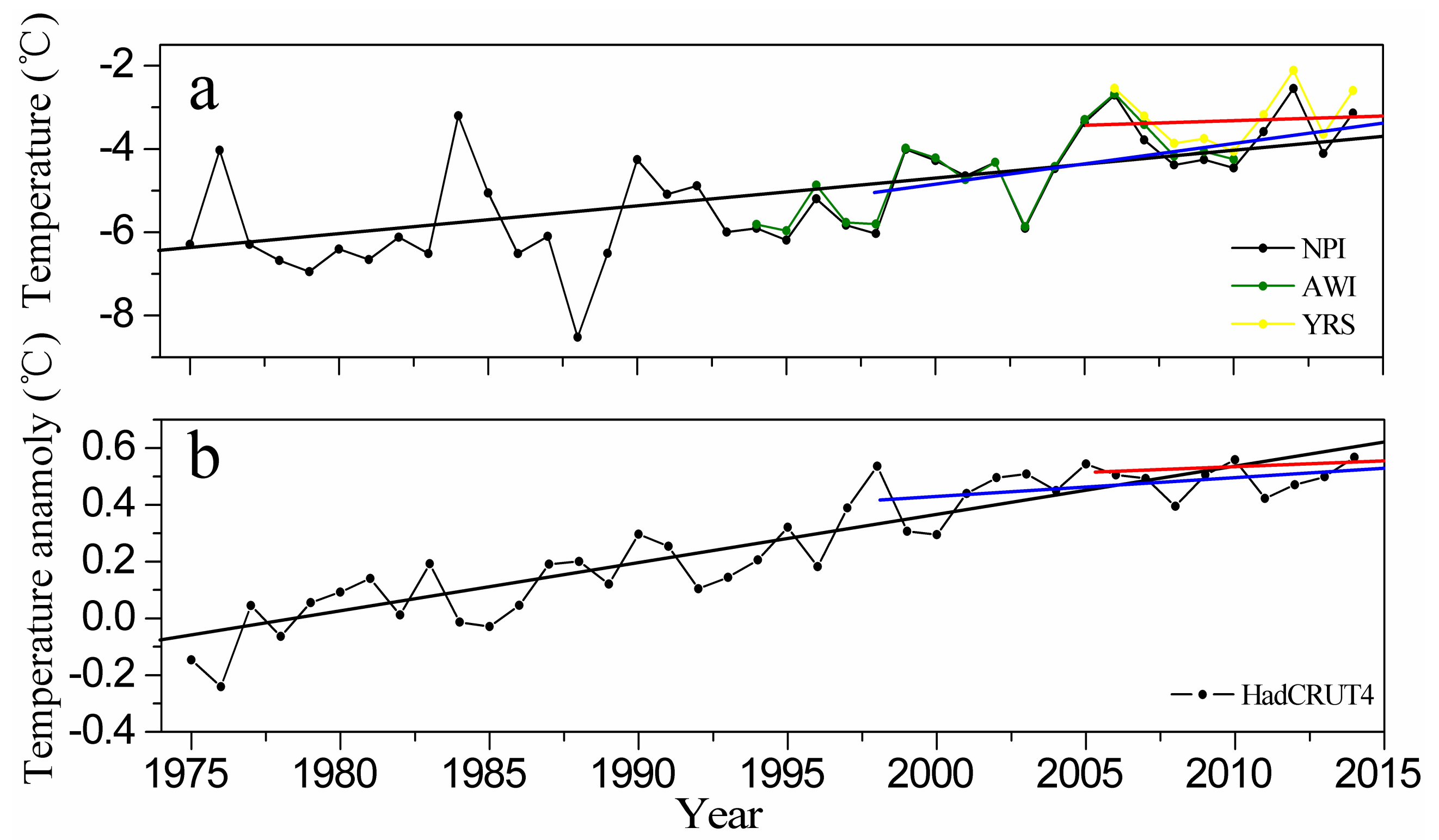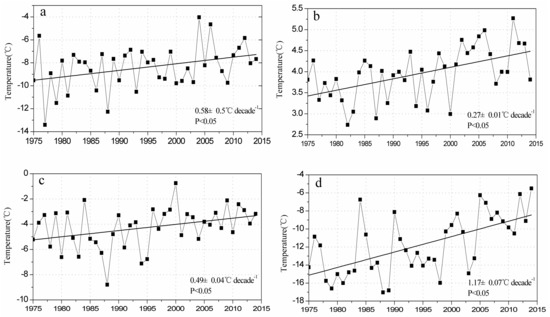 Figure 3. Inter-annual variations and linear trends in air temperature for winter (a), spring (b), summer (c), and autumn (d) at Ny-Ålesund from 1975 to 2014.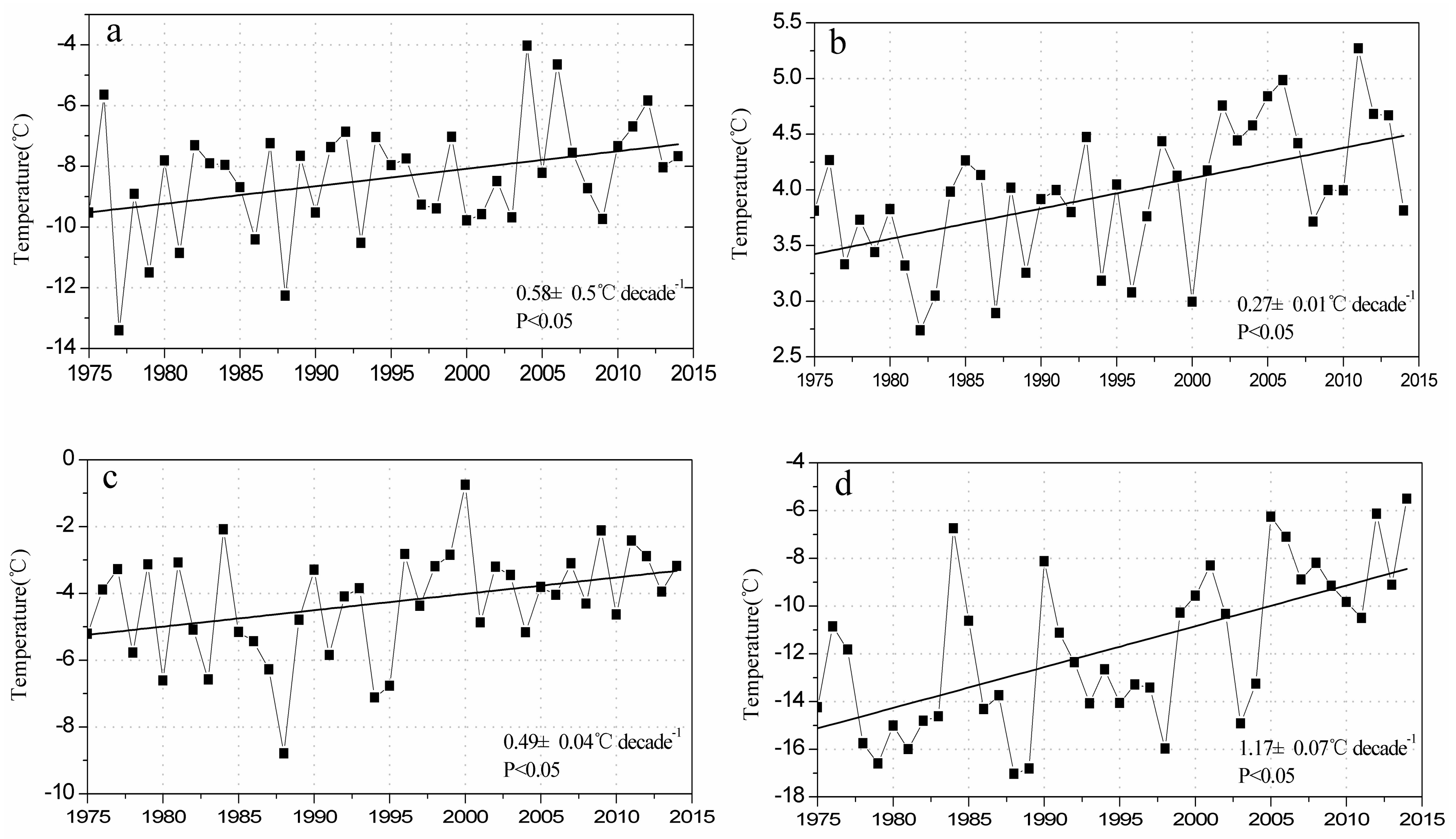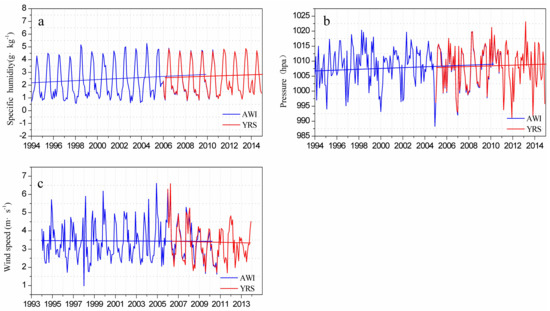 Figure 4. Variations of monthly mean specific humidity (a), air pressure (b); and wind speed (c); the blue and red straight lines represent the linear trends.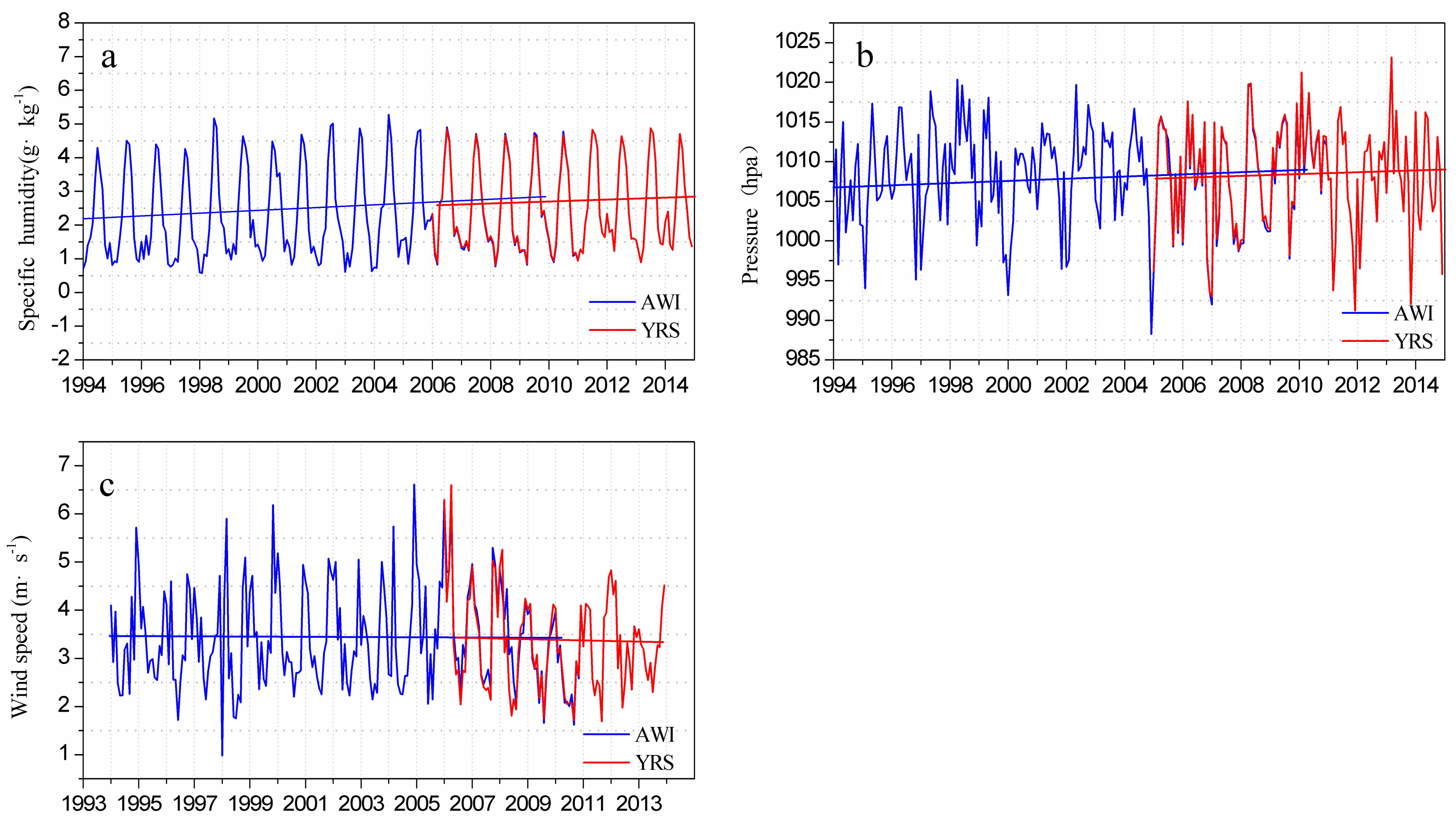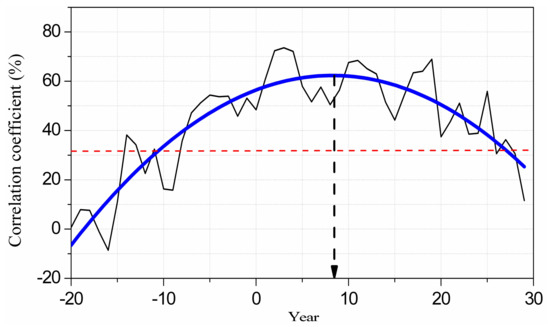 Figure 5. The lead-lag correlation analysis between the Ny-Ålesund and global air temperatures calculated using the annual mean air temperatures from NPI station and HadCRUT4 during 1975–2014. The black line represents the correlation coefficient, and the thick blue line represents a first-order polynomial fitting. The red dashed line indicates the 95% confidence level.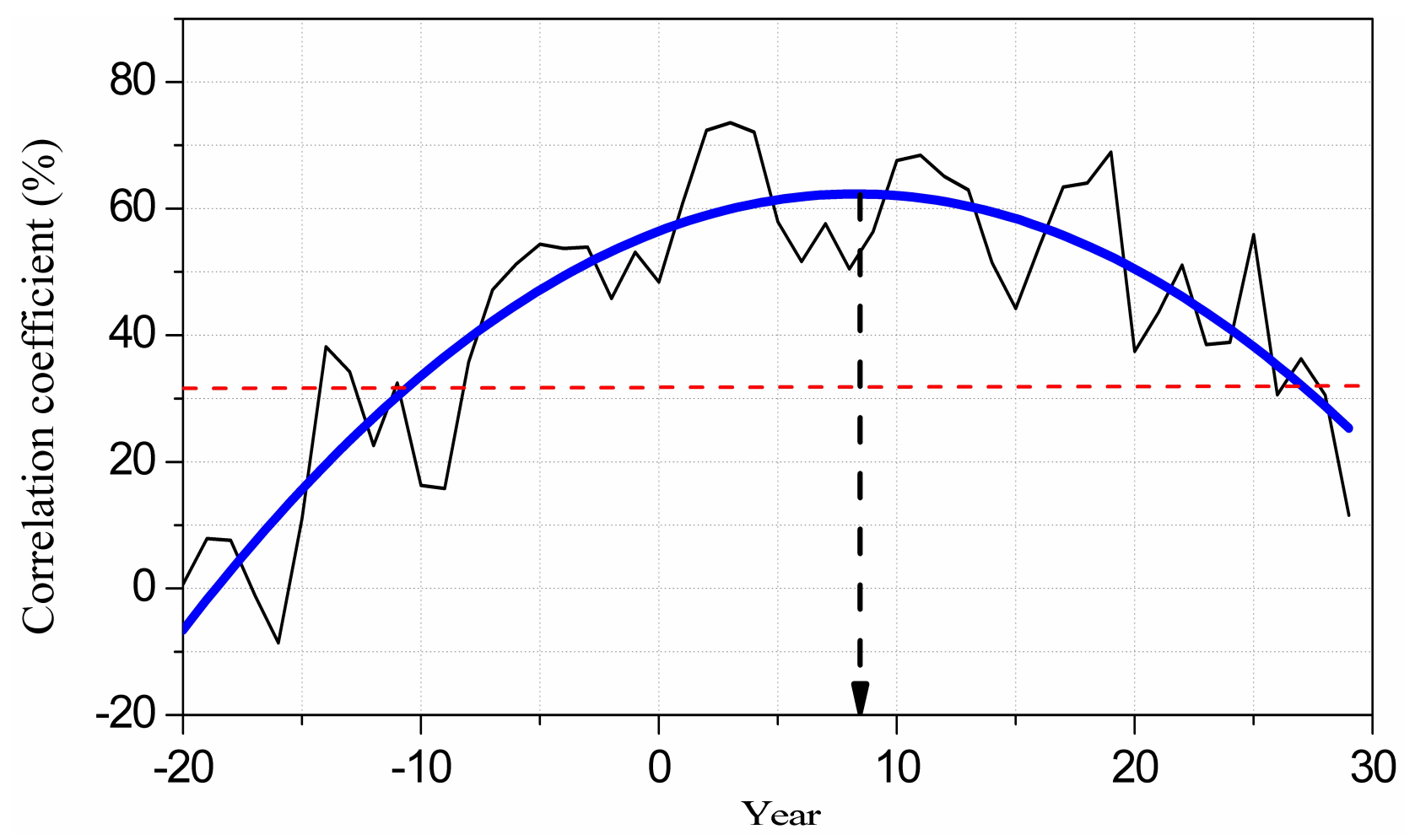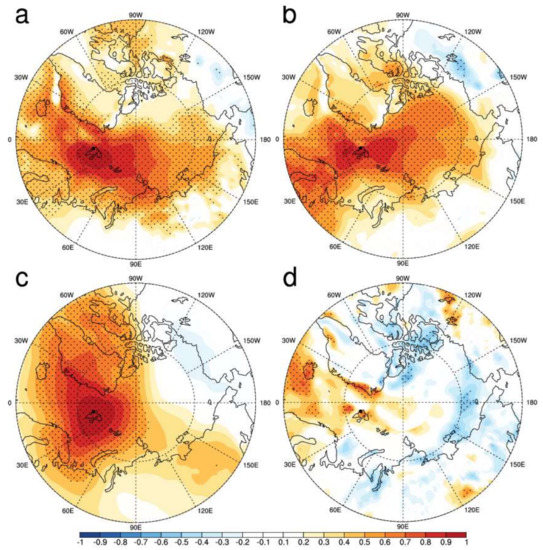 Figure 6. The spatial correlation patterns between the observed and ERA-interim modeled (a) 2 m temperatures, (b) specific humidity, (c) air pressures; and (d) 10 m winds with annual resolution during 1979–2014 for 2 m temperature, and 1994–2010 for specific humidity, air pressure, 10 m winds. The stippling indicates the 95% confidence level.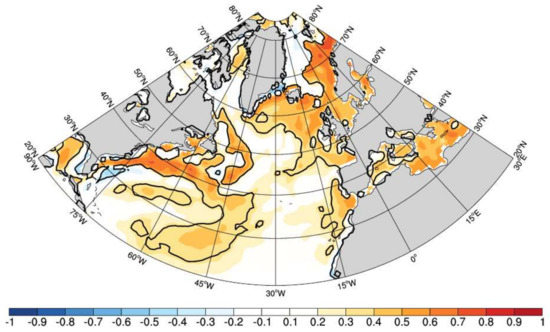 Figure 7. The spatial correlation pattern between the annual mean air temperature at Ny-Ålesund and the North Atlantic annual sea surface temperature (SST).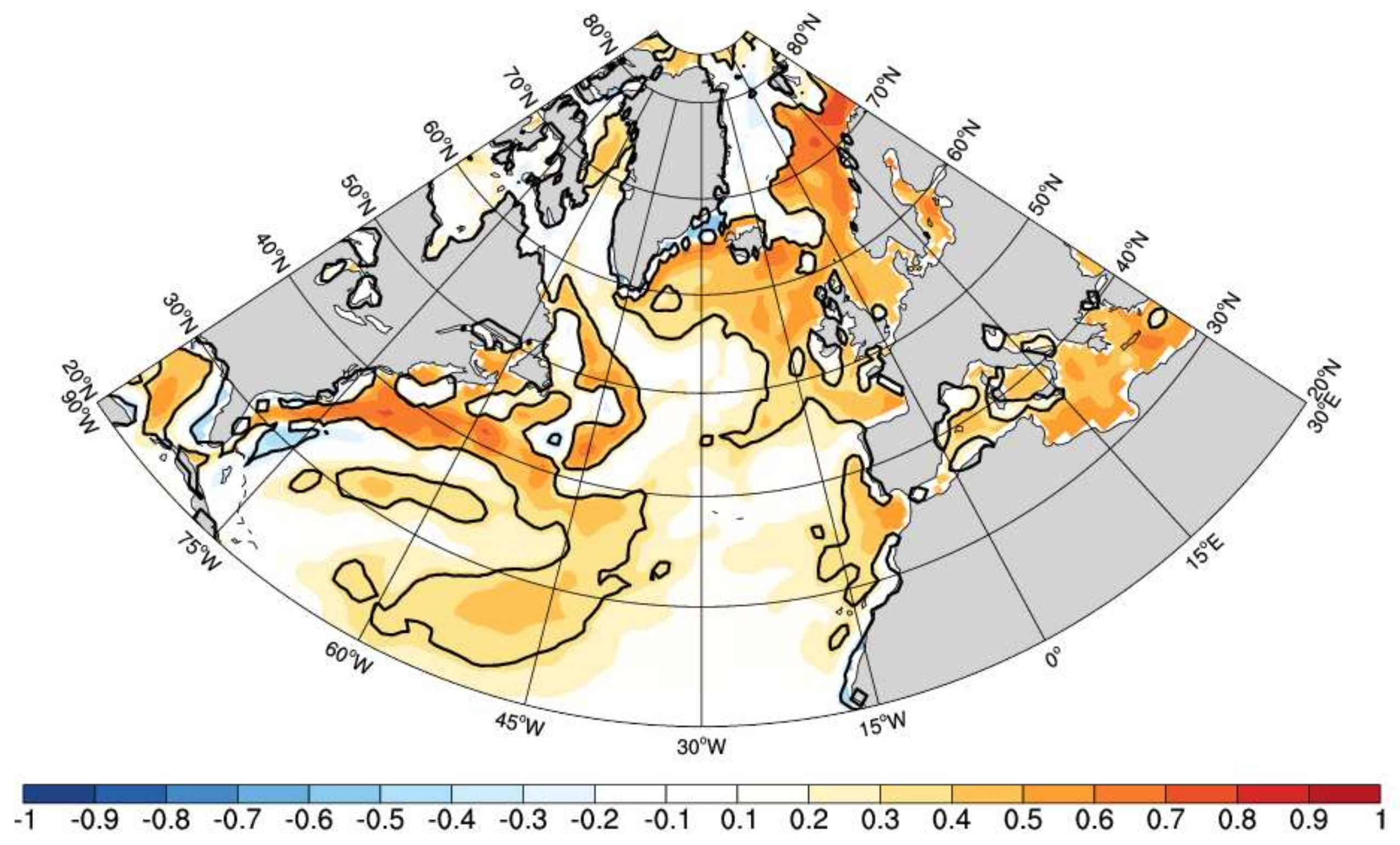 | Element | Sensor Type | Measurement Range | Accuracy |
| --- | --- | --- | --- |
| Air temperature, °C | Vaisala HMP155 | −80–60 °C | ±0.2 °C |
| Relative humidity, % | Vaisala HMP155 | 0–100% | ±1.7% |
| Air pressure, hPa | Vaisala PTB220 | 500–1100 hPa | ±0.3 hPa |
| Wind speed, m·s−1 | XFY3-1 | 0–90 m·s−1 | ±0.5 m·s−1 |
| Wind direction, ° | XFY3-1 | 0–360° | ±5° |

© 2018 by the authors. Licensee MDPI, Basel, Switzerland. This article is an open access article distributed under the terms and conditions of the Creative Commons Attribution (CC BY) license (http://creativecommons.org/licenses/by/4.0/).