Analysis of the Efficient High-Temperature in Situ Photoluminescence from GaN Layers during Epitaxial Growth
1
Institute of Measurement Engineering and Sensor Technology, University of Applied Sciences Ruhr West, Mülheim an der Ruhr D-45407, Germany
2
General and Theoretical Electrical Engineering (ATE), Faculty of Engineering, University of Duisburg-Essen, Duisburg D-47048, Germany
3
CENIDE—Center for Nanointegration Duisburg-Essen, Duisburg D-47048, Germany
*
Author to whom correspondence should be addressed.
Academic Editor: Antonio Bianconi
Received: 27 March 2017 / Revised: 16 May 2017 / Accepted: 25 May 2017 / Published: 29 May 2017
Abstract
Photoluminescence (PL) in GaN or InGaN layers monitored during epitaxial growth at high temperatures permits a quasi-continuous in situ characterization of opto-electronic properties. Therefore, epitaxial parameters can now be optimized at the earliest possible stage. A pulsed and high-power UV laser was required for PL excitation at high temperatures. Herein, the underlying nonlinear mechanism was studied via time-resolved PL experiments and rate equation-based modeling. A temperature-activated and saturable path for quenching over defects was identified. Beyond the saturation threshold, reasonably-intensive PL sets in. At high temperatures not only is the near band gap-PL present, but also—as a new observation—a defect-assisted PL emerges. Apart from these specific electronic transitions in high-temperature PL of GaN, a simple, but reasonably predictive model of the luminescent thin film has been set up to track down interference fringes in the PL spectra. It is worth mentioning that the spectral PL modulation (aiming at the Purcell effect) is often mixed up with ordinary Fabry–Pérot interference. A distinction has become key to properly analyze the spectral signatures of high-temperature PL in order to provide a reliable in situ characterization of GaN layers during epitaxial growth.
View Full-Text
►

▼

Figures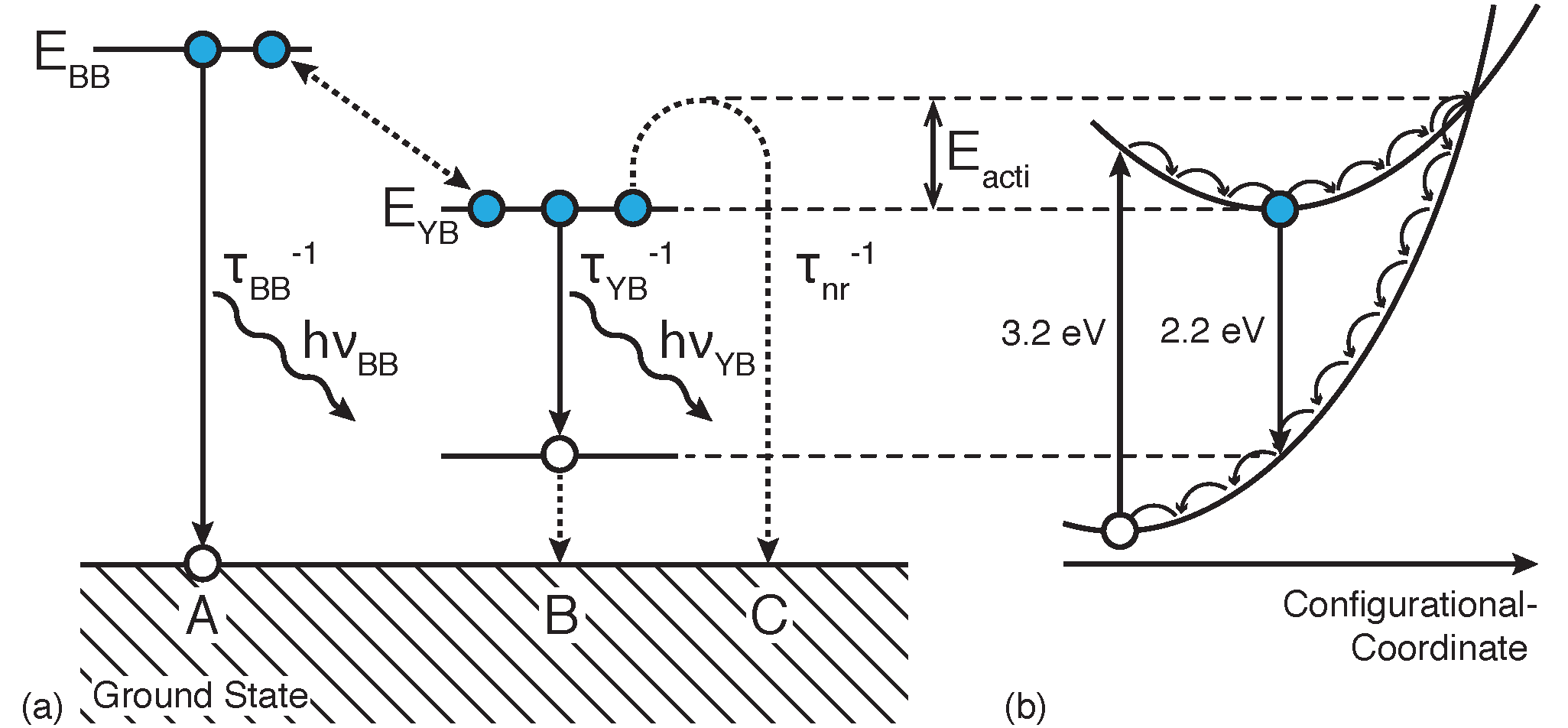 Figure 1
This is an open access article distributed under the
Creative Commons Attribution License
which permits unrestricted use, distribution, and reproduction in any medium, provided the original work is properly cited (CC BY 4.0).

Share & Cite This Article
MDPI and ACS Style
Prall, C.; Erni, D.; Rueter, D. Analysis of the Efficient High-Temperature in Situ Photoluminescence from GaN Layers during Epitaxial Growth. Condens. Matter 2017, 2, 19.
Note that from the first issue of 2016, MDPI journals use article numbers instead of page numbers. See further details here.
Comments
[Return to top]