Open Access This article is
freely available
re-usable
Patent Summary
A Novelty System for Biotization of Plant Microshoots and Collection of Natural Compounds
1
Institute of Mediterranean Agricultural and Environmental Sciences (ICAAM). Colégio da Mitra, Ap. 94, 7002-554 Évora, Portugal
2
Banco de GermoplasmaISOPlexis, Campus da Penteada, Universidade da Madeira, 9020-105 Funchal, Portugal
3
Departamento de Biologia, Pólo da Mitra Apartado 94, 7002-554 Évora, Portugal
4
Research Centre in Biodiversity and Genetic Resources Évora (CIBIO-UE), Ap. 94, 7002-554 Évora, Portugal
5
Instituto de Ciências da Terra (ICT), Colégio Luís António Verney, Rua Romão Ramalho 59, 7000-671 Évora, Portugal
*
Author to whom correspondence should be addressed.
Received: 23 October 2018 / Accepted: 30 December 2018 / Published: 7 January 2019
Abstract
:
An in vitro plant microshoot culture system composed of two phases; a liquid phase overlaid by a floating solid phase, which is described in detail herein. This system is designed to enable the extraction of natural compounds released/disseminated into the liquid phase during root growth, thus facilitating their processing and biochemical characterization. The solid phase holds the plant afloat and enables the simultaneous culture of a microorganism, yet avoiding its penetration into the liquid phase, where the roots are submerged. Both phases can be independently formulated as required for growth optimization of both organisms. Considering the closed system and known variables described in this patent, applications of the described method include testing with pesticides, herbicides, and other similar products.
Keywords:
Keywords: biotechnology; biotization; chemical analysis; double-phase medium; phenolic compounds; liquid chromatography—diode array detector—mass spectrometry
Author Contributions
The authors have contributed equally to the preparation of this patent summary.
Funding
This work was supported by FCT Portugal: PTDC/AGR-CFL/71437/2006 Analysis and Mastering of Root Growth Signalling by Ectomycorrhizal Fungi on
Pinus pinea
Microshoot Cultures.
Acknowledgments
This patent was developed in the Biotechnology Laboratory of the Institute of Mediterranean Agricultural and Environmental Sciences (ICAAM), University of Évora, Évora, Portugal.
Conflicts of Interest
The authors declare no conflicts of interest.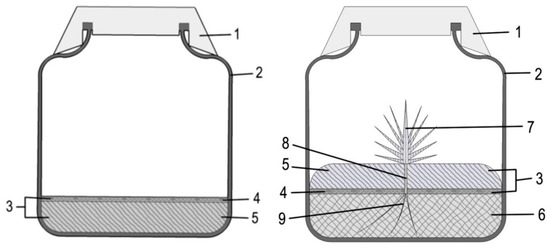 Figure 1. Illustrative scheme of the double-phase culture media system for in vitro biotization between plants and microorganisms. The finished system is shown on the right, and the initial step of gelling the solid phase before inverting is shown on the left. 1, cover; 2, flask; 3, solid phase (4 + 5); 4, floater substrate; 5, gelled culture medium; 6, liquid phase; 7, shoot; 8, stem; 9, roots.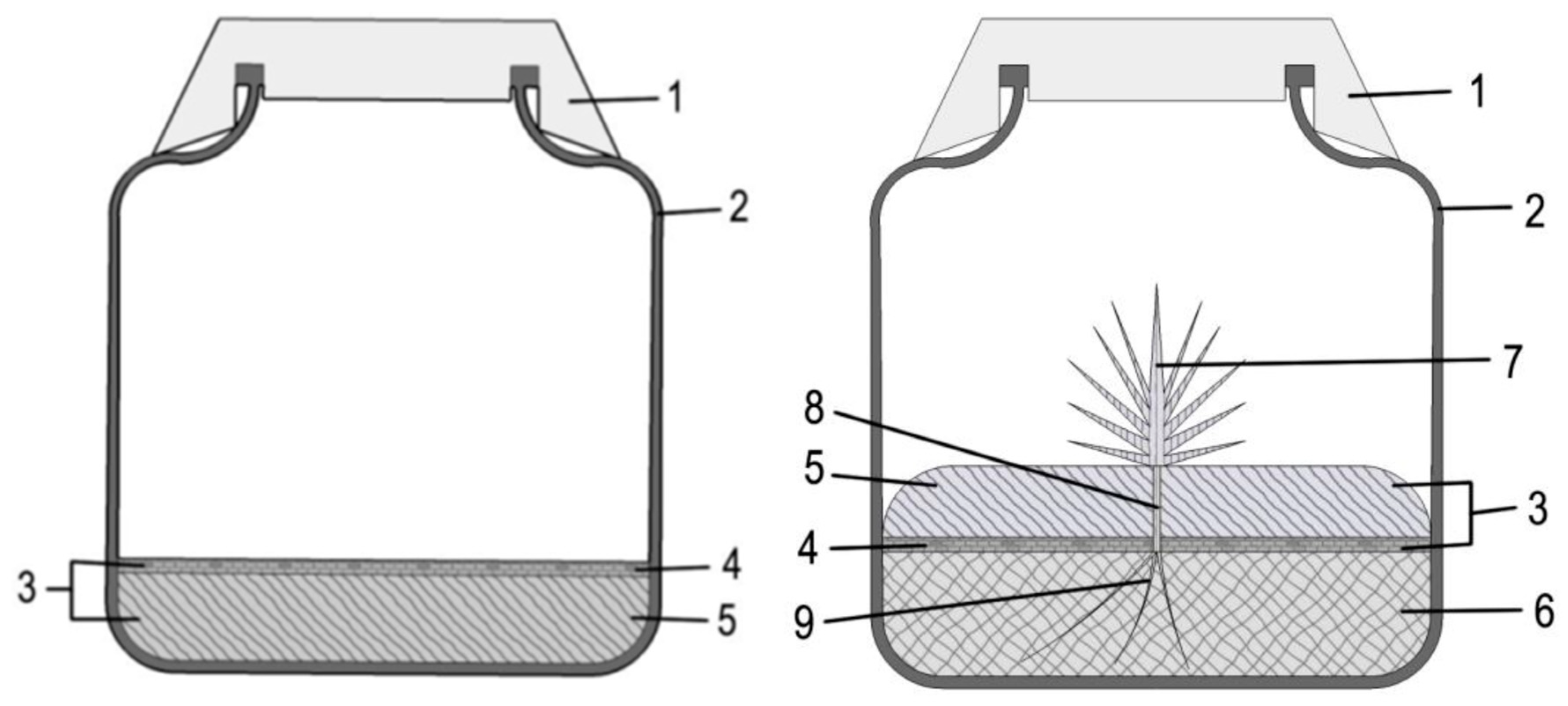 © 2019 by the authors. Licensee MDPI, Basel, Switzerland. This article is an open access article distributed under the terms and conditions of the Creative Commons Attribution (CC BY) license (http://creativecommons.org/licenses/by/4.0/).