Open Access This article is
freely available
re-usable
Review
Is Newborn Screening the Ultimate Strategy to Reduce Diagnostic Delays in Pompe Disease? The Parent and Patient Perspective
Australian Pompe Association Inc., Kellyville, NSW 2155, Australia
*
Author to whom correspondence should be addressed.
Received: 18 December 2019 / Accepted: 6 January 2020 / Published: 9 January 2020
Abstract
:
Pompe disease (PD) is a rare, autosomal-recessively inherited deficiency in the enzyme acid α-glucosidase. It is a spectrum disorder; age at symptom onset and rate of deterioration can vary considerably. In affected infants prognosis is poor, such that without treatment most infants die within the first year of life. To lose a baby in their first year of life to a rare disease causes much regret, guilt, and loneliness to parents, family, and friends. To lose a baby needlessly when there is an effective treatment amplifies this sadness. With so little experience of rare disease in the community, once a baby transfers to their home they are subject to a very uncertain and unyielding diagnostic journey while their symptomology progresses and their health deteriorates. With a rare disease like PD, the best opportunity to diagnose a baby is at birth. PD is not yet included in the current newborn screening (NBS) panel in Australia. Should it be? In late 2018 the Australian Pompe Association applied to the Australian Standing committee on Newborn Screening to have PD included. The application was not upheld. Here we provide an overview of the rationale for NBS, drawing on the scientific literature and perspectives from The Australian Pompe Association, its patients and their families. In doing so, we hope to bring a new voice to this very important debate.
Keywords:
Pompe disease; newborn screening; diagnosis; infantile onset Pompe disease; late onset Pompe disease; patient perspective
Author Contributions
Conceptualization, R.S.; writing—original draft preparation, R.S. with assistance from Hazel Palmer (see below); writing—review and editing, R.S., R.B., M.C., C.J., J.P., B.C., T.H., and S.K.; funding acquisition, R.S. All authors have read and agreed to the published version of the manuscript.
Funding
This research was funded by an unrestricted educational grant from SANOFI-GENZYME AUSTRALIA PTY LTD, grant number SSA-2019-005392 and the APC was funded by SANOFI-GENZYME AUSTRALIA PTY LTD under the same unrestricted educational grant.
Acknowledgments
The authors acknowledge professional writing assistance provided by Hazel Palmer MSc, ISMPP CMPP™ (Scriptix Pty Ltd., Freshwater, NSW, 2096 Australia) in the preparation of this manuscript. The authors thank Bevan Sweerts, Anthony Earp and Jana Chromika, non-author reviewers and employees of SANOFI-GENZYME AUSTRALIA PTY LTD, for their insightful suggestions and comments.
Conflicts of Interest
The authors declare no conflict of interest. The funders had no role in the design of the study; in the collection, analyses, or interpretation of data; in the writing of the manuscript, or in the decision to publish the results.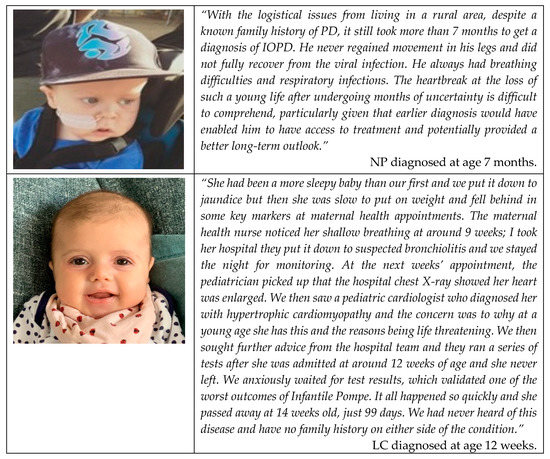 Figure 1. Parents' perspectives on Australian infantile-onset disease (IOPD) diagnostic experiences. In lieu of patient informed consent, photographs and comments have been provided by, and reproduced with permission from, the parents of these two children both of whom were deceased at the time the paper was written.
Age Group
Results
Reference
Adults
Time to diagnosis:

1 year in 51.2% of cases

≥5 years in 30.0% of cases

Number of doctors seen to get confirmed diagnosis:

1–2 in 33.7% of cases

3–5 in 37.4% of cases

≥6 in 28.8% of cases

Number with at least one incorrect diagnosis:
Molster, 2016 [13]
Children
Time to diagnosis:

1 year in 59.8% of cases

≥3 years in 8.0% of cases

Number of doctors seen to get confirmed diagnosis:

1–2 in 12.5% of cases

3–5 in 41.8% of cases

≥6 in 27.7% of cases

Number with at least one incorrect diagnosis:
Zurynski, 2017 [12]
Key Considerations:

Receiving a diagnosis of a rare disease is a life-changing event; delays in receiving a diagnosis are associated with anxiety, stress, symptomatic worsening, inappropriate use of resources and lack of access to appropriate support and care;

Health professional education is needed to increase awareness of rare diseases and improve the diagnostic process;

Resources, including access to multi-disciplinary care teams, are needed to support the requirements of people newly diagnosed with rare diseases.

Table 2.
Results from newborn screening (NBS) programs for Pompe disease (PD). Adapted from Bodamer 2017 [
21
].
| Country and Region | Sample Size | Total Cases of IOPD | Total Cases of LOPD | Prevalence |
| --- | --- | --- | --- | --- |
| Taiwan | 473,738 | 9 | 19 | 1/16,919 |
| Austria * | 34,736 | 0 | 4 | 1/8684 |
| Italy * | 3403 | 0 | 0 | - |
| Hungary * | 40,024 | 7 | 2 | 1/4400 |
| USA (State): | | | | |
| Illinois * | 166,463 | 2 | 9 | 1/15,133 |
| Missouri | 269,500 | 4 | 20 | 1/11,229 |
| Washington * | 154,544 | 0 | 5 | 1/31,000 |
| New York | 390,000 | 1 | 30 | 1/165,000 |

© 2020 by the authors. Licensee MDPI, Basel, Switzerland. This article is an open access article distributed under the terms and conditions of the Creative Commons Attribution (CC BY) license (http://creativecommons.org/licenses/by/4.0/).