Open Access This article is
freely available
re-usable
Article
Newborn Sickle Cell and Thalassaemia Screening Programme: Automating and Enhancing the System to Evaluate the Screening Programme
NHS Sickle Cell and Thalassaemia Screening Programme, Public Health England, London SE1 8UG, UK
*
Author to whom correspondence should be addressed.
Received: 25 July 2019 / Accepted: 27 August 2019 / Published: 31 August 2019
Abstract
:
Good information is needed to demonstrate that a screening programme is meeting its objectives, to measure performance against standards and to ensure that action is taken if standards are not met. In 2010, the NHS Sickle Cell and Thalassaemia (SCT) Screening Programme established a process to collect data on the main outcome measures for newborn babies. In 2016, a review identified that data completeness and quality relied on manual processes and there was widespread dissatisfaction amongst data providers due to duplication of data entry, poor feedback and lack of oversight of the baby to ensure safe handover from screening into treatment services. Using an Agile service design process and following the Government Digital Service Model, the SCT Screening Programme worked in close collaboration with users, wider stakeholders and system suppliers to design and build a new automated system. The new system ensures that the screening programme can fulfil its duty to evaluate the effectiveness of the programme, whilst pleasing the users and enhancing safety. User experience must be central to design and ongoing development to ensure that a new IT system is fit for purpose and adopted by users.
Keywords:
sickle cell; thalassaemia; screening; newborn; outcome data; evaluation; Agile project
Author Contributions
C.C. planned the manuscript outline and drafted the manuscript. R.O. edited the manuscript.
Funding
This work was funded by Public Health England.
Acknowledgments
The authors would like to thank colleagues in the newborn screening laboratories and treatment centres for their valuable feedback during development and for their ongoing support. Thanks also to MDSAS and PHE colleagues.
Conflicts of Interest
C.C. was Programme Manager from 1 April 2013 until 30 June 2019 and Product Owner. R.O. took up the role of Project Lead in April 2018 and Product Owner from 1 July 2019.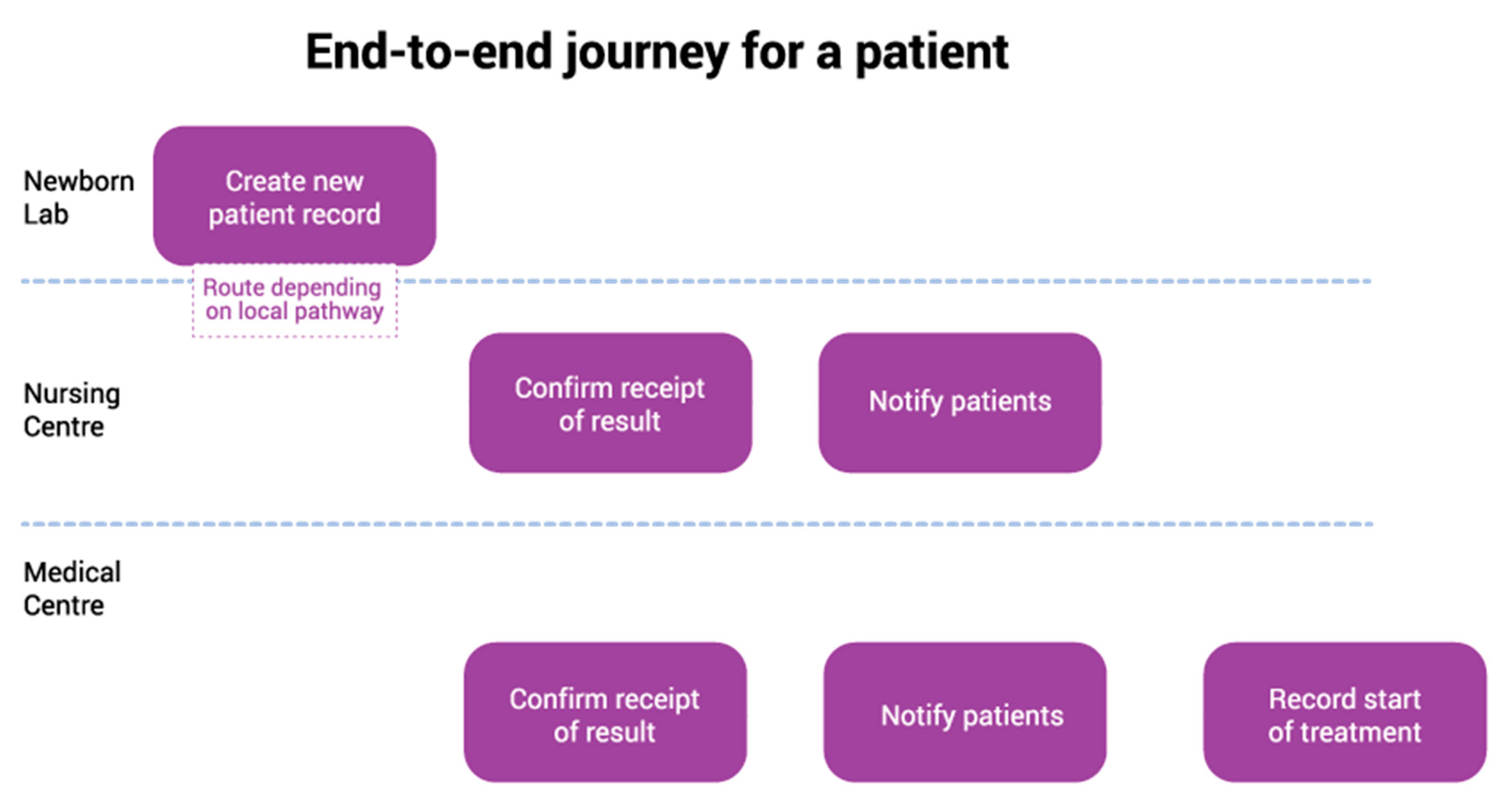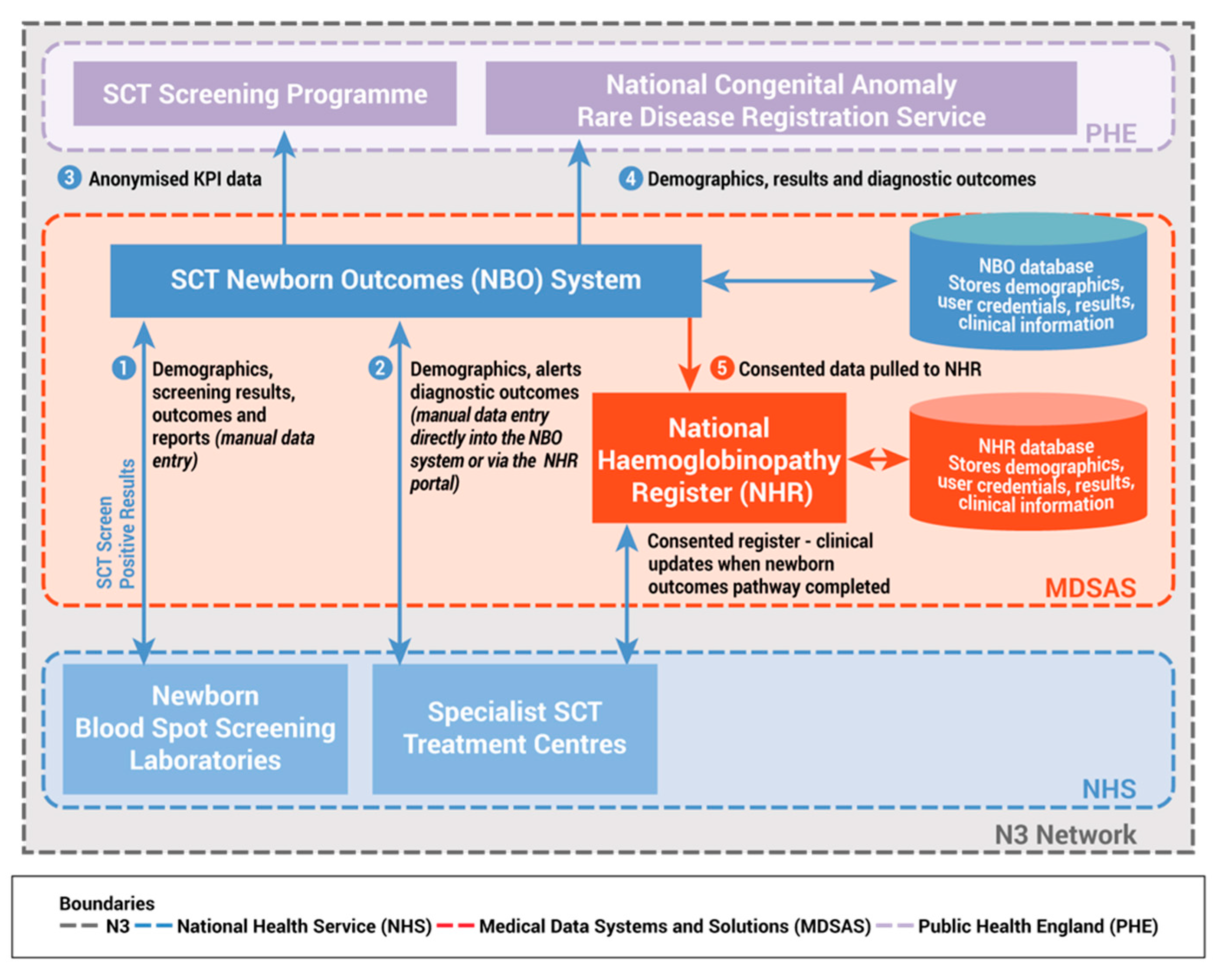 | | |
| --- | --- |
| Laboratory scientists/directors | 5 |
| Haematologists/paediatricians | 5 |
| SCT specialist nurse/counsellors | 2 |
| Patients societies/parent representatives | 4 |
| PHE information & governance leads/programme manager | 3 |
| NHR CEO | 1 |
| Newborn outcomes team at KCL administrator/analyst/paediatrician | 3 |
Findings
Recommendations
There is currently no consolidated list of patients that people have submitted data on and are under their care, which means that relevant individuals have no visibility of the patient's care beyond their step in the pathway. Without this access they rely on other departments for this information, and the process of requesting this data can be manual and time consuming.
A future solution should allow people who submit data to the programme to be able to view and export a consolidated list of all relevant patients.
There is duplication of effort inputting and submitting data. With no integration between systems, users are required to input the same data multiple times.
For example, when haematologists receive a new patient, commonly they will need to input the same information on the NHR.
A future solution needs to, where possible, reduce the amount of duplicated effort. Thus, how a future solution could interact with existing systems to avoid the need to enter data more than once needs to be explored.
There is a lack of feedback from the newborn outcomes team when users have submitted the data.
Many people interviewed felt they would benefit from a feedback mechanism and reports to improve their overall performance.
The future solution should include automatic confirmation when data has been received or uploaded.
There should be functionality to allow reports to be created centrally. The ability for users outside of the central team to pull their own reports from a predefined reporting list should also be considered.
Poor quality data is submitted when users do not use the prescribed templates for submitting data, this requires a lot of manual effort to cleanse and reformat the data. It also makes it difficult to produce accurate reports if there is data missing.
There needs to be a clearly defined dataset.
The future solution will need to have data validation rules to limit individuals from entering data that shouldn't be on there and ensuring data quality and completeness.
The current process requires a lot of manual chasing of individuals for data. Eliciting information from haematologists/sickle cell counsellors can be challenging.
The future process will need to make sure that there are incentives to drive user adoption and ensure that data is submitted to the programme. For example, reducing their overall work effort. The new solution will also need to be user-friendly so that individuals are not put off submitting data.
| | |
| --- | --- |
| Must | A key requirement, without which the system has no value |
| Should | An important requirement that must be delivered, but, where time is short, could be delayed for a future delivery. This should be a short-term delay. |
| Could | A requirement that would be beneficial to include if it does not cost too much or take too long to deliver, but that is not central to the project objectives. |
| Would | A requirement that will be needed in the future, but that is not required for this delivery. |
"As a lab user I need diagnostic results so that I can QA the service and I need access to performance reports so that I can return data to PHE"
"As a paediatric haematologist I need to be able to pull data from the NBO system onto the NHR when parents' consent so that I can avoid duplication of effort".
"As a specialist nurse I need to be able to refer babies into treatment services so that I can ensure care is provided at the right centre".
"As any user I need to visualise the patient's progress along the pathway so that I am assured of safe handover from screening into treatment services"

© 2019 by the authors. Licensee MDPI, Basel, Switzerland. This article is an open access article distributed under the terms and conditions of the Creative Commons Attribution (CC BY) license (http://creativecommons.org/licenses/by/4.0/).