Open Access This article is
freely available
re-usable
Article
A Parallel Modular Biomimetic Cilia Sorting Platform
Unconventional Computing Laboratory, University of the West of England, Bristol BS16 1QY, UK
*
Author to whom correspondence should be addressed.
Received: 26 January 2018 / Accepted: 22 March 2018 / Published: 30 March 2018
Abstract
:
The aquatic unicellular organism
Paramecium caudatum
uses cilia to swim around its environment and to graze on food particles and bacteria.
Paramecia
use waves of ciliary beating for locomotion, intake of food particles and sensing. There is some evidence that
Paramecia
pre-sort food particles by discarding larger particles, but intake the particles matching their mouth cavity. Most prior attempts to mimic cilia-based manipulation merely mimicked the overall action rather than the beating of cilia. The majority of massive-parallel actuators are controlled by a central computer; however, a distributed control would be far more true-to-life. We propose and test a distributed parallel cilia platform where each actuating unit is autonomous, yet exchanging information with its closest neighboring units. The units are arranged in a hexagonal array. Each unit is a tileable circuit board, with a microprocessor, color-based object sensor and servo-actuated biomimetic cilia actuator. Localized synchronous communication between cilia allowed for the emergence of coordinated action, moving different colored objects together. The coordinated beating action was capable of moving objects up to 4 cm/s at its highest beating frequency; however, objects were moved at a speed proportional to the beat frequency. Using the local communication, we were able to detect the shape of objects and rotating an object using edge detection was performed; however, lateral manipulation using shape information was unsuccessful.
Keywords:
cilia; parallel actuator;
Paramecia
; sorting
Acknowledgments
The authors acknowledge the support of the Leverhulme Trust research project "Artificial
P. caudatum
: intelligent distributed sensing and manipulation by ciliates" (Number RPG-2013-345).
Author Contributions
J.G.H.W. designed the robotic cilia, performed experiments and wrote the paper; R.M. aided in design bioinspiration and helped write the paper; A.A. conceived the concept and helped write the paper.
Conflicts of Interest
The authors declare no conflict of interest.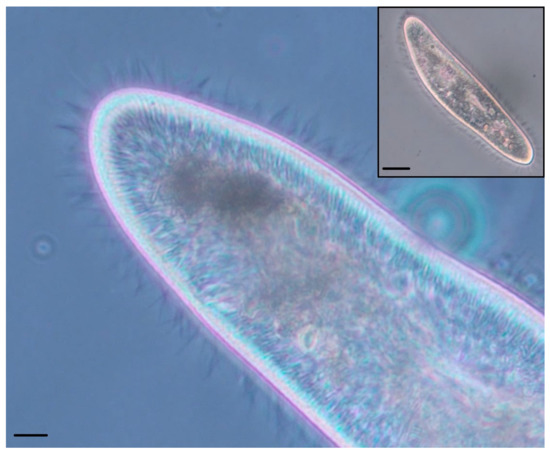 Figure 1.
Phase contrast photomicrographs of a
Paramecium caudatum
. (Main) Anterior tip of the organism, showing hundreds of cilia (hair-like appendages) sprouting from its surface. Scale bar: 10 m. (Inset) Lower magnification view showing the whole organism. Scale bar: 25 m.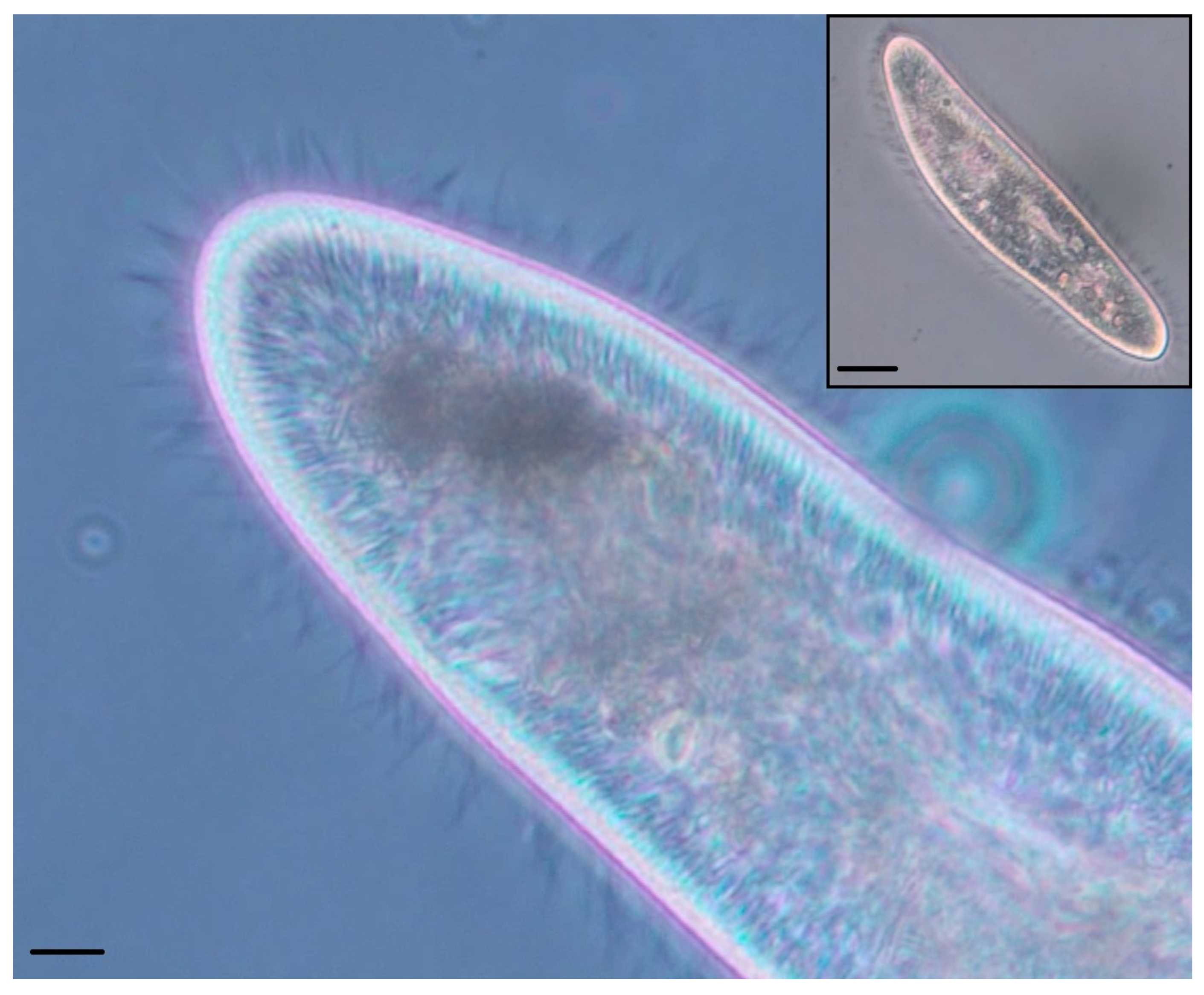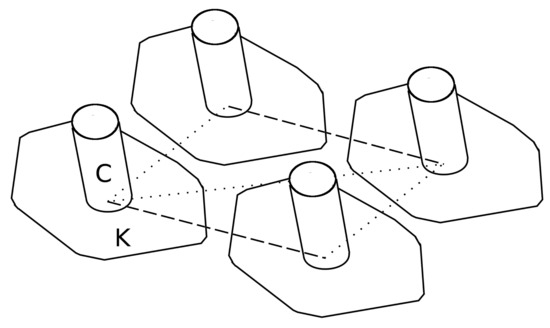 Figure 2.
Schematic diagram to demonstrate the location within kinetid basins, from the top-down view of the
P. caudatum
pellicle. C: Cilium; K: Kinetid; dashed line: Kinetodesmal fibrils; dotted line: infraciliature.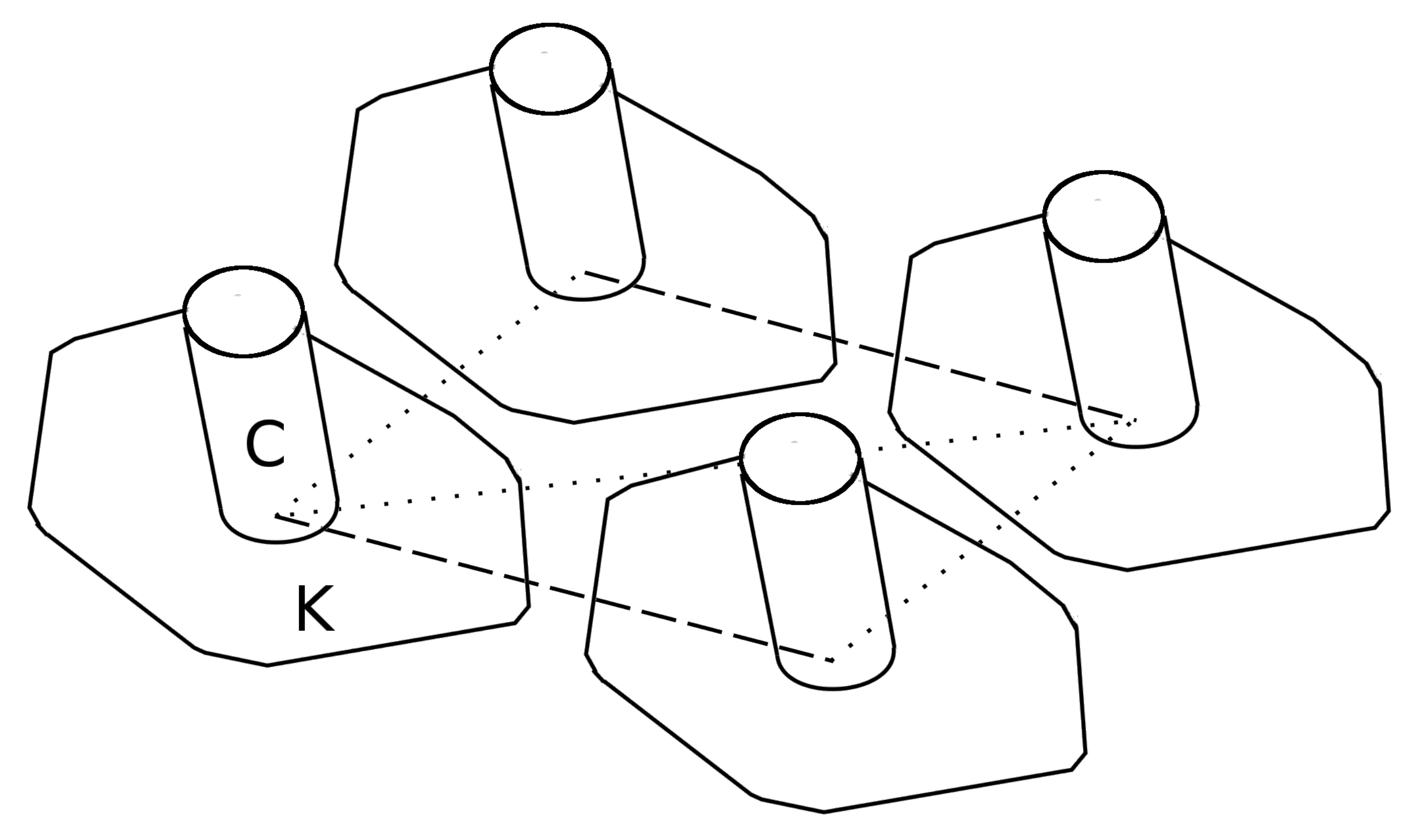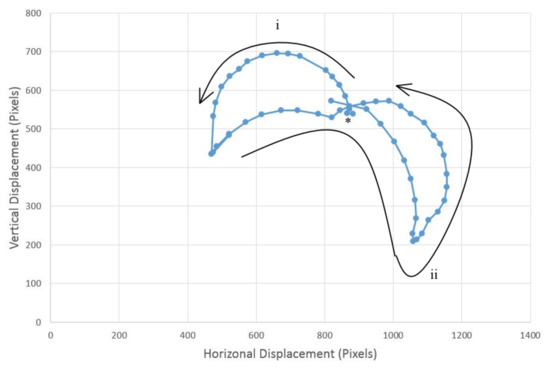 Figure 3. The full ciliary beat action performed by the artificial cilium. The power stroke (i) starts at the marked position (*), which progresses into the recovery stroke (ii).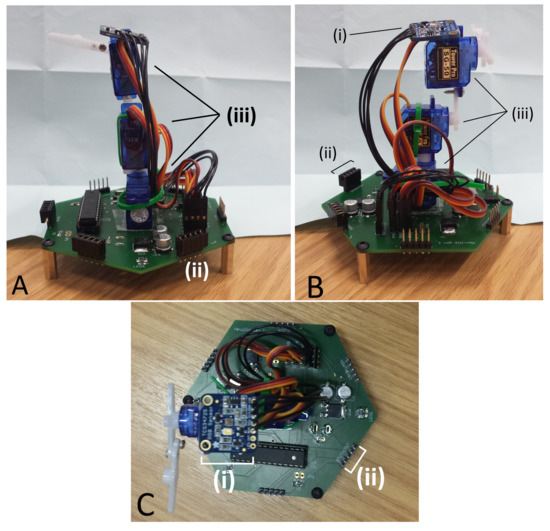 Figure 4. Three views (A,B and C) of an artificial cilia developed to mimic ciliary beating. (i) The color sensor; (ii) the local neighbor pins; (iii) servos mounted in line.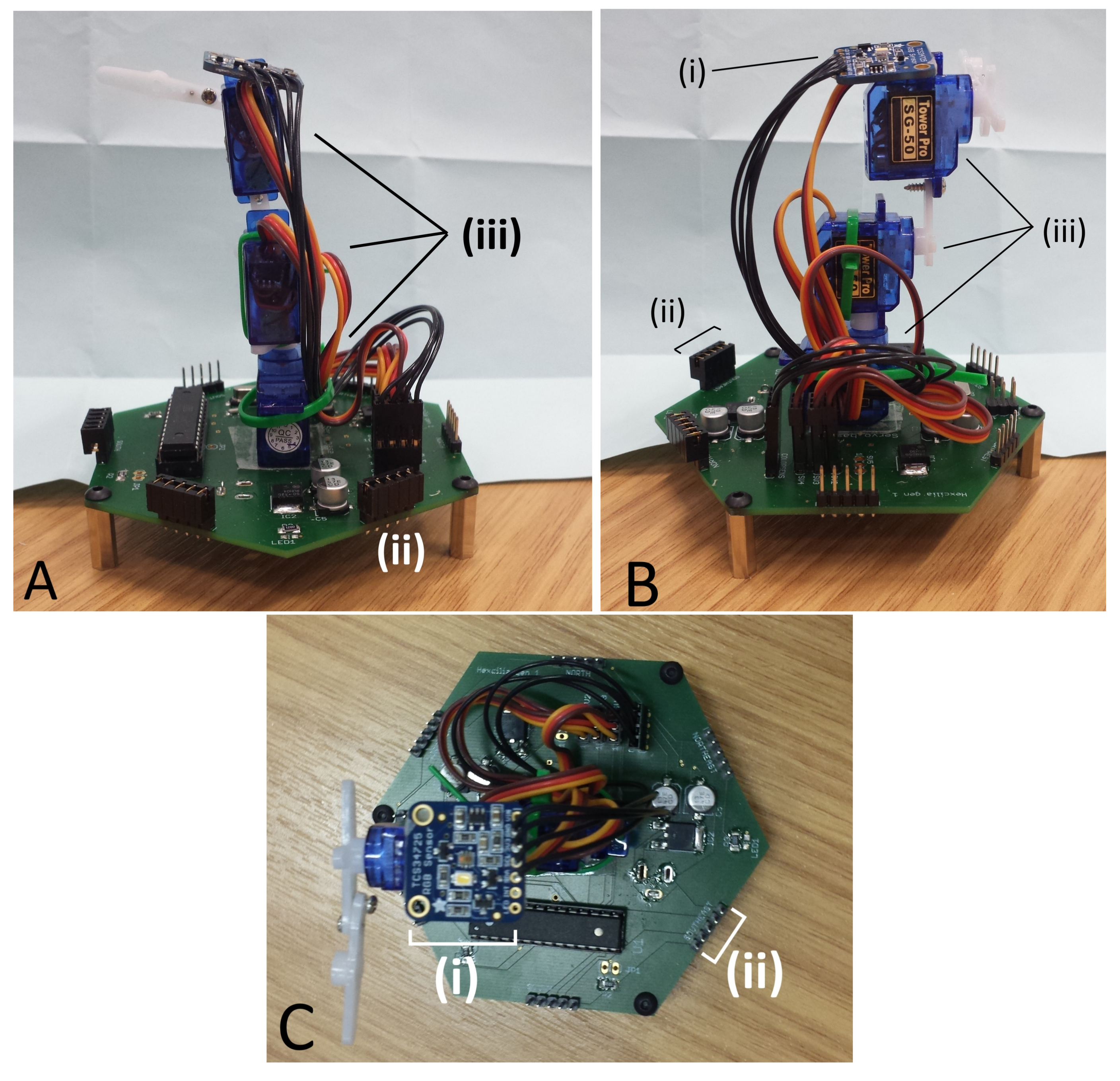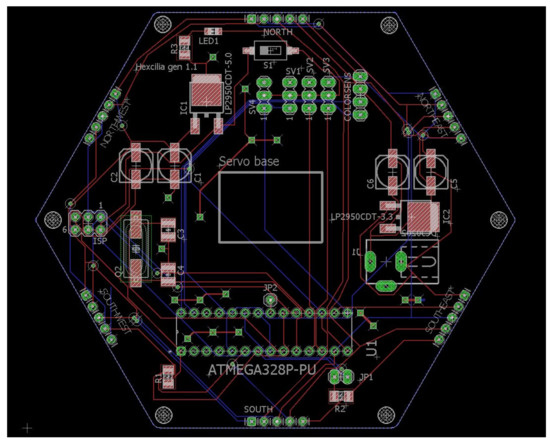 Figure 5. Hexagonal cilia board layout for the Printed Circuit Board created using EagleCAD design software (Autodesk, San Rafael, CA, USA).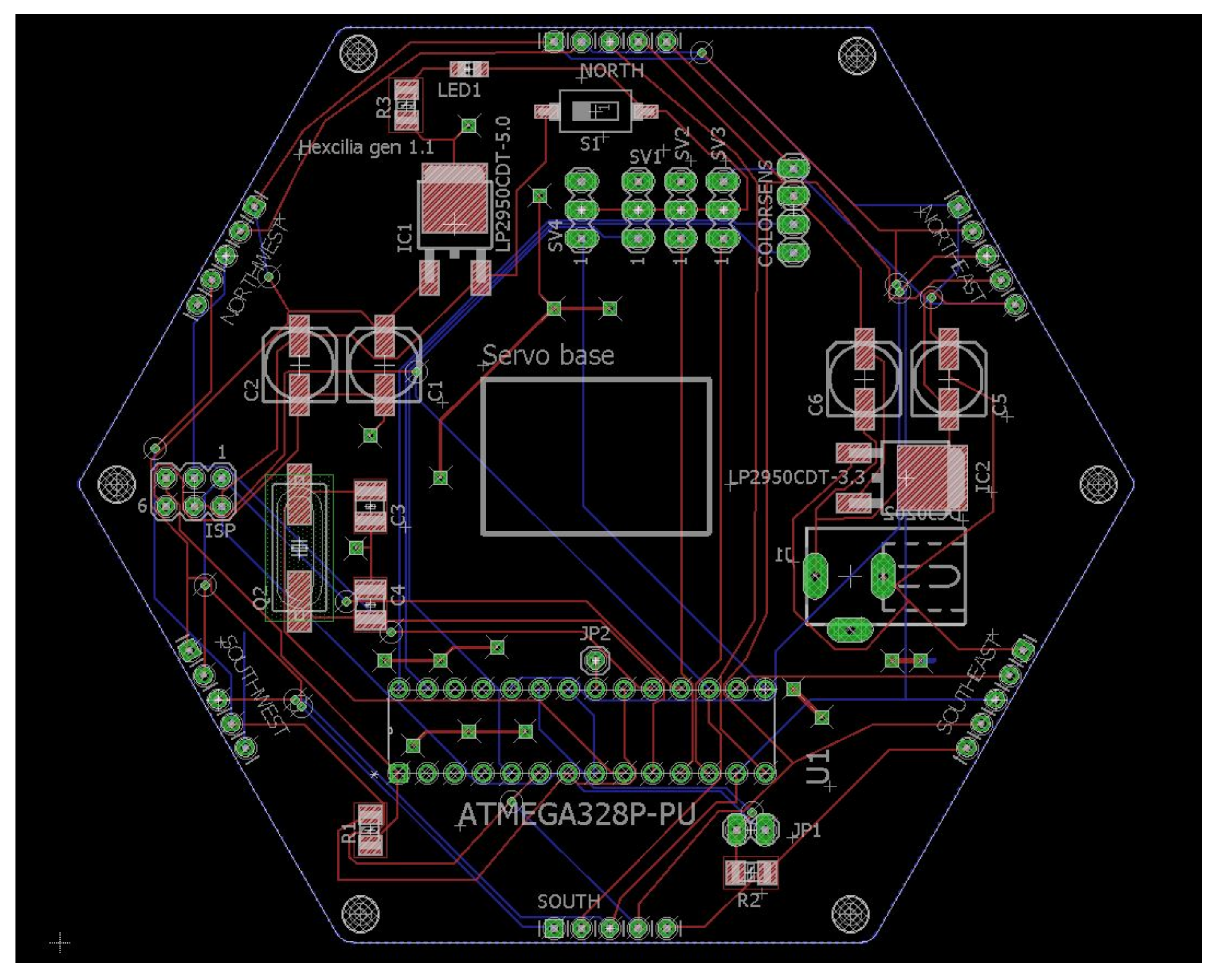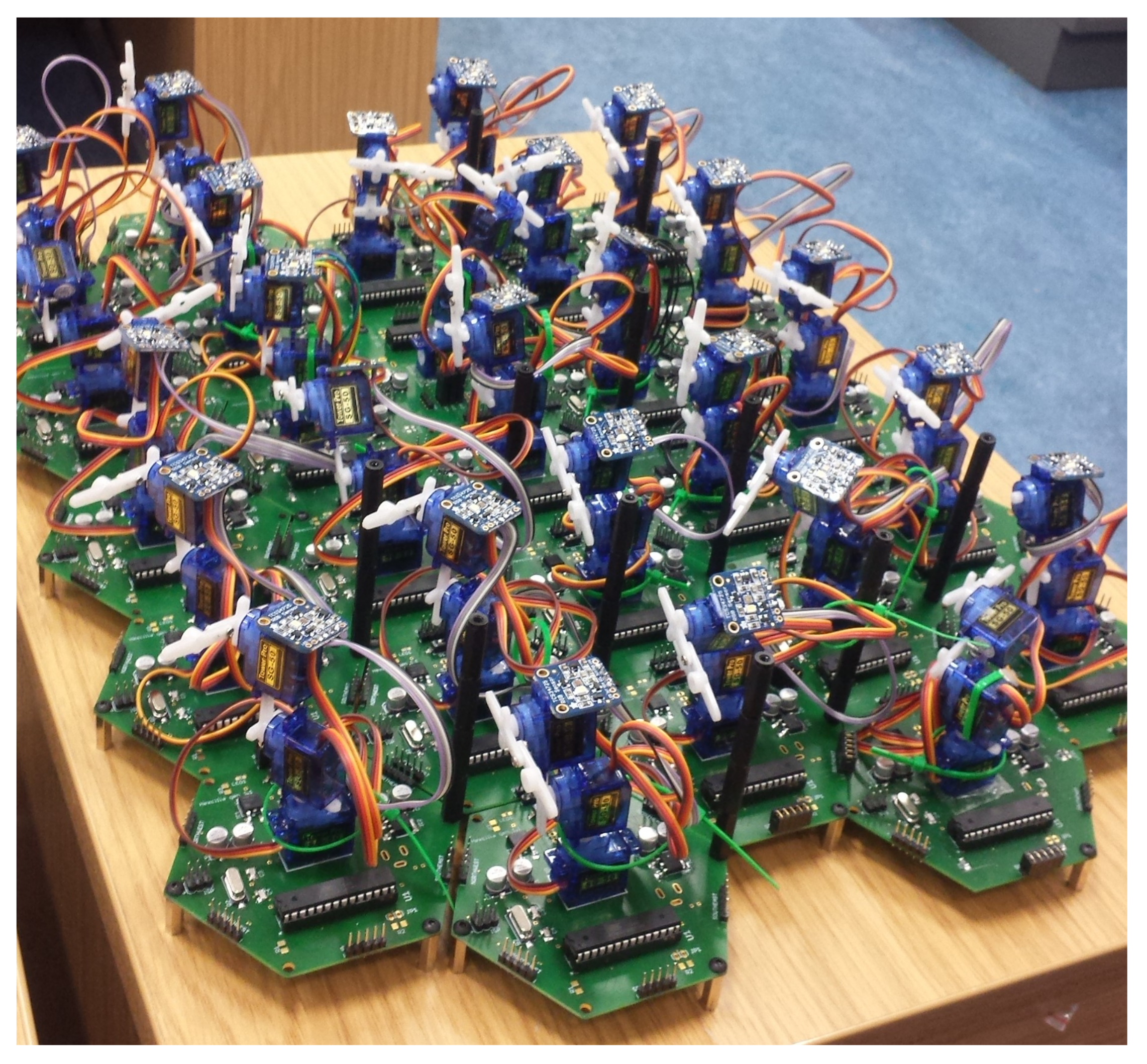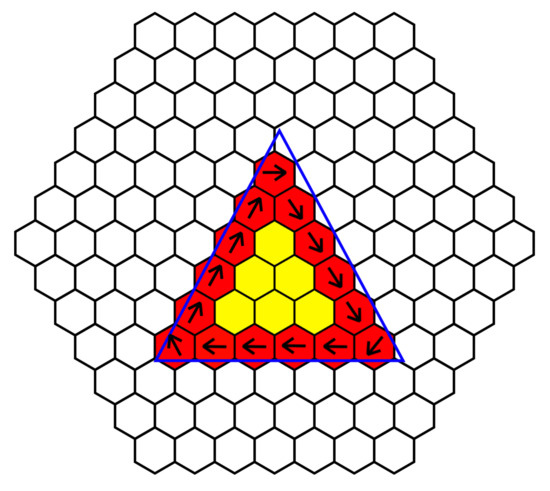 Figure 7. Rotation utilizing edge detection, where neighbors share information to detect the edge of an object and perform perpendicular beating to rotate an object. Red cells indicate edges, while yellow cells indicate an internal cell. Black arrows indicate the direction of ciliary beating and the blue triangle is where the object is placed, to illustrate placement of object.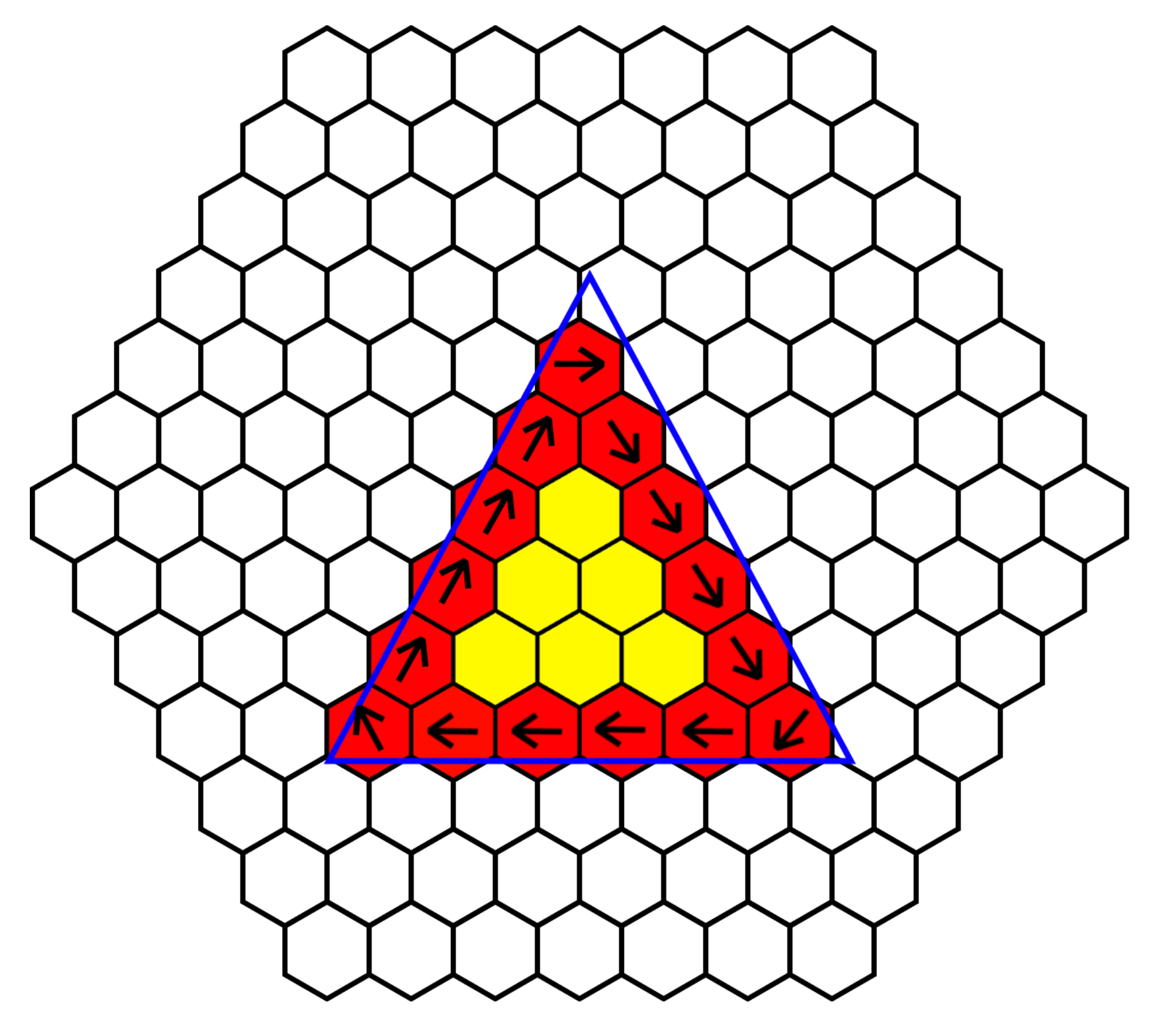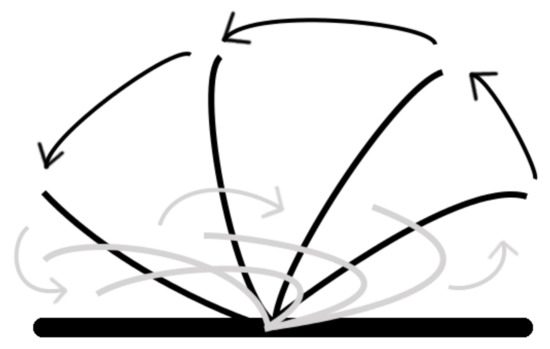 Figure 8. A typical ciliary beat cycle showing the power stroke in black and the recovery stroke in grey.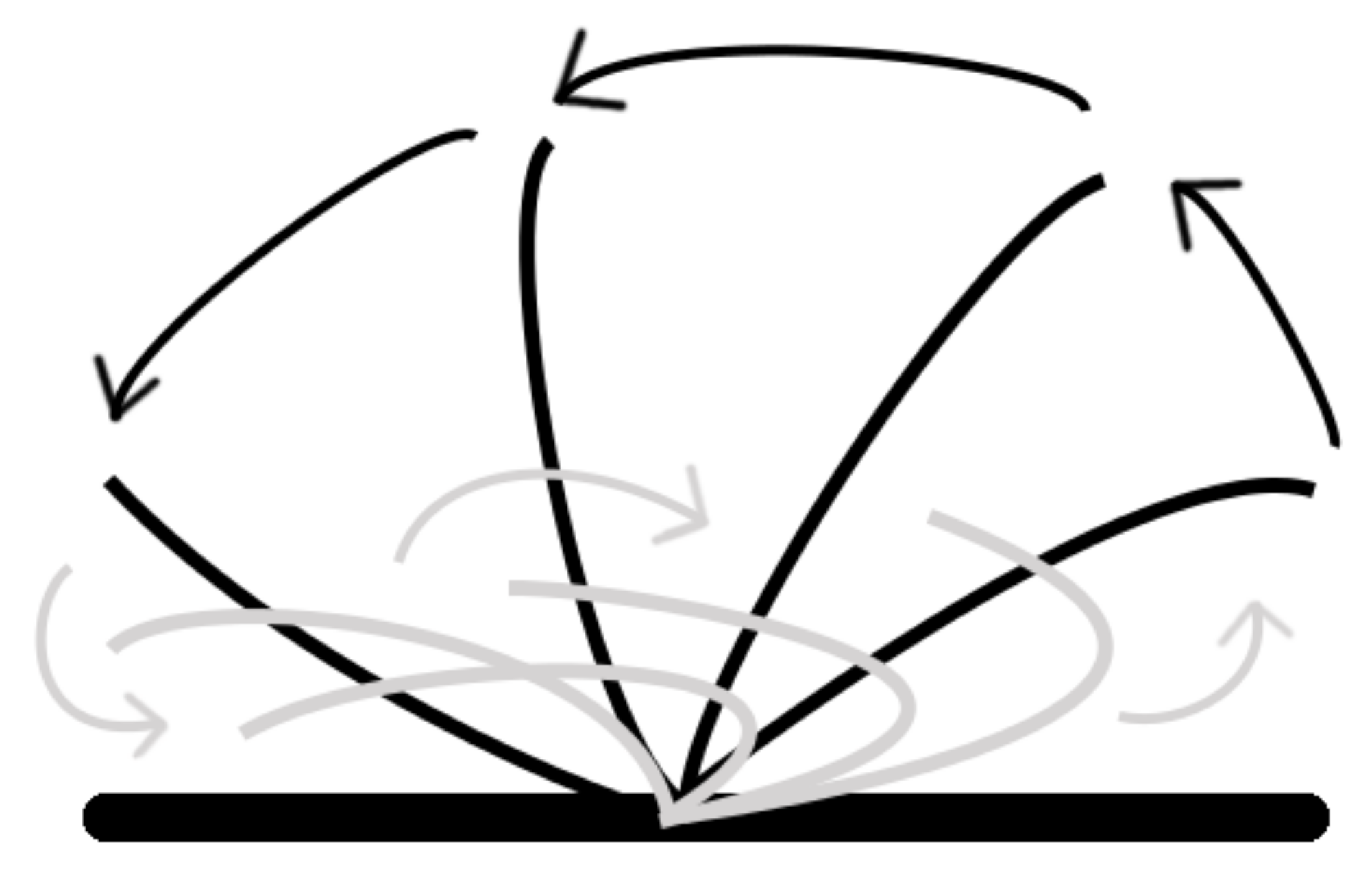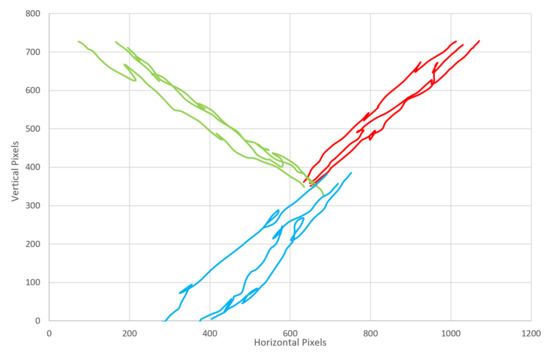 Figure 9. The direction of object movement. Three examples of red, green, and blue objects represented in their own color.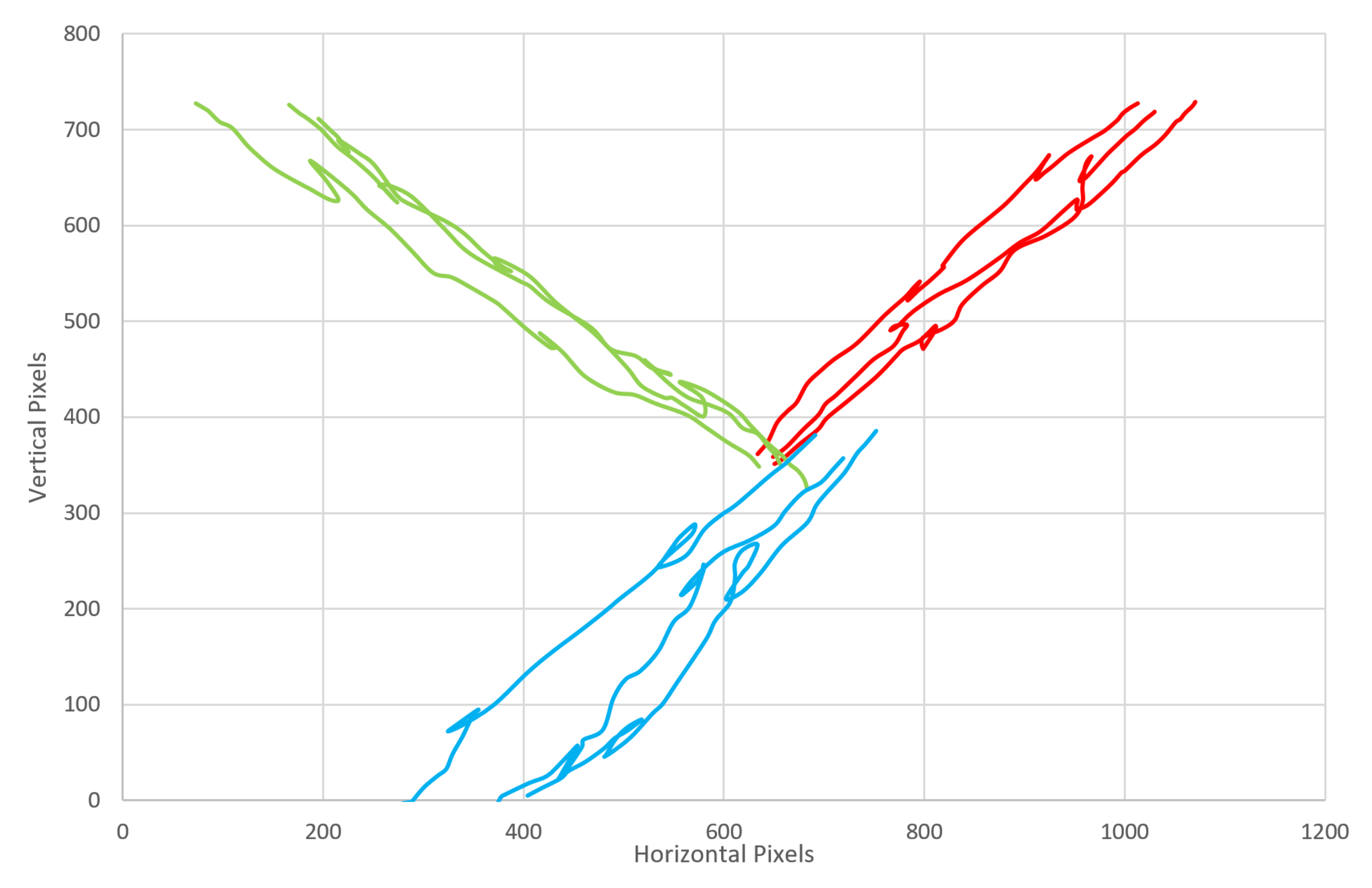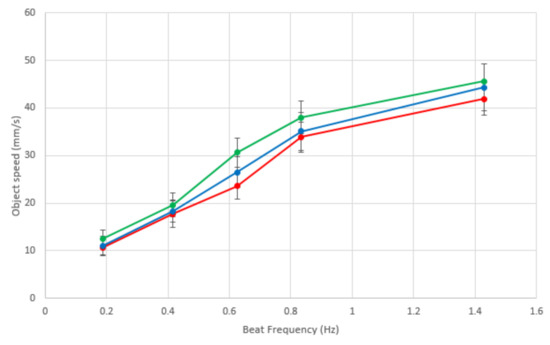 Figure 10. The effect of robotic cilia beat frequency on the speed of an object being moved across the surface. Each line is the same color as the object, illustrating red, blue and green objects.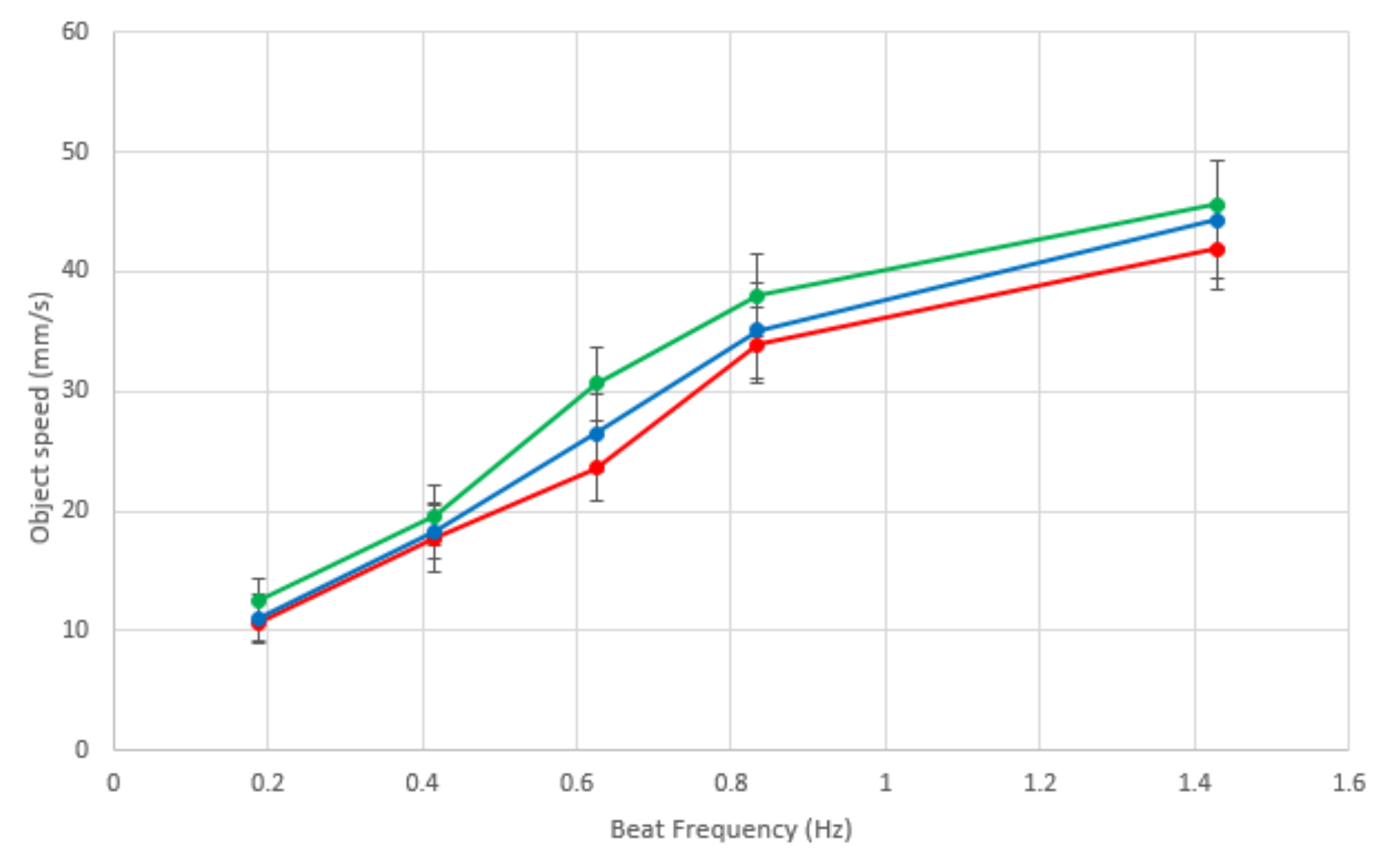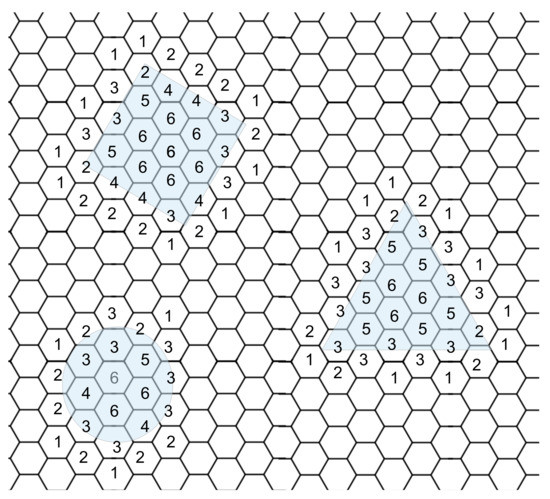 Figure 11. Cells nearby objects and under the objects display a number of neighbors covered by an object. The shapes are shown by the blue transparent boxes and the numbers indicate how many local neighbours are covered.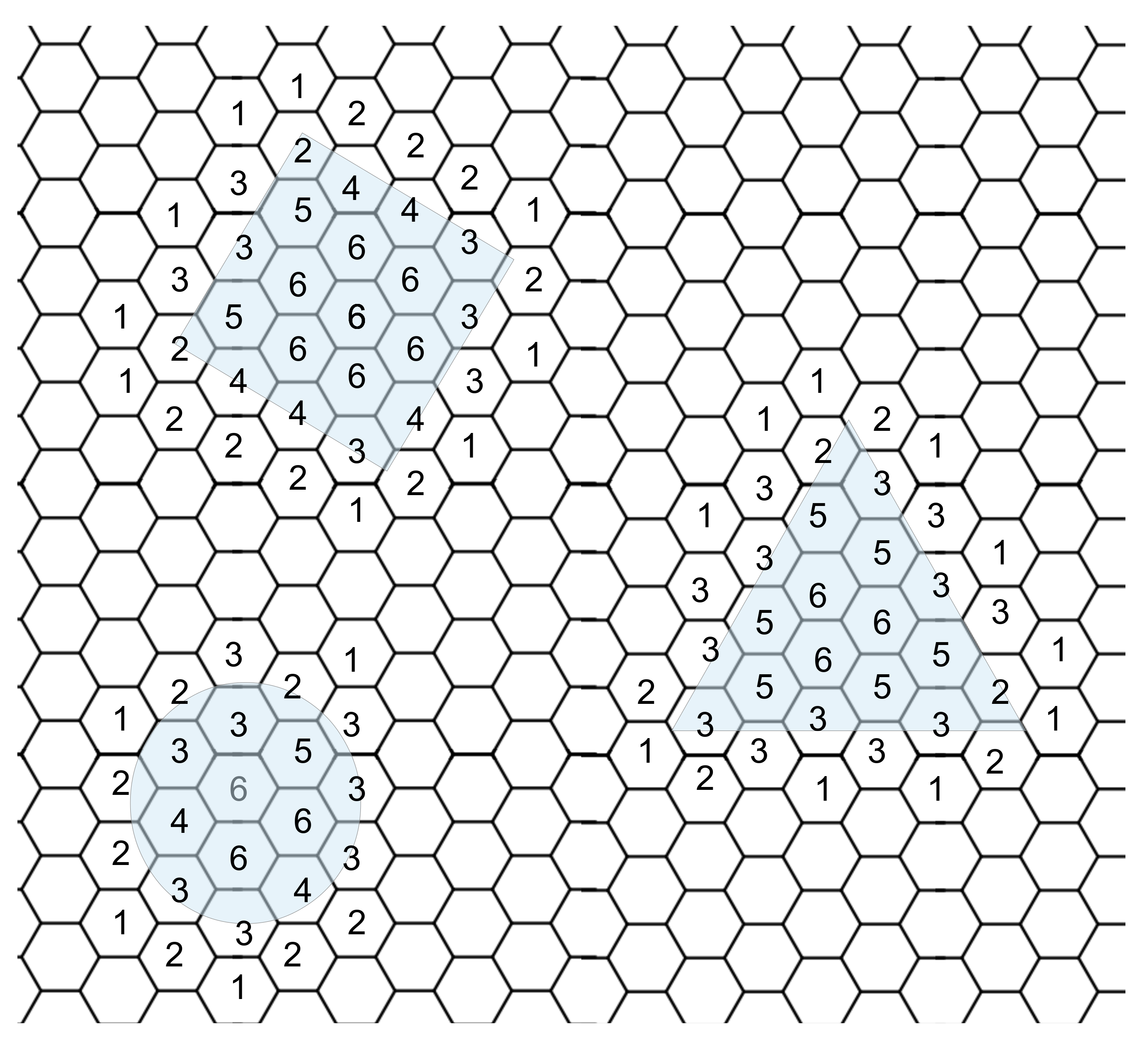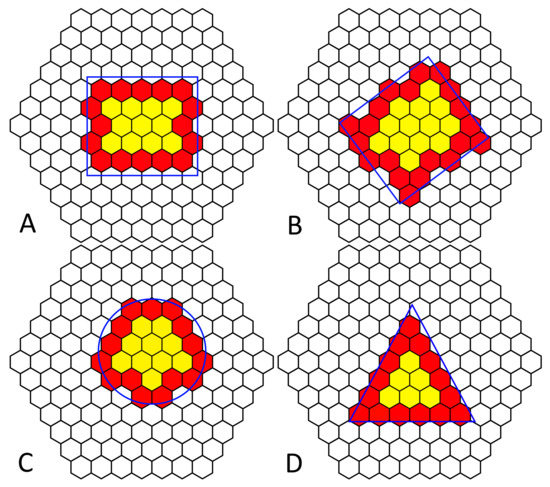 Figure 12. Edge detection of various simple shapes (blue outline) on a tiled hexagonal cilia platform (black). Clear hexagonal cilia are "uncovered", red are "edge", and yellow are "interior" cilia.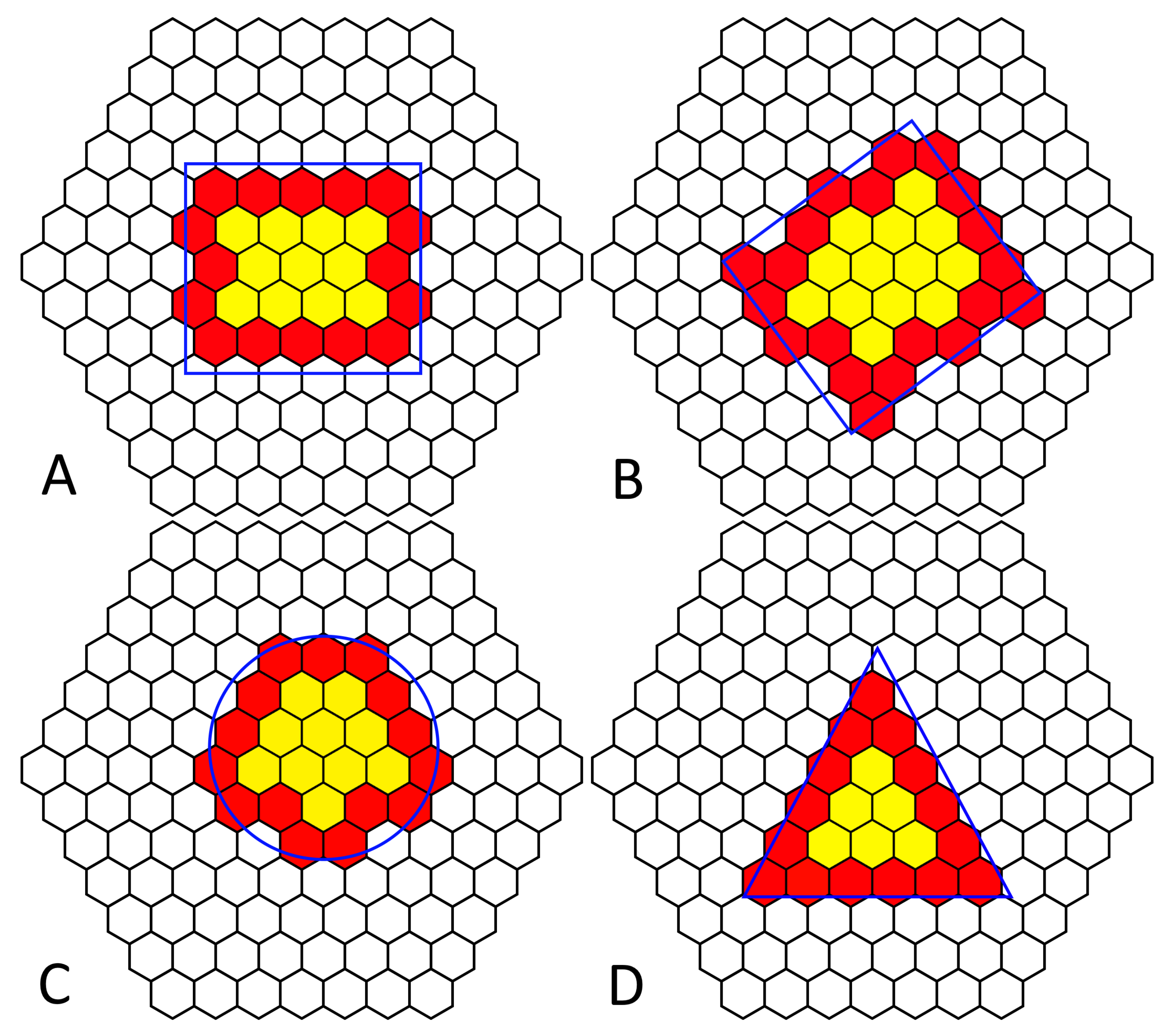 Beat Frequency
Blue
Red
Green
(Hz)
(mm/s)
0.2
11.7
10.7
12.5
0.4
18.3
17.7
19.6
0.6
26.5
23.6
30.6
0.8
35.1
33.9
38.0
1.4
44.3
41.9
45.6

© 2018 by the authors. Licensee MDPI, Basel, Switzerland. This article is an open access article distributed under the terms and conditions of the Creative Commons Attribution (CC BY) license (http://creativecommons.org/licenses/by/4.0/).