Open Access This article is
freely available
re-usable
Article
Against All Odds? Birth Fathers and Enduring Thoughts of the Child Lost to Adoption
School of Social and Political Science, University of Edinburgh, Edinburgh EH8 9YL, UK
Received: 4 March 2019 / Accepted: 25 March 2019 / Published: 29 March 2019
Abstract
:
This paper revisits a topic only briefly raised in earlier research, the idea that the grounds for fatherhood can be laid with little or no 'hands-on' experience of fathering and upon these grounds, an enduring sense of being a father of, and bond with, a child seen once or never, can develop. The paper explores the specific experiences of men whose children were adopted as babies drawing on the little research that exists on this population, work relating to expectant fathers, personal accounts, and other sources such as surveys of birth parents in the USA and Australia. The paper's exploration and discussion of a manifestation of fatherhood that can hold in mind a 'lost' child, disrupts narratives of fathering that regard fathering as 'doing' and notions that once out of sight, a child is out of mind for a father. The paper suggests that, for the men in question, a diversity of feelings, but also behaviours, point to a form of continuing, lived fathering practices—that however, take place without the child in question. The conclusion debates the utility of the phrase "birth father" as applied historically and in contemporary adoption processes.
Keywords:
birth fathers; adoption; fatherhood
1. Introduction
There can be an enduring psychological/attachment bond between the child and their biological father that is of significance both to the child and the father, whether the father is present, absent or indeed has never been known to the child (
Clapton 2007, pp. 68–69
).
In this paper I wish to further explore the connection to their children experienced by birth fathers
1
in adoption. This exploration takes the form of a review and discussion of the existing literature relating to birth fathers plus the paper will draw upon developments in our understanding of how expectant fathers may develop attachments to their child as a means of the exploring the creation of the "enduring psychological/attachment bonds" found in the birth father literature. But first, a concise statement of context and clarity of definition is necessary.
2. Adoption
The traditional form of adoption in the U.K. has changed. Stranger (out of family) adoptions of healthy babies, voluntarily relinquished by natural parents has declined. In its place in a process that can be charted from the late 1980s, the majority of contemporary adoptions involve older children who have spent time in public care. These are children that have relationships with their parents, siblings and other family members. Many of these adoptions take place against the consent of the birth parents (
O'Halloran 2015
). This paper focuses on the biological fathers of the children of adoptions in the previous era of so-called "closed" adoptions referring to the sealing of records and practice of secrecy relating to a child's familial origins (
Ryburn 1995
). These closed adoptions are distinct from the more open adoptions of today when adoptive parents, adopted children and birth families are more likely to have some form of contact with each other, either before, during or after the adoption has taken place.
2
The marked increase in the practice of open adoption and decrease in closed adoptions can be dated roughly from the end of the 1980s (
Clapton and Clifton 2016
). The focus of this paper involves the closed adoptions prior to this period when, invariably, after the adoption, birth parents knew little or nothing about their child.
3. Birth Parents and Adoption
Research, in decreasing degree of attention has focused on adopted children, adoptive parents and families, birth mothers and birth fathers (
Clapton 2018
). The existing research on the impact of adoption on birth parents demonstrates the extreme and longstanding implications for them of the loss of a child to adoption. Most of this literature concerns birth mothers. The main UK studies (
Bouchier et al. 1991
;
Howe et al. 1992
;
Hughes and Logan 1993
;
Logan 1996
) concluded that there are continuing negative consequences for many birth mothers' physical and mental health and well-being. Research, especially in Australia, has characterised the birth mother experience as that of disenfranchised grief related to the continuation and domination of maternal feelings towards the child (
Robinson 2018
). There are far fewer studies of birthfathers.
Birth Fathers and Adoption
Our lack of knowledge—and misunderstandings—stands in contrast to some interesting facts on the ground. These are that:
4. Enduring Love, Enduring Fatherhood
In Author's study of thirty birth fathers, it was found that after the adoption of their child, whilst nearly half of the men experienced an eventual reduction of feelings of immediate distress, others reported that things either did not get better or that such feelings had intensified. Many of these feelings convey feeling like a father:
5. The Creation and Maintenance of Paternity
The present paper applies this notion of a more flattened, less hierarchical approach to relations between adopted people and their fathers whether the birth father is in the life of the child or not.
6. Who's the Daddy?
Thus there are many points along a spectrum of lived paternal-ness from no grounds to be called father to many reasons t to have the title and so what can be suggested is that the role of the father is disrupted and rendered more fluid in adoption. Such ambiguity is crystallised in disputes and debates over terminologies.
7. Conclusions: It's Only Words
Funding
This research received no external funding.
Conflicts of Interest
The author declares no conflict of interest.
1

The use of the term 'birth father' is explored in the latter part of this paper but for ease of flow and comprehension, the term will be used throughout to denote the biological father of the child given up for adoption.

2

This is not to suggest that adoption is a one-off event. Adoption is a life-long process for all (

Gediman and Brown 1991, p. 254

), rather it is to acknowledge efforts to achieve continuity of connections between birth families and adoptive families in contemporary adoptions.

3

The adoptive father is equally under-researched (

Siegel 2017

).

4

The dad or father question is discussed below.

5

It must be noted that the debates and controversies visited in this paper are very much anchored in Western culture, especially the anglophone world of the UK, USA, Canada, Australia and New Zealand all of which societies have experienced similar trends and developments in adoption. Elsewhere in the majority world, the issue of hierarchical distinctions and roles in fatherhood and fathering can be less controversial.

6

7

8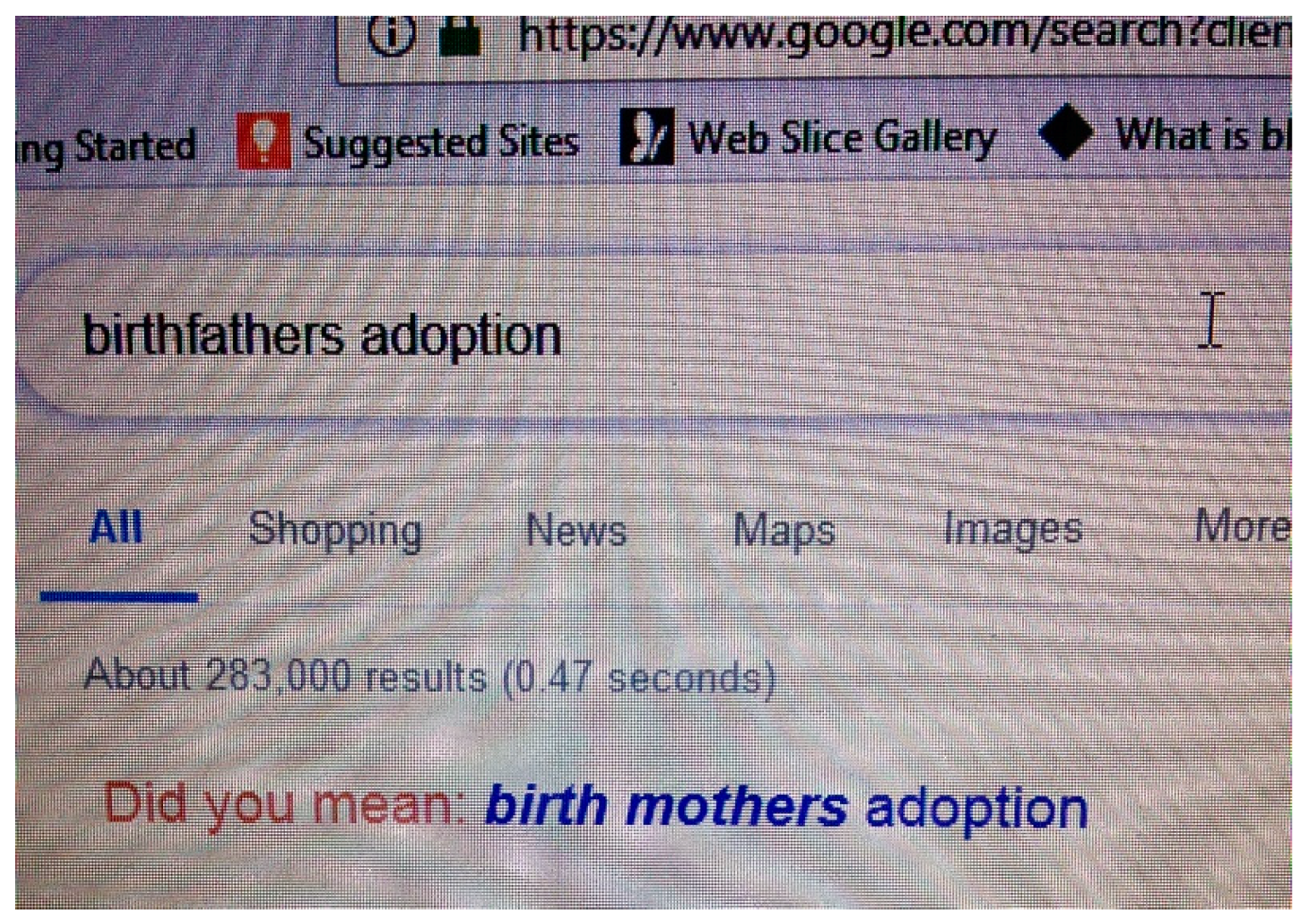 © 2019 by the author. Licensee MDPI, Basel, Switzerland. This article is an open access article distributed under the terms and conditions of the Creative Commons Attribution (CC BY) license (http://creativecommons.org/licenses/by/4.0/).