Fabrication of a Flexible Current Collector for Lithium Ion Batteries by Inkjet Printing
Flexible Electronic Devices and Sensors Lab, Department of Physics, New Jersey Institute of Technology, Newark, NJ 07102, USA
*
Author to whom correspondence should be addressed.
Received: 5 July 2018 / Revised: 4 August 2018 / Accepted: 7 August 2018 / Published: 3 September 2018
Abstract
A novel chemical process has been developed to formulate injectable nickel ink for conductive film. This chemical method has the ability to remove the oxidation on nickel nano-particle surfaces during ink fabrication; the nickel ions, which are produced during chemical etching, will be reduced and bridged among original nano-nickel particles in the following thermal sintering process at 350 °C. X-ray diffraction results exhibit that the final nickel film has no significant composition change by this chemical method and that oxidation has been effectively removed. Scanning electron microscopy images show that this chemical process reduces nickel oxides into nickel and that the reduced nickel sticks on the original nickel particle surface acting as a "bridge" connecting each particle. So solid diffusion can be triggered easily among bridged nickel particles and sintered at relatively low temperatures. The resistivity of printed film is to
∙m which is 71-times that of bulk nickel. The fabricated conductive nickel thin film has been applied on lithium ion batteries as a current collector for cathode and anode and shows good corrosion resistance and stability.
View Full-Text
►

▼

Figures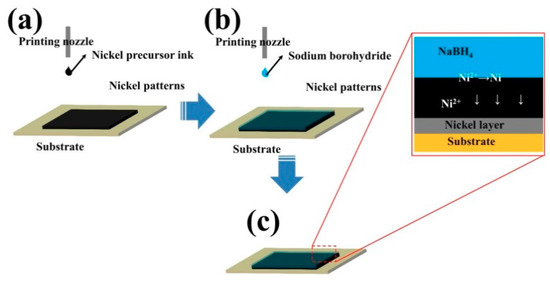 Figure 1
This is an open access article distributed under the
Creative Commons Attribution License
which permits unrestricted use, distribution, and reproduction in any medium, provided the original work is properly cited (CC BY 4.0).

Share & Cite This Article
MDPI and ACS Style
Gu, Y.; Federici, J.F. Fabrication of a Flexible Current Collector for Lithium Ion Batteries by Inkjet Printing. Batteries 2018, 4, 42.
Note that from the first issue of 2016, MDPI journals use article numbers instead of page numbers. See further details here.
Related Articles
Comments
[Return to top]