Open Access This article is
freely available
re-usable
Article
Fast Thermal Runaway Detection for Lithium-Ion Cells in Large Scale Traction Batteries
1
Deutsche ACCUMOTIVE GmbH & Co., KG, Neue Straße 95, 73230 Kirchheim u. Teck (Nabern), Germany
2
Electrical Energy Storage Systems, Institute for Photovoltaics, University of Stuttgart, Pfaffenwaldring 47, 70569 Stuttgart, Germany
*
Author to whom correspondence should be addressed.
Received: 23 February 2018 / Accepted: 20 March 2018 / Published: 27 March 2018
Abstract
:
Thermal runaway of single cells within a large scale lithium-ion battery is a well-known risk that can lead to critical situations if no counter measures are taken in today's lithium-ion traction batteries for battery electric vehicles (BEVs), plug-in hybrid electric vehicles (PHEV) and hybrid electric vehicles (HEVs). The United Nations have published a draft global technical regulation on electric vehicle safety (GTR EVS) describing a safety feature to warn passengers in case of a thermal runaway. Fast and reliable detection of faulty cells undergoing thermal runaway within the lithium-ion battery is therefore a key factor in battery designs for comprehensive passenger safety. A set of various possible sensors has been chosen based on the determined cell thermal runaway impact. These sensors have been tested in different sized battery setups and compared with respect to their ability of fast and reliable thermal runaway detection and their feasibility for traction batteries.
Keywords:
lithium-ion battery; thermal runaway; thermal propagation; fault detection; safety; global technical regulation on electrical vehicle safety (GTR EVS)
1. Introduction
With revelation of the exhaust fume manipulation of several car manufacturers in 2015 [
1
,
2
], the need for emission free transportation is higher than ever. Battery electric vehicles (BEVs), plug-in hybrid electric vehicles (PHEVs) and hybrid electric vehicles (HEVs) offer such an emission free or reduced emission transportation possibility [
3
]. Lithium-ion batteries feature a high energy and power density and are therefore economically seen as the most suitable energy storage technology for BEVs and PHEVs, replacing more and more nickel metal hydride systems in HEVs [
4
]. Entering the transportation market safety of lithium-ion battery technology becomes increasingly important. Certain triggers and abuse conditions can lead lithium-ion cells into a thermal runaway and result in a rapid increase in temperature, as well as venting, flames, flying parts, and explosion [
5
]. A thermal runaway is hereby not limited to batteries with lithium-ion cells but is also reported for some supercapacitors [
6
] and could therefore as well be a problem in battery systems containing supercapacitors. However, this work focuses on lithium-ion cells. If this cell reaction propagates with time to adjacent cells, the impact on a battery level can become severe and cause major damage to the vehicle and its environment or passengers [
7
]. Therefore, to ensure passenger safety in BEVs, PHEVs and HEVs, the United Nations released a draft on electrical vehicle safety.
In the United Nations global technical regulation on electrical vehicle safety (GTR EVS) section I. E. 7 c 112, II. 5.3.3 and II. 7.2.3 [
8
], the requirement for a functional safety mechanism is described as being able to detect the thermal runaway of a single cell within a traction battery, warn the driver about the error and therefore give all passengers a couple minutes of time to safely leave the car before hazardous situations occur. To realize such a safety feature, it is crucial to firstly detect a thermal runaway of a single cell.
As a state-of-the-art method, Feng et al. [
9
] showed an algorithm on how to detect an internal short circuit of a cell potentially leading to thermal runaway based on current, voltage and temperature data via a parameter estimation. Additionally, Roscher et al. [
10
] described a method to detect individual faulty cells within a battery system, based on impedance and capacity information. The work described in this article focuses on sensors measuring direct and indirect impact of cell thermal runaway. It examines and rates different sensors on their feasibility to securely and quickly detect a thermal runaway event of a lithium-ion cell within a battery and on their ability to be deployed in commercial traction batteries.
2. Thermal Runaway Impact
The different stages and reactions contributing to the general thermal runaway process of a lithium ion cell have been examined and studied well [
11
,
12
,
13
,
14
,
15
,
16
]. When a lithium-ion cell goes into thermal runaway, a variety of effects occur at the cell itself spreading to its surrounding environment [
7
]. Observations from previous tests have shown that these effects are very similar for all cell types (cylindrical hard case, prismatic hard case, pouch cell). One of the most common effects is the loss of cell voltage on the tabs, as in the case of pouch cells, because the electrodes are short circuited or as in the case of hard case cells because safety mechanisms disconnect the electrodes from the tabs. A second effect is direct heat coming from the self heating of the cell [
17
] caused by internal chemical reactions of the anode, cathode and electrolyte [
18
] as well as internal discharges due to a melting separator. Depending on the battery system design, adjacent cells and battery parts get heated up by the damaged cell and thereby damaged as well. Another effect is the production of gas due to the chemical reactions mentioned above. This gas generation causes a build up of internal pressure, which leads to swelling of the cell, including the application of force onto adjacent parts in the system and can result in rupture of the cell encapsulation [
19
,
20
]. Once ruptured, the cell begins to vent and together with the produced gas a chaotic mixture of hot and glowing particles are ejected from the cell. These particles are usually ripped off of pieces of active material from the cell's anode and cathode. Previous measurements on the gas/particle stream revealed temperatures ranging between K K. Analysis of the ejected gas showed high proportions of hydrogen and carbon monoxide. Therefore, flammability and the risk of explosion is given at a fuel concentration from [
21
]. The mentioned effects usually have their impact on the battery and its environment spread over a certain time. With the first cell going into thermal runaway, venting starts at the cell and subsequently from the battery. The thermal runaway process of a single cell usually decays after approximately 20 seconds to a minute, which has been observed in former tests. In the case of thermal coupling between cells without any thermal propagation counter measures, adjacent cells can then start to go into thermal runaway adding more heat to the battery system and producing additional venting gas. This propagation process can speed up, and, at a certain time, usually several minutes, the battery housing may lose integrity due to the amount of thermal energy. It is important to either prevent a thermal propagation or to give passengers enough lead time, usually in the frame of several minutes to safely leave their car.
3. Tested Sensors Set
Based on the different impacts of a cell thermal runaway described in
Section 2
, a set of sensors has been chosen to be evaluated as fast single cell thermal runaway detectors within a traction battery.
Table 1
gives an overview of the sensors that have been investigated. Sensor S1, the voltage sensor is first, as it is already implemented in most battery designs for reasons of cell supervision and safety [
22
]. The measured voltage will be the one from the first cell going into thermal runaway. Sensor S2 is a gas sensor made out of a tin dioxide (SnO) semiconductor. The gas sensor is sensitive to Methane (CH), Propane (CH) or carbon monoxide (CO), for example, and decreases its good conductivity in clear air when detecting gas. The mentioned gases are part of the venting gas composition ejected from a lithium-ion cell in thermal runaway [
21
,
23
,
24
,
25
]. Sensor S3 is a self-made smoke detector, based on the principles of a conventional photoelectric smoke detector consisting of an infra red (IR) LED and an element sensitive to the IR-radiation. Previous tests have shown a high concentration of dark smoke and grime ejected with the venting gas. In clear air, the IR radiation will not impinge on the sensor as the LED is pointed away, but with an increasing amount of smoke particles, and, therefore, occurring reflection of IR-light from the LED, the sensor will increase its detection signal. As a creep distance sensor, S4, a piece of printed circuit board (PCB) is used. The PCB features two 10 cm long and 2 mm wide line-shaped solder pads, placed approximately 1 mm apart. With a clean surface, the creep distance sensor has very high resistance between the two pads in the range of several mega ohms. With increasing pollution of the surface, the resistance drops in relation to the degree of pollution and outputs a signal via a voltage divider. A temperature sensor, S5, is realized through a type-K (NiCr-Ni) thermo couple and measures the temperature of air or venting gas. S6, a pressure sensor measuring absolute pressure in the range of kPa kPa, is used to determine the rise of internal battery pressure due to gas generation of a single cell. This sensor can only be used in tests with a closed battery housing, as, otherwise, pressure wouldn't rise. The last sensor, S7, a single point thin film piezoresistive force sensor with the range of N N, is used to measure the force between a cell in thermal runaway and adjacent parts/cells caused by the cell swelling.
All sensors deliver an analog voltage signal, some others (S1, S5) can genuinely be easily transformed into a voltage signal with the help of a voltage divider circuit (S2–S4, S7) and the pressure sensor (S6) already gives out an analog voltage signal.
4. Experiment
Test V1 included a single pouch cell made of LiNiMnCoO (NMC) cathodes and graphite anodes, with a capacity of 20 Ah, cavity volume of roughly cm and a volumetric energy density of . The cell is placed inside of an aluminum housing with a venting opening. Test V2 included several pouch cells made of NMC cathodes and graphite anodes, each with a capacity of 65 Ah and with cavity volume of cm resulting in a volumetric energy density of . Each two cells were connected in parallel and these parallel packs were then connected in series (2p connection). The cells were arranged in one cell module and then encapsulated by an aluminum housing with a hole on the backside to allow venting. Test V3 was set up with cells made of NMC cathodes, graphite anodes, each with a capacity of 58 Ah and the cavity volume of cm resulting in a volumetric energy density of . The cells were connected as two in parallel (2p connection) and then arranged in two cell modules. These cell modules were placed in an aluminum housing with venting openings.
6. Discussion
Signal clarity has a great impact on how easy it is to evaluate the detection signal and therefore how eligible a sensor is. This includes how close an output signal comes to a step function (no detection—low level, detection—high level or vice versa) as well as how complicated the evaluation electronics or algorithm has to be. Voltage (S1) and gas sensor (S2) show a very clear step function. The step of roughly V for the voltage sensor, and roughly the same for the gas sensor with a voltage divider, is in a range that is easy to measure. Smoke (S3) and temperature (S5) come second with a rating of (0). While the smoke sensor shows a distinct no-detection-level and detection-level, it has an undefined transition period between these two levels. The temperature sensor (S5) has a constant no-detection-level but no clear detection-level. However, temperature jumps of C allow a clear detection. Signal evaluation, on the other hand, can be quite complex for thermo couples due to their small output signal change. Creep distance (S4), pressure (S6) and force (S7) are rated (-) for signal clarity. Their signals only show short spikes (S6 and S7) or only small changes in signal (S4). To detect the spikes reliably would require higher sampling frequency and complex evaluation algorithms to handle the small and indistinct signal changes.
7. Conclusions
This work examines a sensor set, which is chosen based on evaluated thermal runaway impacts, and shows that each sensor was able to detect a thermal runaway independent from battery size or cell energy density. There is no clear single favourite sensor for a thermal runaway detection as each of them have their challenges and disadvantages, described in
Section 6
. Depending on the battery design, a combination of two or more sensors can help to create a detection system where disadvantages of single sensors are canceled out and reliability of the overall system is improved. Final considerations for the sensor selection should include lifetime stability, diagnosis capabilities, mountability and cost, which are strongly dependent on the battery design and mission profile.
Other battery types, such as stationary battery systems as operating reserves in electricity networks or stand-alone power systems, can have different requirements towards feasibility or detection speed, and, therefore, a different sensor solution has to be evaluated. The power consumption of a gas sensor might be not as important anymore and the disadvantages in detection speed of a smoke detector might be negligible making these sensors more suitable for such battery types.
Acknowledgments
The authors gratefully acknowledge the support from Dt. ACCUMOTIVE GmbH & Co. KG, Kirchheim u. Teck (Nabern), Germany.
Author Contributions
Sascha Koch and Robert Kuhn conceived and designed the experiment. Sascha Koch analyzed the data. Sascha Koch wrote the paper; and Robert Kuhn and Kai Peter Birke contributed to the manuscript designed and revised the paper.
Conflicts of Interest
The founding sponsors had no role in the design of the study; in the collection, analyses, or interpretation of data; in the writing of the manuscript, and in the decision to publish the results.
Abbreviations
The following abbreviations are used in this manuscript:
| | |
| --- | --- |
| BEV | Battery electric vehicle |
| PHEV | Plug in hybrid electrical vehicle |
| HEV | Hybrid electric vehicle |
| GTR EVS | Global technical regulation on electrical vehicle safety |
| SnO | Tin dioxide |
| CH | Methane |
| CH | Propane |
| CO | Carbon monoxide |
| IR | Infra red |
| LED | Light emitting diode |
| PCB | Printed circuit board |
| NMC | LiNiMnCoO |
| SOC | State of charge |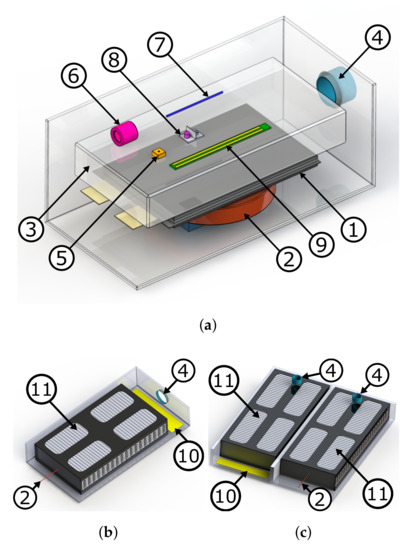 Figure 1. Drawings of the three different test setups. (a) Setup V1, (b) setup V2 and (c) setup V3. The housings are only partially shown for better visibility of the cells (1) and cell modules (11). Trigger device heat plate/nail (2), filler block (3), venting opening (4), pressure sensor (5), gas sensor (6), temperature sensor (7), smoke detector (8), creep distance sensor (9) and area with sensors (10).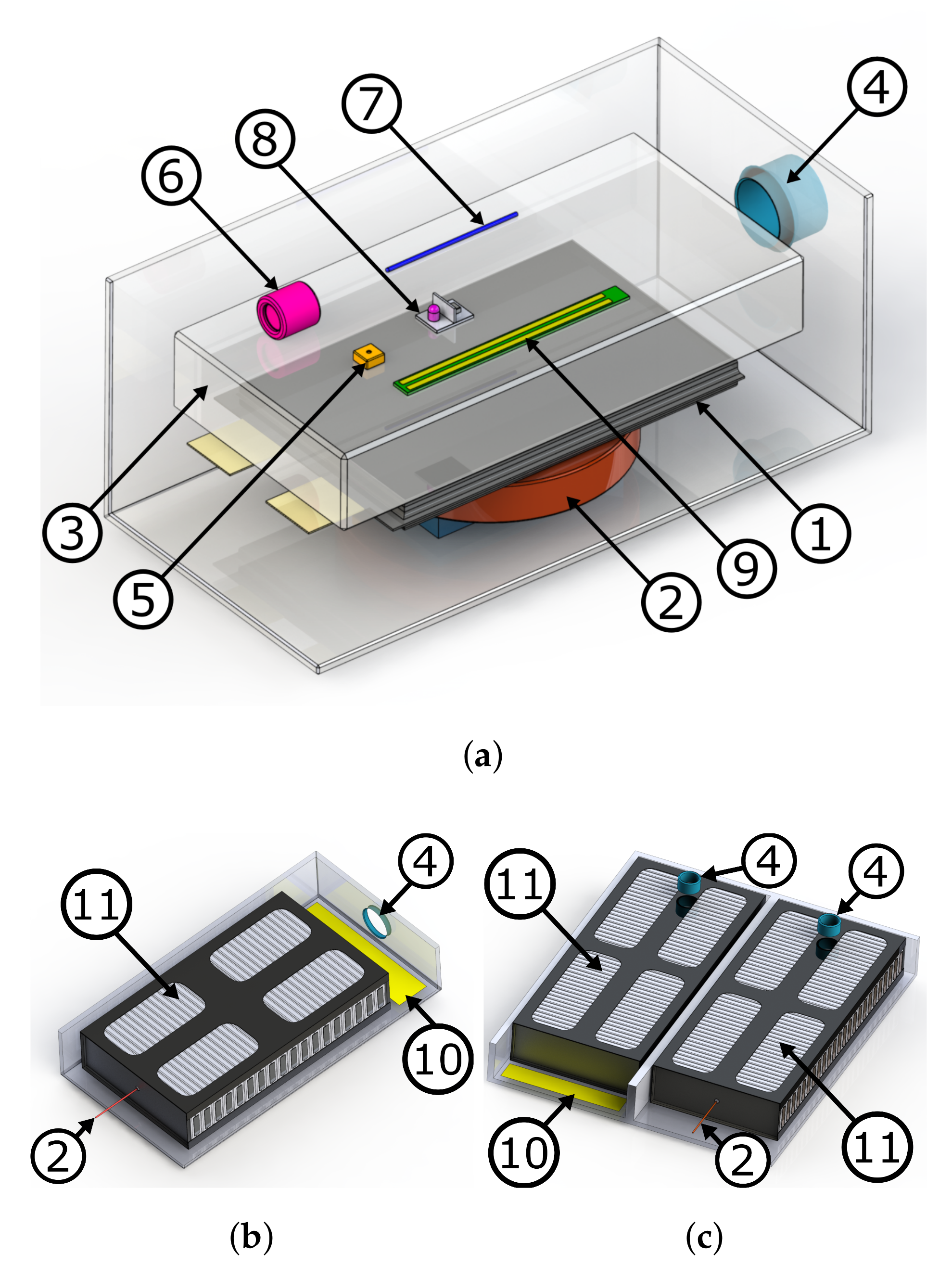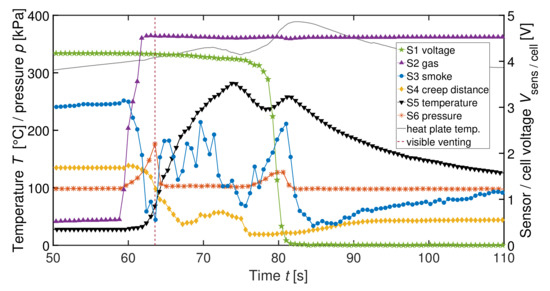 Figure 2. Readings of the sensors in test V1. The dashed line labeled with "visible venting" indicates the time when a venting was visible outside of the battery housing. All sensors detect the thermal runaway effects of the cell within a time window of about s.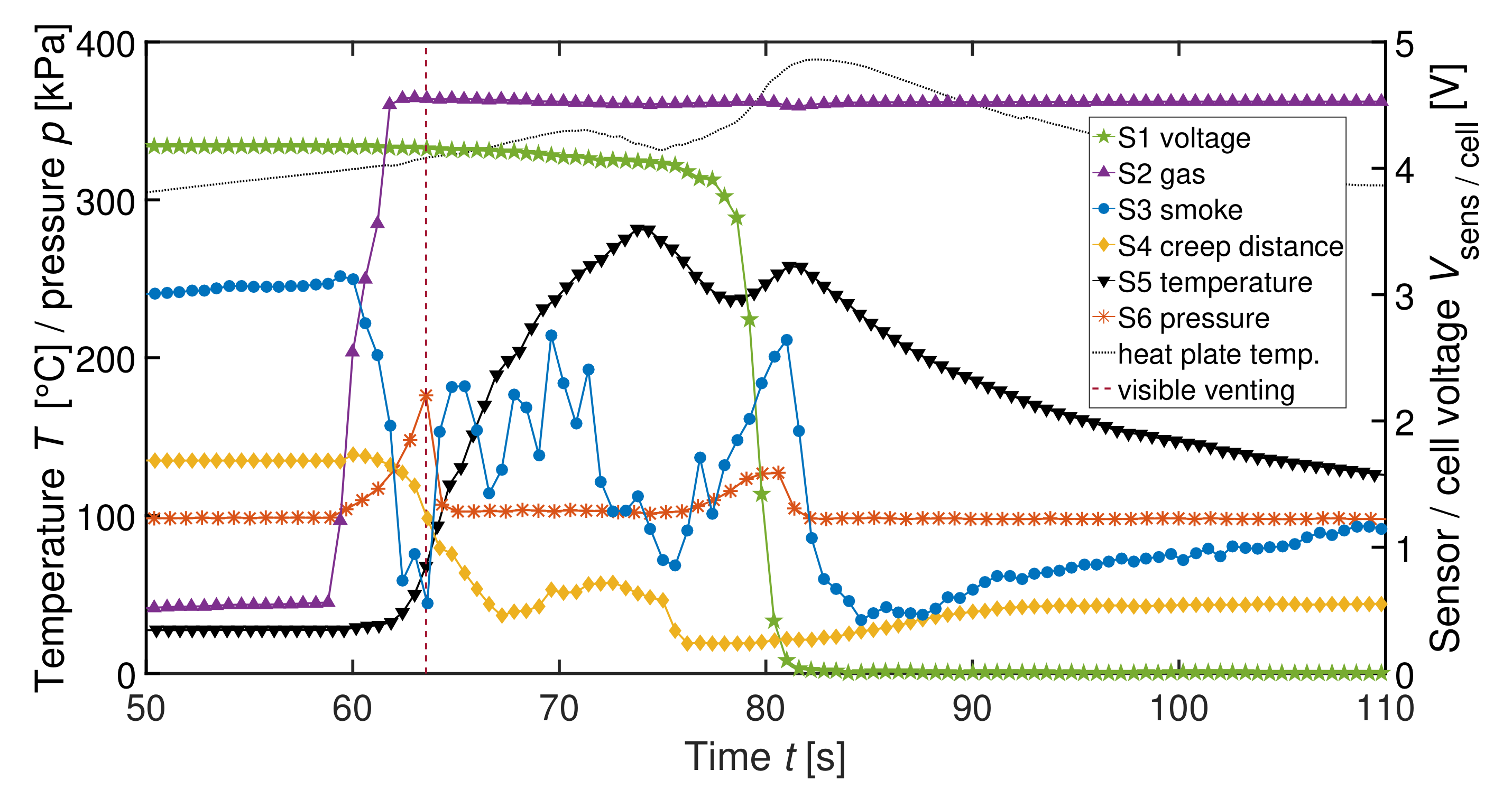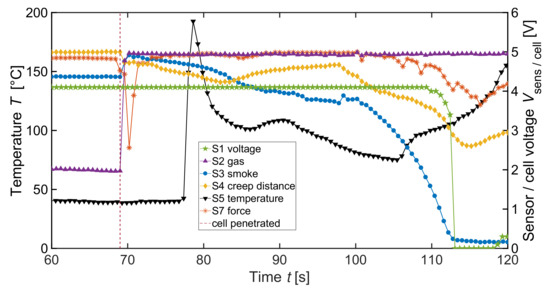 Figure 3. Sensor readings during test V2. The dashed line indicates when the trigger cell is fully penetrated. The detection time window is about s wide, mainly stretched by the late drop in the cell voltage.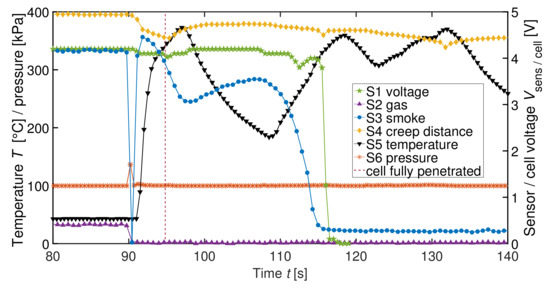 Figure 4. Measurements of test V3. The dashed line again displays when the trigger cell is completely penetrated. The detection window is about s wide and therefore in the same range as in tests V1 and V2.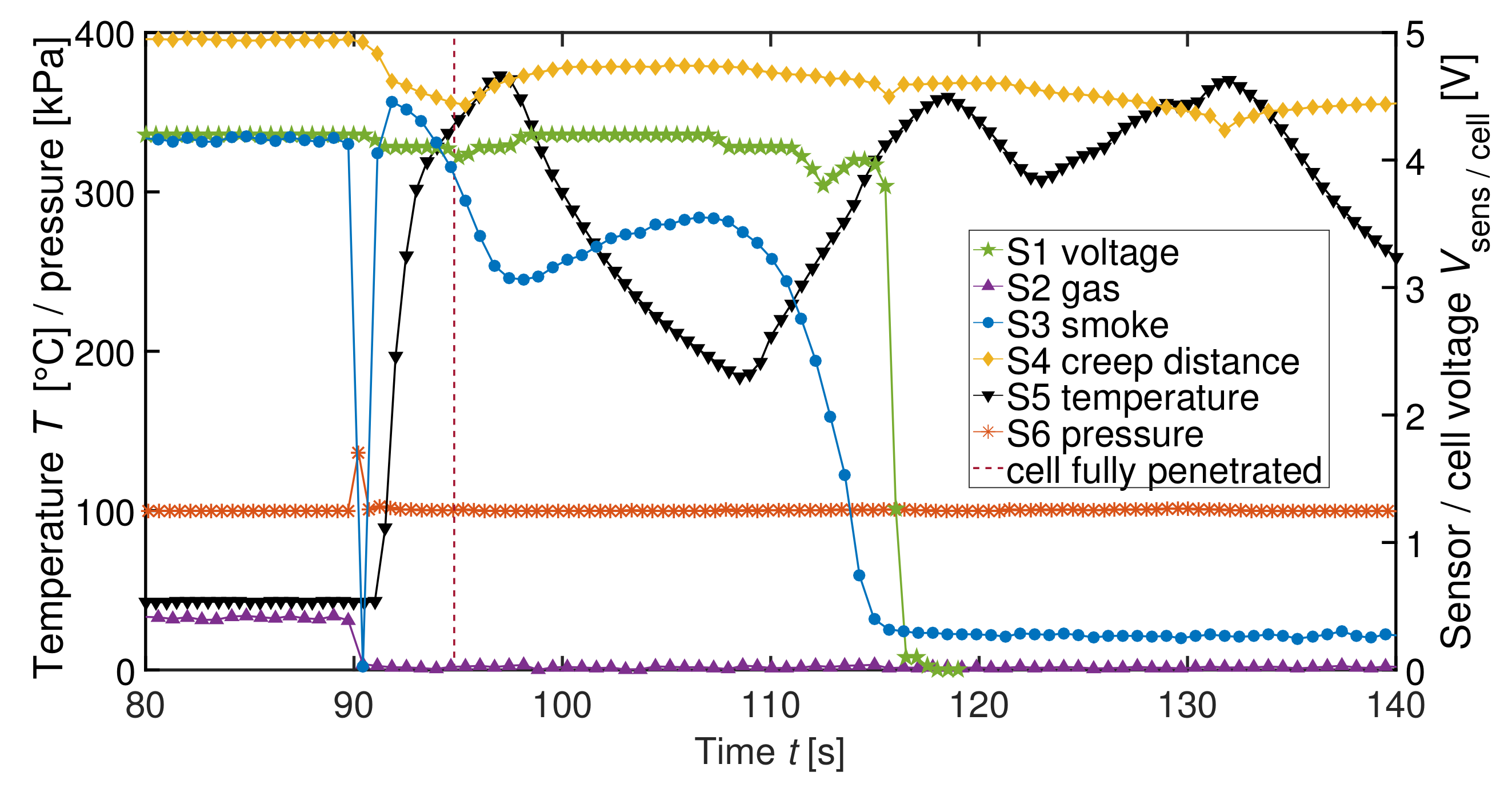 Table 1. Overview over the investigated sensor set. All sensors deliver a voltage output signal or can easily be transformed into one by a voltage divider.
| Label | Sensor | Measured Physical Dimension |
| --- | --- | --- |
| S1 | voltage sensor | voltage of first logical cell |
| S2 | gas detector | presence of chemicals |
| S3 | smoke detector | smoke particle density |
| S4 | creep distance sensor | electrical resistivity of surface |
| S5 | temperature sensor | gas temperature |
| S6 | pressure sensor | pressure |
| S7 | force sensor | force between cells |

Table 2.
Summary of conducted experiments. All tests have been carried out at a state of charge and test V2 and V3 have been executed at C. Sensor labels reffer to
Table 1
.
| Test | Cell Volume | Cell Energy Density | Connection | Module Count | Trigger | Sensors |
| --- | --- | --- | --- | --- | --- | --- |
| V1 | 210 cm | 350 Wh L | 1p | 1 | Heating | S1-S6 |
| V2 | 370 cm | 700 Wh L | 2p | 1 | Nail penetration | S1–S5, S7 |
| V3 | 390 cm | 540 Wh L | 2p | 2 | Nail penetration | S1-S6 |

Table 3. Evaluation of the different sensors on three categories. Signal clarity describes how close the detection signal comes to a step function and how easy it is to evaluate it, whereas sensor feasibility evaluates how easy the sensor can be deployed. Grading goes from (+) good, to (0) neutral to (-) bad.
| Sensor | Detection Speed | Signal Clarity | Sensor Feasibility |
| --- | --- | --- | --- |
| S1 voltage | - | + | + |
| S2 gas | + | + | - |
| S3 smoke | - | 0 | 0 |
| S4 creep distance | - | - | + |
| S5 temperature | 0 | 0 | 0 |
| S6 pressure | + | - | + |
| S7 force | + | - | 0 |

© 2018 by the authors. Licensee MDPI, Basel, Switzerland. This article is an open access article distributed under the terms and conditions of the Creative Commons Attribution (CC BY) license (http://creativecommons.org/licenses/by/4.0/).