Open Access This article is
freely available
re-usable
Perspective
Molecular Spins in the Context of Quantum Technologies
1
CNR Institute of Nanosciences, S3, via G. Campi 213A, 41125 Modena, Italy
2
Dipartimento di Scienze Fisiche, Informatiche e Matematiche, Università di Modena e Reggio Emilia, via G. Campi 213A, 41125 Modena, Italy
*
Author to whom correspondence should be addressed.
Academic Editor: Floriana Tuna
Received: 13 January 2017 / Accepted: 13 February 2017 / Published: 25 February 2017
Abstract
:
Molecular spins have shown interesting quantum features, which make them potential candidates for the implementation of quantum information processing. New challenges related to possible applications in the broader class of quantum technologies are currently under discussion. Here, we revisit some key features trying to learn something from experiences in related fields.
Keywords:
molecular nanomagnets; quantum technologies
1. Introduction
Quantum computing (QC) is one of the quantum technologies (QT) [
1
] that aims at exploiting genuine quantum features of systems and devices. QC was envisaged in the early 1980s by Richard Feynman and other pioneers and, since then, other possible applications of quantum systems became feasible thanks to technological progress. Among QTs, quantum communications, sensing, cryptography, and metrology are now attracting much interest. In addition to the discreteness of energy levels, the possibility to create and maintain superposition of states and quantum correlation (entanglement) are considered two of the main features of quantum systems that do not exist in the classical world. Quantum systems, such as photons, cold atoms, spin impurities in solids, and semiconducting and superconducting devices have been intensively studied in the last decades, several applications based on these systems are in rapid development, and some of these have already appeared in the market.
Different spin centers in the solid state have been—and currently are—intensively studied for potential applications: spin impurities in Si have been studied and proposed for qubit encoding [
2
]; Nitrogen vacancy (NV) centers, as well as other color centers in diamond or SiC, are now attracting much interest for their potentialities as atomic scale sensors, besides the possibility to use them as hardware for QC [
3
]. In spite of different preparation technologies, experiments (e.g., manipulation and read out of spin) and modeling (e.g., spin dynamics, sources of decoherence, spin entanglement, etc.) all of these spin systems obviously share many analogies, thus we can probably learn something by comparing the properties of molecular spins to those of other spin systems. This is intended to be the main stream of this article. We shall focus on three main trends in the field: coherent manipulation of spin ensembles; molecular quantum spintronics; and the perspective to embed (molecular) spins in quantum circuits.
2. Coherent Spin Dynamics of Spin Ensembles
3. Molecular Quantum Spintronics
The addressing, manipulation, and read out of single molecular objects constitute the next great conceptual and technological challenge. If we can avoid some of the drawbacks found in using spin ensembles, here we have to find efficient ways to detect tiny magnetic signals and to individually manipulate spins by protecting fragile quantum states from the environment at the same time.
Different approaches have been tested to detect tiny magnetic signals: one milestone was the development of nano-SQUID made with carbon nanotube [
39
]. Despite the magnetic flux sensitivity of these devices being able to achieve the quantum limit, the main limitation of these types of magnetometers is constituted by the magnetic coupling—through space—of the molecule with the sensor. Direct single molecule detection by charge current seems more appealing, at least for spintronic devices, and it may benefit from the progresses achieved in close fields such as molecular electronics, scanning microscopy, and single-electron semiconducting devices.
The use of scanning probe microscopes, more specifically tunneling tips, holds much promise for their potentialities to localize, move and read out single magnetic atoms and molecules [
40
]. With respect to bare magnetic atoms, the presence of an organic ligand seems to delocalize the magnetic features of the molecule [
41
] and data interpretation is still under debate. Recently interesting experiments on the manipulation and read out of molecular spin (TbPc
2
) by radio frequency [
42
] and single magnetic atom on a surface by pulsed microwave sequences have been reported [
43
].
At the same time, the development of tunnel junctions that may host a single molecule (
Figure 2
) have been independently reported by different groups. Magnetic features of individual molecules have been observed and reported for Fe
4
[
44
,
45
], TbPc
2
[
46
], and organic radicals [
47
]. An open question here is how the charge current from the leads perturbs the magnetic state of the molecule. Changes of valence (and spin) state of the magnetic core are indeed expected. Since each type of molecule behaves in different way, this issue needs to be evaluated case by case. An alternative read out scheme comprises a quantum dot whose conductivity is affected by the spin state of the magnetic center that is in close proximity and coupled with the device. This scheme is analogous to the spin dependent tunneling that is used to read out spin qubits also in semiconductors, but here the quantum dot can be made by carbon nanotube [
48
], graphene nano-constrictions [
49
], or even the organic radical present in the ligand of the molecule, as demonstrated in the case of a TbPc
2
molecular spin transistor [
50
]. In this scheme, the charge channel and the spin center are two separate bodies, coupled by exchange interaction (see
Figure 3
).
The experiments reported by the Grenoble team went a step ahead demonstrating the possibility to read out and manipulate the nuclear spin state. The nuclear spin of Tb (
I
= 3/2) is indeed coupled to the electron magnetic moment (ground state
J
= 6,
mJ
= ±6) by the hyperfine interaction (
Figure 3
) giving rise to hybrid electron-nuclear states whose level anti-crossing (LAC) are quite visible at low magnetic fields. The nuclear states can be identified by sweeping the magnetic field and comparing the position of the LACs with those measured on bulk samples. Note that, since measurements are performed on a single qubit, the process must be repeated several times in order to obtain significant statistics.
By exploiting the long coherence time of nuclear spin (coherence time exceeding 60 μs) and the hyperfine electric Stark effect, the same team has then demonstrated that it is possible to manipulate the nuclear spin of a single molecule. More specifically, nuclear spin trajectories [
52
] and Ramsey fringes have been observed [
53
]. These results compare well with similar experiments reported for spin impurity (P donor) in Si [
54
] and witness a tangible contribution of molecular magnetism to QT. At the same time, we expect that the next steps along this research line will move in parallel with similar devices based on spin impurities in semiconductors [
55
] or NV centers in diamond [
56
], that is, the implementation of two-qubit gates or multi-qubit algorithms.
Working devices need to be reliable and protocols for quantum error correction need to be developed. The problem of error correction is well known in computer science and some schemes are discussed in textbooks [
22
]. Briefly, it may occur that during a quantum operation a qubit accidently flips, invalidating the whole process. To mitigate and correct these errors we may encode the qubit in more than one (typically three) processor and then use the majority rule: if the probability of an accidental flip is relatively low, two qubits over three remain in the correct state while one contains an error. In this case the majority (two over three) determine the correct state while the third one can be corrected. Further methods to correct different type of quantum errors have been reported in the literature for other spin systems, in particular those tested for NV centers [
57
].
The previous discussion leads us to another technological issue: soon or later we would need to have arrays of similar devices working at the same time in order to guarantee the scalability of our computing machine. Although this aspect is less discussed in literature, the rate of success
R
in the device fabrication process is relatively low (often <10%). These numbers are typical for tunnel junctions in molecular electronics, although they related to the specific fabrication process and certainly need—and can—be improved in future by exploiting novel bottom-up fabrication methods. It should be noted, however, that the fabrication of CMOS-compatible quantum devices below 10 nm by top-down (lithographic) techniques are also affected by low yields. In view of applications, it is worth fixing some benchmarks that may assess the reliability of the fabrication process. As an example, let us suppose we intend to test a quantum error correction protocol. As mentioned above, we'd need at least three identical devices and in this case the probability to get all of these working at the same time will drop at
R
3
. Thus, we would need to fabricate 10
3
devices to get at least one working machine to test quantum error correction code!
Concerning multi-qubit devices, a key experiment would be the implementation of Grover's algorithm within the ground state multiplet [
58
]. The Grover's algorithm efficiently solves a specific problem by performing a search of an item within a set of data. The sub-levels of the ground multiplet inequivalently spaced in energy constitute an excellent playground to test this scheme since each of them can be addressed separately by microwave pulses. Note that, in this scheme, spin entanglement is not required, so the scheme can be implemented within a single molecule. As a proof of concept, few sub-levels can be considered, but it is worth mentioning that the implementation is hardly scalable by using a single molecule. It is nevertheless worth to highlight here that, so far, the Grover's algorithm has been implemented with trapped ions, photons, and superconducting qubits but, for the best of our knowledge, not with other solid state platforms, such as impurities in Si.
4. Molecular Spins in Hybrid Quantum Architectures
The ability to manipulate and read out an arbitrary spin state in a molecule is certainly a pre-requisite to be a good candidate for quantum information processing. Yet, other features are required in view of the wider exploitation of molecular spins for quantum technologies. One of these is the possibility to exchange quantum information between solid state registers (spins) and flying qubits (photons). Molecules offer a broad spectrum of frequencies for an efficient coupling with photons: nuclear spins are active at radio frequencies (MHz) while the pattern of magnetic energy levels of electron spins fully covers the microwave (MW) range (GHz). The main challenge is to coherently couple the spin with photons, that is, the match in energy should occur along with the transfer of phase information. This implies that the spin manipulation should be fast enough to overcome the decoherence mechanisms of both the spin and photon systems. Key experiments in this context make use of microwave resonant cavities with high quality factor in which long-lived photons trapped in the cavity couple with spins (
Figure 4
). First tests are typically performed in the continuous wave operation mode, although the final goal is to obtain hybrid devices in which quantum information is exchanged through MW pulse sequences. Coherent spin-photon states are obtained in the so-called high coperativity regime for which the spin-photon coupling is stronger than each decoherence rate of spins and photons [
7
]. Again, only molecular spins with the longest coherence time are suitable to pass this test. Spin can couple with the magnetic component of radiation B
1
through their dipole moment
gμBS
, yet this interaction is in general very weak and we need to develop strategies to enhance it. Molecular engineering may allow the enhancement of both the Landé
g
-factor and the total magnetic moment of the ground multiplet beyond ordinary values obtained for single atoms. Another strategy to strengthen the spin-photon coupling is to use spin ensembles. It has been demonstrated in fact that the spin-photon coupling can be enhanced by a factor of √
N
—with
N
being the total number of spins—by using collective modes [
7
]. Although the general problem of coupling photons with a two-level system (e.g., atoms, molecules with electric dipoles, etc.) is well documented in the literature; only recently experimental investigations focused on spin systems have been reported. The high coperativity regime was achieved by using coplanar superconducting resonators and NV centers [
59
] or Er spin impurities in inorganic matrix [
60
] at mK temperature. We are currently using high
T
c
superconducting planar resonators [
61
] that show excellent performances at finite temperature (up to 50 K, at least) and in strong magnetic fields and, with these, we can achieve a strong coupling regime with 2,2-diphenyl-1-picrylhydrazyl (DPPH) [
59
] and (3,5-Dichloro-4-pyridyl)bis(2,4,6-trichlorophenyl)methyl (PyBTM) [
62
] organic radicals at the temperature of liquid helium, and even above. It is worth noting that, in these latter cases, the strong coupling regime was obtained by using concentrate samples that present sharp resonance lines due to exchange narrowing. As concerns mononuclear molecular metal-spin centers, preliminary results on diluted crystals show that we get close—but not yet fully in—to the high cooperativity regime [
63
]. For comparison, a snapshot summary of these preliminary results is plotted in
Figure 5
. It should be emphasized, however, that data reported in
Figure 5
depend only in part on the intrinsic features of the spin centers. Other parameters, such as temperature, number of spins, and cavity characteristics, influence both the spin-photon coupling and the spin resonance linewidth. Thus, for instance, in
Figure 4
different values are reported for same derivative at different temperatures or spin concentrations. Results on Cu(nmt)
2
crystals are quite encouraging: if we extrapolate trend at low temperature (open symbols) we can safely expect that the strong coupling regime can be achieved below 1 K.
An alternative approach is to locally enhance the intensity of MW zero-point current fluctuations. It has been proposed indeed that nano-structured superconducting strip lines may allow the achievement of the strong coupling regime even with a single (molecular) spin, and this can be used for scalable architectures [
64
]. Experiments are currently testing different solutions since the detection of tiny signals requires extraordinary sensitivity. By using Josephson junctions amplification, the detection of a small ensemble of about 10
3
spins has been reported and this is, at present, the best performance of EPR nano-detection [
65
]. The use of electric field component to manipulate spins is a further attractive alternative and several mechanisms have been proposed [
66
] and they are currently under investigation [
67
].
Achieving strong coupling regime with microwave photons allows the integration of molecular spins in hybrid quantum devices. Superconducting circuits are normally used as a bus to transfer quantum information between different quantum memories and registers. In a recent experiment, we have demonstrated that we can couple two or more distinguished spin ensembles through resonant microwaves photons by spectroscopic measurements [
62
]. Next steps along this line could be the integration of molecular spins in more complex superconducting circuits with the encoding of sequences of MW pulses. This will eventually allow the performance of quantum algorithms [
68
] or simply to transfer qubits from fast quantum registers to memories. Along this line, pulse MW sequences have been used to efficiently transfer qubits in hybrid superconducting circuits with NV centers [
69
]. Again, we may learn a significant amount from fields close to molecular magnetism!
Acknowledgments
This work has been partially supported by the Italian Ministry of University and Research through the PRIN project
QCNaMos N
. 2015HYFSRT, by the European Community through the FET-Proactive Project MoQuaS by contract no. 610449 and by the US AFOSR/AOARD program, contract 134031 FA2386-13-1-4029.
Author Contributions
All authors contributed to write this article.
Conflicts of Interest
The authors declare no conflict of interest.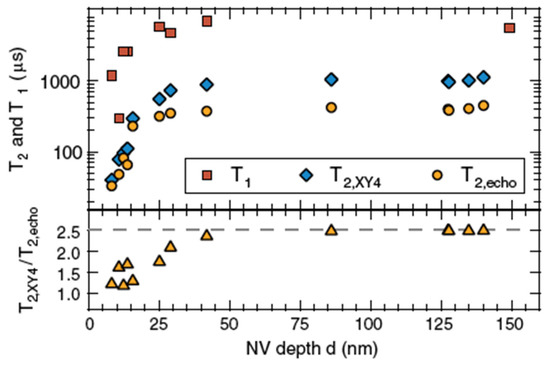 Figure 1.
Coherence time T
2
and relaxation time T
1
as a function of the NV depth in diamond. The plot shows strong suppression of coherence for shallow NV centers. The lower panel shows
T
2;XY4
=
T
2echo
ratio that is reduced as well with decreased depth, also indicating that dynamical decoupling with
N
= 4 pulses is less efficient for shallower NVs (reproduced from [
18
] with permission from the American Physical Society).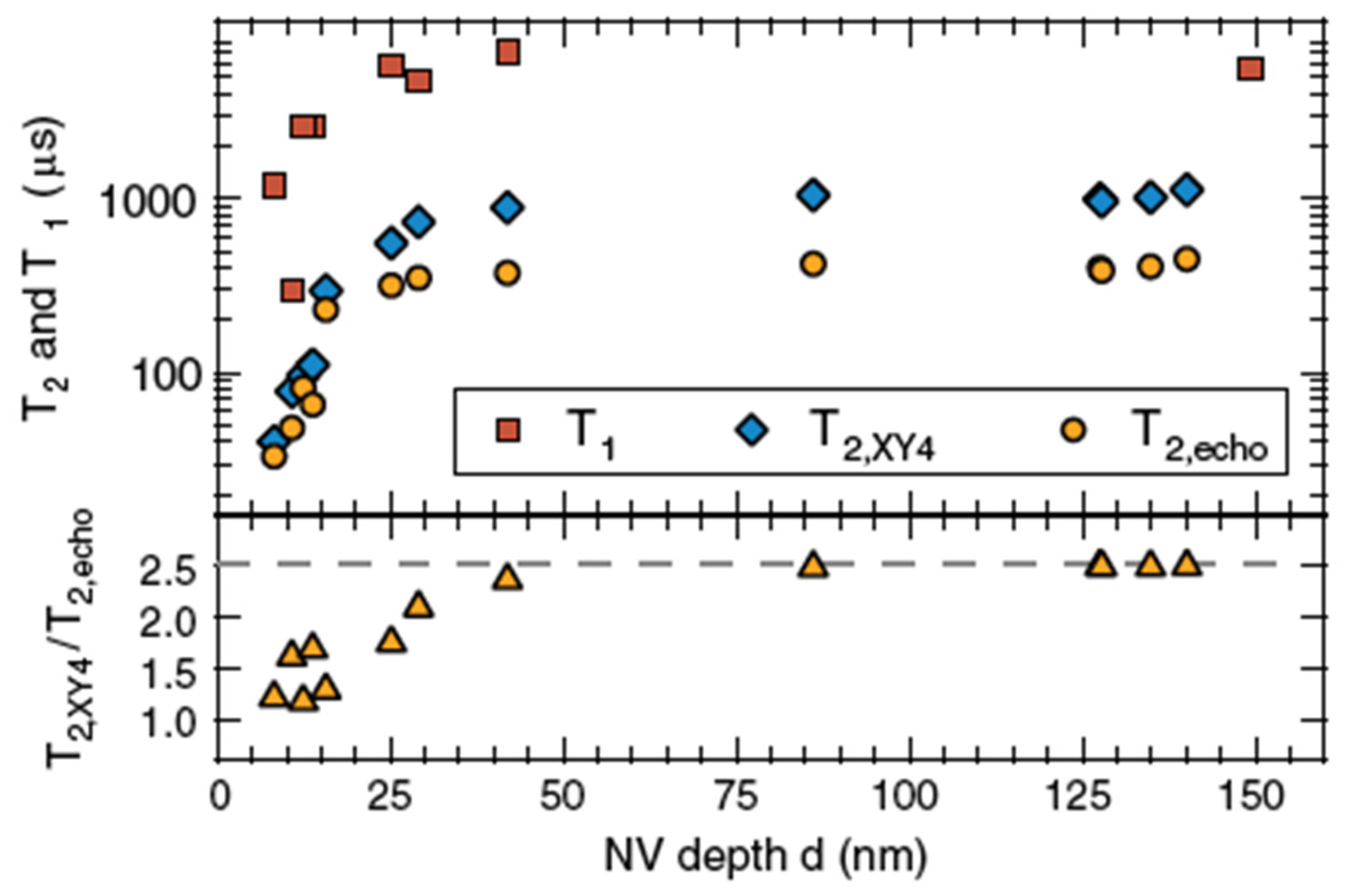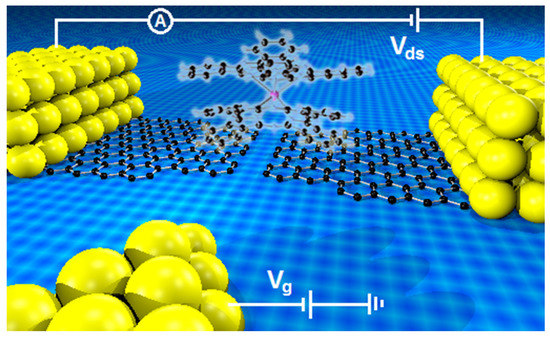 Figure 2.
Molecular spin transistor made by graphene electrodes and a TbPc
2
molecule. In this case graphene-based electrodes are used to contact the TbPc
2
molecule (reproduced from [
51
] with permission from the Consiglio Nazionale delle Ricerche (CNR) and The Royal Society of Chemistry).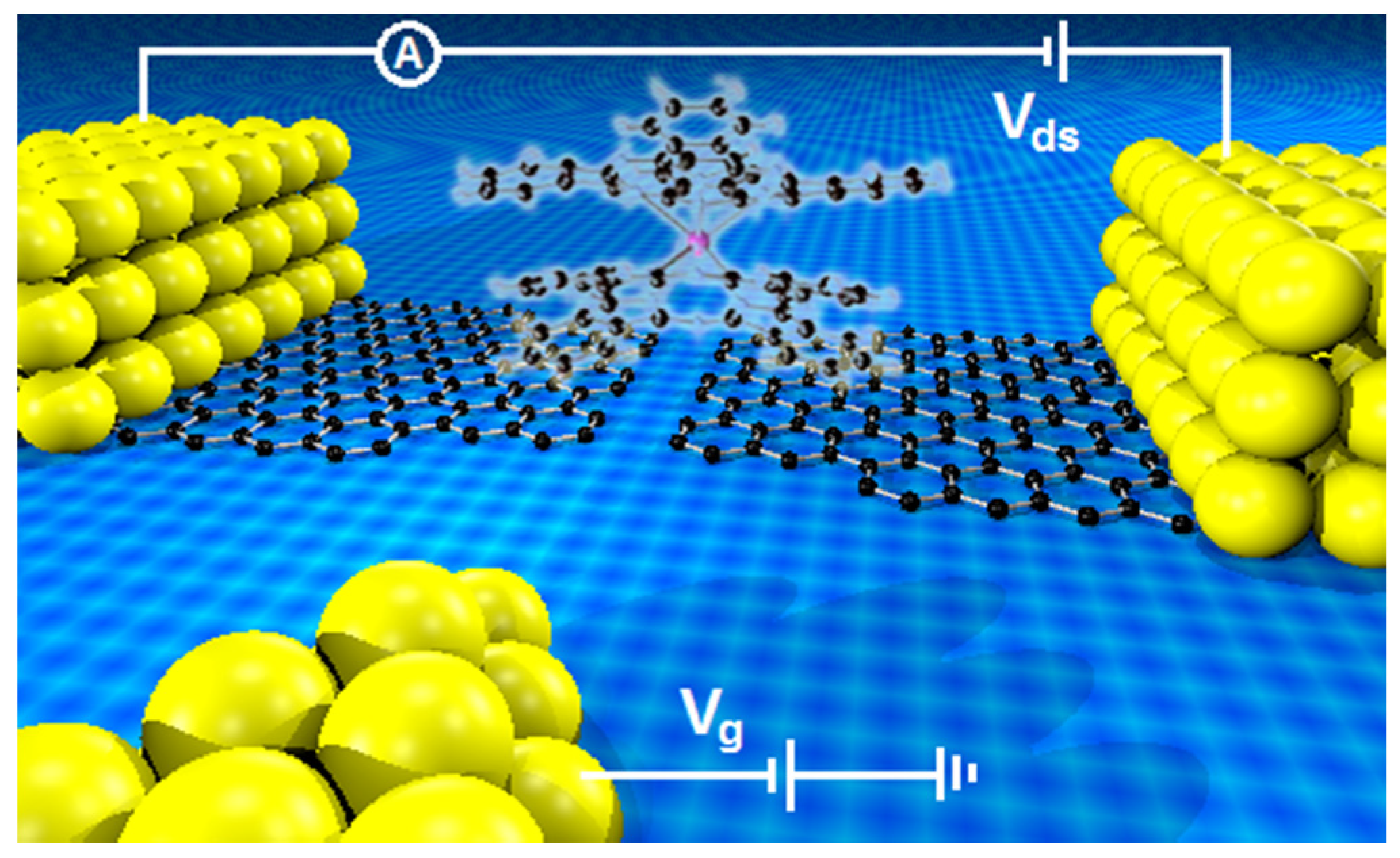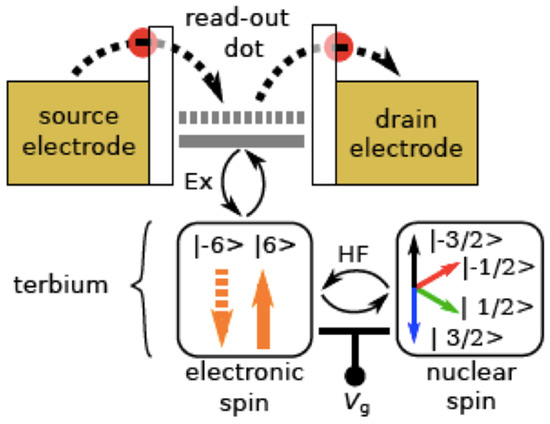 Figure 3.
Scheme of a functioning for molecular spin transistor with separate quantum dot (Pc radical) in which charge can tunnel from electrodes, the electron magnetic moment
J
= 6 and nuclear spin (
I
= 3/2) of the Tb
3+
ion (reproduced from [
54
] with permission from The American Association for the Advancement of Science).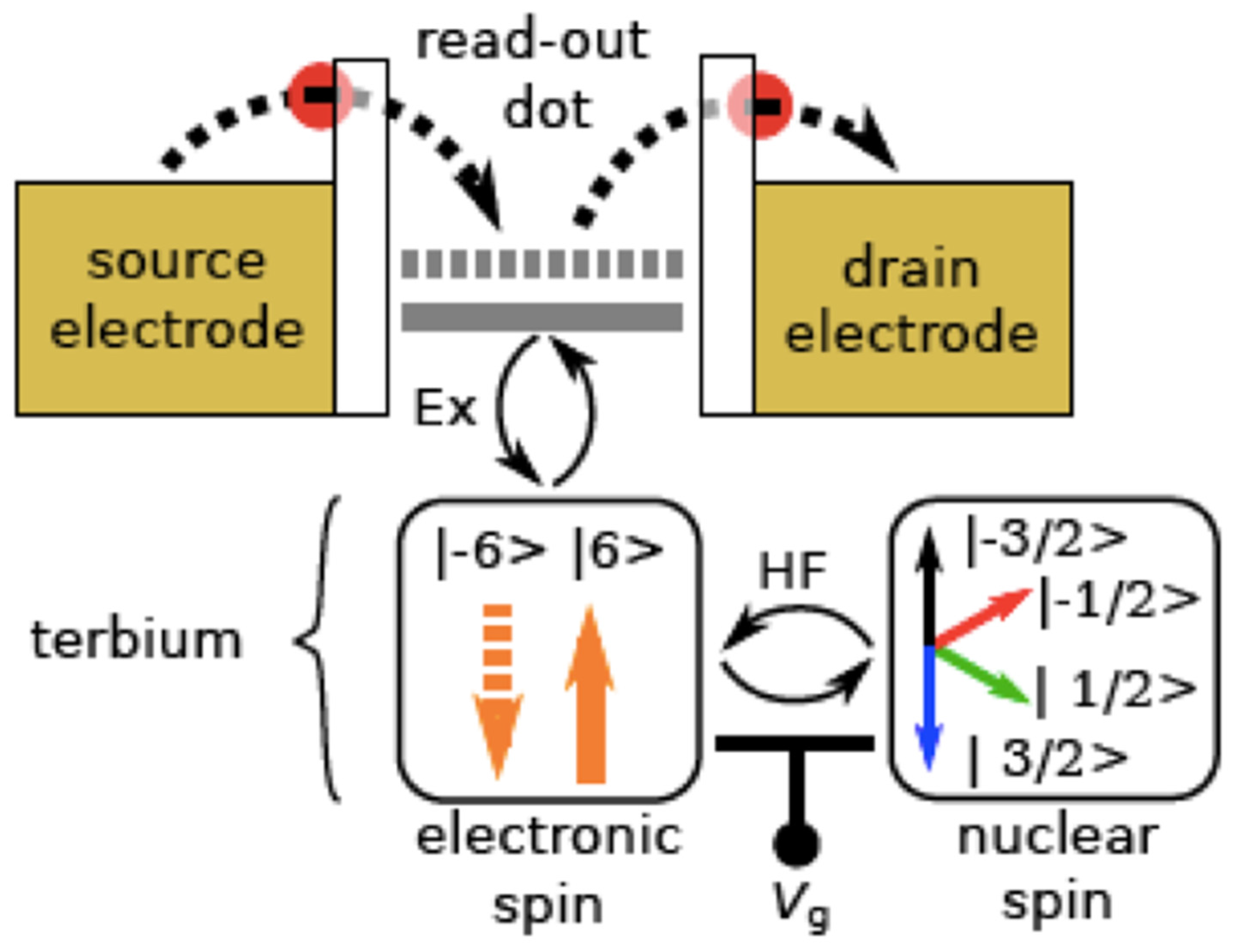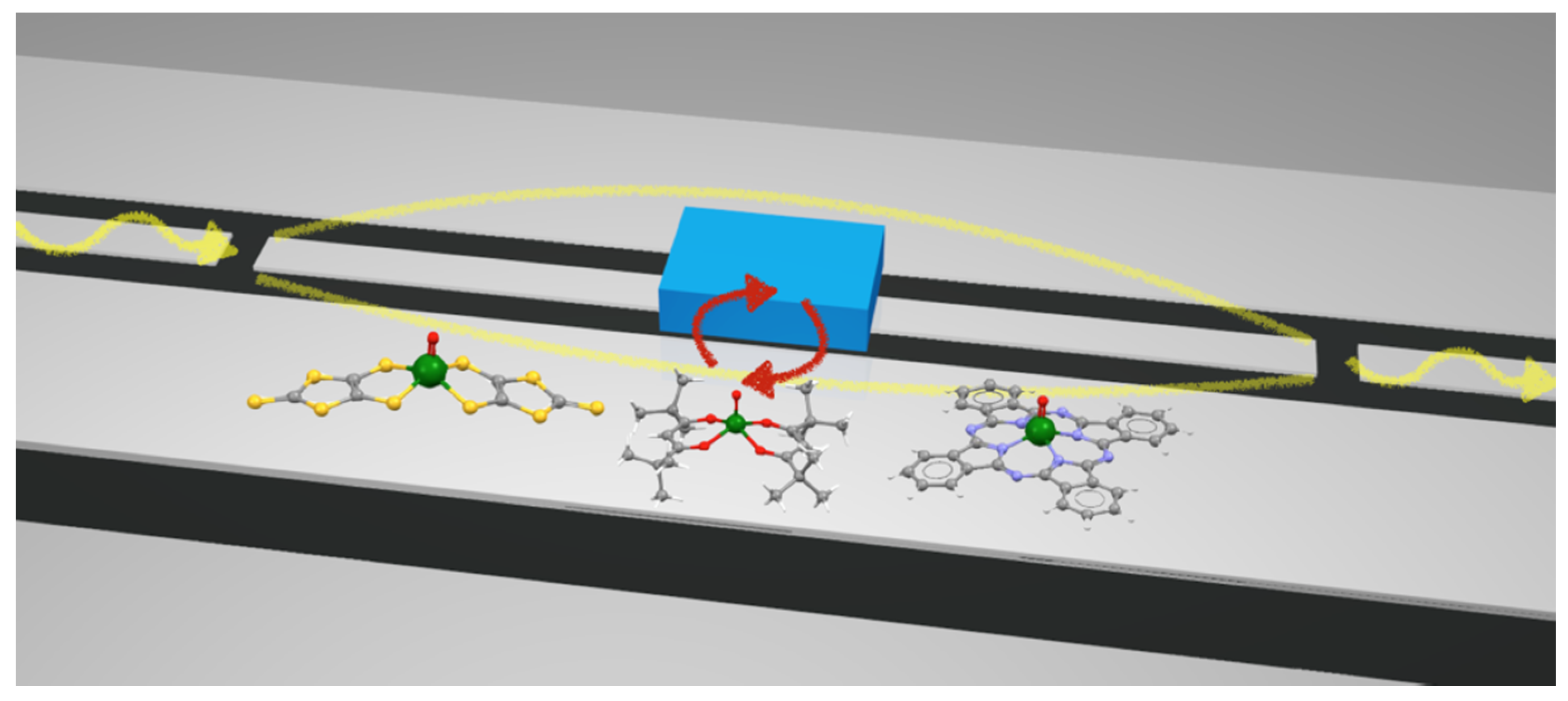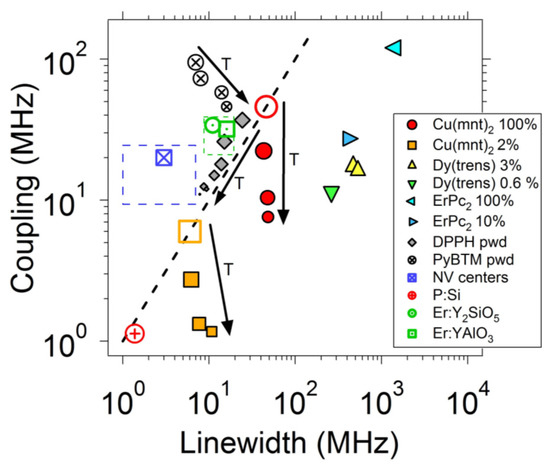 Figure 5.
Coupling strength against spin linewidth parameters as measured in different molecular spins systems. Results can be compared with those obtained with NV centers and Er spin defects in YSiO or YAlO. The parameters of DPPH and PyBTM organic radicals are taken from [
62
,
63
], respectively. Data taken at different temperatures are indicated by the black arrows and by symbols of different sizes that range from 2 K (larger symbols) to 50 K (smaller symbols). Empty symbols display the parameters extrapolated to 0.3 K. The dashed line represent the threshold above which high cooperative regime is achieved. Dashed rectangles show the typical working ranges used for NV centers (blue) and Er spin centers (green) coupled to superconducting Nb planar resonators at mK temperature region. (Reproduced from [
63
] with permission from the Consiglio Nazionale delle Ricerche (CNR) and The Royal Society of Chemistry.)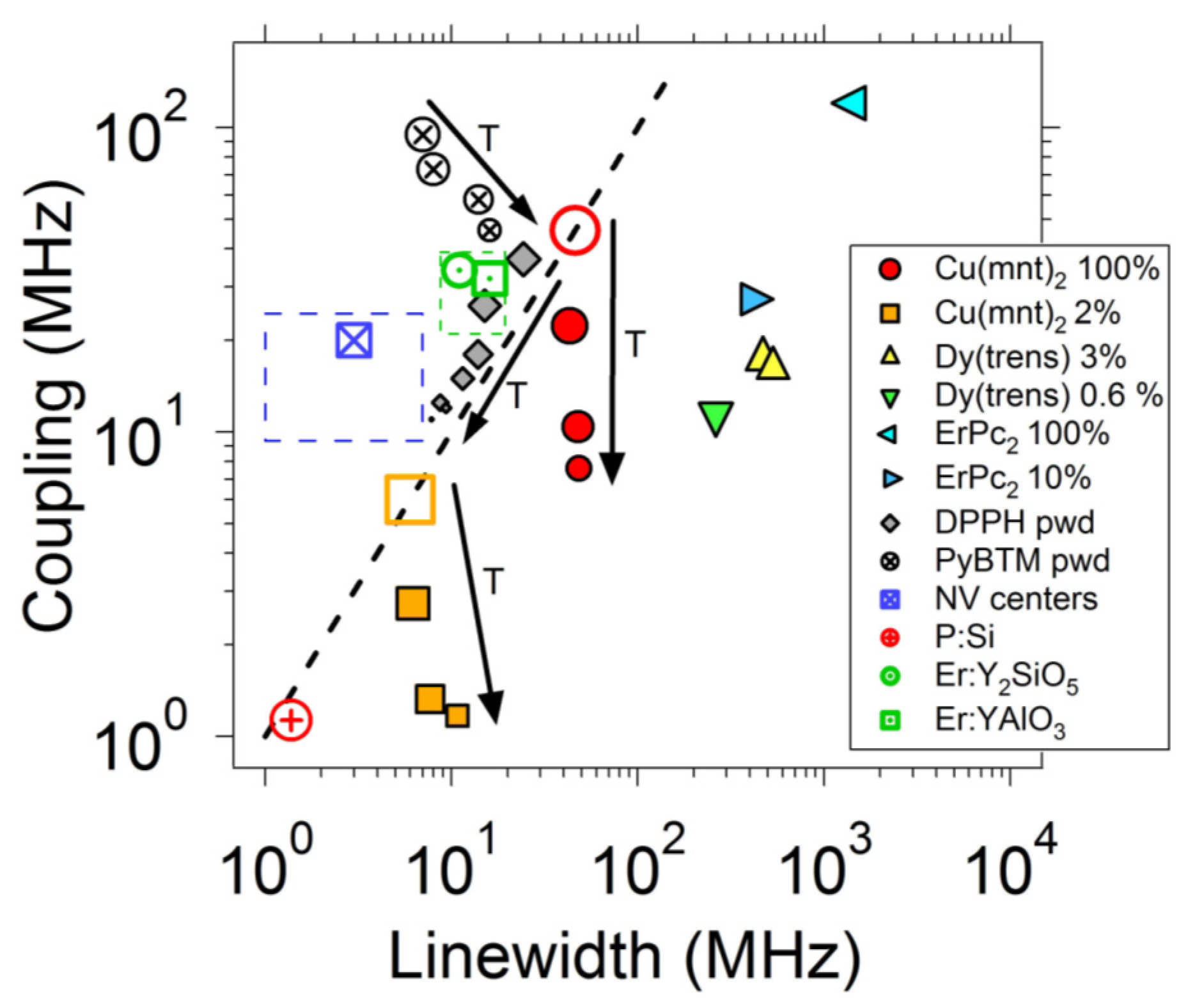 © 2017 by the authors. Licensee MDPI, Basel, Switzerland. This article is an open access article distributed under the terms and conditions of the Creative Commons Attribution (CC BY) license ( http://creativecommons.org/licenses/by/4.0/).