Open Access This article is
freely available
re-usable
Article
Carbon Nanostructure Curvature Induced from the Rapid Release of Sulfur upon Laser Heating
The EMS Energy Institute & Department of Energy and Mineral Engineering, The Pennsylvania State University, University Park, PA 16802, USA
*
Author to whom correspondence should be addressed.
Received: 8 April 2018 / Accepted: 17 May 2018 / Published: 22 May 2018
Abstract
:
Laboratory-generated synthetic soot from benzene and benzene–thiophene was neodymium-doped yttrium aluminum garnet (Nd:YAG) laser and furnace annealed. Furnace annealing of sulfur doped synthetic soot resulted in the formation of micro-cracks due to the high pressures caused by explosive sulfur evolution at elevated temperature. The heteroatom sulfur affected the carbon nanostructure in a different way than oxygen. Sulfur is thermally stable in carbon up to ~1000 °C and thus, played little role in the initial low temperature (500 °C) carbonization. As such, it imparted a relatively unobservable impact on the nanostructure, but rather, acted to cause micro-cracks upon rapid release in the form of H2S and CS2 during subsequent traditional furnace heat treatment. In contrast, Nd:YAG laser heating of the sulfur doped sample acted to induce curvature in the carbon nanostructure. The observed curvature was the result of carbon annealing occurring simultaneously with sulfur evolution due to the rapid heating rate.
Keywords:
laser annealing; soot; graphitization; puffing
2. Materials and Methods
2.1. Synthetic Soot Production
Laboratory-generated synthetic soot samples were produced in a horizontal tube furnace. Carbon precursors were fed into the tube furnace as an aerosol suspended with an argon carrier gas flow. The furnace was operated at 1100 °C. Based on the flow rate and assuming laminar flow, the approximate residence time in the furnace was three seconds. Liquid carbon precursors were introduced to the furnace using a bubbler and argon carrier gas. Synthetic soot was collected at the exit on Whatman filter paper. Benzene and thiophene of 99% purity were used as soot precursors and purchased from Alfa Aesar (Tewksbury, MA, USA). Sulfur free soot was collected by feeding the furnace with pure benzene. Sulfur doped soot was produced by bubbling argon through a 1:1 blend on benzene–thiophene.
2.2. Heat Treatment
2.2.1. Furnace
Samples were heated to 2600 °C at a rate of 25 °C/min and held for 1 h in a Centorr Vacuum Industries (Nashua, NH, USA) series 45 graphitization furnace. The furnace was operated under an argon atmosphere.
2.2.2. Nd:YAG Laser
Pulsed laser heating was provided by a Surelite-III neodymium-doped yttrium aluminum garnet (Nd:YAG) laser purchased from Continuum (San Jose, CA, USA). Samples were irradiated with a single pulse of 1064 nm laser light. A laser fluence with an energy per unit area of the beam of 50 mJ/cm
2
was used to heat the material directly on lacey carbon TEM grids. Samples were first sonicated in ethanol and drop deposited on TEM grids prior to laser heating. Multi-wavelength pyrometry was used to extract the time-temperature-history (TTH). The Nd:YAG laser setup and laser induced incandescence signal detection used for TTH determination have been reported previously [
6
]. The TTHs are provided in
Figure 1
. A peak temperature of ~2800 °C was measured from the integrated average temperature of the first 50 ns of incandescence signal. The 50 ns camera gate width used to collect the peak temperature was synched to the laser pulse and included the initial 8 ns long pulse. Heating occurred during the 8 ns laser pulse; thus, the heating rate was 3.5 × 10
11
°C/s. The laser-heated material rapidly cooled to below 1800 °C within 2 µs, at which point the material transformations were frozen in place.
2.3. Characterization
TEM was performed on a FEI Talos instrument operated at 200 keV. The nanostructure (lamellae observed as (002) fringes) was observed in bright field mode before and after heat treatment. Energy dispersive X-ray spectroscopy (EDS) was performed in scanning TEM (STEM) mode for the purpose of elemental analysis. The Talos was equipped with a Super-X EDS system that was comprised of four silicon drift detectors. The use of multiple detectors increases the signal to noise ratio. In STEM mode the region of interest was scanned with a fine probe with a diameter of 1.6 Å. Thus, STEM mode EDS provided a high spatial resolution. The resolution of EDS was limited to a few atomic% due to the background noise generated via Bremsstrahlung braking radiation. Elements lighter than Beryllium with a low fluorescence-yield (Li, He, H) are not detectable with EDS. The hydrogen content was measured using a carbon/hydrogen/nitrogen (CHN) analyzer, manufactured by LECO Corporation (St. Joseph, MI, USA).
3. Results
The measured sulfur content was 7.6 wt %. Accounting for the 1.15 wt % hydrogen that is undetectable with EDS, the wt % of sulfur was 7.5.
4. Discussion
The curvature found in the laser-heated sulfur doped sample is an effect of overlap between the early annealing steps with sulfur evolution. When sulfur is released, a defect is left behind, and this defect may lead to the formation of curvature, inducing odd membered rings. By rapidly heating the carbon material, sulfur has much the same effect that oxygen does during low temperature carbonization. This curvature-inducing behavior is not observed with traditional furnace heating as the sulfur release occurs after the carbon lamellae have begun to anneal. The fullerene-related nanostructure found after laser heating sulfur doped synthetic soot may like be due to the presence of odd membered carbon rings formed upon sulfur release.
Author Contributions
Joseph P. Abrahamson and Randy L. Vander Wal conceived and designed the experiments; Joseph P. Abrahamson performed the work and wrote the paper.
Funding
This research was funded by NSF CBET grant number 1236757.
Conflicts of Interest
The authors declare no conflict of interest.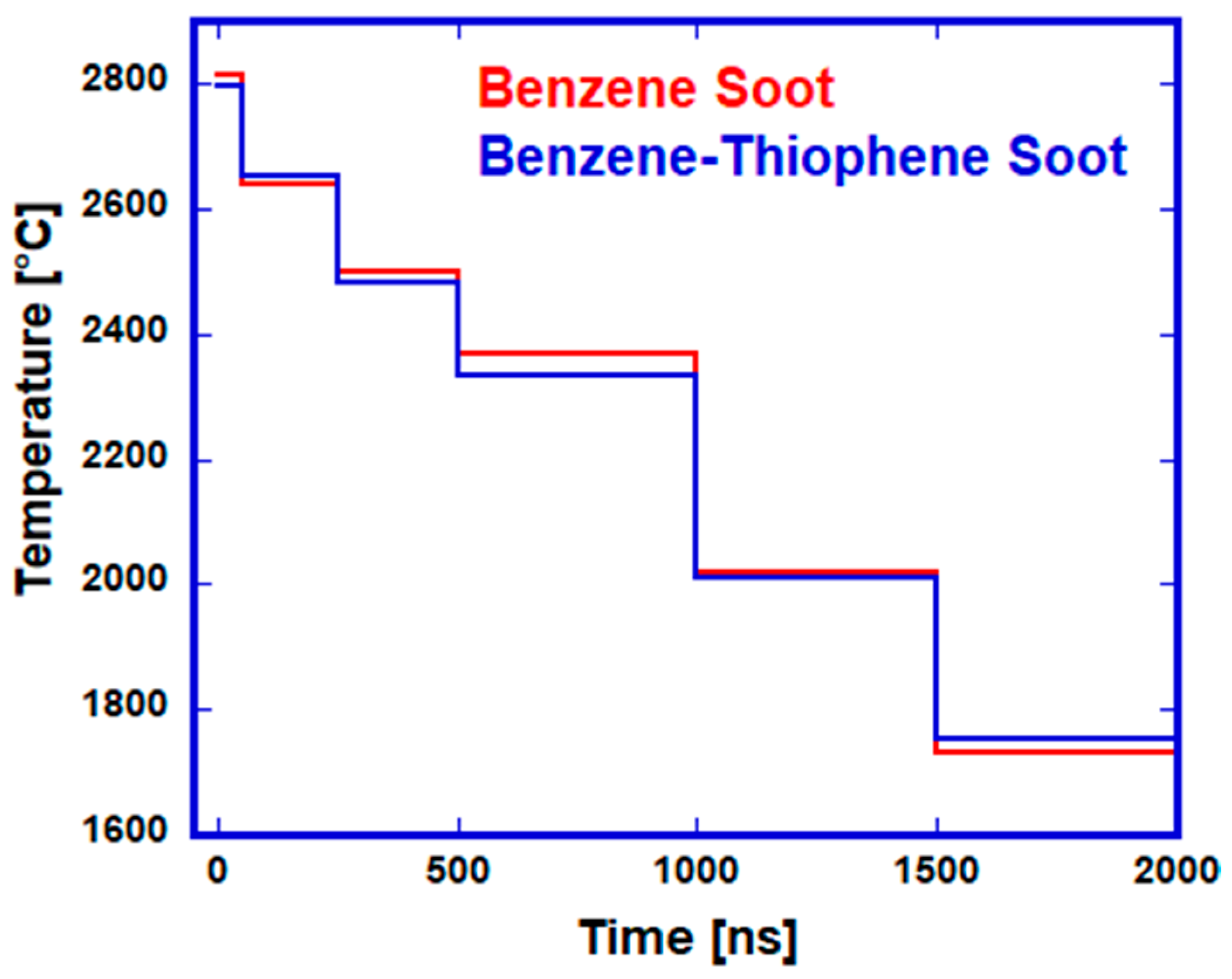 Figure 2. TEM micrographs of synthetic soot derived from (A) benzene (B) and benzene–thiophene produced at 1100 °C in a furnace.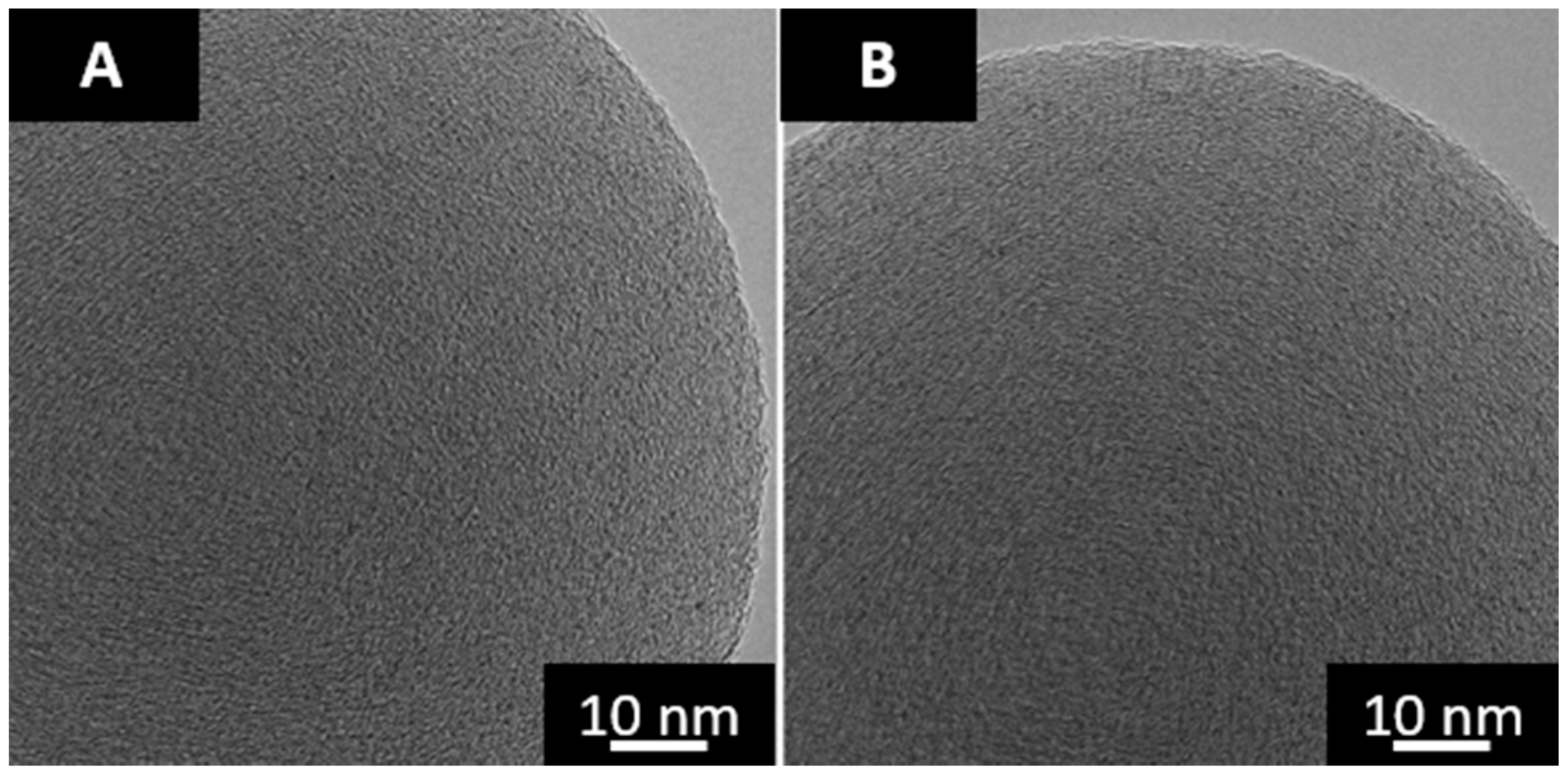 Figure 3. (A) High angle annular dark field (HAADF) micrograph (B) and energy dispersive X-ray spectroscopy (EDS) map of benzene–thiophene synthetic soot.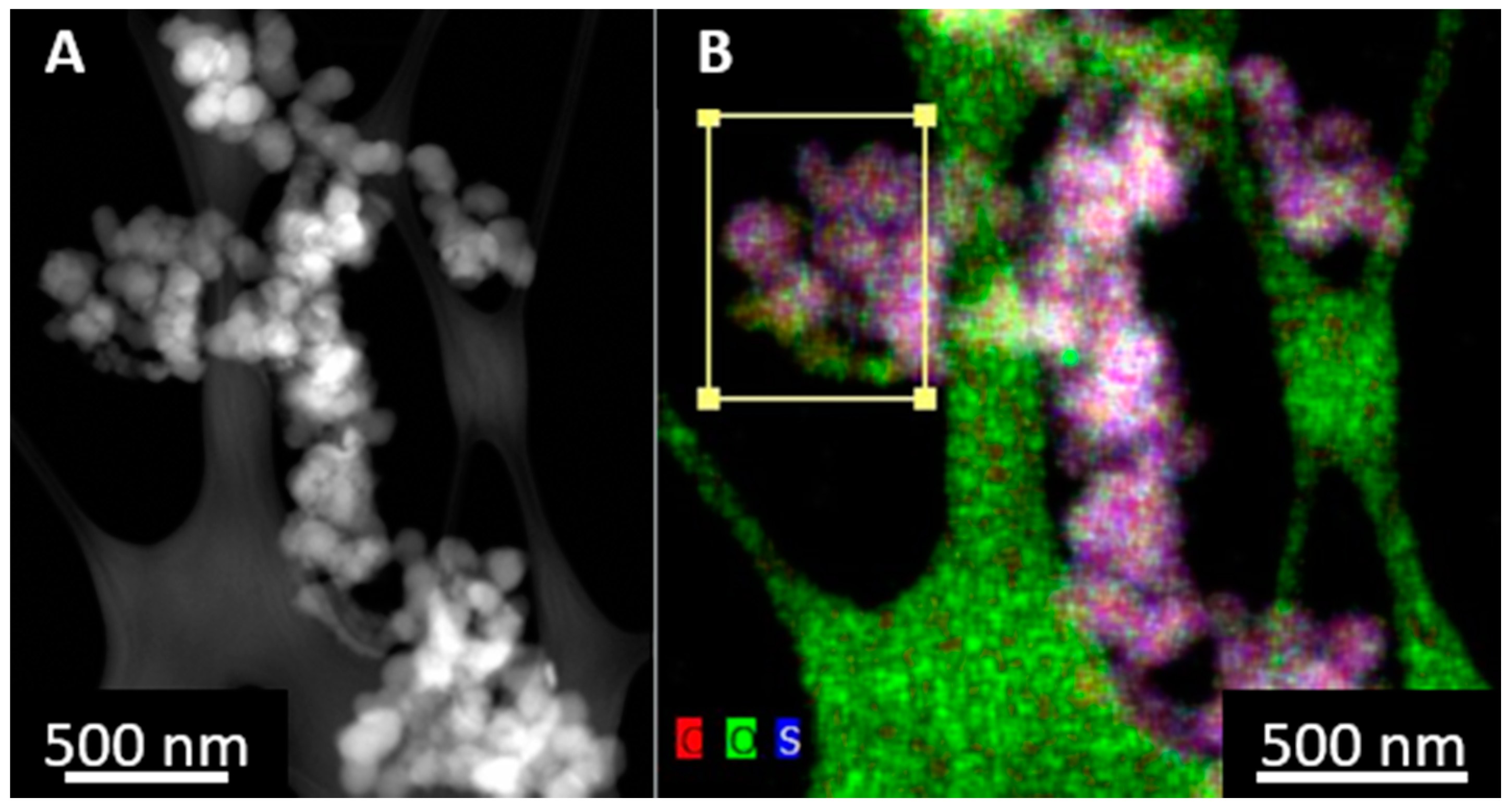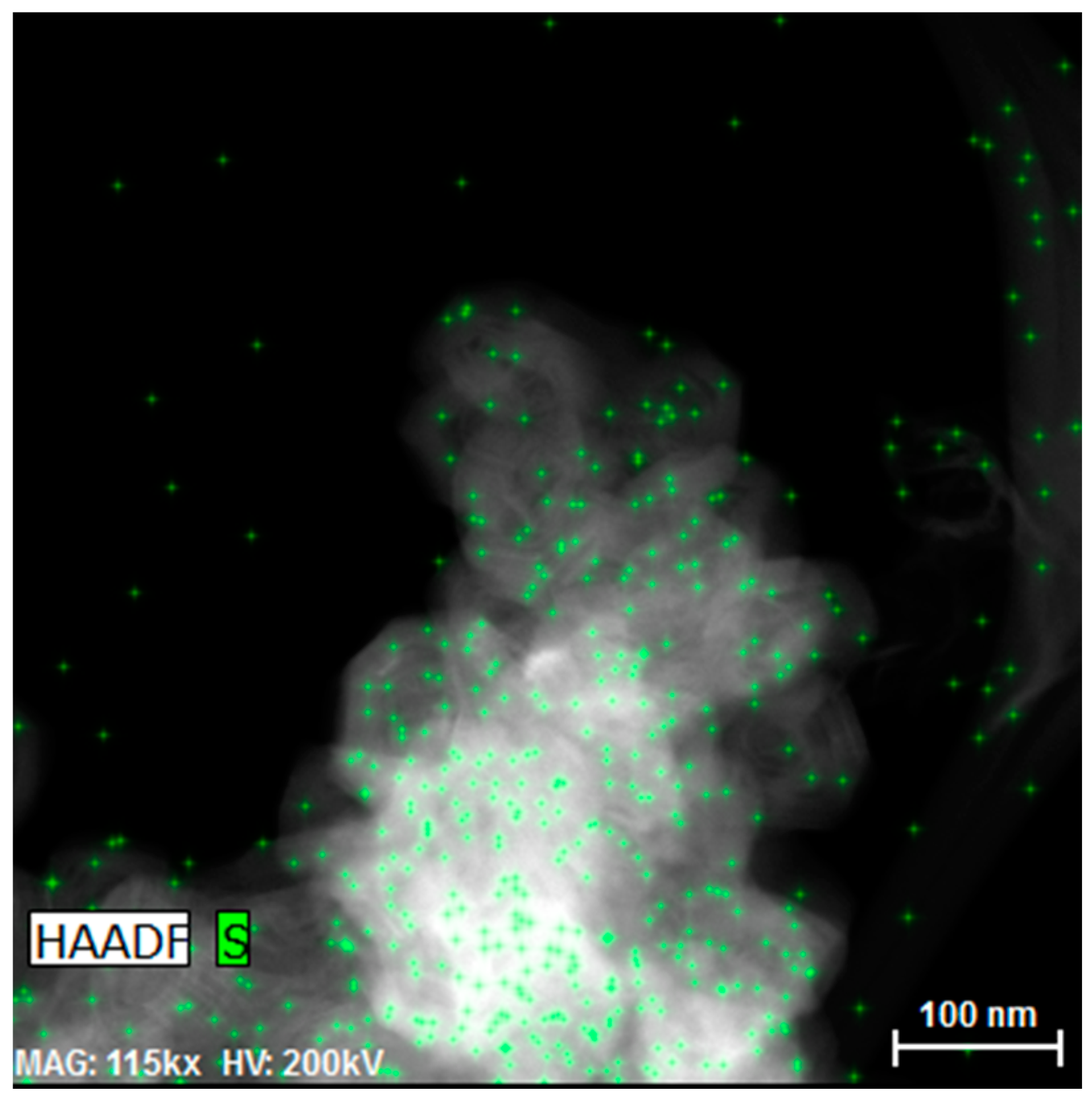 Figure 7. (A) TEM micrographs of benzene (B) and benzene–thiophene synthetic soot after Nd:YAG laser annealing with 50 mJ/cm2.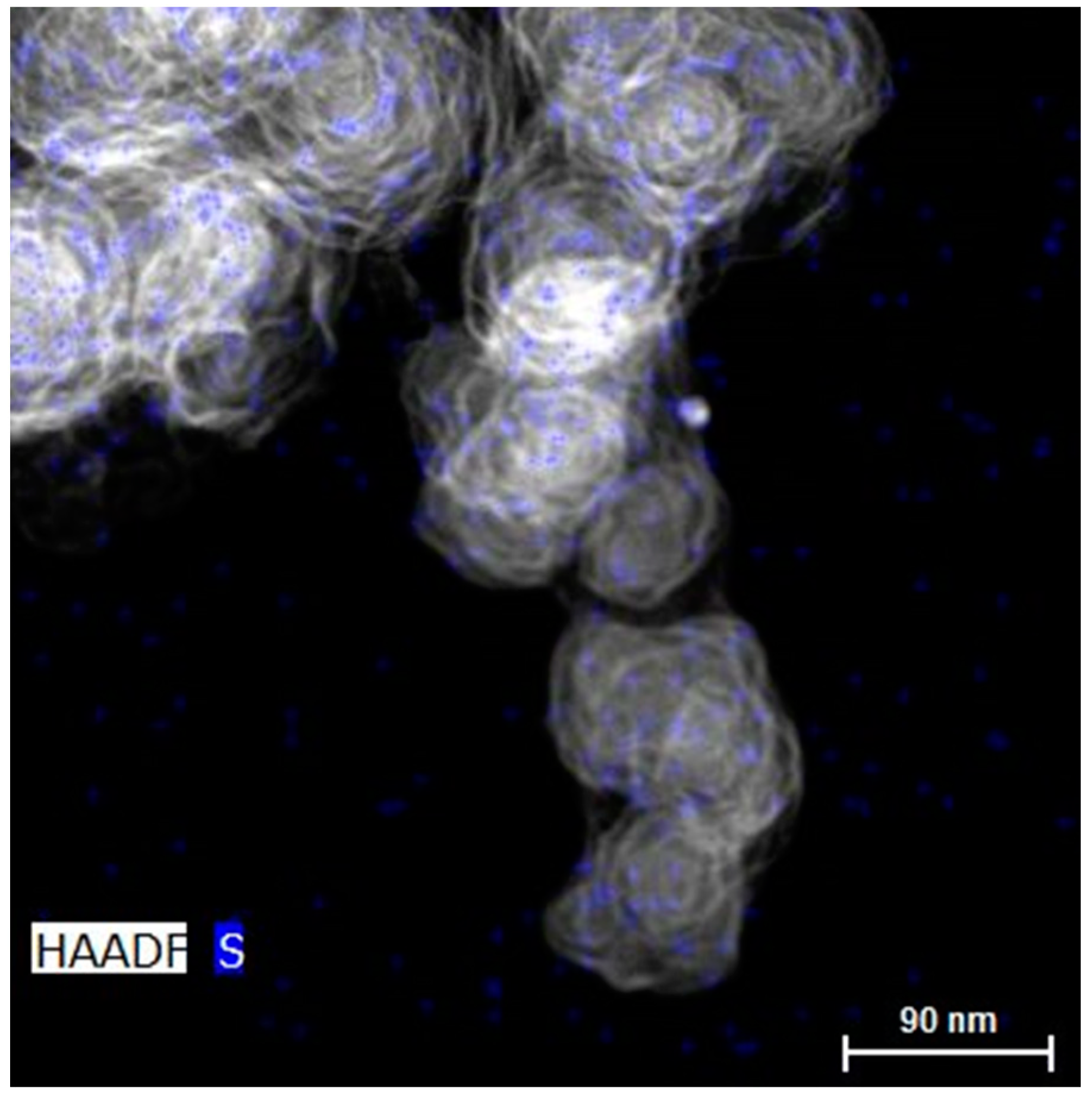 © 2018 by the authors. Licensee MDPI, Basel, Switzerland. This article is an open access article distributed under the terms and conditions of the Creative Commons Attribution (CC BY) license (http://creativecommons.org/licenses/by/4.0/).