Exosomal Non-Coding RNAs: Diagnostic, Prognostic and Therapeutic Applications in Cancer
1
Cancer sciences unit, University of Southampton School of Medicine, Southampton, SO16 6YD, UK
2
Department of Surgery, University Hospital Southampton, Southampton, SO16 6YD, UK
3
Department of Experimental Therapeutics, The University of Texas MD Anderson Cancer Centre, Houston, TX, 77054, USA
4
Instituto de Investigação em Saúde, Universidade do Porto, Porto, 8234150-180, Portugal
5
INEB—Institute of Biomedical Engineering, Universidade do Porto, Porto, 8234150-180, Portugal
6
Department of Gynecologic Oncology and Reproductive Medicine Unit 1362, The University of Texas MD Anderson Cancer Center, Houston, TX, 77230 USA
7
Department of Pharmacology and Toxicology, Faculty of Pharmacy, The University of Al-Azhar, Cairo, 11754, Egypt
8
Center for RNA Interference and Non-Coding RNAs, The University of Texas MD Anderson Cancer Center, Houston, TX, 77054, USA
9
Department of Cancer Biology, The University of Texas MD Anderson Cancer Centre, Houston, TX, 77054, USA
*
Author to whom correspondence should be addressed.
Academic Editor: Joanne B. Weidhaas
Received: 6 May 2015 / Revised: 23 May 2015 / Accepted: 28 May 2015 / Published: 3 June 2015
Abstract
Non-coding RNAs, such as microRNAs and long non-coding RNAs, are important regulatory molecules which are corrupted in cancer, often in a tissue and stage specific manner. Accumulated data suggests that these promising biomarkers, may also form the basis of novel targeted therapeutic strategies. The role of exosomes in cancer development and metastasis pathways is also increasingly well described. These endosome derived extracellular vesicles which are trafficked horizontally between tumor cells, and vertically between tumor cells and the surrounding microenvironment, carry bioactive cargos, which can reprogram the phenotype of recipient cells with important oncogenic consequences. Exosomes are enriched with non-coding RNA content. Within exosomes, non-coding RNAs are secreted into the peripheral circulation and other bodily fluids where they are protected from enzymatic degradation by the surrounding phospholipid membrane. Exosomes are therefore a highly promising source of diagnostic and prognostic material in cancer. Furthermore, as exosomes are natural ncRNA carriers, they may be adapted for the purpose of drug delivery by the introduction of exogenous ncRNAs or by manipulating their endogenous ncRNA content. In the current review, we will explore these highly clinically relevant themes by examining the roles of exosomal ncRNAs in cancer diagnostics, prognostics and therapy.
View Full-Text
►

▼

Figures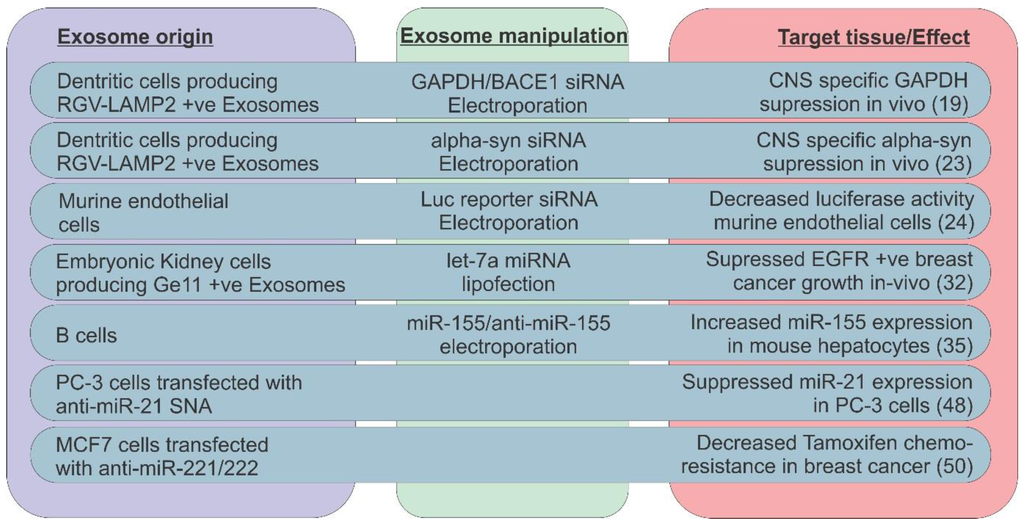 Figure 1
This is an open access article distributed under the
Creative Commons Attribution License
which permits unrestricted use, distribution, and reproduction in any medium, provided the original work is properly cited (CC BY 4.0).

Share & Cite This Article
MDPI and ACS Style
Bullock, M.D.; Silva, A.M.; Kanlikilicer-Unaldi, P.; Filant, J.; Rashed, M.H.; Sood, A.K.; Lopez-Berestein, G.; Calin, G.A. Exosomal Non-Coding RNAs: Diagnostic, Prognostic and Therapeutic Applications in Cancer. Non-Coding RNA 2015, 1, 53-68.
Related Articles
Comments
[Return to top]